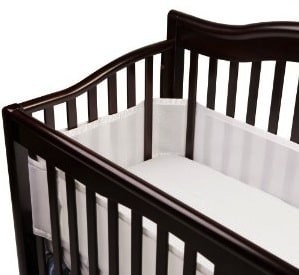 The Breathable Baby breathable mesh crib liner in white is $18 on Amazon right now. That's 40% off the regular price of $30 (selling price at Diapers.com), and nearly $6 less than the same liner in other colors.
"Recommended and tested by leading pediatricians, the award-winning, patented, BreathableBaby Breathable Mesh Liner reduces the risks of suffocation, entanglement and climbing.

Made with exclusive fabric with Air Channel Technology that promotes airflow and helps maintain air access, it's soft and padded, and it keeps little limbs safely inside the crib. Hypoallergenic, machine washable and fast drying. Adjustable to fit standard 4-sided slatted cribs, solid back, solid front, and solid-end cribs." 
The Breathable Baby crib liner ships free with Amazon Prime or with a total purchase of at least $25.