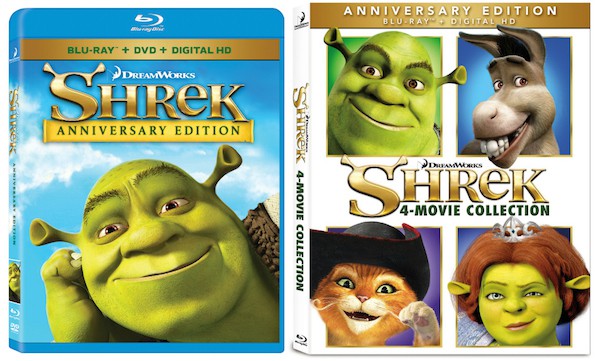 Can you believe Shrek was first released 15 years ago? I've been waiting for just the right time to introduce my kids to the big green ogre, and the 15th anniversary of the movie's release is exactly the right time!
About Shrek

In this fully computer-animated fantasy, we follow the travails of Shrek (Mike Myers), a green ogre who enjoys a life of solitude.

Living in a far away swamp, he is suddenly invaded by a hoard of fairy tale characters, such as the Big Bad Wolf, the Three Little Pigs, and Three Blind Mice, all refugees of their homes who have been shunned by the evil Lord Farquaad (John Lithgow).

They want to save their homes from ruin, and enlist the help of Shrek, who is in the same situation. Shrek decides to offer Lord Farquaad a deal; he will rescue the beautiful Princess Fiona (Cameron Diaz), who is intended to be Farquaad's bride.

Accompanying Shrek on his adventure is the faithful but loquacious Donkey (Eddie Murphy), who has a penchant for crooning pop songs.

The two must face various obstacles in order to locate the Princess, but they find their world challenged when she reveals a dark secret that will affect the group.

Shrek is based on the children's book by William Steig, and features additional voice-work by Vincent Cassel, Cody Cameron, and Kathleen Freeman.
Shrek was groundbreaking when it was first in theaters 15 years ago.  In fact, Shrek was the first to win an Academy Award for Best Animated Feature. At the time, reviewers said it was "not just a brilliant animated feature, but a superb film on any level." and "Monstrously clever."
Even though the film hit hit that amazing milestone many years ago, Shrek is still just as captivating today! If you're like me and you want to introduce your own kids to Shrek, Donkey, Fiona, Puss in Boots and other lovable characters, there are a few brand new ways to do it!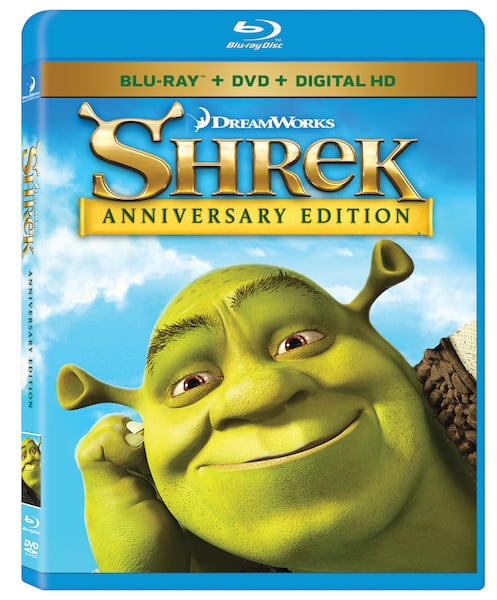 First, DreamWorks Animation has released Shrek: Anniversary Edition. This comes with the Blu-ray, DVD, and a Digital HD code.
The Blu-ray's features include the commentary track with co-directors Andrew Adamson and Vicky Jensen and producer Aron Warner, deleted scenes, Shrek's Interactive Journey, Animators Corner, Karaoke Dance Party, Secrets of Shrek, Spotlight on Donkey, and The Best of Shrek Shorts.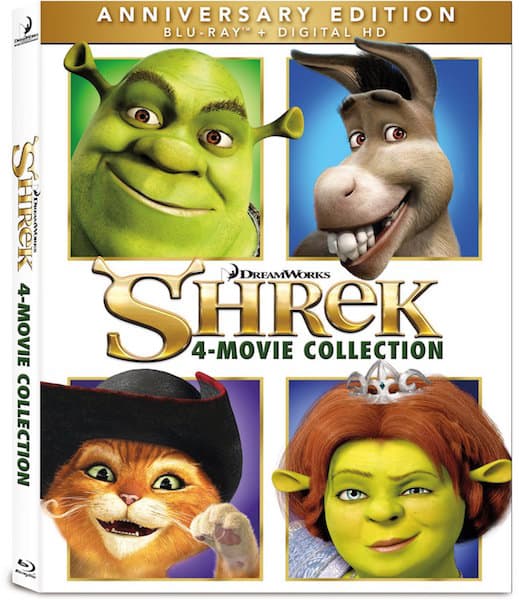 You can also go into full celebration mode with the all new SHREK 4-Movie Collection!
The 4-movie set contains the Academy Award winning Shrek, plus Shrek 2, Shrek the Third and Shrek Forever After!
In Shrek 2, Shrek and his friend Donkey take on a potion-brewing Fairy Godmother, an arrogant Prince Charming and Puss in Boots.
Shrek the Third has Shrek taking a whirlwind adventure with Donkey and Puss in Boots to find the rightful heir to the throne.
Shrek Forever shows the ogre longing for the days when he was a "real ogre". His world turns upside down after penning deal with Rumpelstiltskin to get his inner ogre back.
Buy Shrek: Anniversary Edition and Shrek: 4-Movie Collection today!