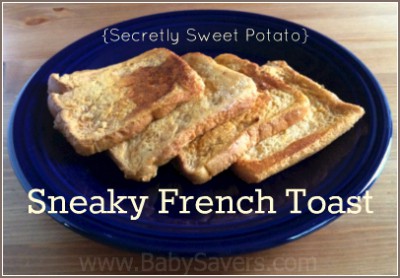 I'm not afraid to admit it. Sometimes I use Sneaky-Chef-like tactics to make sure my little ones are getting enough vegetables in their diets. When I made this special French toast, I was pretty sure I would taste the delicious sweet potato flavor that I'm used to (buy my kids aren't as fond of). To my surprise, it just tasted like regular French toast!
Sweet potatoes are loaded with vitamins A, C and B6, and there are plenty of other vitamins and minerals packed in there, too. They mash up to a smooth, velvety texture that blends nicely into the French toast batter.
Secret Sweet Potato French Toast Recipe
1 cooked sweet potato
1 tablespoon water
3 eggs
3/4 cup milk
1/2 teaspoon cinnamon
pinch of nutmeg
1 teaspoon vanilla extract
8 slices of bread
Place cooked sweet potato in a food processor or blender with the water and puree until it's 100% smooth. Add more water if you need to, just don't leave any chunks!
Add the eggs milk, spices and vanilla and blend it until it's thoroughly mixed. It's going to be thick.
Pour the mixture into a bowl (I like to use an 8×8 cake pan–it makes dipping the bread so much easier!)
Heat up your griddle or a frying pan on medium high heat. Butter or oil your pan to prevent sticking.
Dip a slice of bread in the batter, flip it over and let it sit for a moment to absorb some of the batter.
Fry up for one to two minutes on each side.
Serve hot with your favorite toppings!
Pin this recipe on Pinterest, and be sure to follow me, too!