This strawberry basil margarita recipe combines fresh, summery flavors into a cold drink that's perfect on a hot day! Use fresh strawberries and basil leaves for the best results, but you can use frozen strawberries if you need to.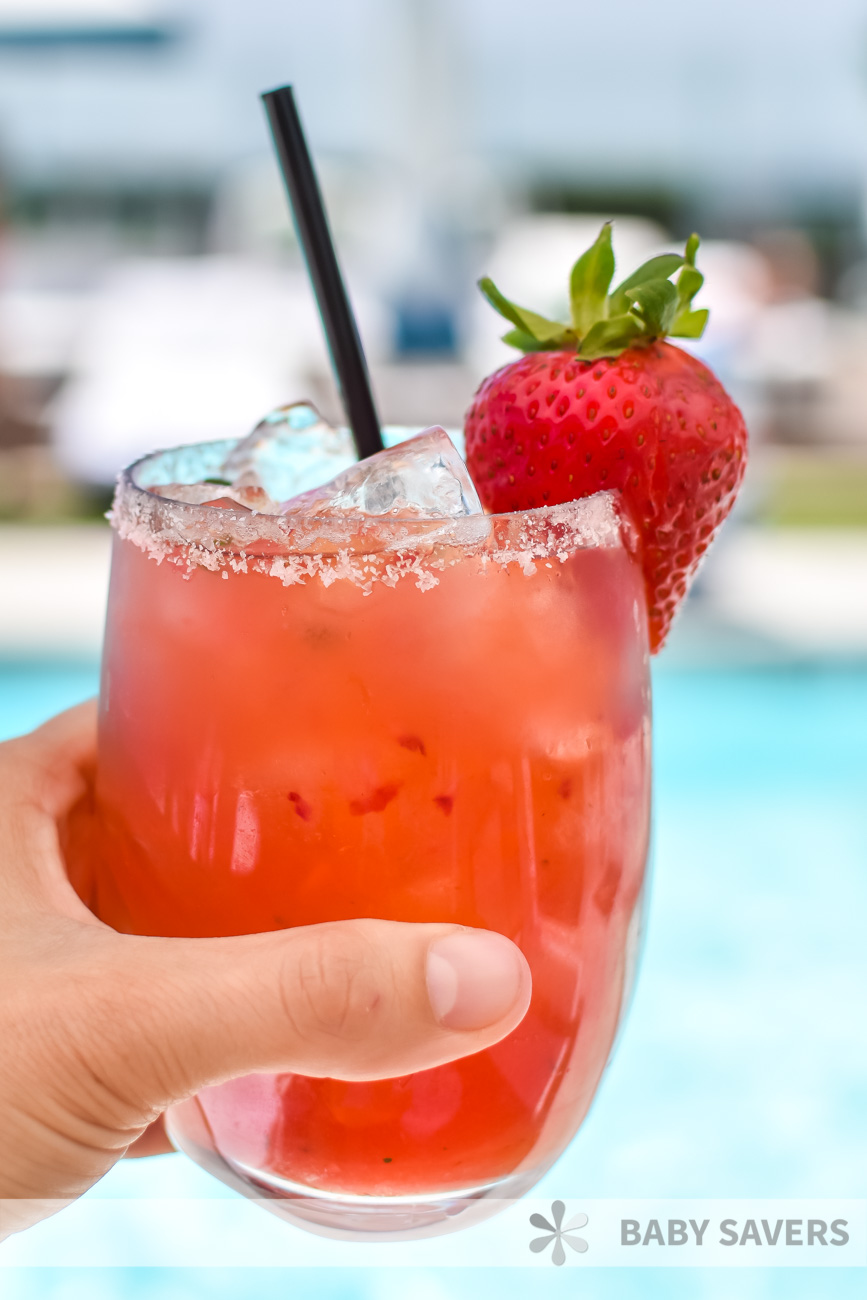 A few years ago I found myself attending a little party at a rooftop deck in Los Angeles. It was the middle of summer. The sun was beating down and I didn't have a swimsuit.
A cocktail was definitely in order, and I was thrilled when a server put this drink in my hand. A combination of strawberries, basil, tequila, and lime that ended up being the most refreshing beverage I've ever had.
It's true. I've thought about that strawberry basil margarita many times since that day. There have been times when I've been exceptionally hot and I've dreamed of having that drink in my hands.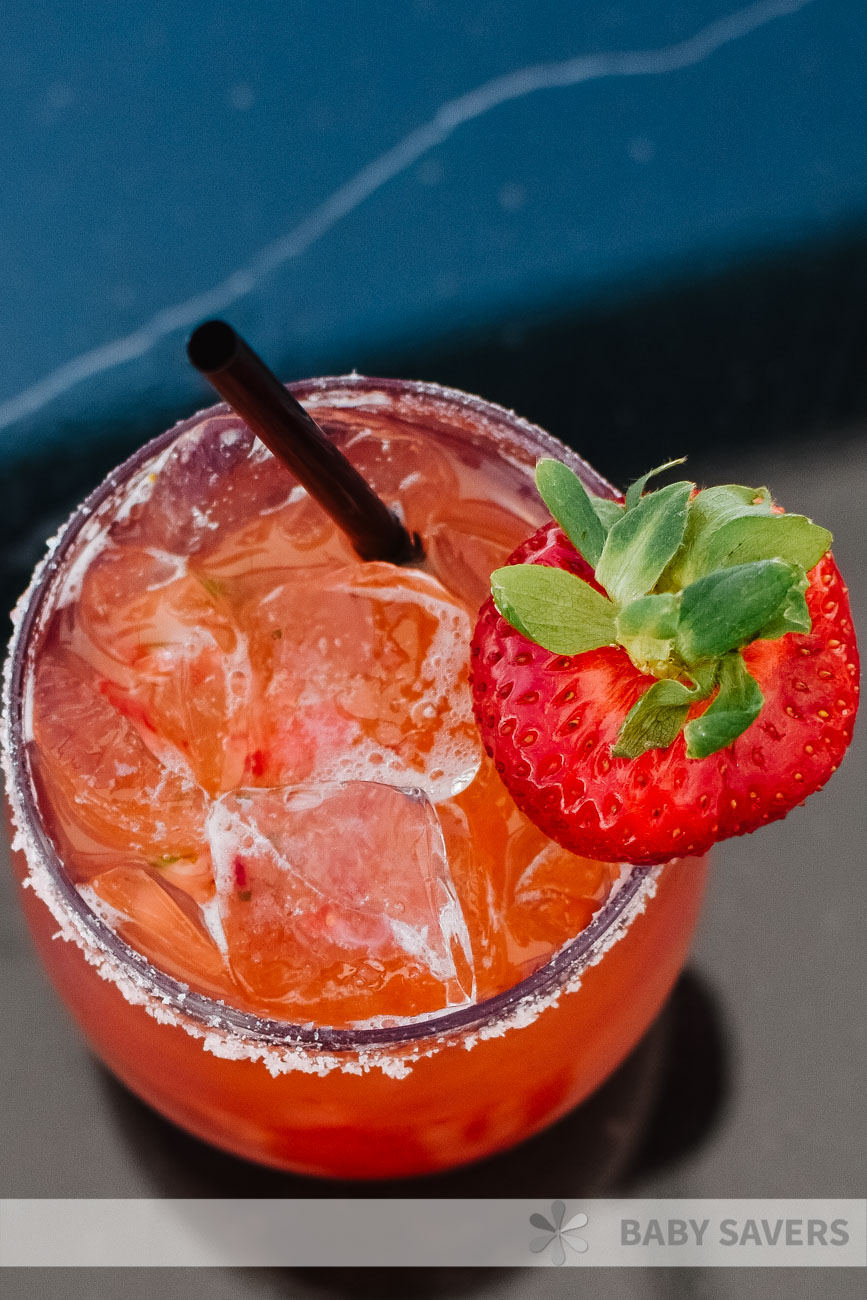 Now it's summer in Minnesota and the weather has been beautifully sunny and enjoyable. This summer has also been special because we've been spending so much time at home. Just like the rest of you, I'm sure!
Another adjustment that's new to us? Avoiding dining out. While we're still occasionally getting takeout and having pizza delivered with no contact, you won't find our family in a restaurant dining room in the near future.
There are restaurants in Minnesota with outdoor seating, which is fine by me. I just have a big aversion to eating outside pretty much anywhere in this region. The weather can turn very quickly when you live right on Lake Superior. Plus…insects. I just don't want them around me when I'm trying to eat.
In the past, I didn't make cocktails at home. I would happily pour myself a glass of wine or have a beer, but I guess cocktails were just something I wanted to have someone else make for me.
But visiting a bar isn't in my immediate future, so the time was right to perfect the drink I've been thinking about for years!
What you need to make a strawberry basil margarita:
You won't have any trouble making this delicious drink. The instructions are super easy and you can easily make it with or without a supply of bartending equipment.
While the recipe details out the specialty tools you can use to make this drink, don't think for a second that you're going to live without this drink if you don't own something silly, like a muddler.
We're making a margarita, not building a house. I promise you'll be able to muddle through (hahahaha!) the directions and end up with a delicious strawberry basil margarita when you're all done.
If you have the equipment, then, by all means, use it. You'll probably have your drink in hand a few minutes before the rest of us.
So I'll just go through the list of specific bartending equipment used in the recipe.
I'll also tell you what it does so you know why that tool could be used. Then I'll show you some common kitchen tools items you can use instead.
Bar tools used for making this margarita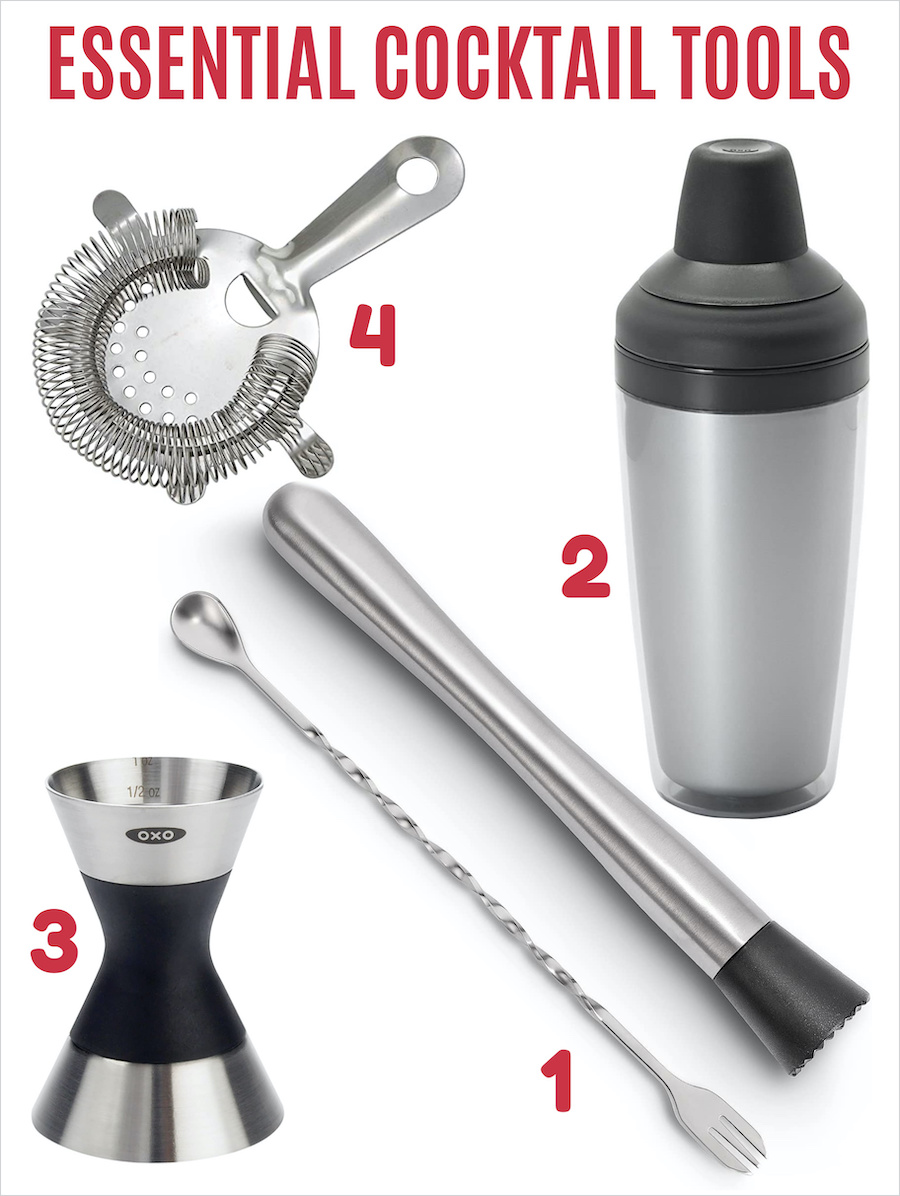 1. Muddler: This wand with a rounded end is used to mash and crush ingredients to release their flavors.
2. Cocktail shaker and strainer: The shaker is a container shaped like a drink glass. It's used to mix ingredients together. Shaking a drink with ice is a method of chilling it if it's not going to be served over ice.

The strainer filters out bigger pieces of ingredients and ice for a smoother, clearer drink.
3. Jigger: the jigger is used to measure liquor and other liquids. It's usually double sided. One side measures a traditional shot of 1.5 ounces. The other side measures out 1 liquid ounce.
Household tools you can use instead of bartending tools
You can use a fork instead of a muddler to press and mash ingredients.
Use a glass and spoon instead of a shaker. You don't need to shake a drink to get all the ingredients properly mixed.
Use a small measuring cup or measuring spoons instead of a jigger. Here are your ounces to tablespoons conversions for drinks:
1 ounce is 2 tablespoons
1.5 ounces equals 3 tablespoons
2 ounces is 1/4 cup
Strawberry basil margarita ingredients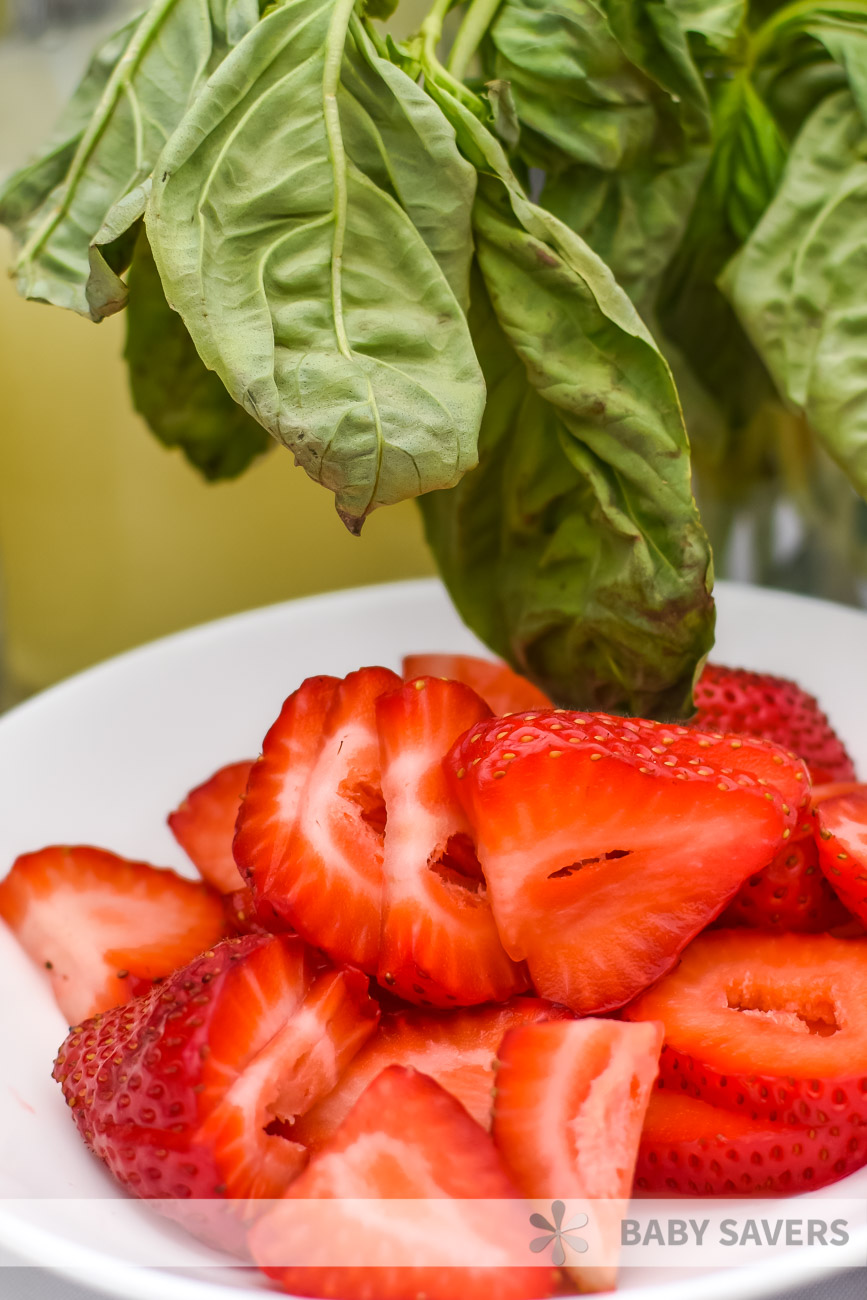 Here's a list of all the ingredients you'll need to make this amazing drink.
The exact quantities are available at the end of the post in a printable recipe card, but you can make sure you have everything you need right now.
Lime juice
Simple syrup
Fresh basil leaves
Fresh strawberries
Tequila
Lime
Kosher salt
What is simple syrup?
Simple syrup is also known as sugar syrup or bar syrup. It's simple because it's just a mix of sugar dissolved in water. You can buy it. It's available online and at most grocery stores and liquor stores, but you really should make it.
You can easily make your own simple syrup by one part granulated white sugar into one part hot water until the sugar dissolves. You may need to heat up the water in the microwave or over the stove to get it hot enough.
Let the simple syrup cool before using it in any recipes. It can be stored in the refrigerator for up to one month.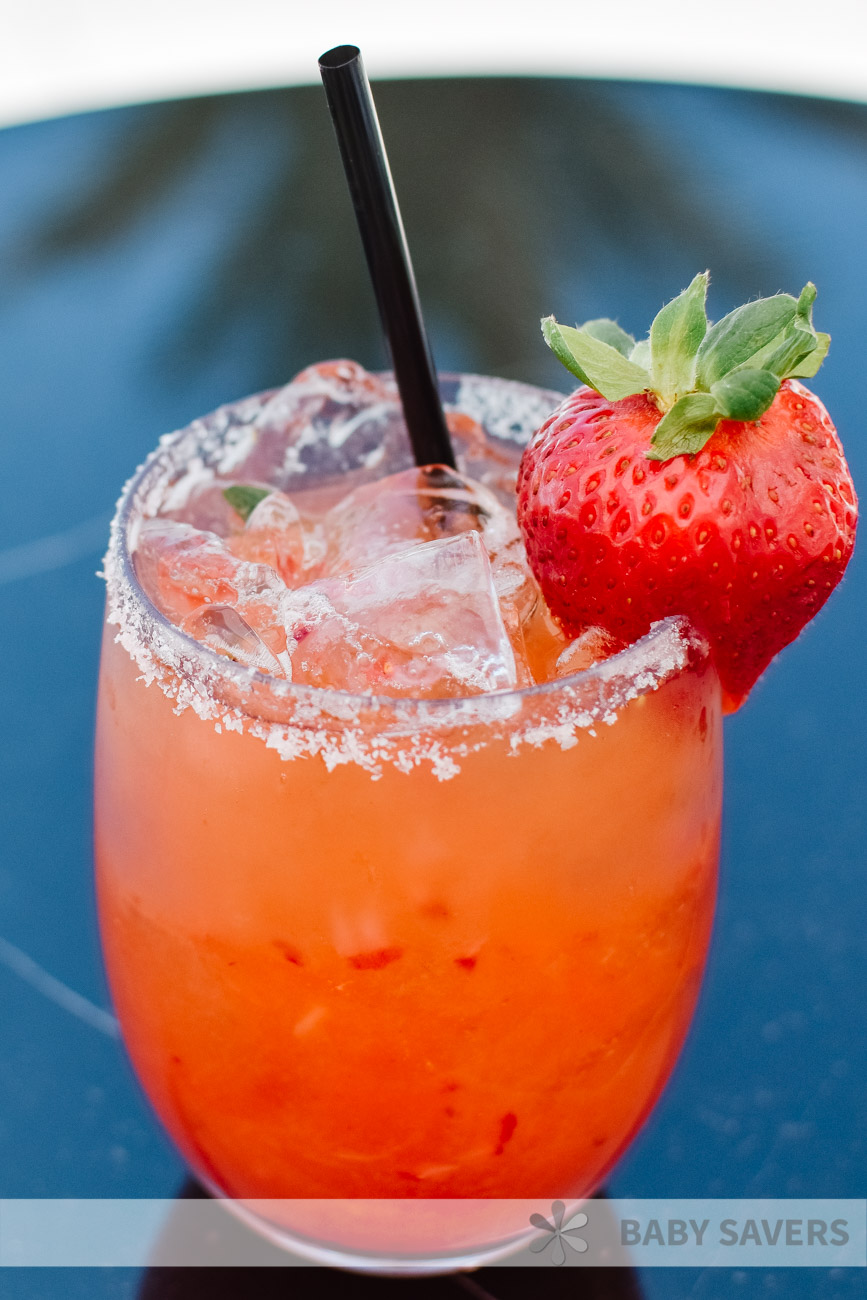 Can you use frozen strawberries instead of fresh?
I have to tell you, fresh strawberries are recommended in this recipe. But you can definitely use frozen strawberries instead of fresh when you make this margarita. You'll just need to do a few little things to make sure the recipe tastes the same.
Thaw the strawberries
Drain the excess juices from the berries
Skip the strawberry garnish at the end
Can you use dried basil instead of fresh?
No, don't use dried basil instead. Dried basil is just fine for cooking and savory recipes, but it won't work well to put it in a cold, refreshing beverage.
Can I make this drink non-alcoholic?
You can easily make a non-alcoholic strawberry basil margarita. The tequila is the only liquor in there, and you could just eliminate it.
That ends up being a bit too sweet for me. I like to substitute other liquid for the alcohol, I would just substitute club soda, Sprite, Fresca or juice for the tequila.
How to make the margarita
1. The first step in making the strawberry basil margarita is to slice three strawberries and put them in a cocktail shaker with lime juice and simple syrup. Muddle the mixture until the strawberries are mashed and the basil is crushed. Set the shaker aside.
2. Cut a slit in a wedge of lime and run it around the rim of a glass. pour some kosher salt on a plate and dip the wet edge of the glass in the salt. Fill the glass with ice.
3. Add the tequila to the shaker, cover and shake. Strain the drink over the fresh ice in the glass.
4. Slice about 3/4 of the way through one whole strawberry, starting and the bottom and leaving the leaves on top. Use the slit to position it on the glass as a garnish.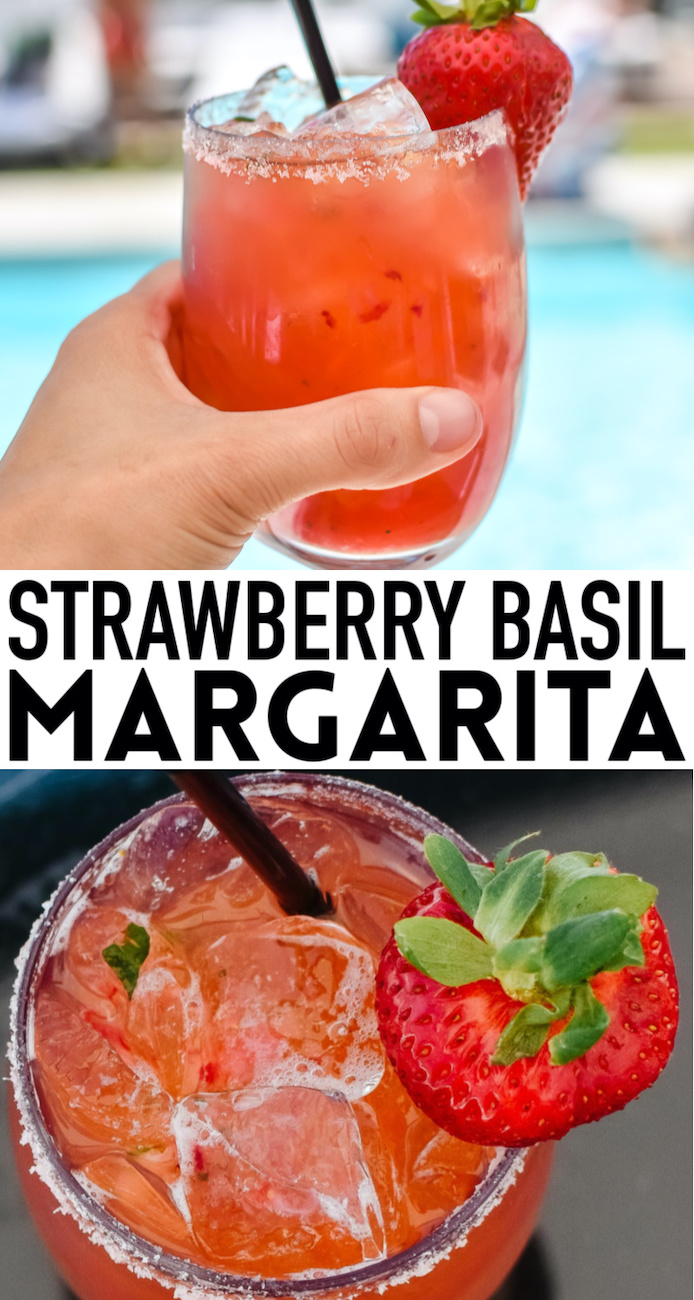 Yield: 1 drink
Strawberry Basil Margarita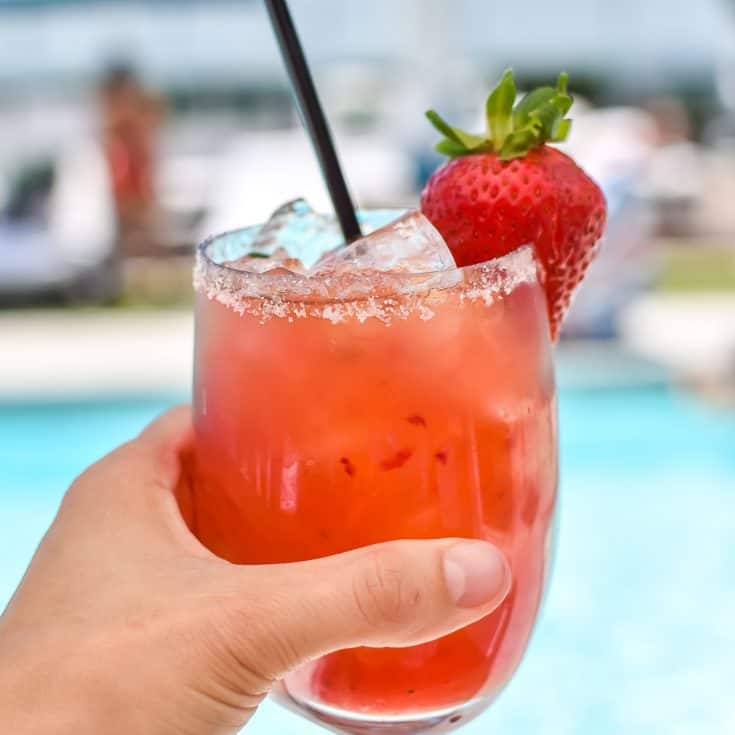 This strawberry basil margarita recipe is a fresh and summery twist on the classic drink. Make one for yourself or fill a pitcher for a party!
Ingredients
.75 oz lime juice
.75 oz simple syrup
6 fresh basil leaves
3 strawberries, sliced
1 strawberry, whole
1.5 oz tequila
1 wedge of fresh lime OR lime juice in a shallow dish
Kosher salt
Instructions
Muddle sliced strawberries and basil leaves in a cocktail shaker with the lime juice and simple syrup. Set aside.
Cut a slit in the lime wedge and run it along the rim of a glass. You can also dip the glass in lime juice poured onto a shallow plate. Dip the rim in kosher salt, then fill the glass with ice.
Slice about 3/4 of the way through the whole strawberry, cutting from the bottom and stopping before the top
Add the tequila to the cocktail shaker and shake. Strain the drink over the fresh ice in the glass. Slide the strawberry onto the rim of the glass for garnish.
Notes
If you don't have all the tools and equipment in the recipe, there are kitchen tools you can use instead.
You can use a fork instead of a muddler to press and mash ingredients.
Use a glass and spoon instead of a shaker.
Use a small measuring cup or measuring spoons instead of a jigger.
Use these ounce to tablespoons conversions for drink measurements:
1 ounce is 2 tablespoons
1.5 ounces equals 3 tablespoons
2 ounces is 1/4 cup
Nutrition Information:
Yield:
1
Serving Size:
1
Amount Per Serving:
Calories:

195
Total Fat:

0g
Saturated Fat:

0g
Trans Fat:

0g
Unsaturated Fat:

0g
Cholesterol:

0mg
Sodium:

586mg
Carbohydrates:

28g
Fiber:

4g
Sugar:

16g
Protein:

1g