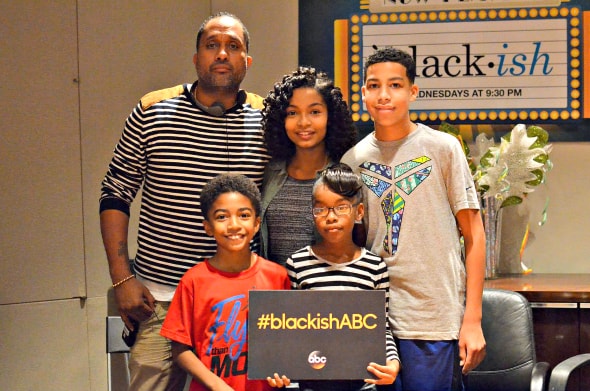 Have you been watching this season's new hit comedy, black-ish? I was assigned some pretty fun homework prior to last week's Disney press trip to Los Angeles: Watch all available episodes of black-ish before a scheduled morning of touring the black-ish set, screening an unaired episode and interviewing cast members.
Disney press trips are awesome.
My husband and I started watching black-ish fairly from the beginning of the season, and now we're hooked! The show is real. It's incredibly funny, fairly realistic and simply well-written. If you like 30 minute situation comedies like Modern Family and The Big Bang Theory, I'm certain black-ish is right up your alley!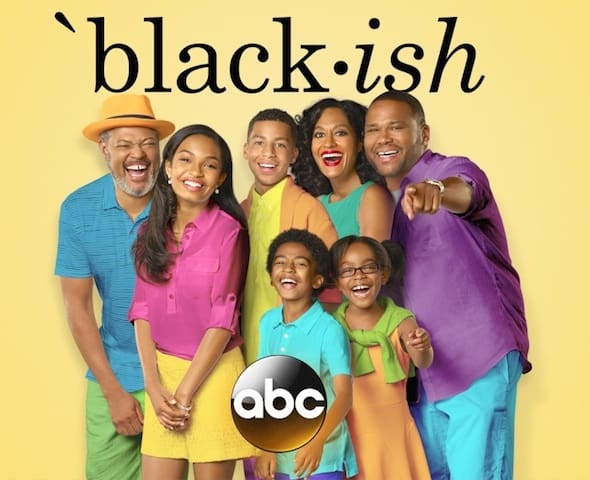 About ABC's black-ish:
Andre 'Dre' Johnson (Anthony Anderson) has a great job, a beautiful wife, Rainbow (Tracee Ellis Ross), four kids and a colonial home in the 'burbs. But has success brought too much assimilation for this black family?

With a little help from his dad (Laurence Fishburne), Dre sets out to establish a sense of cultural identity for his family that honors their past while embracing the future.

black-ish stars Anthony Anderson as Dre, Tracee Ellis Ross as Rainbow, Yara Shahidi as Zoey, Marcus Scribner as Andre Jr., Miles Brown as Jack, Marsai Martin as Diane and Laurence Fishburne as Pops.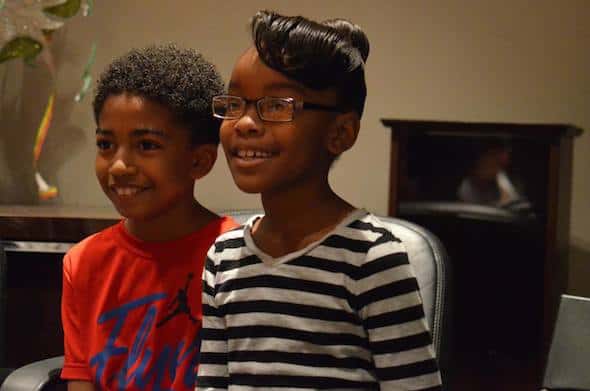 Miles Brown and Marsai Martin who play Jack and Diane on ABC's black-Ish
The best part of the morning was definitely interviewing the four kids who star on black-ish:

Yara Shahidi plays Zoey
Marcus Scribner plays Andre Junior
Miles Brown plays Jack
Marsai Martin plays Diane
Highlights of interviewing the kids from black-ish
Each of your characters has something kind of special [about him or her]. Zoey is into technology, Andre Jr. is sporty…how close is that to your true personality?
YS: I'm not so close to Zoey. I'm the kind of person who's always reading-I spent my summer at Oxford taking two history classes. I usually forget my phone. I'm pretty different from Zoey.
MS: Well, I play Lacrosse and I've played since I was in second grade. I guess that's pretty similar to field hockey. I also play basketball, which I guess is a "culture sport." But I'm pretty into sports, so that makes me close to Junior. I think most of the conversations in the show have happened to me in real life.
MB: Same as Marcus. I'm mostly close to my character as myself in real life. I'm also into basketball and sports and acting, too.
MM: My character, Diane. I'm pretty into social media. I'm also pretty quirky. I don't have siblings, so that's kind of new to me. I like theater very much. I'm kind of sporty–I played gymnastics and I did cheerleading for a year and a half. So that's me!
Yara Shahidi and Marcus Scribner of ABC's black-ish
What is it like being on the set with those amazing actors?
YS: It's absolutely hilarious being on set, and being able to work with such amazing comedic veterans is amazing. I feel like I'm learning so much from being on set, but it doesn't even feel like work…it just feels like another enjoyable experience.
MS: Working with all the veterans…it's awesome to come to work and learn something new from them. Let's be honest: they're all comedic geniuses. It's just pretty awesome.
MM: They're like our mentors at acting now because we actually feel like a real family. It's fun stuff. Acting with Anthony, Tracee and Laurence feels like a real family. We bond as a family. Like, together we're unstoppable!
What do your friends and family have to say about all of this?
YS: They're extremely supportive. I have substitute teachers who I've never even been in class with and they're tracking the show and its numbers! My school did a little thing in the newspaper for black-ish. My family has been extremely supportive. Everyone in my family has been saying, "that's what we do everyday. This is real"
MS: When the show was just taking off and there were billboards up and everything, My grandmother, she's in sales, everytime she would make a sale she'd be like…"Look at this necklace, but GUESS WHAT? My grandson, Marcus, is going to be on the new show black-ish!"
MM: My family is like, amazing. After the pilot, my grandparents called me to tell me "We have it on DVR, we have it on Hulu and every TV in our house it tuned to black-ish!"
The show's creator, Kenya Barris, joined the four kids in the room to take a few questions.
Can you explain, generalize what black-ish actually is?
KB: "black-ish" is a word we came up with that, from our characters' point of view, the world is a lot more homogenized than it was when I was a kid. I have five kids. I look at my kids and the way I grew up-My definition, the way I thought "being black" was is not what my kids are living.
At the same time, they're "black-ish" a little bit lesser version of what I was when I was growing up. then I looked at all their friends, most of whom primarily are not black, and they were a little bit more than what I thought "black" was.
I just don't think there's a black or a white kid left in America. They're all just sort of a blend of everything else. Asian, Latinos. We're all just sort of blended into this homogenized new layer of what America is.
As a father, [the character] Dre is dealing with that. His father dealt with something different. So the show is three generations talking about where we are today.
At the end of the interview the kids of black-ish were nice of us to take a photo with us: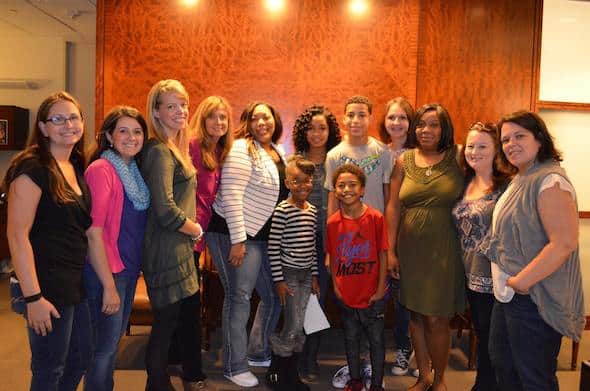 I've seen several episodes of black-ish. That, combined with the above interviews, brings me to summarize black-ish as a relatable show about a family.
Personally, I can compare aspects of that show's family to my own in several areas. I grew up very close to my grandma and my parents always made a big effort to be involved my life. They worked very hard to provide for their family.
As the next generation, it's easy to see how different my life is because of all my parents have done to keep my struggles to a minimum. And it's worked! My parents are amazing and still make sure my kids, my husband and I are able to have everything we need.
Yet I want my kids to be instilled with a good work ethic and a sense that family is the most central part of their worlds. We have family dinners and ask would you rather questions for kids to learn more about them. So I absolutely get how changes for the better raise new questions about parenting and a comfortable lifestyle.
Be sure to check out black-ish on ABC to see how funny and relatable it really is!
Photo credits: Staci Salazar and Jen Burg.
Disclosure: Disney and ABC flew me out to ABC studios to participate in this set visit and interview. All opinions are my own.