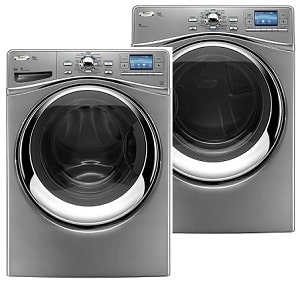 I love the idea of maximizing efficiency. When I worked in the corporate world, I was somewhat of an efficiency expert. I could look at processes and quickly identify where time was wasted and how efforts could be better spent.
Being a stay-at-home mom has put my old, efficient self to shame. Sorting laundry as it hits the hamper? Nope. I'm lucky if it even gets in the hamper. Spot-treating little toddler clothes before they go in the wash? I'm happy when those clothes get washed, dried and put away. Moving wet clothes from the washer to the dryer and immediately another load of clothes in the washing machine? I only wish I did that more often.
If I did that last one and did back-to-back loads of laundry every day, I certainly wouldn't have been presented with this mountain of dirty laundry earlier this week: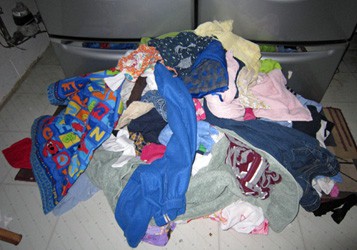 I feel compelled to point out that I'm not a total laundry-slacker. Two messy toddlers, a husband who wears a work uniform and "day clothes" daily, plus my freakish need to launder all of my own clothes a specific way lead to a very time-consuming laundry workload!
Regardless, my pile of laundry looked daunting, but my beautiful new Whirlpool Duet Premium washer and dryer made it far easier than I ever thought possible!
With a high-efficiency front-load washing machine like my Whirlpool Duet Premium, the drum can be full, but not stuffed. What does that mean for my pile of laundry? I could fit this much in the new machine: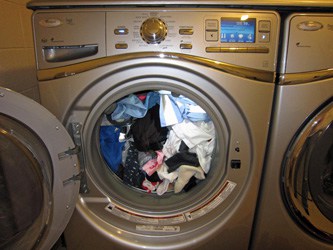 Meaning I was left with this much laundry to do:
What's left wasn't even enough to fill the machine for a second load. That's right; that original huge pile of dirty clothes didn't even constitute two full loads laundry in my washing machine!
Saving my own time isn't the only benefit to owning this sweet set of machines. Here are a few more huge perks that come with the Whirlpool Duet washer and dryer:
Water Conservation ::  The front-load model doesn't fill up the drum like a traditional top-loading washing machine would. The washer automatically senses the size of each load to use just the right amount of water while delivering amazing cleaning power. A load of laundry can be done in as little as 11.5 gallons of water! According to Whirlpool, this can save a single household up to 12,857 gallons of water every year. Amazing, right?

Energy Conservation ::  There's this great Ecoboost option on the washer that saves energy by decreasing the water temperature and increasing the in-washer tumbling. The tumbling offsets the reduced temperature to deliver the same results with less energy. There's also an Ecoboost option on the dryer to save even more power.

Time Savings  ::  The wash cycle can be long, but "regular" loads spin for a long time at a super-high speed. The spinning hits up to 12,000 RPM, which wrings so much water out of the clothes that drying time is drastically reduced!
Call me an energy-conserving crazy laundry mom, but I used to get upset when I'd open my still-running dryer only to find my dry clothes baking in an extra hot cavity. It seemed wasteful and hard on the clothes! My new Whirlpool Duet Premium Dryer doesn't play with my emotions like my old dryer did. The Whirlpool has moisture-sensing technology that shuts the dryer off when it detects the clothes are dry.
Can you tell I'm in love with my new washing machine and dryer? To refresh your memory, the models are available at BestBuy.com:
With my new Whirlpool Duet Premium washing machine and dryer set, I can't help but be efficient in my laundry. Even when the clothes pile up and I play laundry hooky for a weekend, my clothes are clean in the time it takes to wash and dry two or three loads of laundry!
I wrote this review while participating in a test-drive campaign by Mom Central Consulting on behalf of Whirlpool and received a complimentary Whirlpool Duet washer and dryer to facilitate my review.