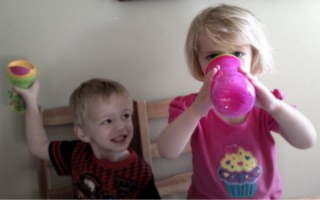 Which sippy cups don't leak? is a question I didn't think I needed to ask before buying my son's first cup. After plenty of instances where I thought he just wasn't "getting it", a lot of kicking myself for not getting the cover on properly and many messes, I finally realized that it wasn't user error. That sippy cup made by a popular baby brand leaked more often than it provided the mess-free drinking experience it promised.
I wish I could say that there was only one brand of sippy cup that leaked. Unfortunately, it seems that for every cup we've tried that kept everything clean, there was one that poured dripped on toddlers, furniture, carpet and car seats. Sometimes I was to blame for not making sure all pieces were put together correctly before handing a full cup to Haiden and Piper. But, in my defense, one brand of cup has six different parts that need to be assembled for each use. If one of those pieces isn't fit perfectly into another, I can expect some sort of mess.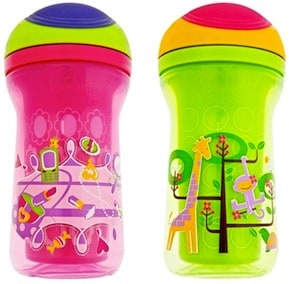 Of course, not every brand of sippy cup leaks, and the new Tommee Tippee Explora Drinking Cups sippy cups just don't leak.
Unique drinking spout for kids on the go
Advance-flo™ technology for easy drinking
BPA Free
Insulated base keeps drinks cooler for longer
Stage 5 Cup
BPA-Free
Truly non-spill & leakproof

Unlike other valve systems the Tommee Tippee active sensor valve is designed by a physicist to be both so sensitive that liquid flows on demand, yet truly spill and leakproof.
I interrupted my son's Play-Doh activity to try to get him to talk about the cup for a minute:
If you can't watch it now, feel free to view it when you can have the volume on. There's a funny little exchange near the end 🙂

Haiden (my son in the above video) is 3 years old, so he's very used to drinking from sippy cups. He drinks from a regular cup at dinnertime, but he still uses a training cup like this one when we're in the car or at home when we're in the carpeted living room. Piper, my 2 year old daughter, is about the same, but she prefers a sippy cup over a regular glass all the time.
At this point, they're both so used to using a variety of cups that introducing a new brand with a different valve mechanism was not a problem at all! Younger toddlers might have a bit of trouble "sipping" out of this type of cup at first, but I'm sure they'd get it very quickly once they understood that there was a drink in there!
Tommee Tippee sippy cups are now available at Target stores nationwide and on Target.com! You can see Target.com's entire Tommee Tippee sippy cup offering and take a look at the wide variety of cups that are available for every stage of transitioning from bottle to sports bottle!
Want to win a set of Tommee Tippee Explora sippy cups? 
One winner will receive a set of Tommee Tippee Explora cups. 
There are some great ways to earn extra entries into this giveaway! All mandatory and extra entries must be submitted within the Rafflecopter Giveaway box below.
a Rafflecopter giveaway

As always, if you have any trouble entering this giveaway, or if you have any questions, please contact me!
I wrote this review while participating in a blog tour by Mom Central Consulting on behalf of Tommee Tippee Sippy Cups. I received a Tommee Tippee Explora Sippy Cup product as well as a promotional item as a thanks for my participation.