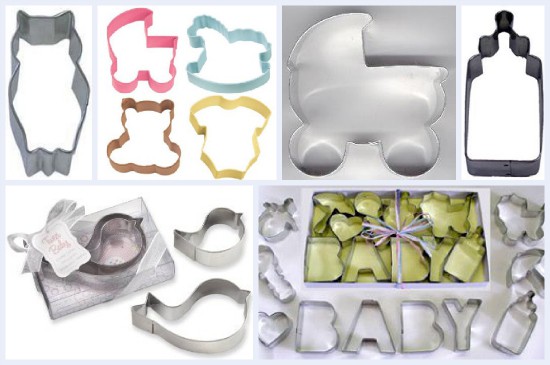 I receive a lot of questions about where to get baby shower cookie cutters. If you look in specialty party stores you might find them, but they'll also probably cost far more than you need to spend!
There are plenty of baby shower cookie cutters available online. Whether you're looking for a set of baby-themed shapes or a single baby symbol to use as a compliment to your baby shower theme, you can definitely find it, and they're usually just a few dollars each!

Cookie cutters also make cute baby shower party favors. You can buy sets and get cookie cutters for less than $2 each or you can buy ready-made baby shower cookie cutters packaged as party favors!

Top 10 Baby Shower Cookie Cutters
Wilton Baby Theme Cookie Cutter Set :: 4 cookie cutters for $8.96
Mini Baby Cookie Cutter Set :: 7 cookie cutters for $7.95
Crawling Baby 5″ Cookie Cutter :: $8.01, shipped
Kate Aspen Tweet Baby Mamma & Baby Bird Cookie Cutters :: 2 cookie cutters for $4.99
Curious Chef Duck Cookie Cutter :: $4.50
Mrs. Anderson's Baking 3-piece Feet Cookie Cutters :: 3 cookie cutters for $4.99
Baby Carriage Metal Cookie Cutter :: $7.34, shipped
Baby Shower Cookie Cutter Set :: 10 cookie cutters for $14.65, shipped!
Baby Bottle Cookie Cutter :: $4.15, shipped
Aside from the top 10, there are a few other baby shower cookie cutters worth mentioning:
Any of those choices are sure to make your baby shower memorable and adorable!
Those Baby Cookie Monster cookie cutters would make some cute treats at a birthday party! See other Cookie Monster birthday ideas!