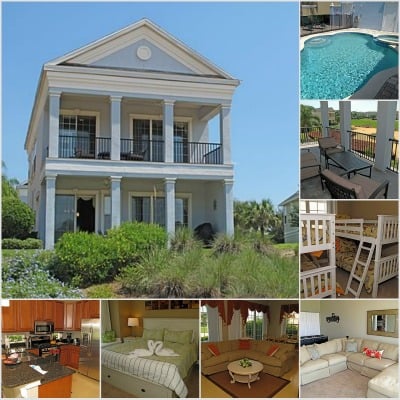 It's hard to believe that I was enjoying the Florida weather with my family less than a month ago. Now that this Minnesota mom blogger is back home in the cold, that entire week in the sun feels like a dream!
I'm no stranger to vacationing in Florida. My parents both love visiting Disney World, and I was a lucky kid to have taken trips to the Orlando area regularly from the time I was about eight years old. The trips became less frequent once I hit college, became a career woman and had a few little kids, but I've always been able to squeeze in a Disney vacation at least every few years.
Growing up, my parents were very clear that traveling on a budget was absolutely necessary if we were to continue vacationing to Florida. An early bargain-hunter, I was about 11 years old when I took on the role of paging through our Entertainment Book's national hotel deal listings and calling every single participating Disney-area hotel to secure the best nightly rate for our family.
As I've grown older, I've learned a little bit about the pros and cons of staying in a "budget" hotel in the Kissimmee  area. For me, the pros are few and far between: low cost and relative convenience are truly the only two benefits that come to mind. The downfalls include lack of cleanliness, poor customer service and unsafe neighborhoods, to name just a few of the things I really don't care for.
I had the pleasure of staying in a Global Resort Homes vacation rental when I visited Kissimmee for a Brandcation blogger event at the end of 2010. At the time, I was in disbelief that vacation rental homes in Kissimmee were so nice. When my sister and I started discussing a Disney vacation a few months ago, my first thought was, we need to stay with Global Resort Homes!
Before I even thought about the possibility of reviewing one of their fantastic vacation homes, my sister and I were exploring the variety of homes that would be available during our stay, and it didn't take much to convince her that her family of 6 and my family of 4 could comfortably share a home, enjoy all the conveniences and end up way happier than if we stayed in a few hotel rooms! We were both practically giddy when I showed her exactly how many features were included in the homes that would fit our families!
We were really thrilled when Global Resort Homes was easily able to find a luxury rental home for us had more than enough room for our families to comfortably live together for a week. The two-story property in Reunion, Florida, was by far the most fantastic place I've ever stayed while on vacation. In fact, my niece and nephews were jumping up and down before they even set foot in the house!
I know that the house looks nice from the outside, but it's what's inside that counts, right? The interior of this house made us all want to stay in it forever. Seriously, I think that my sister, brother-in-law, their four kids, my two kids, my husband and I could happily live together in that spacious home for a long time before wanting a bit more space 🙂
The best parts of the house:
1. The private pool. No extra description necessary!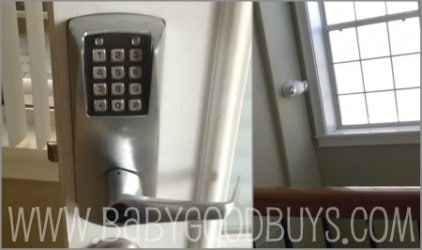 2. The security. We were greeted with a super-secure keypad door lock that required a unique code for entry. The management at Global Resort Homes changed codes for each visit, and they could also be changed mid-stay if we needed it. Further, our home had a security system that we could enable at will to ensure ourselves and our belongings remained safe.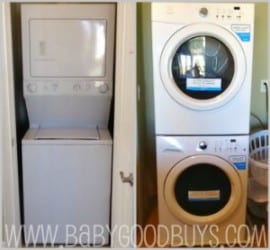 3. Two washers, Two dryers :: That's right, there were two stacked washer and dryer sets. We would have managed with one set; heck, we would have managed with no laundry facilities, but having two washing machines made both this mom and my sister embarrassingly excited! At least one machine was spinning every night, and we were all happy to have fresh, clean clothes each day without taking up so much real estate in our luggage!
4. Two stories :: I didn't understand exactly how fabulous living in a two story home would be. I obviously hadn't considered that we had to get six kids to bed for a good night's sleep every night. It was so easy to put everyone to bed, then have the four parents hang out downstairs in the kitchen or sitting area. We talked, laughed and snacked without any worries of waking up the little ones. That alone made it feel much more like a vacation for my husband and I!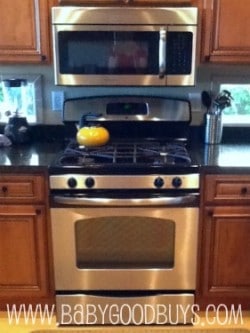 5. The furnished kitchen :: Let me tell you, don't discount the amount of money you'll save by having a full refrigerator, oven, microwave and the fully-stocked cabinets full of utensils, bakeware, cookware, drink ware and plates. Right after checking into the house, we took a quick trip to the nearby SuperTarget to buy some groceries. We spent about $80 total on cereal, milk, bread, bagels, peanut butter, yogurt, applesauce, deli meat, fresh fruit and some other basic foods. That was enough for the kids and dads to have a filling breakfast in the mornings plus healthy snacks and drink boxes packed up for each day we spent at the Disney Parks. We also brought Haiden and Piper peanut butter sandwiches for lunch every day (they're creatures of habit and insist on them)!
Overall, we still definitely dined out more than we dined in, but that $80 in groceries saved 7 days of breakfast and well over $100 in snacks and drinks for the 10 of us over our vacation. If we had been more frugal and planned even more than we already did, I'm sure we could have saved at least $200 more in food between our two families!
I love my sister and her family, and our kids all get along really well. I have to say that having all of us share a house for our Disney vacation was so much fun. Way more fun than I ever imagined! I'm sure we'll all return to Florida in the next year or two. When we do, I'm absolutely positive that we'll be sharing another short-term rental house from Global Resort Homes!

If you're interested in learning more about the various accommodations and options for Orlando vacation rentals, visit Global Resort Homes or click the image above to browse the site and see everything they have to offer! They're also very active in social media, and they'd love it if you followed them on Facebook or Twitter.
Global Resort Homes provided accommodations for our family to facilitate this review. All opinions expressed are my own.