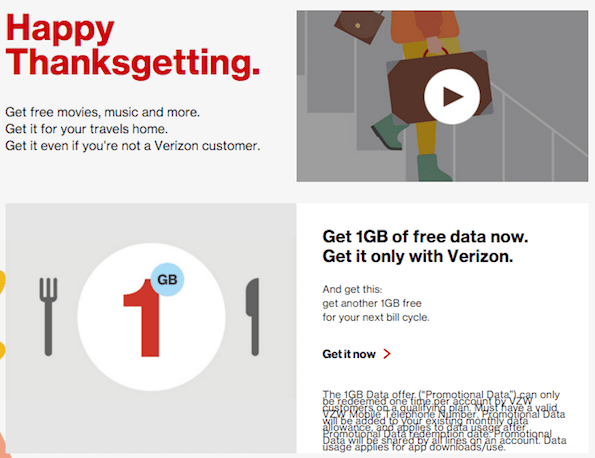 Verizon is saying HAPPY THANKSGETTING today (11/25) by giving everyone some amazing freebies. The best part is that you don't have to be a Verizon customer to take advantage of most of them!
Here's what Verizon is giving all of us for Thanksgetting:
A FREE $5 iTunes gift card.
Limited commercial interruptions on Apple Music compliments of Verizon.
FREE ebooks, music, movies, TV and app downloads on Amazon.
A FREE 20-day trial of Pandora One.
FREE Boingo airport Wi-Fi.
30 FREE minutes of Gogo Wi-Fi on select airlines.
If you're already a Verizon customer you can also get a sweet bonus right now: 1 gig of data added to your account for FREE! Even better you'll get another gig FREE next month! You'll need to follow the directions found here to get your free data.
You'll also get a sneak peek at Verizon's Black Friday deals when you visit the Thanksgetting page!
You can find details on all the Verizon Thanksgetting page. Take advantage NOW because they're only available through the end of the day on 11/25/2015!