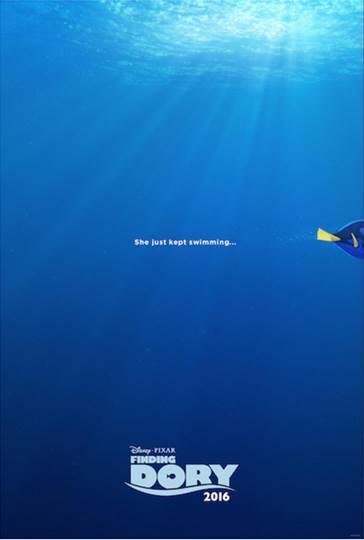 This is so exciting! I received an email this afternoon with the brand new Finding Dory trailer and a poster to go with it!
The poster is shown above, and you can check out the Finding Dory trailer here:
What are you looking forward to most in Finding Dory? For me, I can't wait to (hopefully) be introduced to new characters, especially Dory's family!
About Disney Pixar's Finding Dory:

Disney-Pixar's "Finding Dory" reunites everyone's favorite forgetful blue tang, Dory, with her friends Nemo and Marlin on a search for answers about her past.

What can she remember? Who are her parents? And where did she learn to speak Whale?

Directed by Andrew Stanton ("Finding Nemo," "WALL•E") and produced by Lindsey Collins (co-producer "WALL•E"), the film features the voices of Ellen DeGeneres, Albert Brooks, Ed O'Neill, Kaitlin Olson, Ty Burrell, Eugene Levy and Diane Keaton.
Follow Finding Dory on these social media channels to stay on top of all the Finding Dory news:
Finding Dory swims into theaters everywhere on June 17, 2016. See theater details and ticket info for Finding Dory!