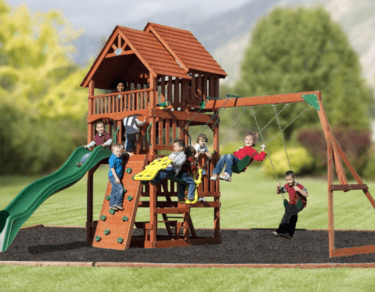 Earlier in the season, I received an email encouraging me to experience "Backyard Bliss" with Sam's Club's fantastic Outdoor Living merchandise.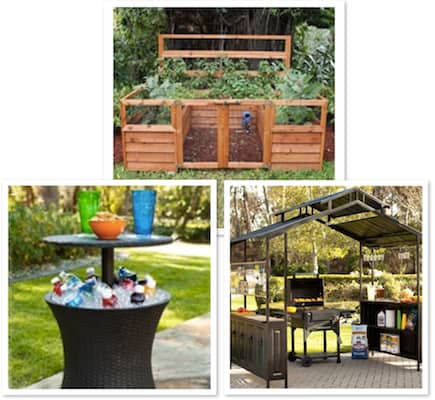 There were so many beautiful and fun items featured, like the Dunkirk Grill Gazebo, the Keter Cool Bar and the Backyard Botanical Complete Gardening System, just to name a few, so I wrote back to the rep who had sent me the message and told her how much I loved the featured items.
Much to my surprise, she asked if I would be interested in reviewing the Highlander Deluxe Cedar Play Set. Of course, I said yes!
The Highlander is a unique play set that allows children to play on four different levels of the structure.

Ground level includes a picnic table with benches and a toy storage area. Each of the three additional decks lead upward until reaching the highest level.

All levels can easily be seen by parents so you can keep an eye on the adventurers, thanks to the slatted wall construction. Up to nine kids can play on this set at one time!
My husband was also thrilled with this review opportunity, so I sent him the product link to have him evaluate how the assembly would go. He came back and said that I should read it, too. Here are the key details we noted about putting the Highlander Play Set together:
Tools and Materials Required:

Claw type hammer
10 ft. tape measure
Framing square or level
10 ft. step ladder
Screwdriver (#2 Phillips)
Electric or cordless drill
Wrench, sockets or nut drivers (9/16″ and 1/2″)
Beeswax or soap (used to lubricate screw threads)
Drill bits: 1/8″, 3/16″, 3/8″ and 7/16″(high speed)

The Highlander Has One Layout Option:

Layout ground dimensions: 14'8″W x 15'10″L x 12'10″T
Safe play area (allows for 6′ on all sides of set): 26'8″W x 27'10″L

Assembly requires two moderately skilled people and 20 – 24 hours.
We also took a look at the existing customer reviews for the play set and found that most reviewers concurred with the amount of time needed and that at least two people were necessary for putting the set together.
My husband called up a few of his buddies and made a plan for them to come over on a Saturday. They didn't even let the bad weather forecast and nearly a full day of rain stop them from getting it done!
They moved the four long, heavy boxes from the garage into the backyard, then organized the contents of the boxes. They ended up with lots of piles like this: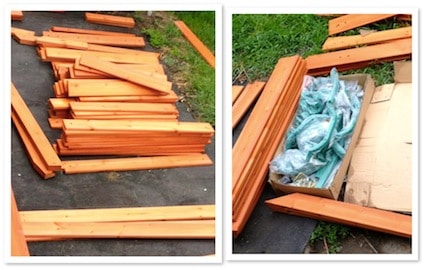 They got started and followed the directions to a T. My husband and his friends broke out the tools and it started coming together!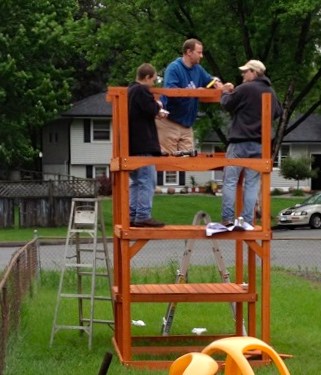 It rained the entire day that they worked on getting it together, so I didn't get any decent photos  between this one and the final, assembled product. I do have to say that three of them worked on the structure for over 12 hours, and one other guy came over for about 3 hours to help them out in the middle of the day.
Even with all that manpower, my husband still had to spend about another eight hours on his own getting the final pieces in place. Want to know why?
Not a single piece of this swingset arrives already put together. Every platform needs to be built with individual pieces of wood. Every wall has to have each individual slat attached, and the picnic table is built plank-by-plank. This isn't a negative, it's just an FYI to make sure you understand that this swingset needs to be built from the ground up once it's delivered.
If you're not up for the task of spending a few days building a swingset, I would suggest hiring someone to do the construction or purchasing a less-intensive pre-made set.
In our case, my husband is so proud of the work he and his friends did, and I know he loves that he actually made this swingset for his beloved children. From the kids' perspective, their daddy is a hero for building such an amazing structure just for them!
Of course, my kiddos are thrilled with the entire swing set. Here's what Haiden, 3 and Piper, 2, love about the Highlander Deluxe Cedar Play Set: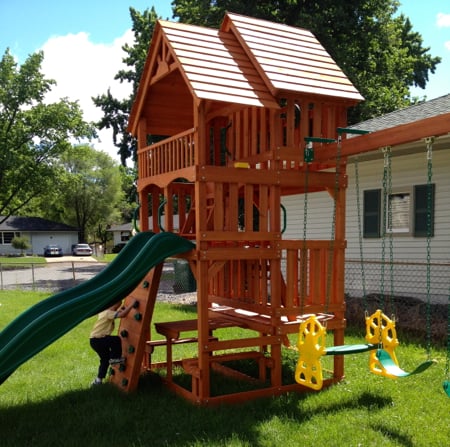 1. The Rock Wall: The climbing wall is fairly steep and it's five feet tall, but both kids impressed me immediately by scaling the vertical platform quickly. Wit the various hand and footholds, the seem to find  a new way to climb up it every day!
2. The Ship's Wheel Glider: It's so fun to have Haiden and Piper jump on the glider and want to swing together. They need to be pushed the entire time, but they also giggle and smile throughout the ride.
3. The Multi-Levels: Both Haiden and Piper love climbing all the way up to the top of the play set. They both want me to stand right below them so they can call to me, "Hellooooo down there!"
4. The telescope: I understand that this is just an accessory, but they both like to play "lookout" on the level with the telescope.
5. The multi-position swings: The kids like to use swings in the traditional way, but of course, they like to lay across one on their belly and drag their hands and feet on the ground. My husband adjusted the swings to two different heights so they're easily able to use the swings both ways.
6. Wooden "stairs": The play set features angled steps instead of ladder rungs, making it easier for Piper to get up and down to and from each level.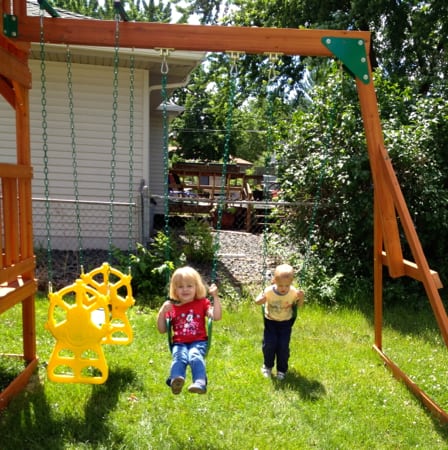 What Mom and Dad love about the Highlander Deluxe Play Set: 
1. Arched "entry points": The arches look quite nice and they're also designed to keep little heads from bumping the beams.
2. The sunbursts at the peaks: The adorable "shingled" roof features a sunburst design on each side. It's a cute addition to the design, and I love the way they look.
3. Metal safety handles: There are metal handles to grab where they're most needed: at the top of the climbing wall and alongside every set of steps.
4. The picnic table: The built-in picnic table is roomy enough for adults to use, but small enough for kids to sit down at without any help. I love that it's fully covered, and our set is positioned so it's always in the shade. It's a nice spot to have lunch or to get the kids out of the sun when they get too hot.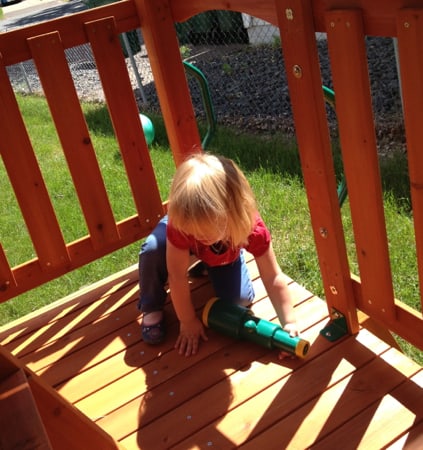 5. Slatted walls: The benefit to slatted walls rather than solid wood sides is that I can see every level and know right where my kiddos are. I believe that the set is safe, but it's very tall, and I want to make sure the kids are firmly planted in a secure spot.
A few things we'd like to improve: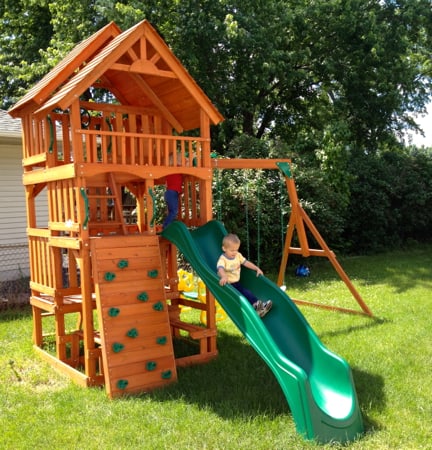 1. The slide: It's long and fast, which is super-fun, but it stops about eight or ten inches above the ground. Haiden and Piper have both slid down the slide, flown off the end and hurt both their bottoms on the ground and banged their heads on the bottom of the slide. Thankfully, it's a smooth, curved plastic, so I don't forsee anyone getting seriously hurt from it, but my husband and I are brainstorming some sort of "landing" for the bottom of the slide.
2. No ground cover: I wouldn't expect any sort of cover to be included with the play set, but we're going to have to put some sort of mulch, gravel or padded patio material under the whole structure. It's too hard to mow and trim the grass that grows underneath it, and most of it isn't surviving being trampled or oddly shaded, anyway.
In conclusion, we love this playset! I'm confident the Highlander Deluxe Cedar Play Set will last us for years to come! Even better, there are accessories like the Monkey Bars and the Tic Tac Toe board that we can purchase separately to keep the set fresh and exciting if it ever comes to that.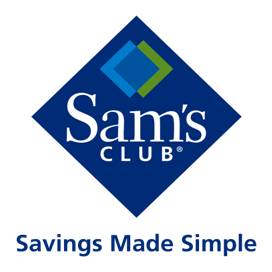 Buy it! The Highlander Deluxe Cedar Play Set is available at SamsClub.com for a regular retail price of $1099. It's currently on sale for $999 with free shipping! 
I received the item featured in this review at no charge. This is not a paid article, and all opinions are 100% my own.