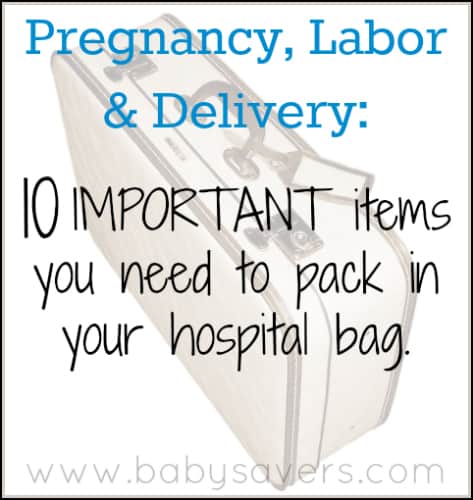 I've looked at a lot of lists telling expectant parents what to bring to the hospital for labor and delivery. Those lists have had some bizarre items on them, and you may find that a lot of those items are already provided by the hospital!
I'm a chronic over-packer, and I ended up in the hospital for 5 days when I had my first baby. Even with everything I brought, I didn't need half of it. When it was time to leave, my husband and I were insanely concerned over our new baby's comfort and happiness, as well as overloaded by our own nerves about going home as a family. We also had to take home the lovely flowers and gifts we had received during our stay. Needless to say, all of those items I had decided to pack became a huge burden!
You'll definitely want to have certain items with you as you labor and delivery your baby. , but it's important to only take what you need!
Here's a list of just the essential items you should bring with you to the hospital:
Toiletries
Toothbrush
Toothpaste
Hair brush
hair ties
1 outfit for mom wear home
1 outfit for baby to wear home
Nursing bra
Camera
Car seat for baby. (This will likely stay in the car until it's time to leave.)
Like I said when I shared the items and products the hospital provided for labor, delivery and postnatal care, it's a great idea to ask what's provided before packing up a huge bag  with items the hospital won't let your use. You also might be surprised at how little you'll need to bring along for new baby!
Your outfit to wear home should be loose and comfortable. Remember, your body will be healing from a major event, so you won't be back to your pre-pregnancy self. If you need help, check out these going home outfit for mom ideas.
I also understand that this isn't a comprehensive list. It's only the essentials. I just want to encourage you to take those other What to Pack for the Hospital lists with a grain of salt and remember that everything you pack has to be loaded up and brought home!
Readers: What items were essential for you during labor, delivery and postnatal care?