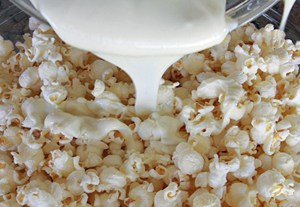 To celebrate summer fun, Redbox wants to know, "What's your family's go-to movie night snack?" Plus, they are rewarding 2 lucky people with a chance to win $10,000 as part of the Redbox Summer of Fun & Games Sweepstakes.
Piper and Haiden are just barely two and three years old, so we haven't started a family movie night tradition yet, but I can assure you, my husband has big plans to start "movie time" with the kids as soon as he can!
I like movies, but I don't love them the way my husband does, so I'm pretty sure I'll be leaving the viewing and commentating responsibilities to James. As for me, I'll be doing one of my favorite things: baking and preparing yummy treats to make movie night extra special!
One of my favorite party snacks is Addictive Candy Popcorn. It's a concoction the whole family will love! The ingredients are easy to obtain and the recipe can easily be halved if you think it will make too much (trust me, the leftovers won't last, if there are any!). Plus, it takes less than 30 minutes to make, from start to finish!
Addictive Candy Popcorn Recipe

1 3.5 ounce package light microwave popcorn, popped
2 cups Kix cereal
1 cup pretzel sticks or small pretzel knots
5 ounces corn chips (half a 10.5 ounce bag)
1/2 lb. almond bark or white chocolate
1 tablespoon vegetable shortening (optional)

Cover a large area (2 feet x 2 feet, if you can) with waxed paper or parchment.
Mix up the popcorn, cereal, pretzels and corn chips in a large bowl.
Put the almond bark in a glass bowl and microwave it on high for 30 seconds. Stir, then repeat microwaving in 30 second increments until it's smooth.
If the almond bark doesn't seem like it will pour well, add the vegetable shortening and stir. Microwave for 15 seconds more, if needed, to get the shortening melted.
Pour the almond bark over the popcorn mixture.
Work quickly and gently stir the mixture to coat all the pieces.
Spread out the popcorn mix on the waxed paper in a single layer if possible.
Let the mix stand to harden for at least 15 minutes.
Break into chunks and serve in a bowl.

Store leftovers in an airtight container for up to 3 days.
If I'm not feeling like getting everything together to make my candy popcorn, we can always go for regular popcorn!
Do you have a favorite movie night snack? Please share it in the comments below!
Redbox is celebrating summer family time with a great line up of family-friendly titles, awesome savings and two chances to win $10,000 as part of the Redbox Summer of Fun & Games Sweepstakes.*
4 Easy Ways to Enter:
1. Enter your email address at www.redbox.com/summer
2. Rent a movie or game at a redbox kiosk (and provide a valid email address at checkout)
3. Reserve a rental online at redbox.com
4. Text 'SUMMER' to 727272
Enter to win today!
This is a paid conversation written by me on behalf of Redbox. The opinions and text are all mine.
*Each item rented earns one entry, regardless of how long it is rented, up to three entries per day. Limit 3 entries per day, regardless of entry method. The sweepstakes begins May 27, 2011 at 12:00 a.m. CT and ends on August 1, 2011 at 11:59 p.m. CT. No purchase necessary. See official rules at www.redbox.com/summer.