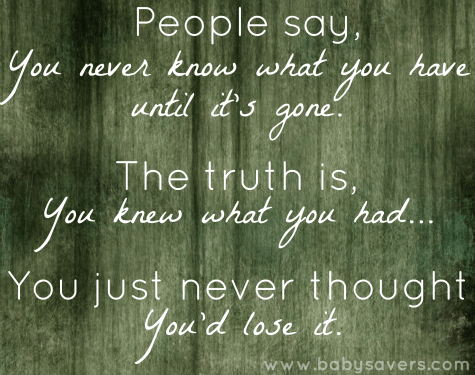 I've been absent on this site for much of the past few weeks. While it's been in the back of my mind that I should be writing new articles, sharing the best baby deals, or at least putting out an update on my recent life changes, this site was moved to the back burner when my mother-in-law passed away late last week.
While her death wasn't entirely unexpected, it still came much sooner than we thought it would.  and left family and friends reeling from our collective loss of this wonderful woman.
To be completely honest, the pain of the past months combined with the raw sorrow of losing someone so special makes it too difficult to write in any more detail about it.
It was only a few weeks ago that a friend shared that quote pictured above. It was heartbreaking to read it then, but so applicable to our lives as the inevitable drew closer.
I don't know when the healing actually begins, if life gets any easier to move through after a loss of this kind. In the last few days, I've learned over and over what a blessing family can be, and how fortunate I am to have the support, encouragement and simply the presence of the people I care most about in the world.
I don't know when things will get back to, "normal." I am, however, ready to "plug back in" and get back into the routine of this site and sharing deals with all of you. I have a special "thank you" giveaway planned to show my appreciation for all of you sticking around through my absence.
~Marybeth