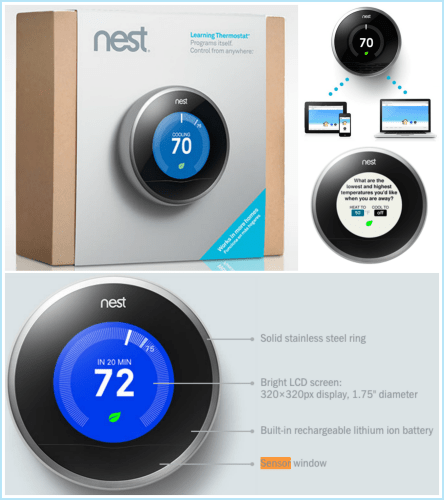 Several weeks ago I went on a blog trip to Chicago to check out the brand new Verizon Destination Store on Michigan Avenue.
After learning about tons of gifts, toys, games, devices and associated technology during a thorough store tour, I was dreaming of living in a smart home with smart gadgets and all the smart apps to control everything, everything, from my phone or tablet.
When I was surprised with a $250 Verizon gift card and told, "go shop!" I didn't need to be told twice. I immediately headed to the Home and On the Go section of the Destination Store and grabbed a Nest Home Thermostat. Priced at $249.99, it was a wishlist item that I had always wanted!
Before the Nest, I had a reliable Hunter programmable thermostat. When I had worked outside the home, it generally did the trick. It was set to turn up the heat a bit before I crawled out of bed, then set to turn down after I left for work. The heat kicked on again a bit before I was scheduled to be home, and turned down after my husband and I were usually in bed.
When I quit my job completely, I pretty much did away with the programmable aspect. this left me wishing for a solution that didn't have me kicking myself every time I left the house with the heat on, or leaving nagging reminder notes to adjust the temp when my husband was home but I was away.
Why the Nest is SO Much Better Than a Programmable Thermostat
Before buying the Nest thermostat, I thought the key selling points for it were that it was infinitely programmable and able to be controlled remotely via a smartphone or tablet.
While that's all true, it's not why the Nest is so valuable. The Nest thermostat is absolutely worth $250 because it has learned my family's habits, programmed itself and detects when we're not home. 
That's right, the Nest's Auto Away feature senses when no one is home and it automatically turns the heat down to my preferred temperature (which is what I've always wanted)! I can also manually set the thermostat to Home or Away or do the same thing via the app.
Auto Away uses sensors for activity, temperature, light and humidity determine if someone is home. Pets don't affect the Nest's Auto Away feature, making it perfect for our home with two cats and one dog.
The other reason my Nest Thermostat is so much smarter than a standard thermostat is because of the Nest Leaf.
The leaf appears on the thermostat if you choose a temperature that will save energy. This is an excellent way to gauge how efficient your regular set temperatures are.
If you usually set your heat to 70, you can dial down the thermostat and see if you can reasonably adjust the temperature to save money. This also works for air conditioning.
In my house, the Nest Leaf was a difference of one degree. One degree! This knowledge may or may not affect your own personal heat or cooling settings, but it's definitely something to keep in mind and consider adjusting once you're more aware of it.
If you've thought about a Nest thermostat in the past then decided it's not worth the cost. Think again! I can't wait to see how much money we've saved by using the Nest!