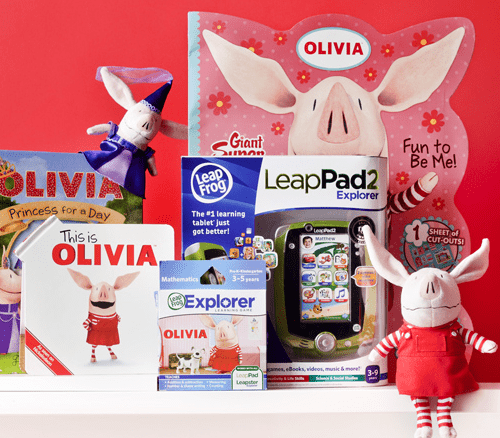 Zulily is currently offering up a great sweepstakes with a prize packed full of Olivia goodies!
The huge list of what's included in the prize is below (Of course, my kids would love everything but I'd really like that $50 Zulily gift card!)
Here's how to enter:
Visit the Olivia sweepstakes page
Verify your email address in the box and proceed to the next page.
If you win, you'll receive all of the following:
LeapPad2 Explorer
OLIVIA LeapPad game
OLIVIA Giant Coloring Book
OLIVIA Sticker Art/Paper Doll Pad,
Singing Bedtime OLIVIA toy
Medium OLIVIA Plush
2 Miniature OLIVIA Plushes
Olivia: Dream Big Storybook
OLIVIA and the Butterfly Adventure
OLIVIA Acts Out
This is OLIVIA
Princess for a Day
OLIVIA Says Good Night
OLIVIA on the Go
OLIVIA Loves to Read
OLIVIA Dances for Joy
OLIVIA Collection
OLIVIA's Opposites
OLIVIA Counts
OLIVIA in the Park
OLIVIA Plans a Tea Party
OLIVIA R2R Value Pack
OLIVIA R2R Value Pack 2
Good luck!