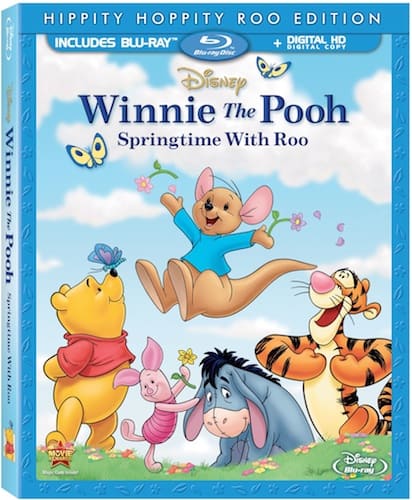 I'm pretty sure there's not a cuter or more gentle character than Disney's Winnie the Pooh. I loved Winnie the Pooh as a child and I still love all those characters from the Hundred Acre Wood today.
While my kids are familiar with some of the computer-animated My Friends Tigger & Pooh DVDs we've borrowed from the library, they haven't had too much exposure to the traditionally drawn Winnie the Pooh that I grew up with. To be honest, I was almost as excited to watch Winnie the Pooh: Springtime with Roo as Haiden and Piper were!
Each year, Rabbit plays Easter Bunny, but this year, he's decided it's "Spring Cleaning Day," and he orders everyone to hop to it: scrubbing, dusting, and mopping.

All his pals are disappointed – especially little Roo – until Rabbit learns that putting others first and showing friends how much you care turns every day into a precious gift.

Sparkling with unforgettable songs and a never-before-seen bonus treat, this delightful "egg-stravaganza" shows why love, hope and friendship are always in full bloom in the Hundred Acre Wood!
Here's a clip of Easter Song from Winnie the Pooh: Springtime with Roo:

When the package with Winnie the Pooh Springtime with Roo arrived at my house late one evening, I excitedly opened it and promised my kids that we would watch it together the following day. The next day arrived and I ended up very perplexed because I hadn't realized we had only received a Blu-Ray, not a "regular" DVD that would work in our DVD player.
As I faced two disappointed kids, I happily remembered the digital copy! To be honest, I've never used or done anything with digital copies that have come with other movies I own. Since I'm long overdue for figuring out how they work, it was actually a good thing that we had to use the digital copy feature!
After a few false starts having trouble integrating iTunes and my Disney Movies Anywhere account, I went with Plan B and got our digital copy of Springtime with Roo on Amazon.com. This only involved exchanging the unique code that came with the movie for a unique Amazon promo code that allowed me to download the movie at no cost. It was super-easy, and being able to watch it anywhere at any time is a huge perk!
When the movie was finally underway, we all got to enjoy the sweet story of Springtime with Roo.
Here's another clip to show you part of a new original song, That's the Way it Must Be Done, in Winnie the Pooh: Springtime with Roo:
I absolutely love that there's nothing even close to scary, violent or intense in this movie. I figure that my kids have a lifetime ahead of them to be exposed to all those elements, and I like seeing them enjoy the simple and cute message of friendship in a Disney Winnie the Pooh movie!
Finally, there's a fun bonus feature included with the movie: Get Up and Dance! Kids and families can get into the spirit of Easter by dancing to Rabbit's Easter song.
Winnie the Pooh: Springtime with Roo would make an excellent surprise for an Easter basket, or a fun way to get kids excited for Easter!
Winnie the Pooh: Springtime with Roo on Blu-Ray and digital HD is available on Amazon.com. It has an MSRP of $29.99, but it's been discounted every day I've checked it so far!
Disclosure: This item was provided at no charge to facilitate my review. All opinions are honest and genuine.