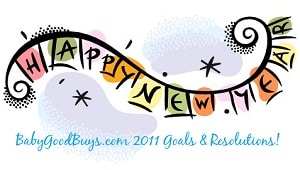 My list of goals and resolutions for 2011 included trying new things in 2011. Instead of leaving it as an open-ended idea, I've decided that it will be a lot easier if I have a list of things that I want to try out in the new year:
1. Make homemade jelly :: My kids could live off of PB & J's, and I want to make homemade grape jelly (minus the high-fructose corn syrup!)
2. Sew a pillowcase dress for Piper :: I'm hardly even a novice seamstress, but I have a sewing machine that should be put to use. Pillowcase dresses are so adorable, and I want to make one in time for Piper to wear for her 2nd birthday in July. I'll be using this site to learn how to make a pillowcase dress.
3. Start using a daily planner :: planning our days is key to finding a workable daily routine for Haiden, Piper and I.
4. Make homemade granola :: My husband loves granola and Haiden and Piper love nearly everything that goes into it. I think most of the ingredients are already in my grocery stockpile, so it shouldn't be too tough to get this done.
5. Switch to the Envelope System for budgeting :: Our only debt is our mortgage, but we use and pay our credit card off every month. The rewards are nice, but switching to a cash budget will help track our spending and also help us save more. (If anyone knows of any cute envelope wallets or some other way to make the system neat and portable, please share a link or brand name in the comments!)
6. Eat from the Pantry for a Month :: Our grocery stockpile is very rounded-out right now, and a month of no grocery shopping is in order! This is an excellent way to save money for a month and make sure we're staying on top of our food "inventory".
7. Sew a trucks and cars quilt for Haiden :: Haiden has been saying that he really wants a blanket with cars. My first thought was that I should ask one of my talented family members to make one for him! After thinking it over, I thought I could make it either before of after I attempt to make a pillowcase dress for Piper.
8. Become a Sneaky Chef :: Neither Haiden nor Piper are friends with any vegetables except corn. They eat plenty of fruit, but I want them to get some variety. I know some parents don't believe in "sneaking" vegetables into other foods, but, honestly, I'm tired of preparing foods that they won't even try! I need a new approach, and I'm hoping this one works. I'll also be checking out the contents of Deceptively Delicious for more ideas.
9. Organize the toys :: We use our main living area as a playroom, and we're drowning in toys. I believe it's possible to find a toy storage system that's will blend with our decor. I just have to figure it out!
10. Make Artisan Bread in 5 Minutes a Day :: I've had this amazing cookbook for a few years, and I haven't done anything with it. My sister recently informed me that the author of the book frequently hosts artisan bread classes near my home in Minneapolis, so I just might take in a class to get the ball rolling. Even if I don't take the class, I'll definitely be trying out this bread-baking method.
So, do you think it's doable? Do you have any goals or new things you want to try in 2011?