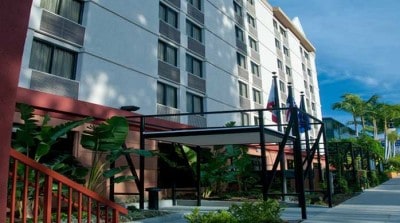 Last month I had the amazing opportunity to attend the premier of Disney/Pixar's BRAVE in Los Angeles. To say that I was excited for this experience of a lifetime would be an understatement.
By now, a month after the entire experience, you may know that every minute of the trip exceeded my expectations, and it all started the moment I arrived at the Hilton Garden Inn in Los Angeles.
Top 5 Reasons to Stay at the Hilton Garden Inn Los Angeles/Hollywood:
1. Location: The Hilton Garden Inn Los Angeles is absolutely centrally located in Hollywood and it's just a short walk from multiple tourist hotspots.
I walked to CVS to pick up a few items after I arrived at the hotel and I surprised myself by walking right through the Hollywood Walk of Fame in front of Grauman's Chinese Theater!
Did you notice that I mentioned the word "walk" a few times? Whether you're looking for shopping or sightseeing you don't need a car to take in much of what Hollywood has to offer.
2. Design: The Hilton Garden Inn Los Angeles/Hollywood is newly remodeled with a fantastic modern design that I really appreciated!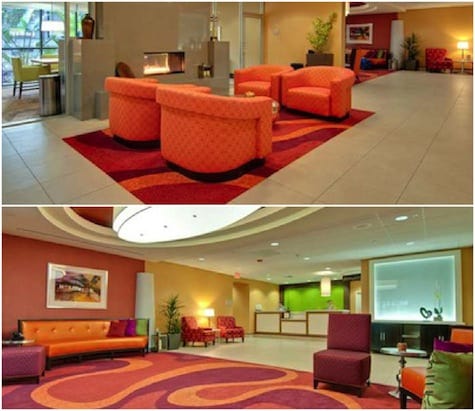 The lobby is decorated with bright, welcoming colors and sleek furniture. The modern lighting and accessories make it feel very "Los Angeles" to this Minnesota mom blogger!
I also thought this was a nice touch in my room: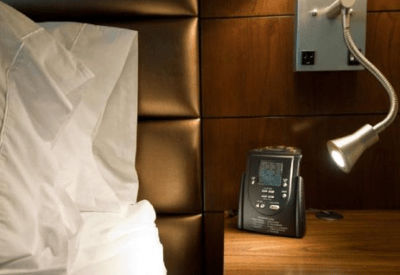 It's a small gooseneck light above the nightstand along with a compact alarm clock with an iPhone dock!
While I didn't use the charger part of the clock, it was a nice way to integrate a bit of technology into the room. The light was pretty fantastic, too. It had a brushed silver finish and an LED bulb for extra brightness. Both of those little details helped me get extra-comfortable in my bed and they were nice to look at!
3. Comfort: I have to say that one of the best things about going on blog trips is getting my own bed, even if it's just for a night or two!
Upon arrival, I made plans to go out and explore the area around our hotel for a bit before we all had to meet up with the rest of our group.
Once I sat down on the bed I texted a friend and said that I was staying behind. I couldn't resist a nap while I had time to take advantage of it!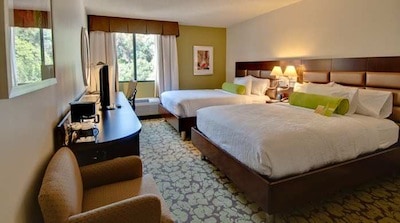 After the nap and the next night of sleep, I realized that the bed was especially nice. Then I found out that the bed had a Serta Perfect Sleeper Bed. No wonder I slept so well!
I also did a bit of work while I was in my room and knew right away that the office chair I was sitting in was far superior to the dining room chair I usually sit on at home.
I later learned that it was a Mirra ergonomic chair and the desk was actually ergonomically designed.
4. The Pool and Whirlpool: Personally, I didn't take advantage of the pool or whirlpool during my stay. I didn't even look at it until it was too late to actually use it. It's really too bad because the pool area is absolutely gorgeous and begging to be used!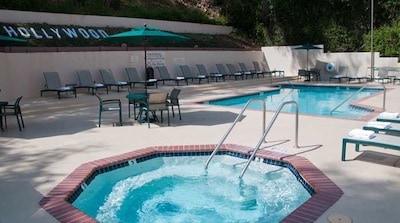 If I return to the hotel in the future I will definitely be taking a dip in the pool at my first opportunity!
5. The coffee (in the room and in the lobby!): My number one requirement when I stay at any hotel is cleanliness. If the room and common areas are clean, I can handle pretty much anything else, especially for a short stay. After that, I think it's the little things that really make a stay worthwhile.
I loved having an in-room coffee pot with both regular and decaf coffee at the ready. I brewed a cup of coffee while I was getting ready in the evenings.
In the mornings, I was too rushed to make my own coffee. there was no need to worry, though, because the hotel lobby supplied fresh-brewed Starbucks coffee with paper cups and to-go lids!
It was incredibly convenient to be able to grab a cup of strong regular coffee on the way out the door for the day's activities.
All in all, I had a great stay at the Hilton Garden Inn Los Angeles. My room was fantastic, the staff was nothing but nice and I couldn't have asked for anything to make the experience any better than it was!
If you're heading to the Los Angeles area you should definitely look into staying at the Hilton Garden Inn Los Angeles!
I stayed at this hotel during a portion of the #BraveCarsLandEvent press trip. All expenses were covered, all opinions are 100% honest and my own.