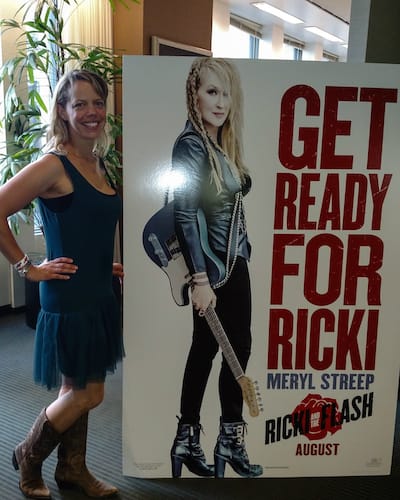 The heart and soul of Ricki and the Flash is Ricki Rendazzo, an aging rock musician who gave up quite a bit to dedicate herself to her craft.
While attending the Ricki and the Flash press junket, Sony and Columbia Pictures treated our group of bloggers to a night of Ricki-inspired fun after we screened the movie at Sony's offices in New York City.
I didn't have a detailed itinerary of how the night was scheduled, so I was surprised to be greeted with a cocktail almost immediately after exiting the viewing room.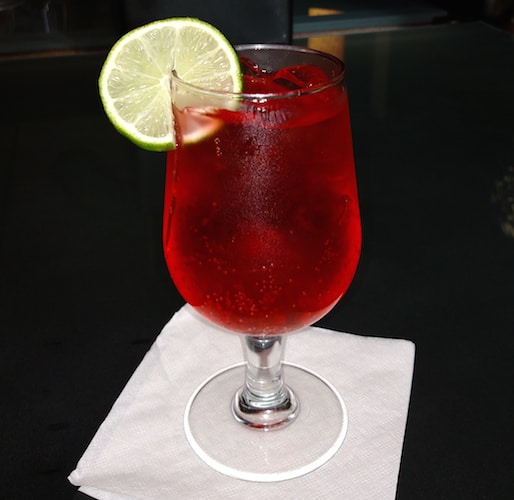 It really wasn't a surprise that the drink was called a Cherry Lime Ricki!
Across the room were two hair and makeup artists set up to give all of us Ricki-inspired makeup and hair.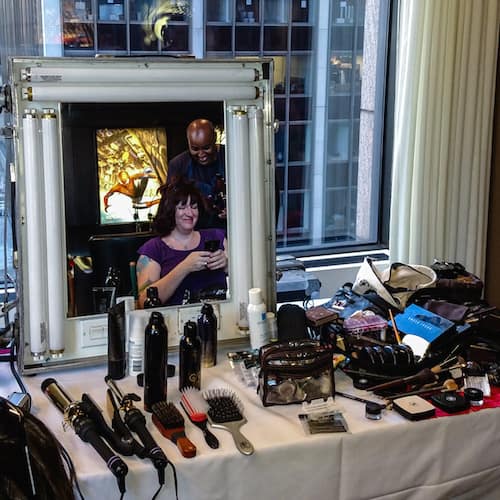 I was feeling like a huge failure because I actually forgot to have a picture taken with the final result of my makeover! Then I remembered my friend Enza from Enzasbargains.com snapped a selfie of the two of us shortly before leaving Sony's offices: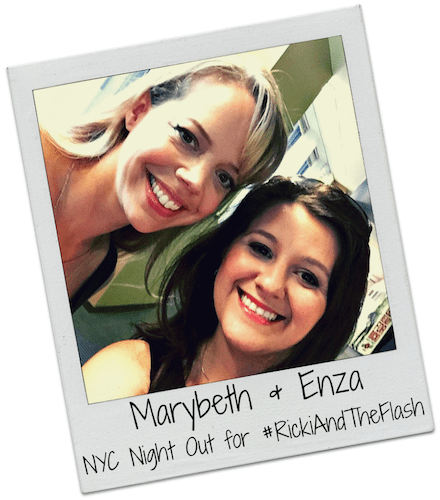 I'm so glad I have friends who are much better than I am at documenting these kinds of experiences 🙂
After everyone who wanted their hair and makeup done had the chance to do it, we boarded a shuttle and headed for Hill Country for dinner and entertainment.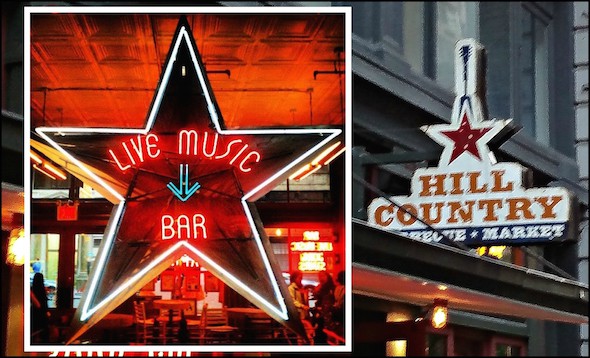 Hill Country is a barbecue restaurant in the middle of New York's Flatiron district and it feels like you've been transported to Texas the moment you walk through the door!
We were ushered downstairs where we had authentic country-style foods like deviled eggs, brisket, collard greens, macaroni and cheese and lots of other eats. I'm not the biggest fan of barbecue, and I still ended up feeling close to stuffed by the time the platters were cleared from the table!
As we were eating, The Balladeers took the stage and entertained us with a variety of country and classic rock music. Their sound was perfect for the location. It allowed some people to completely focus on their performance, and the volume was a level that allowed the rest of us to converse with each other.
The evening was finished with homemade 7-layer brownies and chocolate chip cookies. It's a good thing our shuttle arrived shortly after I had one of each, because the two treats on top of a big meal at the end of a long day definitely had me ready for bed!
Overall, the night out with Sony to celebrate Ricki and the Flash was fantastic, and a great way to get me excited for our press conference the following day!
I'll have all the details on the interview I did with Meryl Streep, Rick Springfield and Mamie Gummer in just a few days, and I can't wait to share it with all of you!
If you can't wait to hear more, check out my instagram account where I've shared highlights of the junket.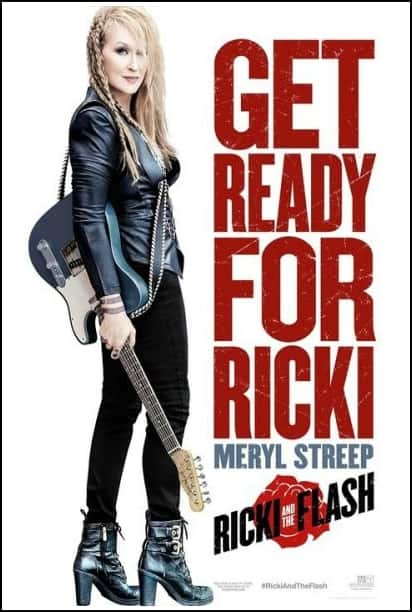 About Ricki and the Flash:

It's been a roller-coaster ride for Ricki Rendazzo (Meryl Streep), a one-time wife and mother of three who left her family behind to follow her dreams of rock 'n' roll stardom.

Now, the singer and guitarist must face the music when she returns home to Indiana to reconnect with ex-husband Pete (Kevin Kline), troubled daughter Julie (Mamie Gummer) and engaged son Josh (Sebastian Stan).

Filled with regret, Ricki hopes to find redemption for all of the bad choices that she made in the past.
Ricki and the Flash opens in theaters everywhere on August 7th, 2015. Get your tickets today!
Be sure to take a look at my first post inspired by the plot of Ricki and the Flash: Moms: 5 Ways to Keep Improving Your Relationship with Your Daughter. 
Disclosure: Sony Pictures Entertainment flew me to New York to participate in this press junket and other events related to the promotion of Ricki and the Flash.