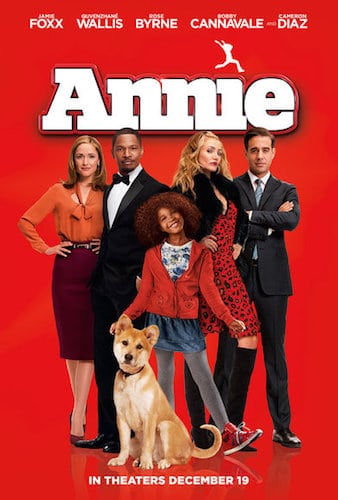 I think I'm in the minority when I say that remakes of classic movies excite me. I'm rarely skeptical of them, and I generally think that the people working in and on the new version work hard to do the original justice.
The 2014 version of ANNIE, starring Jamie Foxx and Quvenzhané Wallis, did not disappoint. To all those who really are skeptical, I want to shout it to everyone: I loved Annie!
I attended the Annie press junket in New York City last week. One part of that was an extra-special early screening of Annie!
Annie Movie Review and Synopsis
A Broadway classic that has delighted audiences for generations comes to the big screen with a new, contemporary vision in Columbia Pictures' comedy, Annie.

Director/Producer/Screenwriter Will Gluck teams with producers James Lassiter, Will Smith & Jada Pinkett Smith, and Shawn "JAY Z" Carter, Laurence "Jay" Brown, and Tyran "Ty Ty" Smith with a modern telling that captures the magic of the classic characters and original show that won seven Tony Awards. Celia Costas serves as Executive Producer.

The screenplay is by Will Gluck and Aline Brosh McKenna, based on the musical stage play "Annie," book by Thomas Meehan, music by Charles Strouse, lyrics by Martin Charnin, and on Little Orphan Annie, (C) and (R) Tribune Media Services, Inc.

Academy Award nominee Quvenzhané Wallis (Beasts of the Southern Wild) stars as Annie, a young, happy foster kid who's also tough enough to make her way on the streets of New York in 2014.

Originally left by her parents as a baby with the promise that they'd be back for her someday, it's been a hard knock life ever since with her mean foster mom Miss Hannigan (Cameron Diaz).

But everything's about to change when the hard-nosed tycoon and New York mayoral candidate Will Stacks (Jamie Foxx) – advised by his brilliant VP, Grace (Rose Byrne) and his shrewd and scheming campaign advisor, Guy (Bobby Cannavale) – makes a thinly-veiled campaign move and takes her in.

Stacks believes he's Annie's guardian angel, but Annie's self-assured nature and bright, sun-will-come-out-tomorrow outlook on life just might mean it's the other way around.
All in all, I think there are two major reasons to see Annie:
1. The cast: These people are in Annie for a reason!
I think Quvenzhané Wallis shines in the title role. Her voice is surprisingly gorgeous (more on that below!) and her sweetness shows over and over again in the movie.
I kind of like that I originally thought that Jamie Foxx was an odd choice for any part in Annie. he's just so professional and multi-talented. But then I realized that's exactly why he's the perfect Will Stacks. He plays the most unlikely person to even consider adopting a foster child he takes in for a campaign move!
Rose Byrne and Bobby Cannavale are both fantastic character actors, and they both played their parts incredibly well!
2. The music:
It's no secret that I'm a Broadway fan, but I admit that I've never taken much interest in the music of Annie. That being said, I got into several songs throughout the movie, and I found myself doing happy little bounces in my seat during or after my favorite numbers!
My favorite songs from Annie, hands down, were Opportunity, performed by Quvenzhané Wallis and Who Am I, a trio by Jamie Foxx, Cameron Diaz and Quvenzhané Wallis. They're both beautifully performed and speak to the very heart of the movie.
I really can't say it enough: Annie is entertaining from start to finish, it's sweet and it's a wonderful update to the beloved classic! It's the perfect family film and a great movie to see during the holiday season.
Annie opens in theaters on December 19, 2014. Gather up your family and get your tickets now!