Thanks to Enza for making the above graphic and letting me use it.
I'm so very excited to share that earlier this week I was in New York City to participate in the official Annie press junket! I'm also so sad to say that there's very little I can share about the experience until I get the go-ahead from Sony Pictures.
I can share that I was lucky enough to get in an early screening of Annie, starring Jamie Foxx, Quvenzhane Wallis, Cameron Diaz, Bobby Cannavale and Rose Byrne. The movie will be released on December 19th. While I can't write my review of the movie yet, I definitely think everyone should be ordering their tickets to see the movie as soon as it's in a theater near you!
I also just have to say that 2014 has been an insanely good year and I'm feeling so lucky for every minute of it.
Once my family and I worked out all the details of childcare (a huge THANK YOU to my parents for taking care of my kids, to Sony for allowing me to fly out of my hometown and to my sister, her husband and their four kids, who have watched Haiden and Piper every single other time I've needed them!), I posted this on Facebook: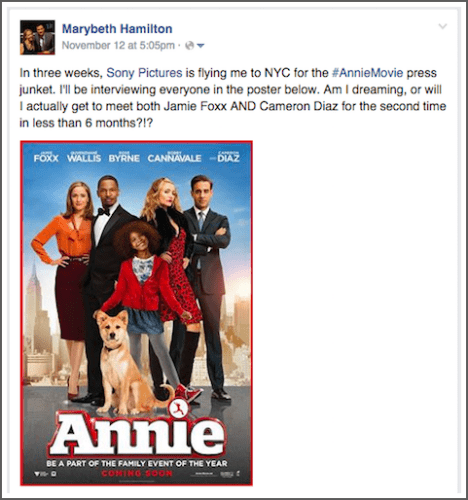 What I shared with my Facebook friends was entirely true. I interviewed Cameron Diaz in July and interviewed Jamie Foxx (with Quvenzhane Wallis and Will Gluck) as a Minnesota mom blogger when he came to Minneapolis in a few months ago for a Boys & Girls Club/Annie movie promotion.
I never thought I'd be in the same room with either one of them even once in my life. To have the opportunity to interview both Cameron Diaz and Jamie Foxx twice in a span of just a few months is unbelievable!
Let me tell you, the actual interviews were just as great as you'd think they'd be. Just a few days ago, I interviewed the following key players from Annie:
Cameron Diaz
Jamie Foxx
Bobby Cannavale
Quvenzhane Wallis
Will Gluck
Between now and December 19th I'll be sharing the details of those interviews along with a fun review of Annie. Stay tuned!
Disclosure: Sony Pictures flew me out to New York to participate in the event. All opinions are mine.