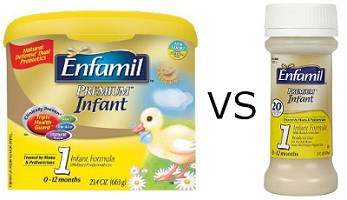 When Haiden was a formula-fed infant, he spit up. A lot. He was my first baby, and most of my other baby experience came from spending time with my sister's kids who also frequently spit up.
I'd mix up his powder formula, give him his bottle, and some of it would come back up after he was done eating. The spitting up didn't upset either one of us, so I considered it a byproduct of mealtime.
When he was a few months old, Haiden and I spent the weekend at my parent's house. I brought along a tub of powder formula, but I also packed some ready-to-feed (RTF) formula that I had gotten for free after using my infant formula coupons.
To both my mom's and my surprise, my baby didn't spit up after eating the RTF formula! Both the Similac and Enfamil websites state that their formula is the same whether it's purchased in powder or liquid form, but my experience seemed to show that there was something different about the ready-to-feed.
Maybe it was the texture. Maybe it was the perfect room-temp temperature, maybe it was the exact amount of water in the RTF blend. Who knows? All I can say is that my baby could tell a difference between powder and ready-to-feed formula.
Regardless of how the baby reacted, mom and dad surely knew the difference between powdered baby formula and RTF formula: the price!
Yesterday, I did the math and showed how much powdered formula costs per ounce versus how much RTF costs per ounce. However, money isn't everything, especially when it comes to feeding your baby!
So readers, here's my question: Is there a difference between powder baby formula and ready-to-feed formula? What's your experience?