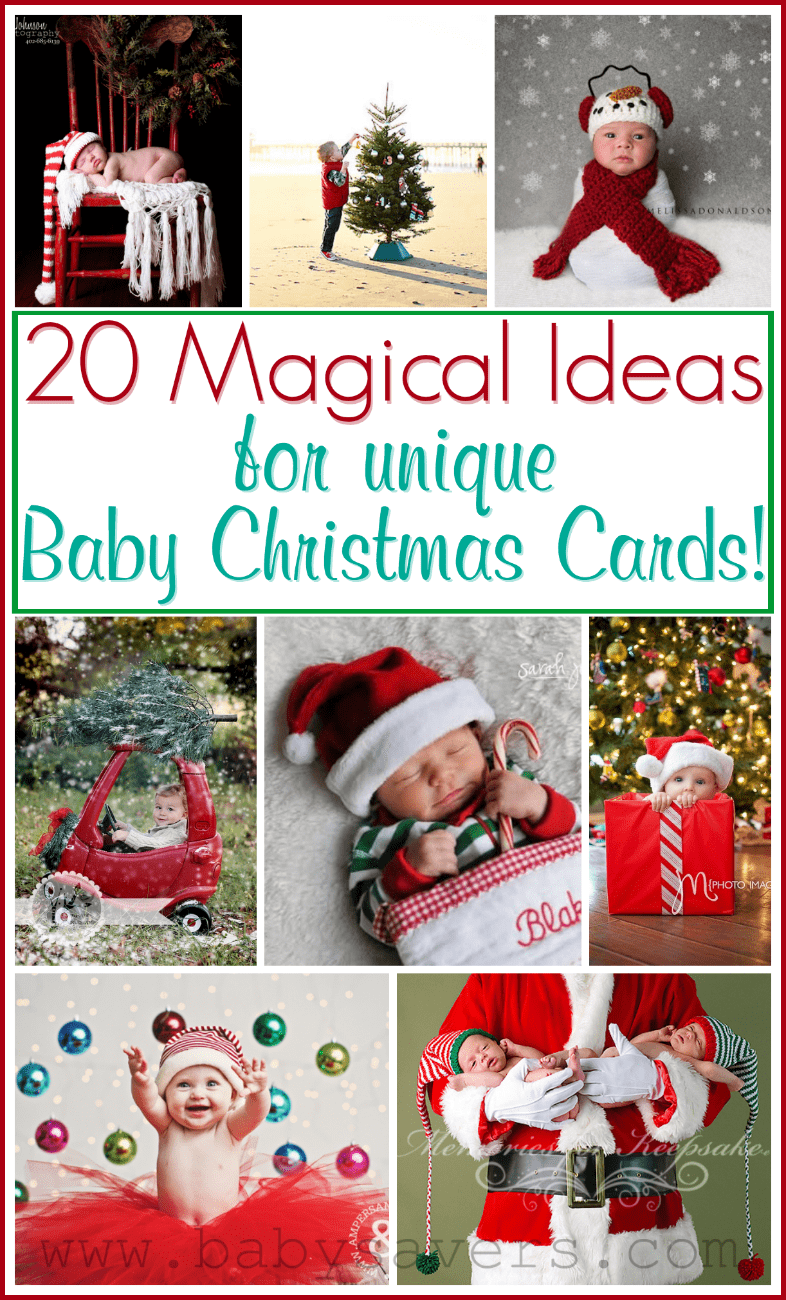 Babies inspire photography. That's a good thing, when you're considering all the creative baby Christmas card ideas.
If you have a new baby, taking at least one quality photograph becomes even more important at this time of year.
Birth announcements and Facebook status updates aside, this is your chance to send an image of your adorable new family member to anyone with an address. Plus, it's a hard copy. Everyone can display it! It's almost like advertising how amazingly photogenic your baby is without having to say the words – not that you care about that 🙂
Let's stop and think about the best way to make this mailing stand out.
Of course, your beautiful baby will take center stage, but make sure the picture is showcased in a beautiful holiday card. It's so easy to do, and there are so many amazing options out there for creating cards in minutes that end up looking professionally done.
Note: there are a lot of places that will print the baby Christmas cards you created. These are not all created equal!
In my opinion, I want to know if my holiday cards have a typo or a photo that doesn't fit right into the design. I also think it's great when businesses print my cards and send them to me as promised.
On the flip side, losing a holiday card order with no follow-up communication is not cool. Sending me an order that's missing envelopes will also make me mad. Both of those things have happened to me. I survived, and I've learned to not write about those businesses here.
Instead, I want to share a few great businesses that seem to be in it for the long haul. They have excellent reputations for printing not only baby Christmas cards, but amazing products all year long.
I'm going to be honest and say that these businesses are not the absolute cheapest places to order from. That's ok! I save a lot of holiday photos I receive. Sometimes forever.
Especially those baby Christmas cards. I feel like those Christmas cards with babies are a one-time expense, so I'm willing to pay a bit more for the quality I know these places provide.
After you have your baby Christmas card ideas and your photo taken, Order your cards from…
Tiny Prints: I've ordered cards from Tiny Prints multiple times over the years and I've never been disappointed.
In addition to our family Christmas cards, I've used Tiny Prints for birthday party invitations and birth announcements. Their customer service never fails to amaze me. They contacted me after I ordered birthday invitations to verify the spelling of all of our names. I totally appreciated that!
On top of the high-quality products and amazing customer service, Tiny Prints also has an incredibly vast selection of Christmas and holiday cards to choose from.
Minted: For me, Minted provides a product that shows class. Their card designs are sourced from new, emerging and existing artists all over the world, making for a huge selection of unique designs. Plus, Minted cards include vellum inserts (classy) and envelopes that definitely give their cards an edge over others.
In addition to Minted's image of class, if you provide the names and addresses, Minted will print your envelopes for FREE. Talk about a time saver!
Back to coming up with perfect baby Christmas card ideas. The backdrop and setup will only enhance the overall effect of your baby's sweetness, and a holiday card is the best time of year to get creative and make a memorable photo.
Now, I hope I'm making the prospect of a super-special photo of your little one even better: you don't have to be the one to come up with the idea. I've rounded up some adorable baby Christmas card ideas that are easy to recreate. Check out the examples below and let me know your favorite!
Baby Christmas Card Ideas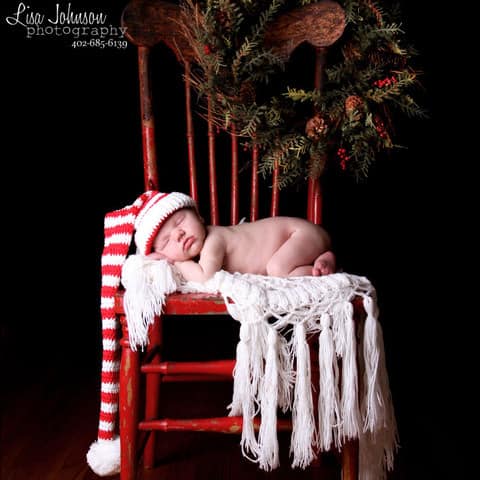 Photo credit: Lisa Johnson Photography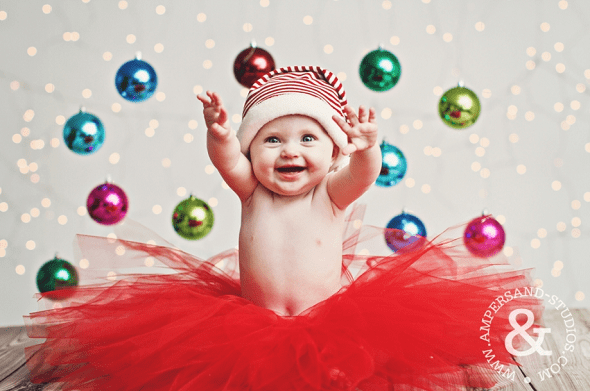 Photo credit: Ampersand Studios :: Some amazing photography skills (in addition to the brilliant baby Christmas card idea!) went into this picture, and I know I couldn't even come close to replicating it. But simply let this picture inspire your ideas, because the basic ideas will still make an adorable baby Christmas card!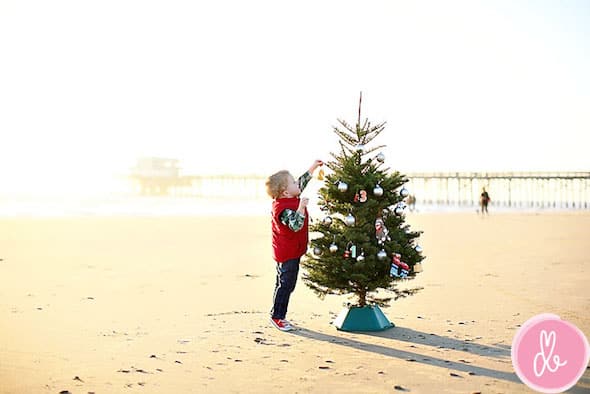 Photo Credit: Drew B Photography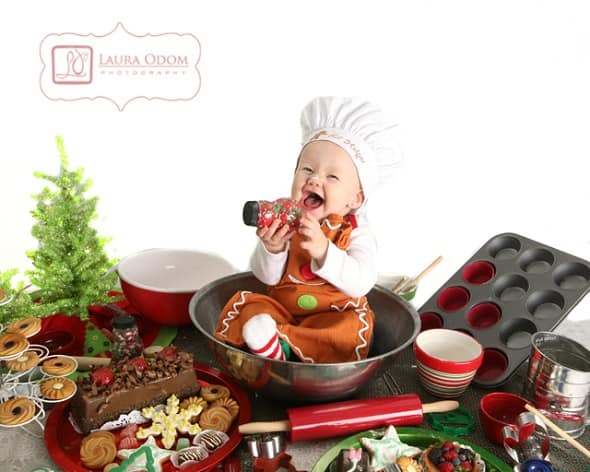 Photo credit: Laura Odom Photography :: Is there anything cuter than a baby in a big mixing bowl? I love all those cookies and props (especially that red rolling pin!) but it's nice that you should be able to pretty much work with what you have for this setup.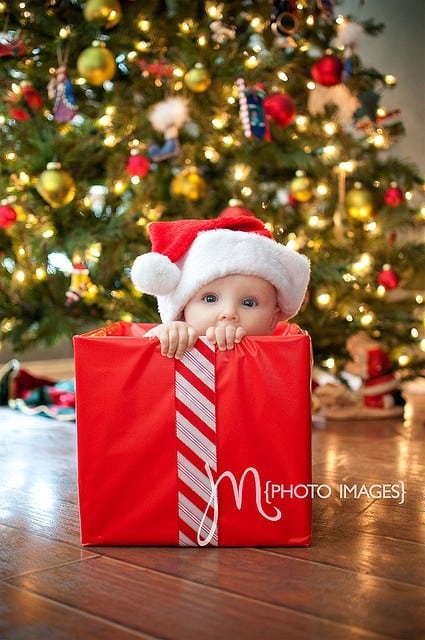 Image Credit: JM Photo Images :: Wrap up a box in your choice of wrapping paper (I like Peppermint Stripe or chevron print), tape on some festive ribbon and you'll have an adorable little container for baby! Don't forget the fluffy santa hat!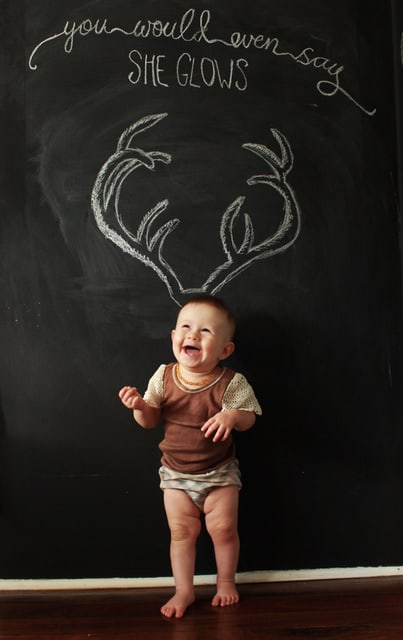 Photo credit: One Claire Day Oh my goodness, I don't even think I can express how much I love this picture! plopping this so-smiley baby in front of a chalkboard with some hand-drawn antlers created one of the cutest pictures I've ever seen!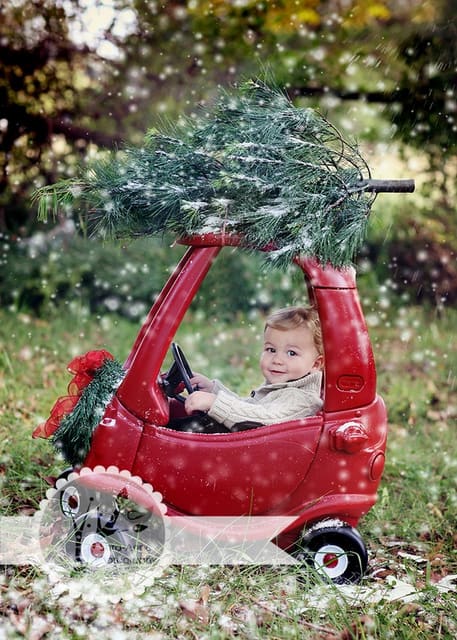 Photo Credit: Sara Anne Photography :: If you're as ambitious as the people behind this photograph, you'll need to paint a classic Little Tikes Cozy Coupe with this red spray paint made for plastic toys. If you don't have the time or will to do all that, I think any kid-size car would look perfectly festive with alittle tree attached to the top!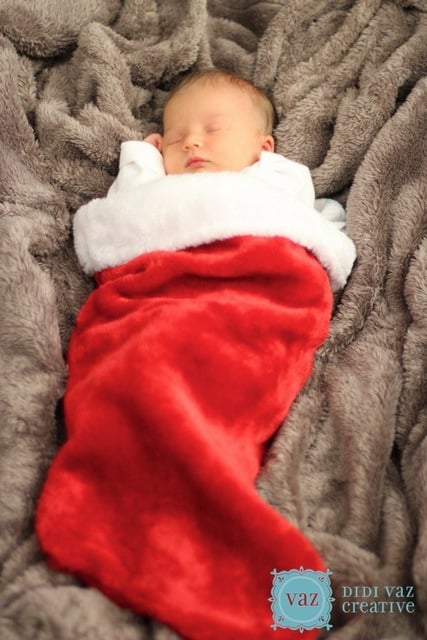 Image credit: Didi Vaz Creative
Photo Credit: Anthromollogies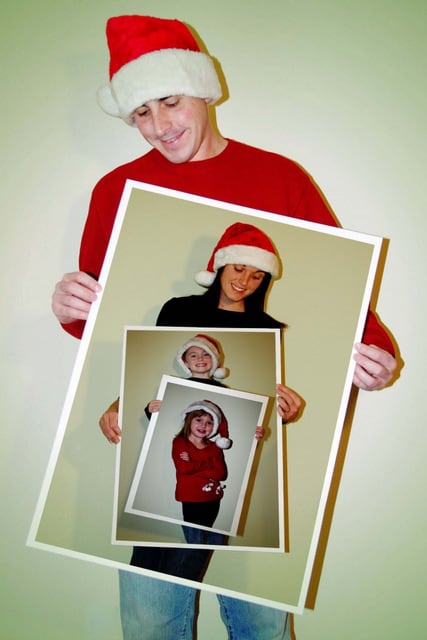 Photo credit: Marissa from Threaded Together :: Love this Picture-in-Picture idea for showcasing the entire family!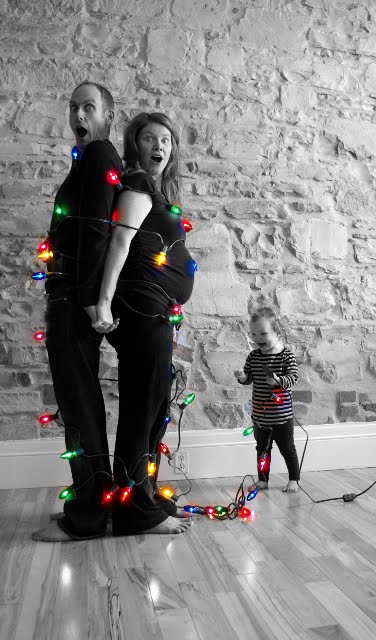 Photo Credit: Photos By Lei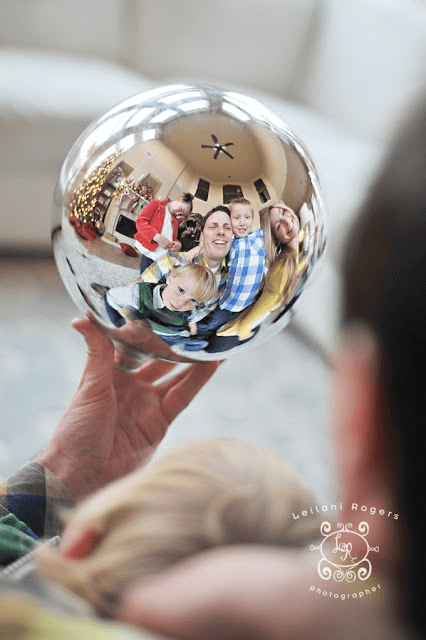 Photo Credit: Photos by Lei/Leilani Rogers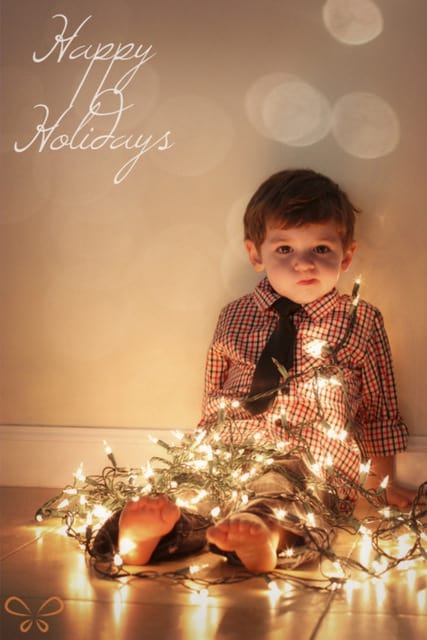 Image Credit: Joop Joop Designs :: So this isn't a baby in this picture, but it easily could be! I also love that this could have more than one child involved.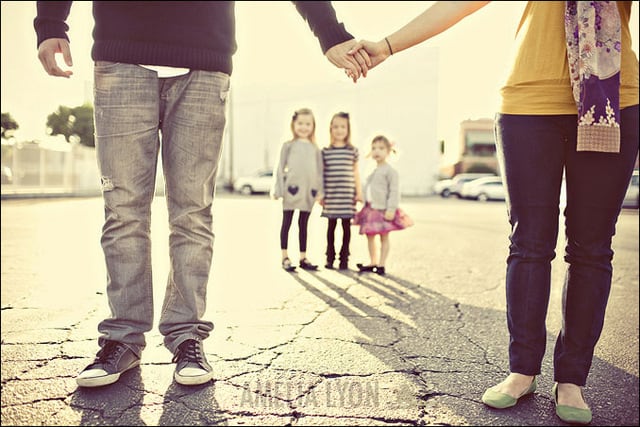 Photo Credit: Amelia Lyon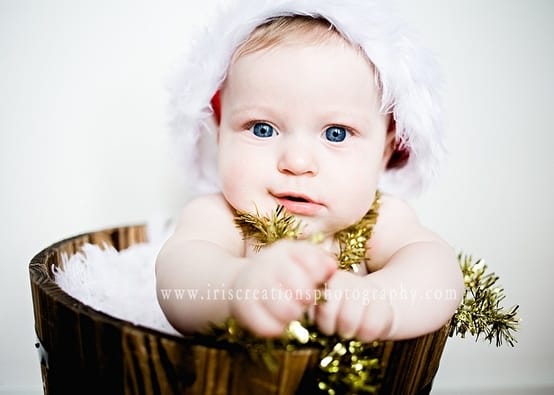 Credit: Iris Creations Photography A wooden bucket, some gold tinsel garland, a santa hat, white fluff and big blue eyes against a neutral backdrop makes for a stunning and adorable picture!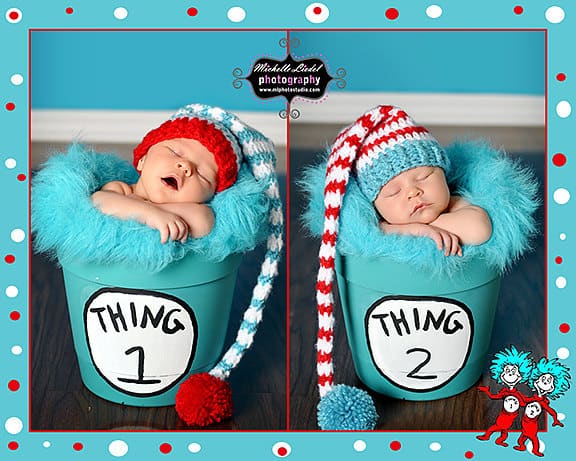 Credit: MLPhotography How about a Dr. Seuss-themed baby Christmas card? Perfect for twins, but you can easily find accessories for a single baby!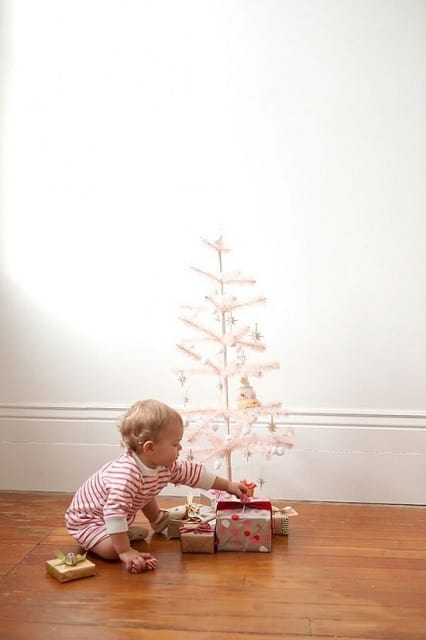 Photo credit: The Wright Family I love the baby Christmas card ideas that are a spin on A Charlie Brown Christmas. I'm dying over that little tree!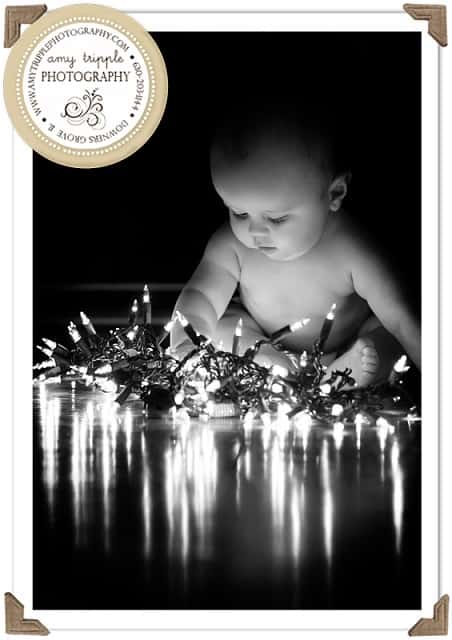 Photo Credit: Amy Tripplehorn Photography :: Let your little one's natural fascination with lights guide you for this sweet photo op.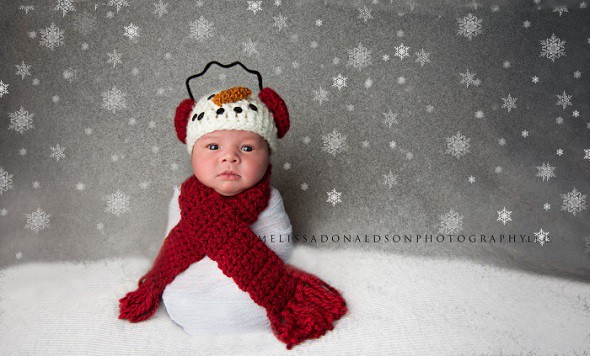 Photo Credit: Melissa Donaldson Photography :: Do you want to build a snowman? Wrap up baby in white muslin, add a scarf and a snowy backdrop and your little snowman can be picture perfect!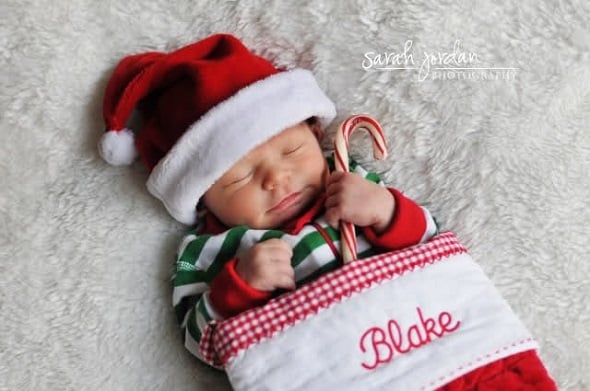 Photo Credit: Sarah Jordan Photography :: I love the special touch of the personalized stocking, but it's certainly not necessary to make this cute picture happen!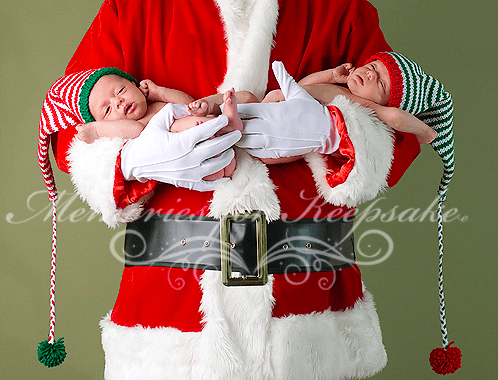 Photo Credit: Memories for Keepsake
My husband is the photographer in our family, and I could only hope to come up with a baby Christmas card idea and theme that's even a fraction as cute as the ones above!
Which Christmas card idea is your favorite?