Sweet, gooey and delicious, this crock pot cinnamon roll casserole recipe is a delicious breakfast treat or a fabulous dessert! This "set it and forget it" sweet slow cooker dessert will remind you of both french toast and monkey bread!
Why you'll love this cinnamon roll crock pot recipe
If you love monkey bread, you'll love this recipe!
Made with refrigerated cinnamon roll dough (from a can!) and just five other ingredients, this slow cooker treat takes results in a deliciously decadent french toast -like casserole that can be enjoyed for breakfast, brunch, with an afternoon coffee or for dessert!
Anyone can make this! Unlike complicated pastry recipes, this simple crockpot recipe takes all the work out of sweet rolls. It's even easier than my no-yeast cinnamon rolls, and that's already a user-friendly recipe!
It takes time, but not work. The last time I made this recipe, I spent 5 minutes getting everything ready and dropped into the crock pot. After that, you let your slow cooker do the work! 5 hours of cook time after you start the cooker, you'll have a steaming hot cinnamon treat ready to eat.
While this recipe is called a crock pot cinnamon roll casserole, I would also call it an amazingly delicious cinnamon roll monkey bread.
The process for making it is similar to making monkey bread with refrigerated biscuits: cut them in quarters, mix the dough with a few other ingredients, bake till done.
Ingredients
This is what you'll need to make this crockpot cinnamon roll casserole dessert at home.
Refrigerated cinnamon roll dough: The most well-known brand is Pillsbury cinnamon rolls. They come in a can that you have to pop to open and there's a little cup of delicious icing (classic or cream cheese) included in the tube of dough.
Important: use the standard size, (12.7 ounce) tube of refrigerated cinnamon rolls dough. Don't use Pillsbury Grands. Grands rolls are over 16 ounces, and using them will throw off your recipe proportions.
Milk: Whole milk is preferred. Half and half or heavy whipping cream is a decadent substitution that will only make this casserole better. If you only have skim milk, consider adding a tablespoon of melted butter when you beat the eggs for a little extra fat.
Eggs: A Medium or large size egg is standard for most recipes.
Vanilla extract: I used to be a vanilla snob, but after reading this article that taste-tested cheap, expensive, pure and articifical vanilla extract, I've accepted that I can use whatever extract I want and my recipes will all taste just fine.
This is my favorite imitation vanilla extract. I use it in lots of recipes when I'm using imitation vanilla.
This is the gold standard when it comes to pure vanilla extract. I keep it in my spice cabinet for when I want to feel fancy.
Maple syrup: Use the brand and type of maple syrup that you like best for this cinnamon roll casserole. I can honestly say that Mrs. Butterworth's is my favorite and I have no use for pure Vermont or Canadian maple syrup. I'll also choose a grocery store breakfast syrup over pure maple syrup every time.
To be completely frank, You're looking to add some sweetness and maple flavor to this crockpot recipe that starts with canned cinnamon rolls. I've already told you that imitation vanilla extract works fine. Save your money and use the cheap syrup for this one.
Cinnamon: I initally tried this crockpot cinnamon roll casserole recipe with two tablespoons of ground cinnamon. I thought that was too much, so I took it down to one tablespoon.
If you really love cinnamon, feel free to use more. If you don't like cinnamon…did you forget that you're making slow cooker cinnamon rolls? Maybe you're lost and you need to find a different breakfast recipe.
Alternate ingredients: There's a section below that has some popular additions and toppings. Spices, fruits and liqueurs can all enhance this recipe.
Still, If you simply follow the recipe and make this crock pot cinnamon roll casserole as printed, you'll be happy with the delicious results.
What to serve with this sweet cinnamon roll casserole
First, coffee. This dish is made even more enjoyable with a hot cup of coffee alongside it. I like Cafe Bustelo, but any coffee will do.
If you have coffee avoiders in your party, you should also offer milk to wash it down.
Other than that, this dish is a dessert in itself. It's also a great accompaniment to a brunch spread, where it can be eaten after more savory flavors.
How to make Crock Pot cinnamon roll casserole
Spray your slow cooker with nonstick cooking spray
Pop open the canned cinnamon rolls and set aside the included whipped cream or frosting cup. Cut each roll into four pieces.
Drop the cinnamon roll quarters into the crockpot.
Beat the eggs in a bowl, then slowly add the milk, eggs, syrup, cinnamon and vanilla extract.
Pour the egg mixture over the cinnamon roll quarters in the crock pot, stir gently and cook on low for 5 hours.
When it's done, turn off the crockpot, remove the lid and let the steam escape for 5-10 minutes.
Drizzle the included icing from the cinnamon rolls package over the casserole, then serve. Serve it right in the crock pot – then you'll one fewer serving dish to clean.
Mix-Ins and Toppings
While you shouldn't change any of the original ingredients, there are a few ways to make this crock pot cinnamon roll casserole uniquely your own.
You can do this by mixing in ingredients or adding a special topping over the icing.
Casserole Mix-Ins
Consider adding one of these mix-ins (or a combination) to your crockpot when you stir in the egg mixture:
1/2 teaspoon nutmeg
1/2 cup pecans
1/2 cup walnut pieces
1 apple, diced
1/2 cup raisins
1/2 cup dried cranberries or dried cherries
1 or 2 tablespoons orange liqueur, like Grand Marnier
Toppings
You can also sprinkle a variety of ingredients on top of the casserole after the crockpot is done cooking.
I think adding them on top of the icing makes a nice texture, but you can put them on top of the cinnamon rolls, under the frosting if that appeals to you.
Here are some topping ideas:
1/4 cup chopped pecans
1/4 cup chopped walnuts
Orange zest
An extra drizzle of maple syrup
Another fun idea for a festive breakfast or brunch is to have little bowls of the toppings or mix ins on the side, and people can choose what they want with their casserole.
Yield: 16
Crock Pot Cinnamon Rolls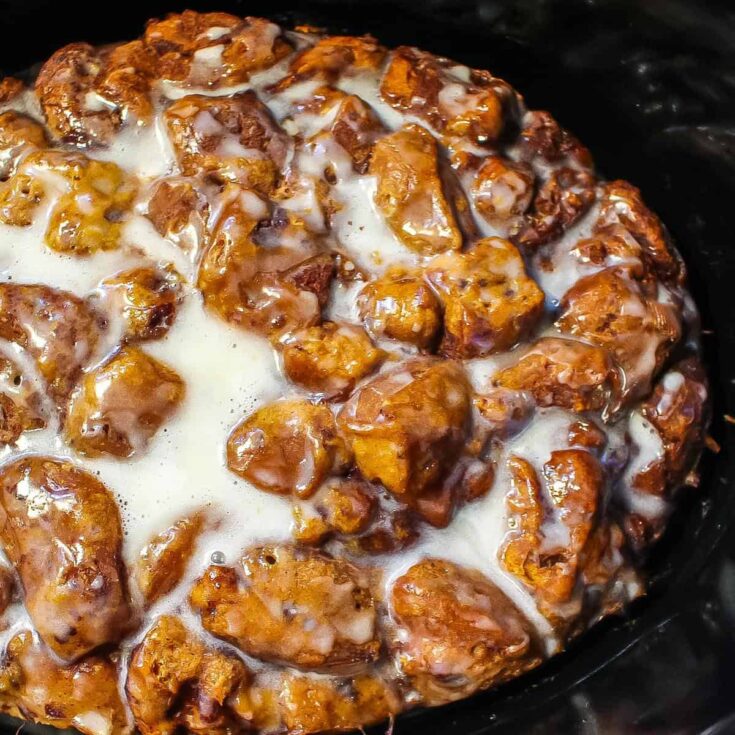 This crock pot cinnamon roll casserole recipe is a delicious breakfast treat or a sweet brunch treat! This "set it and forget it" slow cooker dessert is made with refrigerated cinnamon rolls, and it will remind you of both french toast and monkey bread!
Additional Time
5 minutes
Total Time
5 hours
15 minutes
Ingredients
2 12.4 oz cans refrigerated cinnamon rolls
4 eggs
1/2 cup milk
1 tablespoon vanilla extract
1/3 cup maple syrup
1 tablespoon cinnamon
Instructions
Spray the inside of your crockpot with non-stick cooking spray.
Open both cans of cinnamon rolls and set the icing aside. Cut each roll into four pieces and put them in the slow cooker.
In a bowl, beat the eggs, then mix in the milk, vanilla extract, maple syrup and cinnamon until it's all combined.
Pour the egg mixture over the cinnamon roll pieces in the crock pot and cook on low for 5 hours.
Remove the lid for 5-10 minutes, then drizzle the reserved icing over the cooked cinnamon roll casserole.
Notes
Feel free to mix in any of these ingredients to make the recipe your own:
1/2 teaspoon nutmeg
1/2 cup pecans
1/2 cup walnut pieces
1 apple, diced
1/2 cup raisins
1/2 cup dried cranberries or dried cherries
1 or 2 tablespoons orange liqueur, like Grand Marnier

You can also sprinkle one of these toppings after the crock pot cinnamon roll casserole is done cooking:
1/4 cup chopped walnuts
1/4 cup chopped pecans
Orange zest
An extra drizzle of maple syrup
Nutrition Information:
Yield:
16
Serving Size:
3 ounces
Amount Per Serving:
Calories:

230
Total Fat:

7 gramsg
Saturated Fat:

3.9 gramsg
Trans Fat:

0g
Cholesterol:

83mgmg
Sodium:

389mg
Carbohydrates:

34.6g
Fiber:

0g
Sugar:

19g
Protein:

5.3g