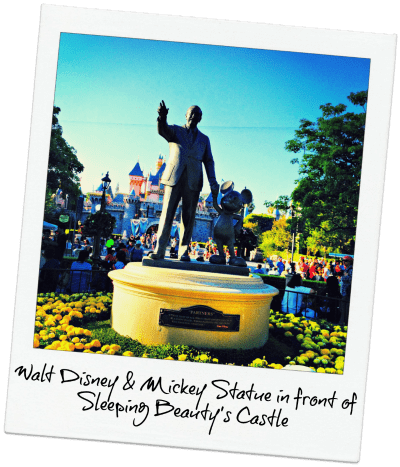 Growing up, I was lucky to have parents who took us on several family vacations to Disney World in Florida. I've always loved everything Disney, and those vacations satisfied my need for all the wonder and magic that I loved. Disneyland in California rarely crossed my mind, and I was often only thinking and mentally planning for the "next time" we'd head to Florida.
I had the opportunity to travel with a group of bloggers to California for the Brave movie premier, and I was excited to learn that a visit to Disneyland was also part of the press trip. I was super-excited to get there for the grand opening of Cars Land, but I didn't know what to expect of the rest of the park.
I was beyond surprised to learn that Disneyland and Disney California Adventure are big, beautiful and overflowing with things to do, people to meet, food to eat and sights to see! While I had to cut my trip short to get back for my mother-in-law's memorial, it was a bittersweet realization to know that there were plenty of things I didn't have a chance to do. It only made me think, "I'll need to come back with my family so we can see it all together!"
I remember hearing a few times over the years that Disney World was much bigger than Disneyland, and I can't deny the truth of that. At the same time, there's nothing small about Disneyland.
Given the extensive and exciting growth the entire Disneyland resort has seen over the past five years, Disneyland is definitely a vacation destination. A single day or a side trip to the parks won't be enough time to see and do everything, especially if you have little ones in tow!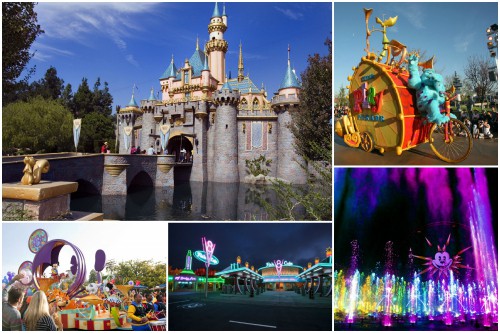 In my visions of taking my husband and two toddlers to Disneyland, I've come to realize that it's going to require a little strategy to ensure we work everything into the trip with as little running as possible!
The traditional rides of Disneyland and California Adventure are guaranteed to take up a big chunk of time, but it's important to me to experience the magic with my little ones while they're still, well, little! These classic activities are key to my visit:
Seeing Sleeping Beauty's Castle
Boarding the Disneyland Railroad
Riding the merry-go-round on the King Arthur Carousel
Taking off on Peter Pan's Flight
Watching my toddlers on Dumbo the Flying Elephant
Twirling at the Mad Tea Party
Floating on the Mark Twain Riverboat
Walking Main Street USA
Cruising on the Jungle Cruise
Getting spooked in the Haunted Mansion
Singing with the birds at the Enchanted Tiki Room
I'm also well-aware that almost any child will be ready and geared up to experience the more modern and adventurous attractions. I'm pretty sure that I'll be game for all of these , too!
Playing the 3D video game ride Toy Story Mania!
Drifting through The Little Mermaid – Ariel's Undersea Adventure
Conversing at Turtle Talk with Crush
Riding along at Monsters Inc: Mike and Sully to the Rescue
Space traveling at Star Tours: The Adventure Continues
Racing with Lightning McQueen at Radiator Springs Racers
Spinning on Mater's Junkyard Jamboree
And let's not forget the shows, parades and visits that provide enchanting entertainment from the first step inside the parks to the long-after-bedtime moments that make nighttime at the parks so special:
Phineas and Ferb Rockin' Rollin' Dance Party
Character shows at Disney Junior – Live on Stage
Mickey's Soundsational Parade
Pixie Hollow meet and greets with Tinker Bell and her fairy friends
Nighttime neon lights of Radiator Springs
The World of Color nighttime water spectacular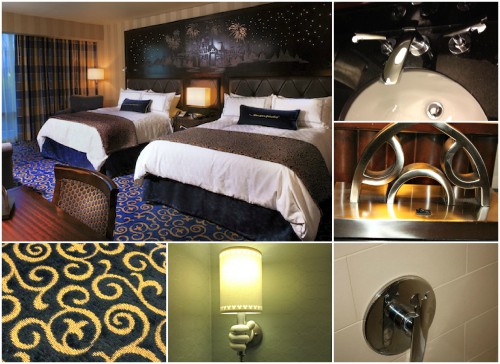 A trip wouldn't be complete without taking time to explore the shops and restaurants of Downtown Disney.
Plus, a stay at the Disneyland Hotel deserves time for exploration and enjoying everything the hotel has to offer! The hidden Mickey's just in your hotel room will consume more time than you imagine!
Disneyland surprised me with all it has to offer, and I know that my family couldn't do it all in a day. I'm hoping to make my dream of bringing my little ones to the Disneyland resort come true. When we do, I'll be sure to share all the details here!
Thanks to Toni of A Daily Dose of Toni for some of the photos featured above.
Disney covered costs of this blog travel press trip to Disneyland. Opinions remain my own.