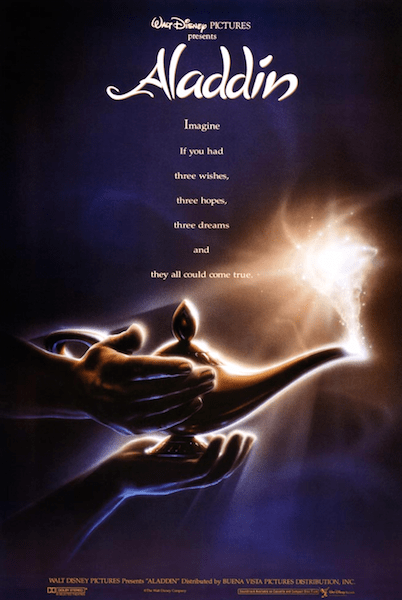 There was a magical time in my tweens when Disney came back into the spotlight.
As a younger child I had seen all the classics (Snow White and the 7 Dwarfs, Pinocchio, Dumbo) but there was a lull in truly magical Disney movies between the time I was born until I saw The Little Mermaid. It was then that I realized Disney was still capable of making magical movies. From there, I was hooked!
Aladdin is an especially magical Disney movie that I can't help but watch whenever I see it. It has so many elements that make it close to perfect: a great story with humor, romance, beauty and suspense.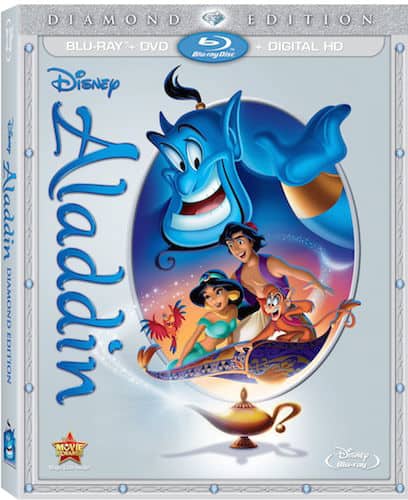 In the years since I first saw Aladdin on the big screen, I've owned it on both VHS and DVD, and now I'm thrilled to own Aladdin Diamond Edition on Blu-ray and DVD!
Haiden and Piper just watched Aladdin for the first time the day we opened the Diamond Edition. I watched it with them and it was just as wonderful as the first time I saw it.
Of course, watching any great film with young kids who have never seen it before is a joy in itself, and I loved seeing how much they enjoyed it.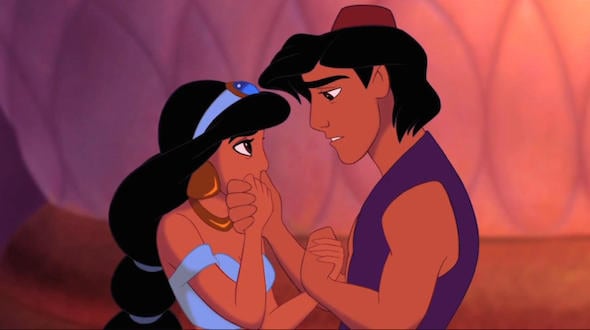 I've also delighted in hearing Piper hum A Whole New World (I've never tried to hide my love for Alan Menkin) for days after we watched the movie!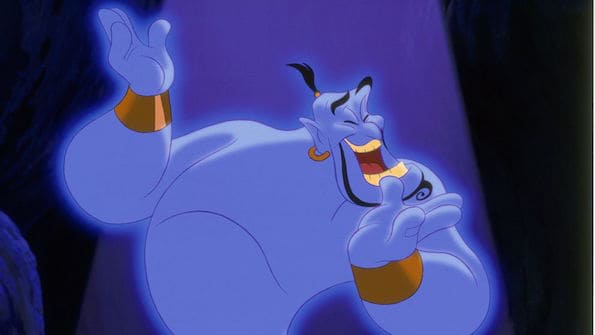 I think Aladdin Diamond Edition is a must-have for any Aladdin or Disney fan, but anyone who's seen Aladdin must see the amazing cuts and outtakes of the late Robin Williams voicing the Genie in the Blu-ray and Digital HD bonus features!
About Aladdin Diamond Edition:

Disney's beloved masterpiece will make your heart race and your spirit soar.

Experience the laughter, adventure and Academy Award®-winning music (1992: Best Music, Original Song, "A Whole New World," Original Score) for the first time on Blu-ray and Digital HD.

And now Aladdin shines even brighter with never-before-seen tributes to the enchanting talent of Robin Williams, the "Genius behind the Genie"
Aladdin Diamond Edition DVD bonus features:
Deleted Song / "Proud Of Your Boy" (Original Demo Recording)
Deleted Song / "You Can Count On Me"
Deleted Song / "Humiliate The Boy"
Deleted Song / "Why Me"
Deleted Scene / "Aladdin & Jasmine's First Meeting"
Deleted Scene / "Aladdin in the Lap of Luxury"
Aladdin Diamond Edition Blu-ray & Digital bonus features: 
The Genie Outtakes – Robin Williams' Genie outtakes are magically brought to life.
Genie 101 – Our host, Scott Weinger (the voice of Aladdin), takes us through the various transformattions of the famous (and formerly famous) celebrity references of the Genie.
Ron & John: You Ain't Never Had a Friend Like Me – Directors John Musker & Ron Clements sit down and discuss the experiences of their long-running partnership together at Disney.
Aladdin: Creating Broadway Magic – Join host Darren Criss as we take "a new fantastic point of view" at the story of how Aladdin went from a classic Disney animated film to become Broadway's smash hit with Composer Alan Menken and others.
Unboxing Aladdin – Our host, Joey Bragg from Disney Channel's Liv & Maddy, explore the Easter eggs and hidden secrets of Aladdin in this unboxing video.
Aladdin Diamond Edition is available Tuesday, 10/13 on Blu-ray/DVD combo OR you can download Aladdin Diamond Edition Digital HD with all the bonus features NOW!