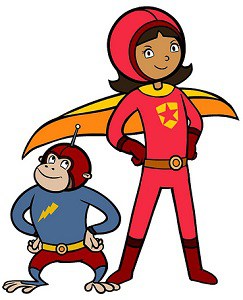 Eliza left a comment on the Babysavers Facebook page this morning asking for some guidance on how to make a superhero Halloween costume. She wants to make her own Wordgirl and Captain Huggyface Halloween costumes for her toddler and infant to wear together. Cute, right?
My other DIY Halloween costumes posts have been about tutus, and I admit, I'd never heard of Captain Huggyface before (although the name had me laughing as soon as I read it!). A quick Google search told me that he's Wordgirl's little sidekick on the popular PBS show.
Once I knew who these characters were, a little more research turned up some great tutorials for how to make superhero costumes and specific instructions for DIY Wordgirl and Captain Huggyface Halloween costumes! Here's what I found:
Do you have any other tips for making DIY Halloween costumes? Please share them in the comments!
Connect with nearly 8,000 other Babysavers readers on our Facebook page!