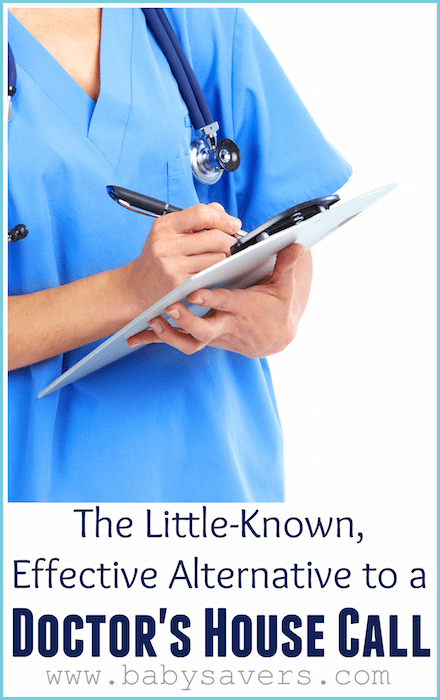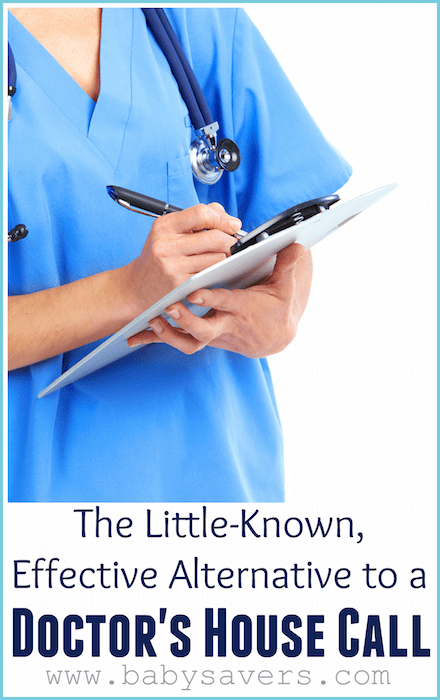 Want an Amwell promo code to try out the service for yourself absolutely FREE? Scroll down to the end of this post! 
I can't be the only mom who has ignored my own mild medical problems of my own because going to the doctor can be such a hassle. Aside from the modern convenience of online scheduling, nothing about going to the doctor is easy when you have kids in tow.
More than once I've wished that doctors would still make house calls, and I swore I'd pay a hefty premium for that service. Now that I'm familiar with Amwell, I realize my wish has almost come true!
Amwell makes it easy for you to talk to providers, immediately, from home. You don't need to call ahead or wait for a provider – simply log on to the Amwell website or use the Amwell app on your Apple or Android mobile device. 

Amwell is the nation's largest telehealth company, connecting users with board-certified, licensed doctors for immediate and live, online visits—day or night, on either mobile or desktop.

Some general conditions our doctors encounter include: minor illnesses and injuries, general health and wellness concerns, prescription refills, and chronic condition management.  

We employ primary care and specialist physicians, as well as licensed behavioral therapists and registered dietitians, to meet our patients' health and wellness needs.

Amwell doctors are available 24 hours a day, seven days a week, and are dedicated to keeping you healthy  — all from the comfort of your home.
I recently developed an visibly mild but incredibly itchy rash under both my arms. I know myself; under normal circumstances, the rash was something I'd likely ignore for a few weeks in the hopes that it would go away rather than deal with a visit to the clinic.
Instead of having to figure out the childcare and scheduling logistics of an appointment for myself I jumped online to try out a video physician visit with my choice of physicians on Amwell.com.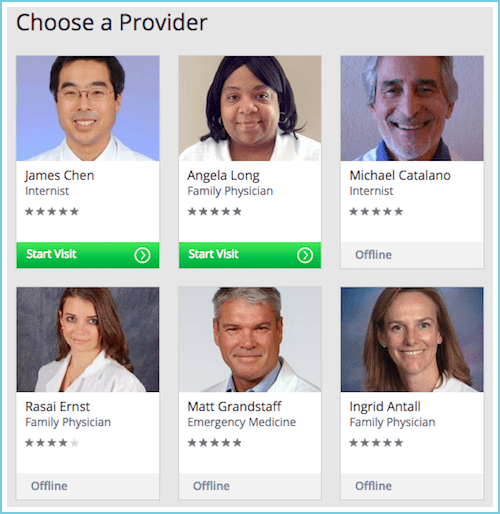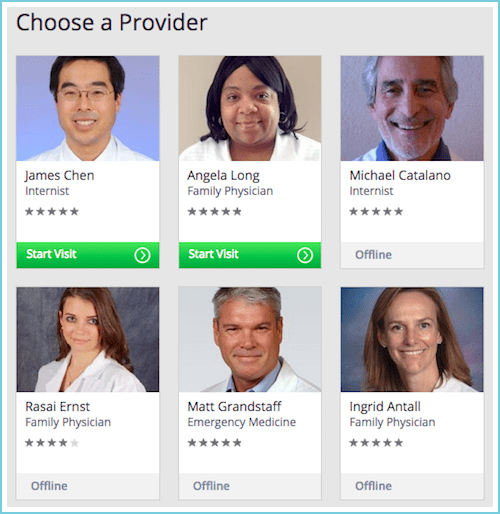 It took a surprisingly short amount of time to get registered on Amwell and make sure my computer was able to support an online video appointment.
Further, I was a shocked at how little information was required to have an appointment. I swear, I needed to give up more personal details or order a pair of flip flops online last week compared to what Amwell needed to move forward!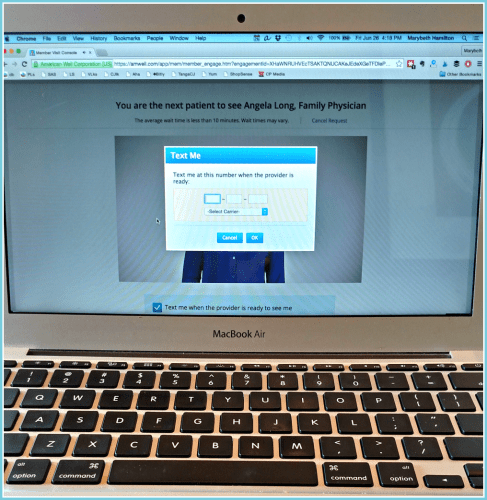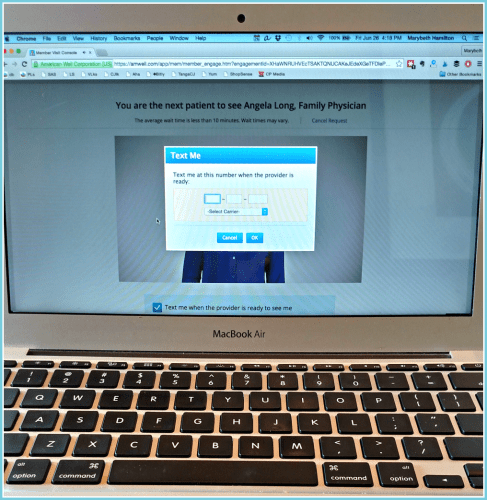 Before actually connecting with Dr. Angela Long, I spent two or three minutes providing pertinent medical information. I also snapped a picture of the rash and uploaded it so the doctor could view it instead of trying to get my body lined up with my webcam during the appointment.
The site said it would be a few minutes until my visit, but I could receive a text message when the doctor was ready. I entered my phone number and immediately received a message that it was time for my appointment.
Within minutes I had told Dr. Long about my personal hygiene habits and the products I had been using on the affected area of my body.
Before I knew it, Dr. Long had diagnosed me with dermatitis (either contact or irritant-related) and was rattling off the name of an OTC medication to alleviate the itching and a different OTC cream to speed the healing. She also directed me to temporarily make some changes to my routines to help the rash clear up.
Finally, Dr. Long advised me that the rash should clear up on its own within 7 days. If I didn't see improvement within that time I should have it looked at in person by a medical professional.
The appointment took just under 10 minutes, and I was entirely satisfied when it was finished.
I had the chance to try out the service for free (you can too, with the Amwell promo code below!), but the truth is I would happily pay $49 for a visit in the future, especially for special situations. In fact, Amwell lists a bunch of potential times when using their services would be helpful:
I feel like I should probably see a doctor, but can't really fit it into my over-booked schedule.
I'm flying tomorrow and can't get out of work.
It's difficult for me to get a doctor's appointment.
I'm not sure if I should go to the ER or not.
My doctor's office is closed and I don't want to go to an urgent care clinic or hospital.
I just moved and don't know any doctors in my area.
I just need a second opinion.
I'm between jobs and have no coverage.
I have a question about a loved-one's health and would like some advice.
Right now you can try Amwell FREE when you use Amwell promo code MOMSQUAD. 
I just used the code for my visit and you won't even need to provide credit card or insurance information!
Be sure to follow Amwell on their social media channels for information and future promotional offers:
Amwell on Facebook
Amwell on Twitter
Amwell on Instagram
Amwell on Pinterest
[maxbutton name="amwell"]