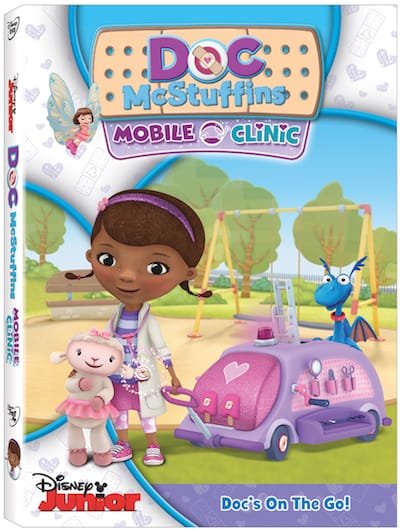 We don't have cable or readily-available network TV so Haiden and Piper usually only watch the movies and shows my husband and I choose for them.
But last fall the kids and I spent almost every day for a week at my grandma's house. That meant we relied on the TV for a bit more entertainment than usual, and I was pretty happy that Gram's cable package included Disney Jr.
The weeklong exposure to Disney Jr. resulted in Piper's deep love of everything Doc McStuffins. She sings The Doc is In and Time for Your Checkup. Doc McStuffins dominated her Christmas wishlist. Her Valentine's Day was made perfect when she received Doc McStuffins My Huggy Valentine.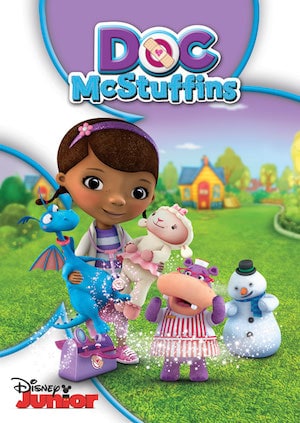 If you're not familiar with the character, Disney.com describes Doc McStuffins:
Doc is a young girl who is the "Dr. Doolittle" for toys. Doc's backyard playhouse becomes her clinic where she uses her special ability to communicate with toy friends to help them when they have physical or emotional bangs and bruises. 
While Haiden isn't quite so obsessed with all things Doc McStuffins, there's no question that he also likes the show and is thoroughly entertained by it. Between the two of them, I knew we'd get a lot of mileage out of the Doc McStuffins Mobile Clinic DVD I received to review!
Doc McStuffins is back to save the day and this time, she is mobile!  After building a mobile clinic with her dad, Doc is able to make house calls to help toys in need when she's away from her own backyard clinic.  The Doc Mobile comes equipped with everything she needs to fix toys good as new.

Released Tuesday, March 18, the Doc McStuffins: Mobile Clinic DVD comes packaged with five song-filled episodes and includes a FREE Doc McStuffins  reusable tote bag.
These are the episodes included on  Doc McStuffins: Mobile Clinic:
Doc McStuffins Goes McMobile / Chip Off the Ol' Box
Doc to The Rescue / Don't Knock the Noggin
Out of The Box / Run Down Race Car
Rescue Rhonda, Ready For Takeoff / All Washed Up
Rest Your Rotors, Rhonda! / Keep on Truckin'
We don't regularly watch the show, so I can't tell you if these episodes have actually been aired on TV. I can tell you that  the Doc McStuffins: Mobile Clinic DVD definitely fits my preference for sweet, gentle programs that aren't in any way spastic or scary.
The main themes in every Doc McStuffins episode I've seen, including those on this DVD include helping friends and staying healthy. As a parent, I can't help but appreciate that!
Here are a few clips to give you an idea of how wonderful Doc McStuffins and her gang are:

Doc McStuffins: Mobile Clinic would make a perfect gift for a little kid, and it would be a fun Easter basket surprise!
Buy Doc McStuffins: Mobile Clinic: The regular retail price is $19.99, but it can be found right now for $14.96 on Amazon!
If you're interested in other sweet and gentle family-friendly entertainment, take a look at my Winnie the Pooh: Springtime with Roo review!
Disclosure: This item was provided at no charge to facilitate my review. All opinions are honest and genuine.