Looking for the best wall calendar? This honest Erin Condren calendar review will show you the pros and cons and what makes this calendar special! Read on to see my requirements for the "perfect" calendar and why this one checks all the boxes!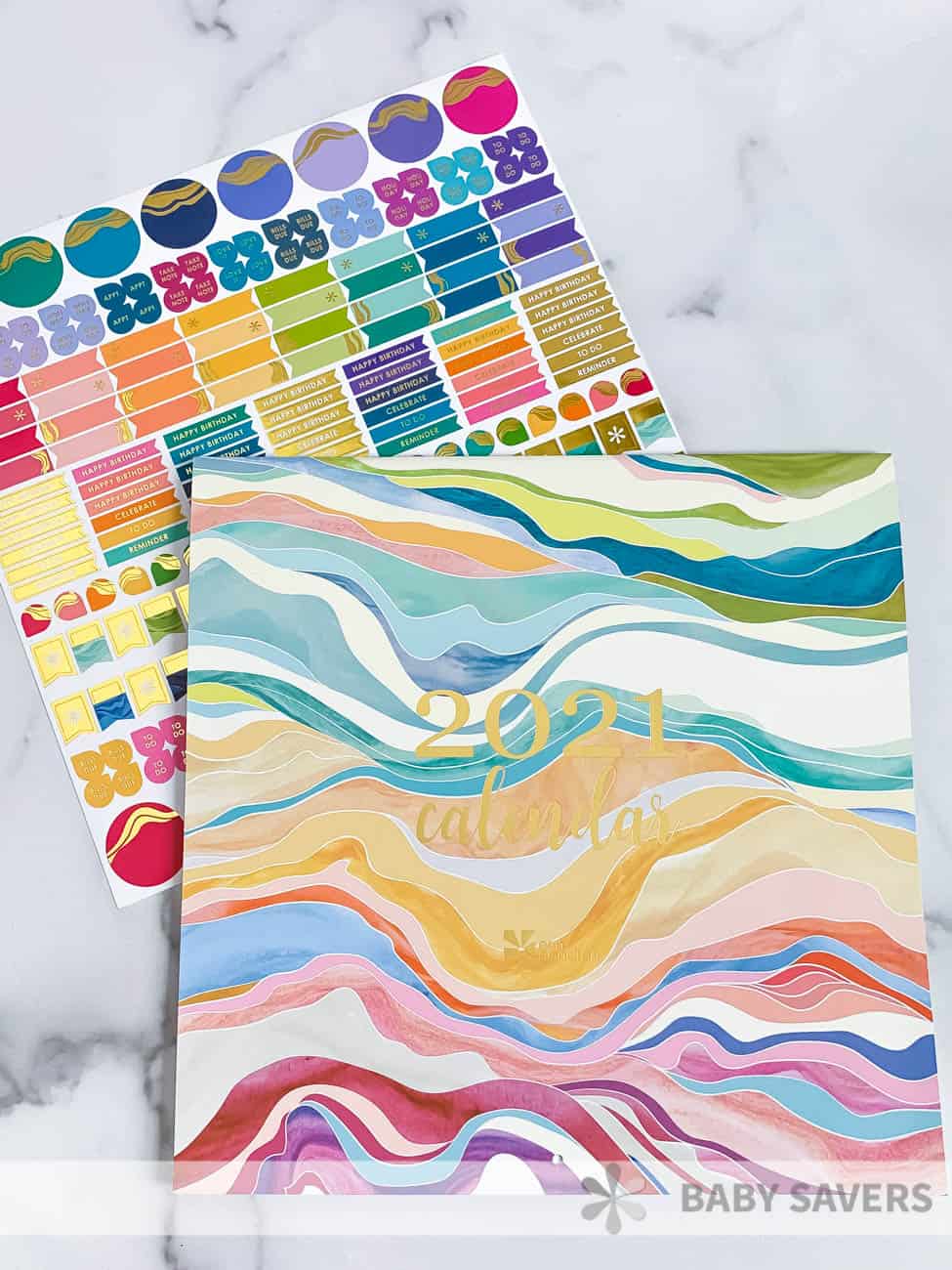 We're not strangers to Erin Condren products! Read my Erin Condren Deluxe Monthly Planner review, and see all the details from the Erin Condren Black Friday sale!
The Erin Condren wall calendar is available while supplies last. See it here!
I remember a time when my kids were toddlers when I just felt like I couldn't get my head on straight.
There were missed appointments. Lost bills. I forgot to show up for commitments that I had made to my friends. If I remembered an event, it was almost a guarantee that I'd be late for it.
I was feeling so incompetent. Like I couldn't handle life, even though what we had going on wasn't complicated.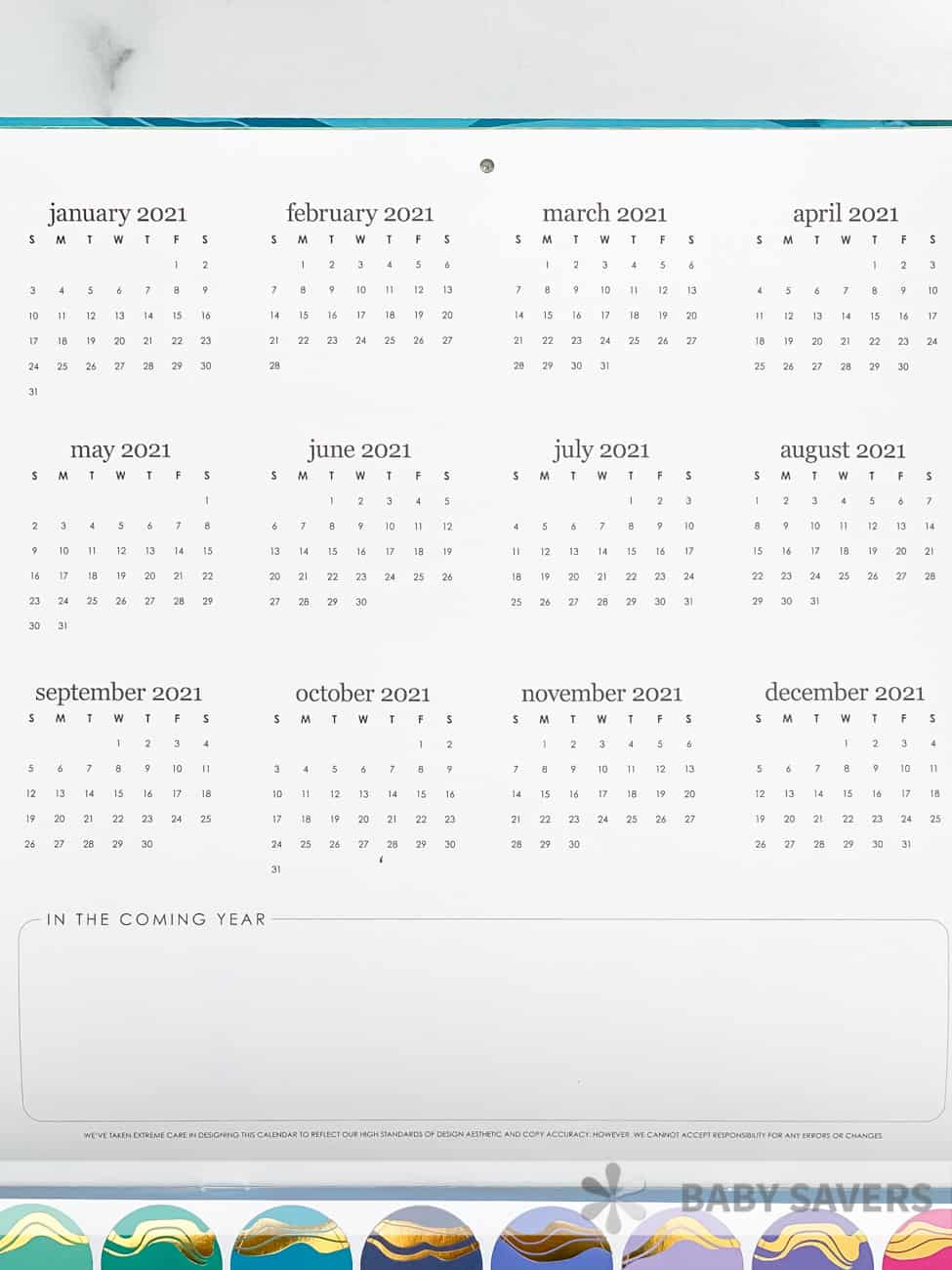 Then I asked my sister, who alreaday had four kids at the time, how she kept her life and kids in order. The first thing she said was, "I live and die by my calendar."
She explained that every single thing that needed to happen outside of the house was written on her wall calendar.
Further, she said that her system was only as good as the information on there and the commitment to checking it often. She started each day by looking at it, and she didn't commit to things until she had checked her calendar for conflicts.
Could it be true? Could a regular wall calendar really be the key to getting my life back together?
That day I put my own calendar to work. All of our upcoming stuff for the entire family got a place in a square. Birthdays and anniversaries were recorded. Appointments were made and written down on the right day.
It took a while to get my calendar habit working, and a bit longer to work consistently, but it's been a life changer for me.
There have been times in my life where things have sort of turned upside down, and my calendar maintenance slipped. It didn't go unnoticed, and one or two missed events was enough to kick me back into the habit.
And, like any task that you do again and again, I've taken notice of the ways to make the process better. I've found that wall calendars have a variety of features. Some that I love, some that I hate. Some that I must have, and some that I can't work with.
Which brings us to this Erin Condren calendar review. I'm here to tell you what I love about this calendar, what I don't like about it and how it works for me.
Erin Condren Calendar Review
Now that you know that I'm picky about my wall calendars, I have to say, I was nervous about what I was going to get with the Erin Condren calendar.
It definitely looked beautiful on the product page, but there were details I wanted to know that weren't shared in the product description.
I wanted to know how big the squares for each day were. Was it printed on glossy or matte paper? How sturdy was it? How big was the hole at the top for hanging?
But I took a risk and ordered it, hoping that the folks at Erin Condren knew how to design a wall calendar for people who would actively use it.
About the Erin Condren Wall Calendar
Here's the official product description:
Function meets fashion with this stunning 2021 inspirational quote calendar! Get organized with 12 calendar month view and get inspired with motivating quotes featuring elements of the new Layers design!
Combine organization, inspiration and decoration. Hang this beauty on your wall or lay it flat on your desk, and don't forget to stick(er) to each month's plans with over 230 metallic gold stickers that are included.
Erin Condren Layers wall calendar: how it looks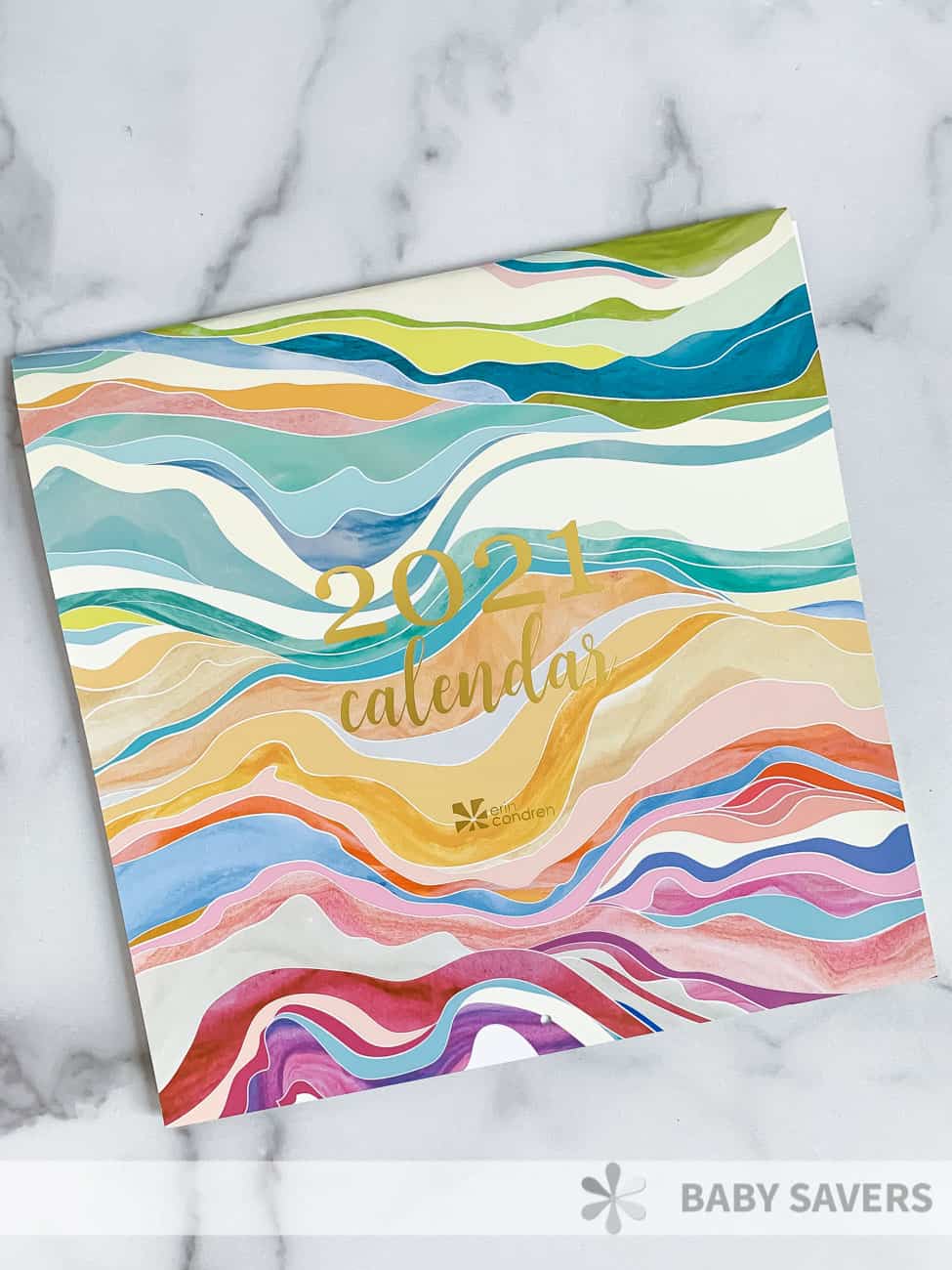 At first glance, this calendar is gorgeous. The words 2021 Calendar is written in metallic gold script over the Layers theme.
Layers is a somewhat new Erin Condren pattern and color scheme that can be found across a variety of their products.
The Layers pattern description:
In a time when we need more motivation and inspiration, this Layers design is a beautiful reminder that we will rebuild, layer by layer, stronger than before.
The look reminds me of the layers of color you see on rocks and mountains, while the color reminds me of twilight in the desert. It's accented with metallic gold, and it's just beautiful to look at.
The pages inside are just as pretty. Every month has the bottom page divided into traditional calendar squares.
The top page is an inspirational quote or saying over a Layers pattern with a single color theme.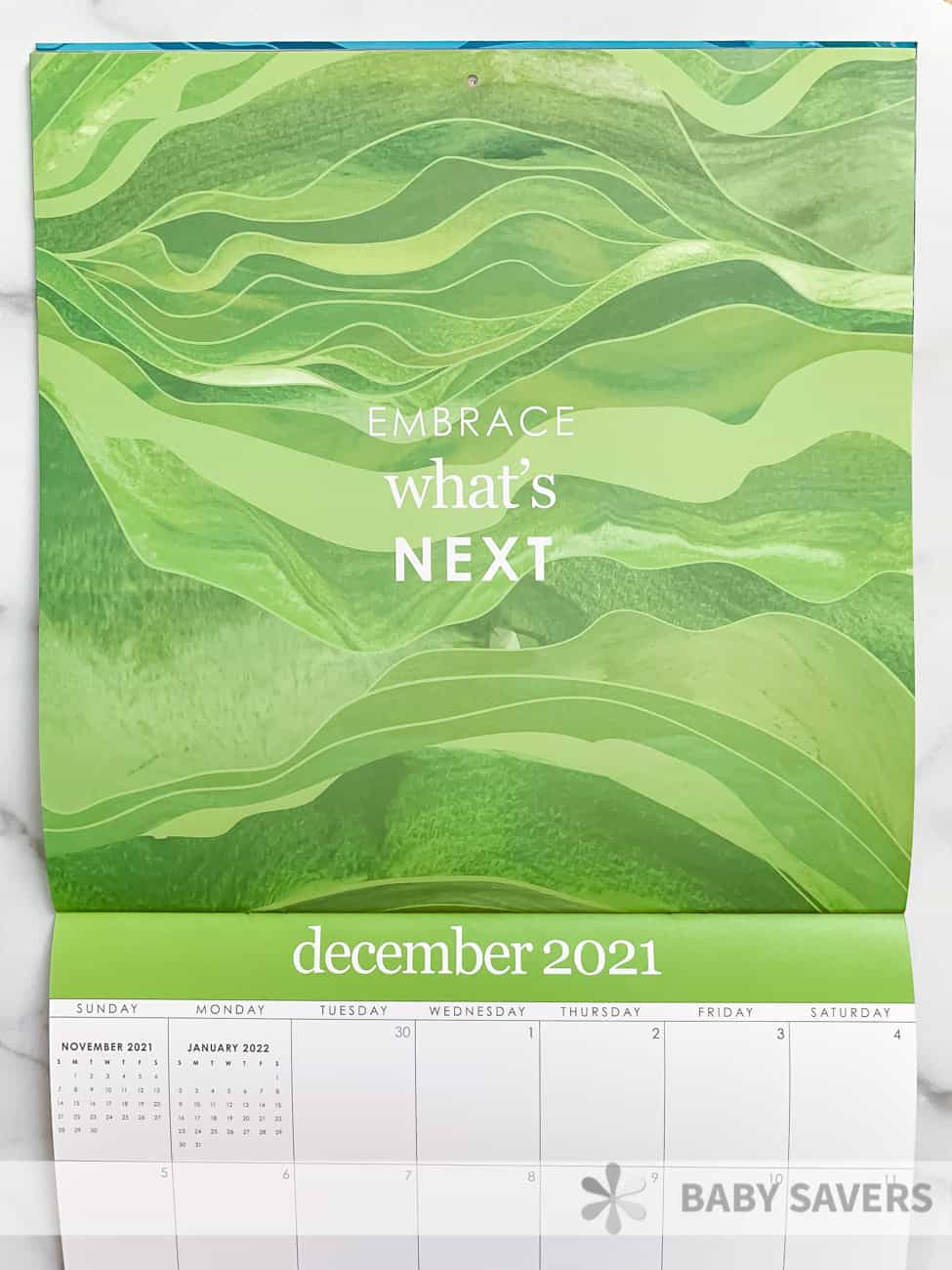 The image above is the monthly quote for December 2021 with the green theme. These are the colors for the other months:
January 2021 – blue
February 2021 – magenta pink
March 2021 – sea green
April 2021 – lavender
May 2021 – pale pink
June 2021 – aqua
July 2021 – royal blue
August 2021 – yellow
September 2021 – purple
October 2021 – orange
November 2021 – sky blue
December 2021 – lime green
Erin Condren Calendar review: features I love
I call keeping everything scheduled and organized for my kids, my husband, our pets and myself family management. This calendar checked all the boxes for what I'm looking for in high-level family management.
The size
Folded in half, the calendar measures 12″ x 12″. When it's open and hanging, it's 12″ wide x 24″ long.
This year, I tried to use a calendar that was 8 1/2″ x 11″ and I don't want to do that again. 12″ by 12″ is the minimum size I can work with.
Further, I fully appreciate that the monthly pages only have the date boxes on them and nothing else on the left or right sides of the month. I really want all available space to be used by the individual days, which is what I've found here.
The paper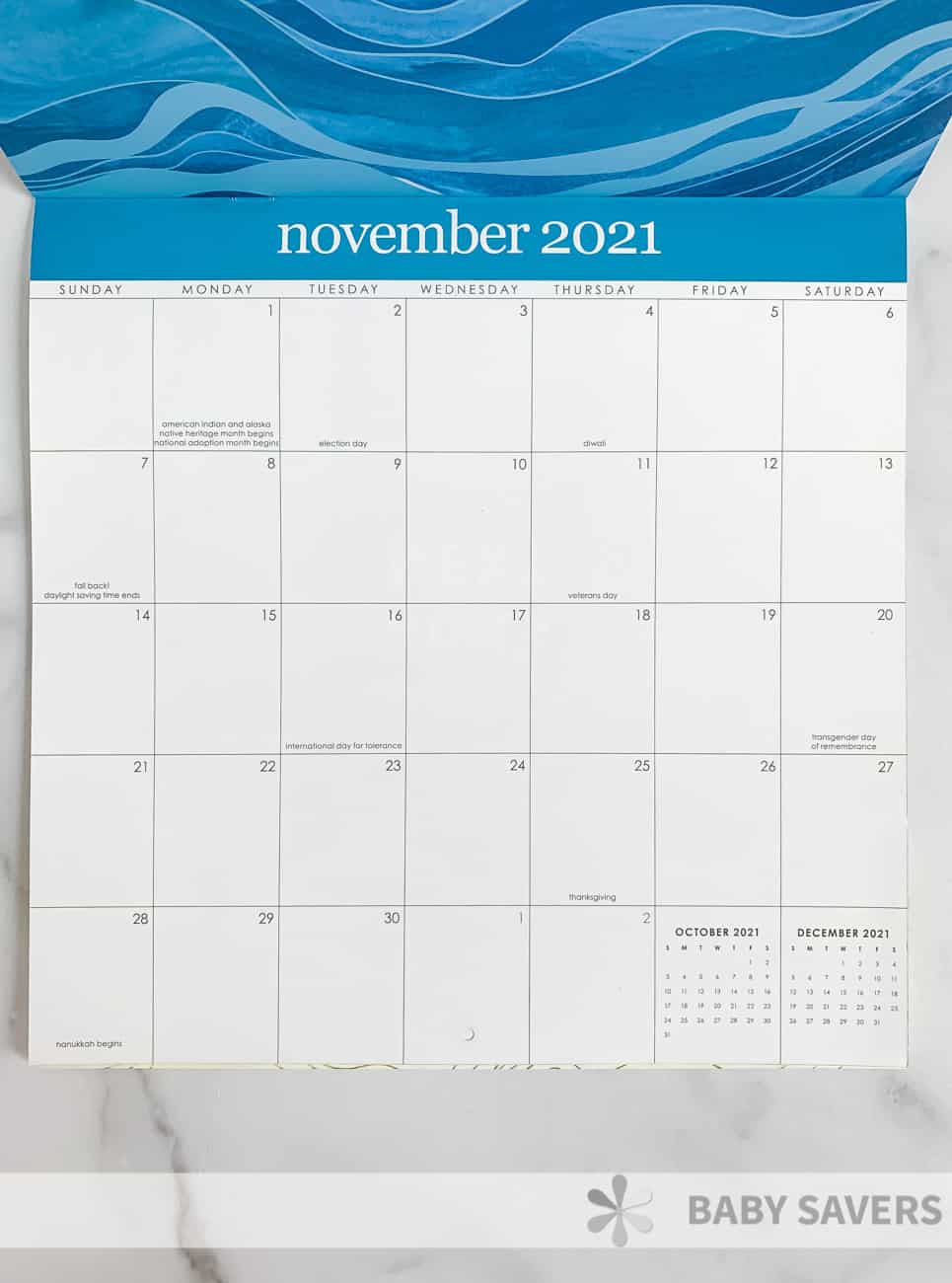 I think the best calendars have boxes printed on matte, heavy duty cardstock paper. Calendars with glossy paper just don't work for me.
I often use pencil for real life "penciling it in" appointments. Pencil and glossy paper aren't compatible.
Also, ink smears easily on glossy paper. Being left-handed, ink smears are already my enemy, and I don't need something else working against me.
The stickers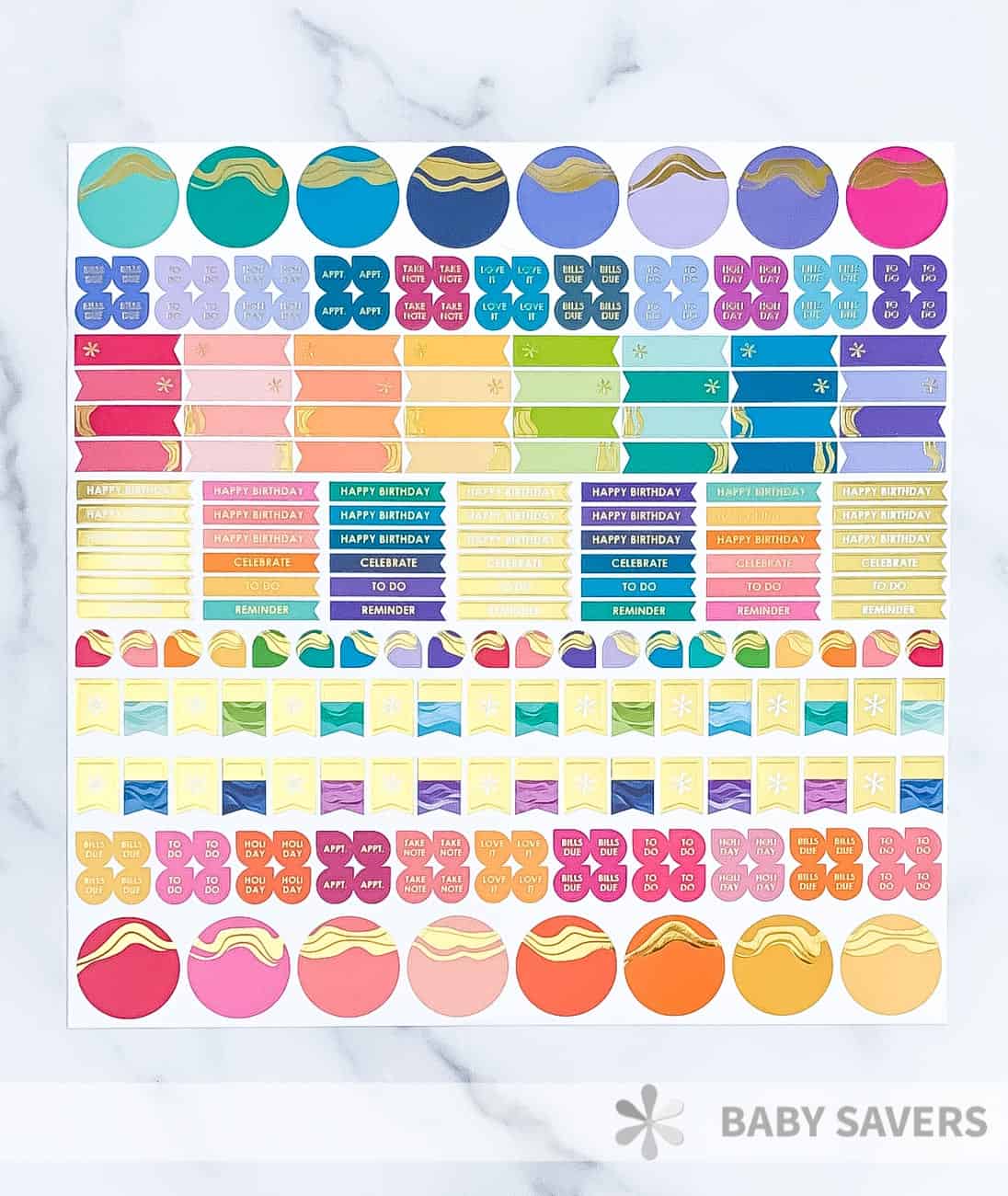 I think of stickers as a fun add-on for my calendar. They're not necessary, but I do like them! They also make it easy to put a reminder on a date when I'm in a hurry.
The folder pocket
The folder pocket in the back might be my favorite feature of this calendar.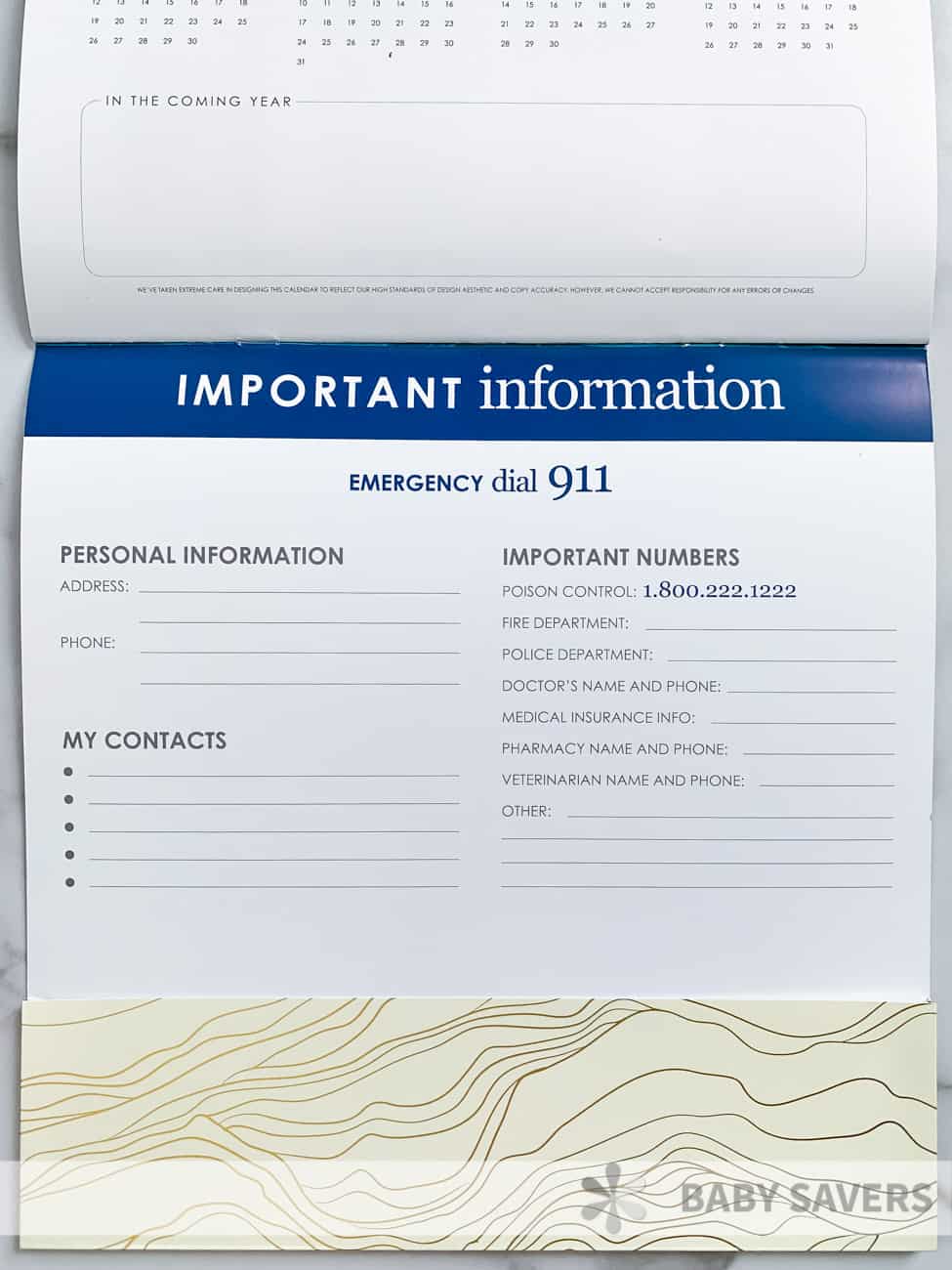 I think it comes in so handy when we get activity schedules that are done for a full school year. I can write in all the days for the current year, then stick the schedule in the pocket so it's ready when I get my calendar for the next year.
The other way I like to use the pocket is for invitations. When someone gets invited to a birthday party or another occasion, the event gets written on the calendar.
But the address and other details of the event on the invitation are still important. Tucking that invite into the pocket means it won't get misplaced or thrown away before the big day.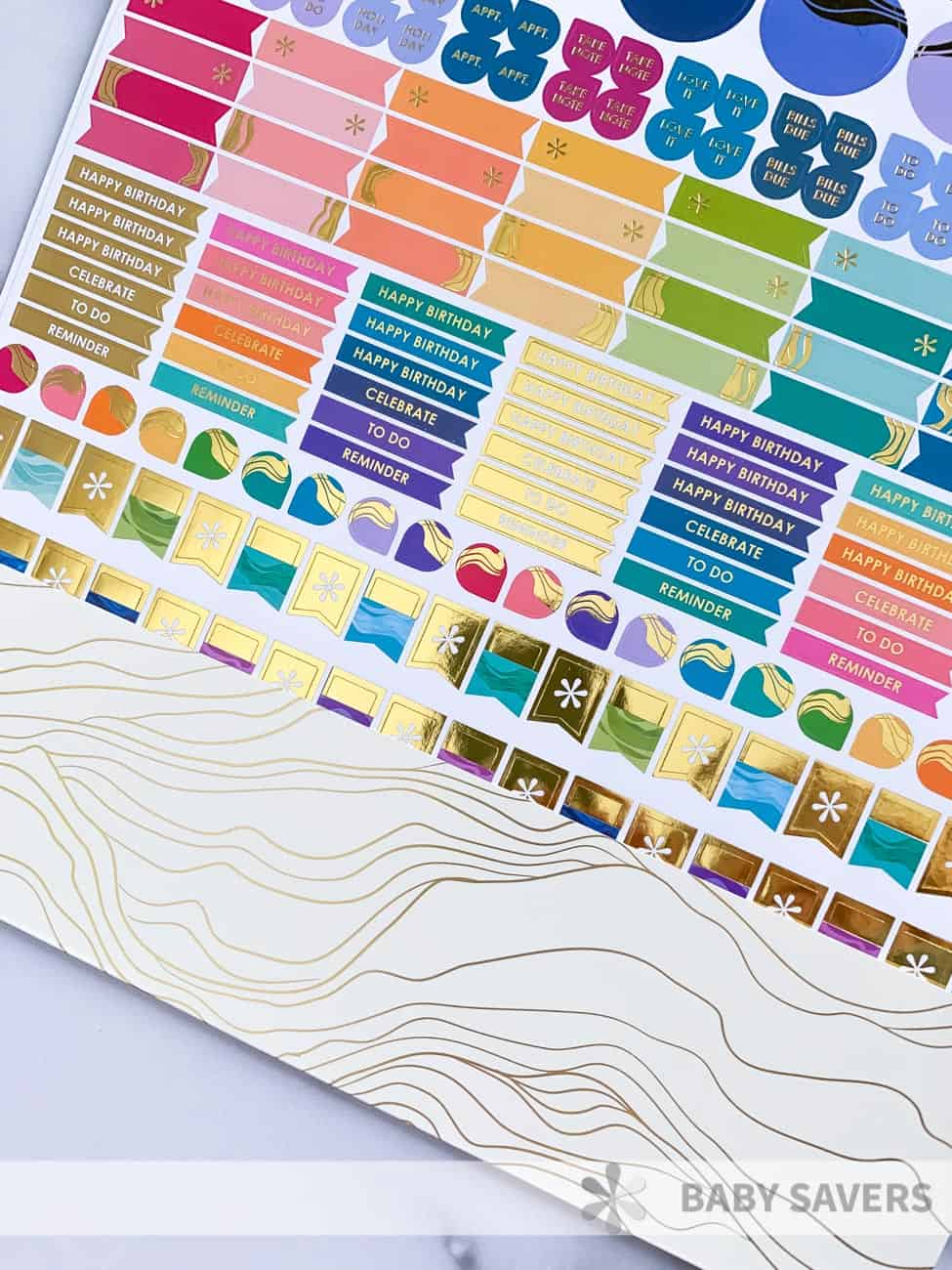 Documents that are needed for upcoming appointments can be stored in the pocket until the day they're needed.
Without the pocket, documents and forms needed for doctor appointments and school things get paper clipped to the side of the calendar or dropped into the black hole of a basket that sits on my desk.
That little folder pocket makes it much more likely that I'll have the papers with me when the appointment pops on my schedule.
Finally, the back pocket holds the stickers, which need an easily accessible home.
What I don't like
I honestly think this calendar is great. One thing I don't like is the little hole punched in the pages for hanging. It's tiny. I always hang my calendars on a small command hook, but this one definitely doesn't fit on that.
But that's not a huge deal, and not a deal breaker for me. The little hole is just right for someone hanging their calendar with a push pin or tiny nail.
Plus, the solution to this is super easy. A plain binder clip at the top hangs just fine on the hook, and a pencil can be slid into the clip, too!
Final thoughts
Guys, I think I've found the perfect calendar for helping my family stay organized. The size, the paper type and the attached folder give me everything I need for helping keep our family scheduled and on time!