We're so excited for the Erin Condren Black Friday sale and Cyber Monday deals of 2022! The Erin Condren Black Friday 2022 deals have started, and we have all the details!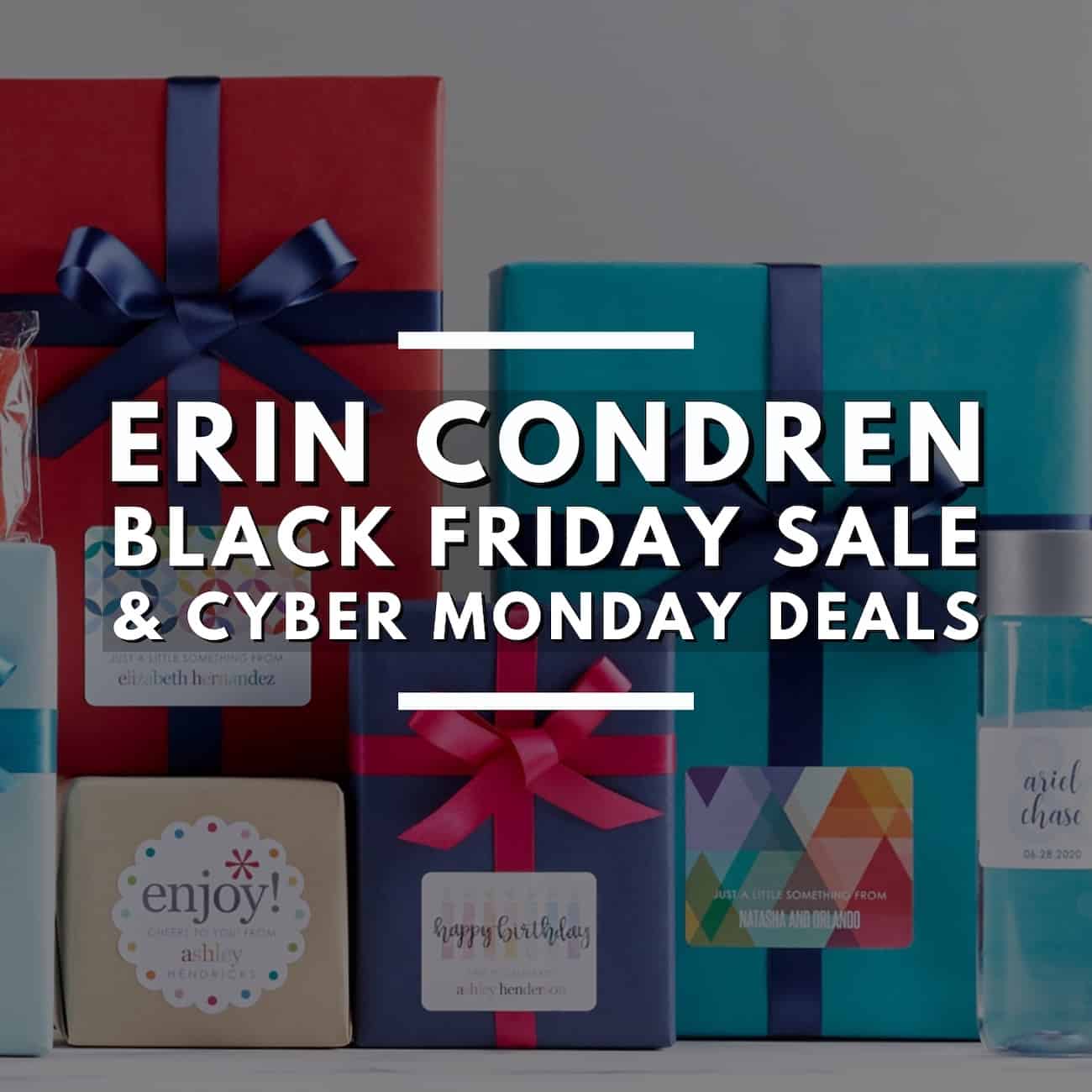 This post was updated on November 24, 2022 with the latest available details.
Erin Condren makes some of the best planners, accessories and office supplies around, and I love that they always offer amazing sales on both Black Friday and Cyber Monday!
Does Erin Condren have Black Friday sales?
Yes, and I'm super excited! The Erin Condren Black Friday 2022 sale just started and it's live now!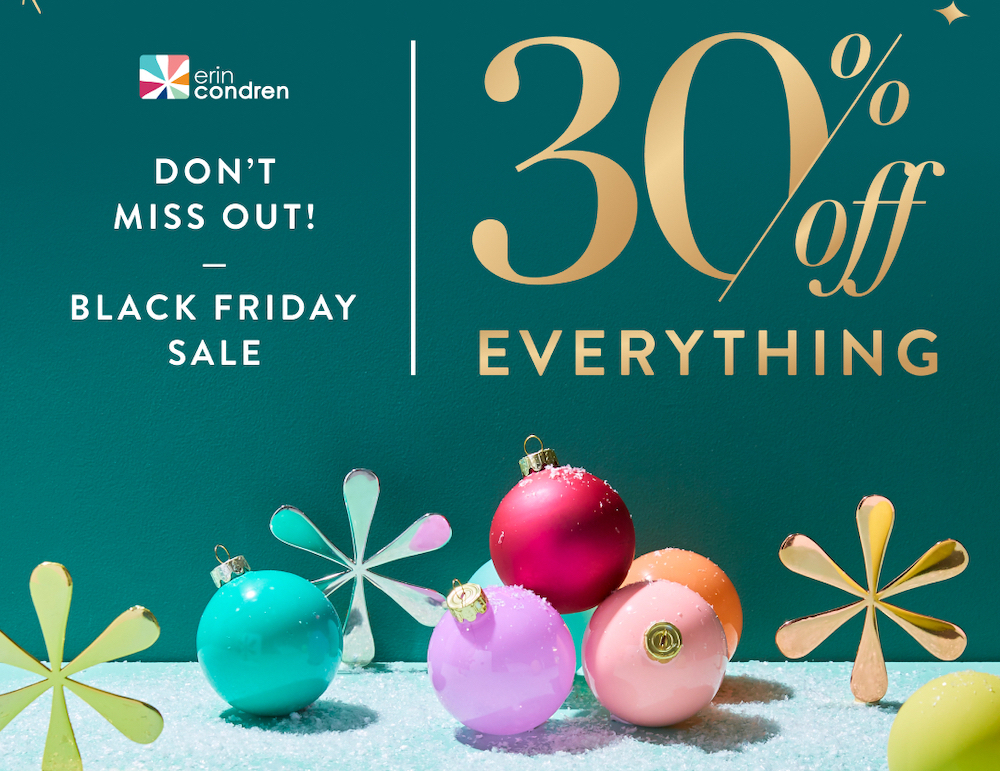 The first Erin Condren Black Friday sale of 2022 has started! Shop the Black Friday EC Insider Early Access Sale NOW, or scroll down to get more details about the deals and the sale.
In addition to the Black Friday Erin Condren deals, we have other ways for you to save! Check them out here:
First, Save 60% on plenty of items in the Sale area at ErinCondren.com! If you love any of these items, you'll want to buy them now before they're gone.
Second, check out the bundles. EC's Bundle deals are a great way to save money without waiting for a big event like Black Friday or Cyber Monday!
You can scroll down to the Bundle Deals section of this article for details, or you can click here to see all current bundle deals.
Also, you can check out my Erin Condren content to learn more about this beloved brand!
First, check out my overview of the super fun Erin Condren Trolls collection. Next, my Erin Condren Deluxe Monthly Planner review shares an overview of a super popular product. Finally, there's my Erin Condren Monthly Calendar review. I'm sad to say that this isn't available every year, but fingers crossed that it comes back!
Erin Condren Black Friday Sale
The 2022 Black Friday Erin Condren Sale information is ready to share! I'm extra excited because there are four different days of sales with some amazing perks for some of them!
These are the three sale events:
11/25 Erin Condren Black Friday Sale All Access (early!) Shop here!
11/27 Black Friday
11/30 Cyber Monday
Black Friday, Cyber Monday and the rest of the holiday season is the perfect time to think about planning for the new year. That means it's the best time to take advantage of the Erin Condren Black Friday and Cyber Monday sales.
While it's the time usually reserved to buy gifts for others, the super low prices means that now is absolutely the time to treat yourself!
11/21 EC Insider Early Access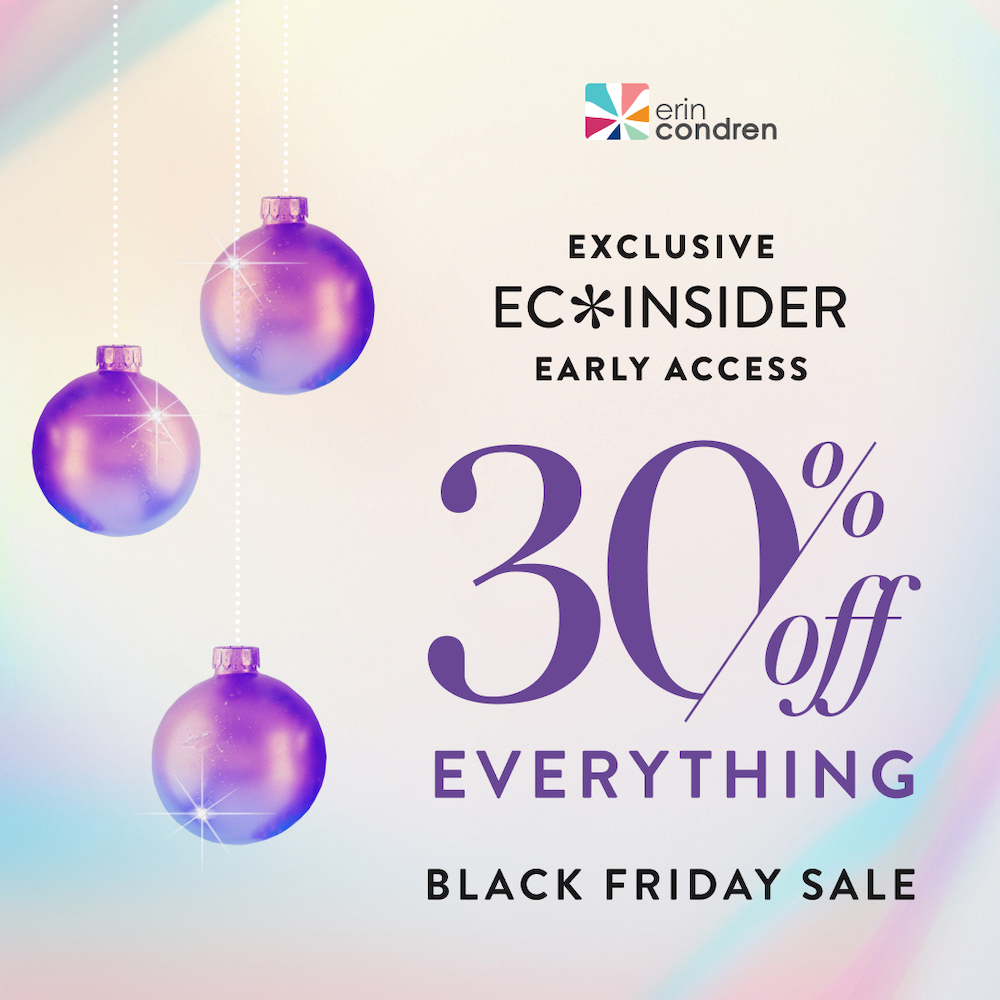 Details:
Everything sitewide is 30% off
The first customers who shop at ErinCondren.com will receive a $10 gift code to spend January – March 2022. This is a first come, first serve offer and quantities are limited.
Free standard shipping on orders of $78 or more.
⭐️⭐️ New Erin Condren customers will get a FREE $10 erincondren.com coupon code (with no minimum purchase!) when you click here! ⭐️⭐️
You must be enrolled in the free EC Insider Rewards program to take advantage of these deals. You can sign up now to be ready for the sale when it starts!
New customers should sign up here. Be sure you check the option to Enroll in the EC Insider rewards program and get points on every order!
Existing customers: log into your account and go to the Update Info section. Make sure Your EC Insider Status is switched to Active.
11/25 Black Friday Public Access Sale
Black Friday is on November 25th, and ErinCondren.com Black Friday sale is ready to go live!!
Save 30% on everything, plus get free shipping on orders of $78+!
11/27 Erin Condren's Black Friday Deals
Erin Condren's Black Friday deal is 30% off everything on the entire site!
The Black Friday sale doesn't exclude anything, so you can load up your cart with the extraordinary Life Planner, Deluxe Monthly Planner, Petite Planners, stickers, pens, markers, desk accessories, and anything else you want!
The wedding planners and kids planning products are also included in the Black Friday deals.
11/18 Cyber Monday at ErinCondren.com
I have great news for planners, gift buyers and everyone else! Everything on ErinCondren.com is also 30% off for Cyber Monday! Shop the Cyber Monday sale here.
There will also be a new suprise gift with purchase on Cyber Monday, so stay tuned!
Be sure to keep reading for some amazing gift ideas you can think about buying for your friends and family. There are also fantastic bundles that will save you even more money!
Bundle Deals
You can save even more when you buy one of the amazing Bundle Deals! These are popular products grouped together by function or theme. If you buy them in a bundle, you'll save a good amount of money!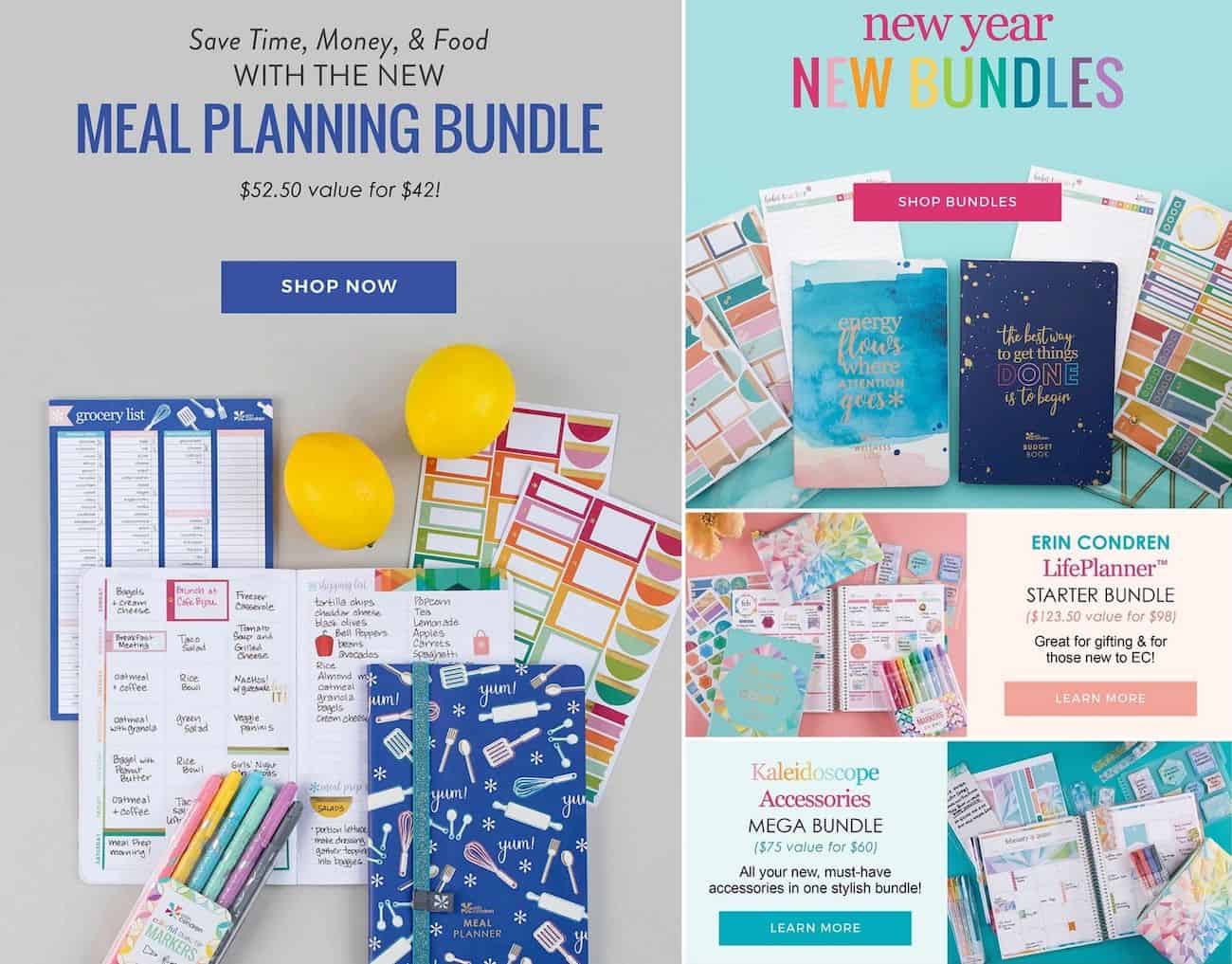 Here are just a few of the bundles available now:
Wellness Planner Bundle ($40 value for $32)
Daily Petite Planner Bundle + Folio ($76 value for $60)
Budget Bundle ($44 value for $39)
Click here to shop all of the Erin Condren bundle deals now!
I bought a bundle and included it in this Erin Condren unboxing video. You can watch it, but it's important to know that every item comes in its original packaging.
If I had wanted to, I could have easily split up the bundle and given individual products from it as gifts.
Gift ideas
The selection of products are all so beautiful and they have such modern designs, there are plenty of items that would also make absolutely fabulous gifts.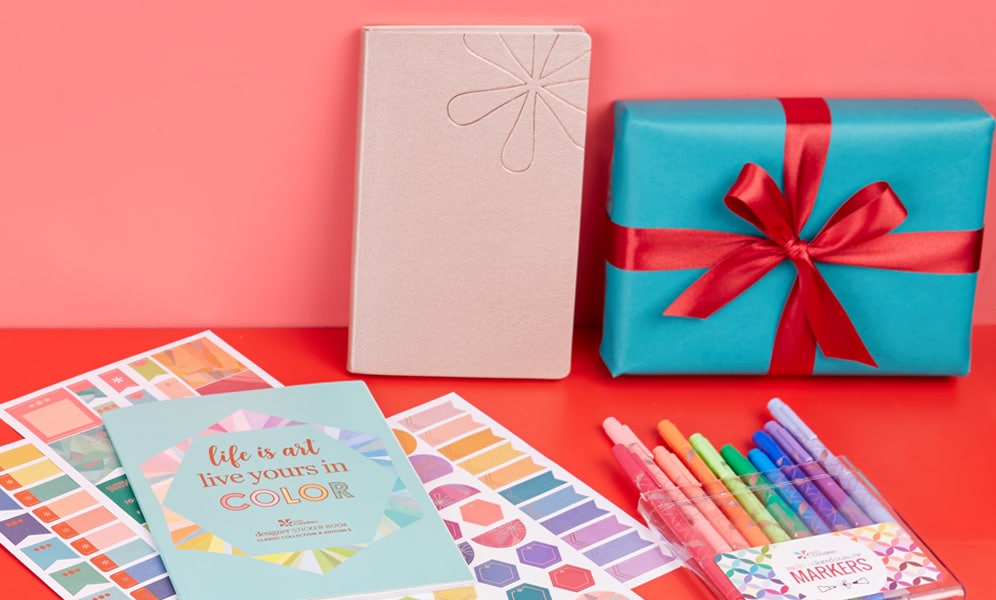 Even if you don't want to give someone a planner, you can find other lovely gifts. here are just a few gift ideas:
Beautiful notebooks
Kids planning and organization items
Writing tools (markers, wet erase markers, pens)
Stickers for planners, planning and organizing
Stationery
Calendars
Desk accessories
Organization products
You'll also find some great gift ideas in the Erin Condren Gifts for $20 or Less gift guide!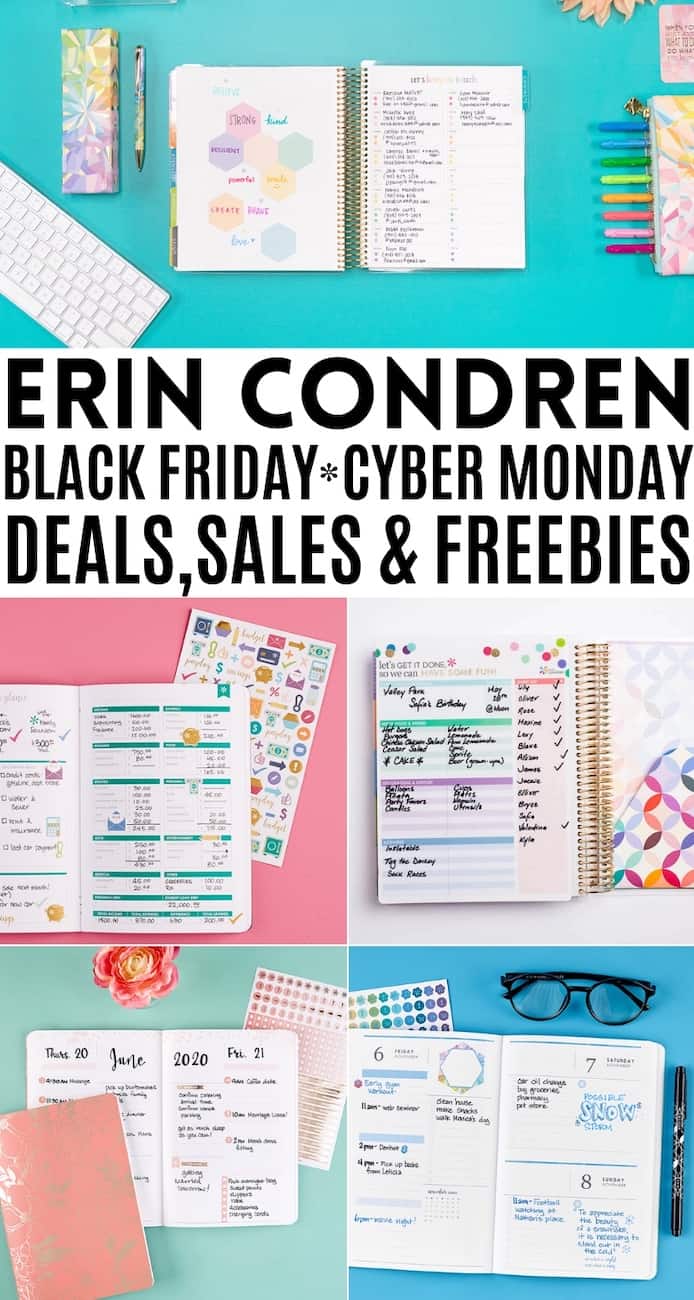 More Black Friday, Cyber Monday Sales
We love shopping online for Black Friday, and we definitely have our favorite places to shop! Don't miss our other favorite sales:
Pura Vida Black Friday (and Cyber Monday!) deals