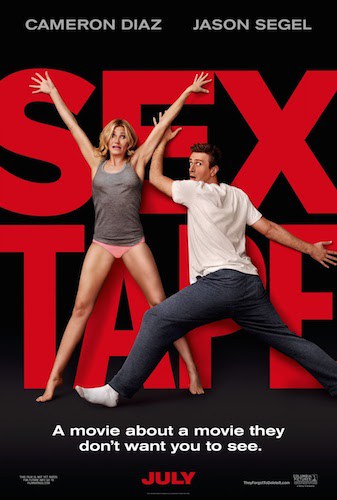 I shared earlier that I had the incredible opportunity to attend the "Sex Tape" movie press junket at the Beverly Hills Four Seasons last week.
In addition to screening the movie and interviewing Jason Segal and Cameron Diaz, I was able to learn a lot about what went on behind-the-scenes while interviewing director Jake Kasden.
About "Sex Tape" starring Jason Segal and Cameron Diaz:

Jay (Jason Segel) and Annie (Cameron Diaz) are a married couple still very much in love, but ten years and two kids have cooled the passion.

To get it back, they decide – why not? – to make a video of themselves trying out every position in The Joy of Sex in one marathon three-hour session. It seems like a great idea, until they discover that their most private video has gone public.

In a panic, they begin a wild night of adventure – tracking down leads, roping in friends, duping Annie's boss – all to reclaim their video, their reputation, their sanity, and, most importantly, their marriage.
Exclusive Interview with Jake Kasden on the making of "Sex Tape"
What was it like working with the three kids and the sensitivity of the movie? 
They were just really sweet, great kids. We were always kind of protecting them from the story whenever we could. When we would read from the script they would leave the room. We were just careful with what we did around them. 
They were just so good we were always thrilled to see them coming, which isn't always the way it is with child actors [laughs].
Harry [Harrison Holzer], who plays Howard, is just this neat little comedy freak! He very fortunately dropped in our lap at the last conceivable minute. We were having a hard time finding a kid who could convincingly sell all of that. 
What was your biggest challenge in filming the movie? 
It's kind of the daily challenge of figuring out what you're doing moment to moment. Sometimes a lot of sexuality can overwhelm peoples' ability to laugh. I've had it happen and seen it happen–if what's happening on screen, even if they're having a good time, laughing out loud and looking at naked people fight each other.
The challenge of this movie is that it had to be funny about a couple trying to work out their relationship. There was really funny material in that, but we knew that in order to do that we had to find a level where it wasn't like were hiding from anything. I was anxious about that balance because I know it can be difficult.
But thankfully, as soon as I started working with [Jason Segal and Cameron Diaz] I was like, 'well, we don't have to worry about that.' They're both incredibly funny doing that stuff. Their fearlessness and ease with it makes it so we're all disarmed. It takes away the discomfort for the audience. In a way I'm the very first audience.
How much of the movie was improvised versus scripted?

[Laughs] I like improv and I like to work that way. When you have people who can really improvise the way they can you're crazy not to, because you get great stuff and you  get funny stuff. But also, I think you actually get better acting. There's something about when people say things for the first time. There's a lot of improv in our process, but I'd say the finished movie is very close to the original script.
Were the kids able to improvise? 
The kids all improvised, all three of them! The little girl, the little boy and Harrison were all weirdly solid improvisers.
Harrison actually improvised some of the raunchiest stuff I've ever had in a movie. It was actually too raunchy for me! To where I was sitting there by the monitor and I was like, 'this kid is offending my delicate sensibilities.' [laughs] He was improvising in joke form, but they were like hard, crazy dirty jokes. He's 14, like he's just crossed over into that area where he's a comedian, and he's a comedy nerd. 
Will your own kids be allowed to see the movie? 
No. The oldest is four and I have two 2 year olds. So it will be a good 20 years before they see this movie. 
How did your wife react to the movie?
She really digs it. She was actually a big part of the serious consideration. She read it and she was skeptical because of the title. When she read it, she loved it, and when she had dinner with girlfriends, she was like, 'this is all we're talking about!' And that's precisely what I want. To me, that's what's interesting about that. In the concept of this big crazy comedy idea, that's precisely what I want. 
How did you come up with the idea of Annie [Cameron Diaz's character] being a mommy blogger?
That was in the script, and the final movie is very much what was in the original script. I felt like a big part of that thing [the leading couple's relationship] was that you had to walk into it with Annie. I knew Cameron would be brilliant doing that. 
What was your favorite scene to film?
The vast majority of the movie was the two of them [Jason and Cameron]. When it was the two of them it was total pleasure. When we would get other people coming through, we would have these brilliant people coming through for a day at a time and it was such a rush. Ellie [Kemper] and Rob [Cordrry] were some of the most fun days I've ever had. The big sequence with Rob Lowe–we were shooting for quite a while because it's pretty involved–that was another one where you couldn't believe how funny he was.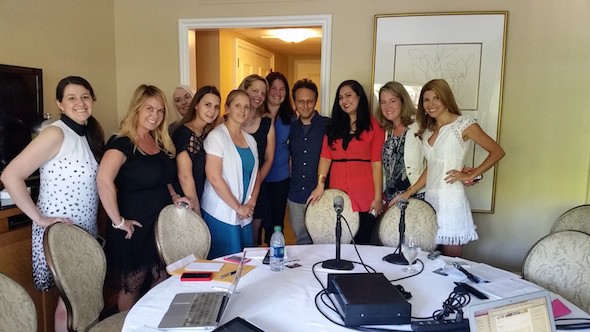 All in all, it was a true privilege to interview Jake Kasden, and he was so happy to speak extensively about the movie, the actors and everything else! I can't wait to share my "Sex Tape" movie review with you, as well as my interview with Cameron Diaz and Jason Segal!
"Sex Tape" starring Cameron Diaz and Jason Segal opens Friday, July 18th. Get your tickets now!
Disclosure: I was invited as a blogger to the "Sex Tape" press junket in LA to provide media coverage for the film. Travel expenses were covered by Sony Pictures. All opinions are honest.