Whether you're looking for the most unique gifts for book lovers or the best bookish gifts to make someone squeal with glee, we have just the right present for you! From little literature token gifts that show you care to classic items for the nerdiest bibliophile, there's the perfect gift for every reader in this roundup of gift ideas for book lovers!
Gifts for Book Lovers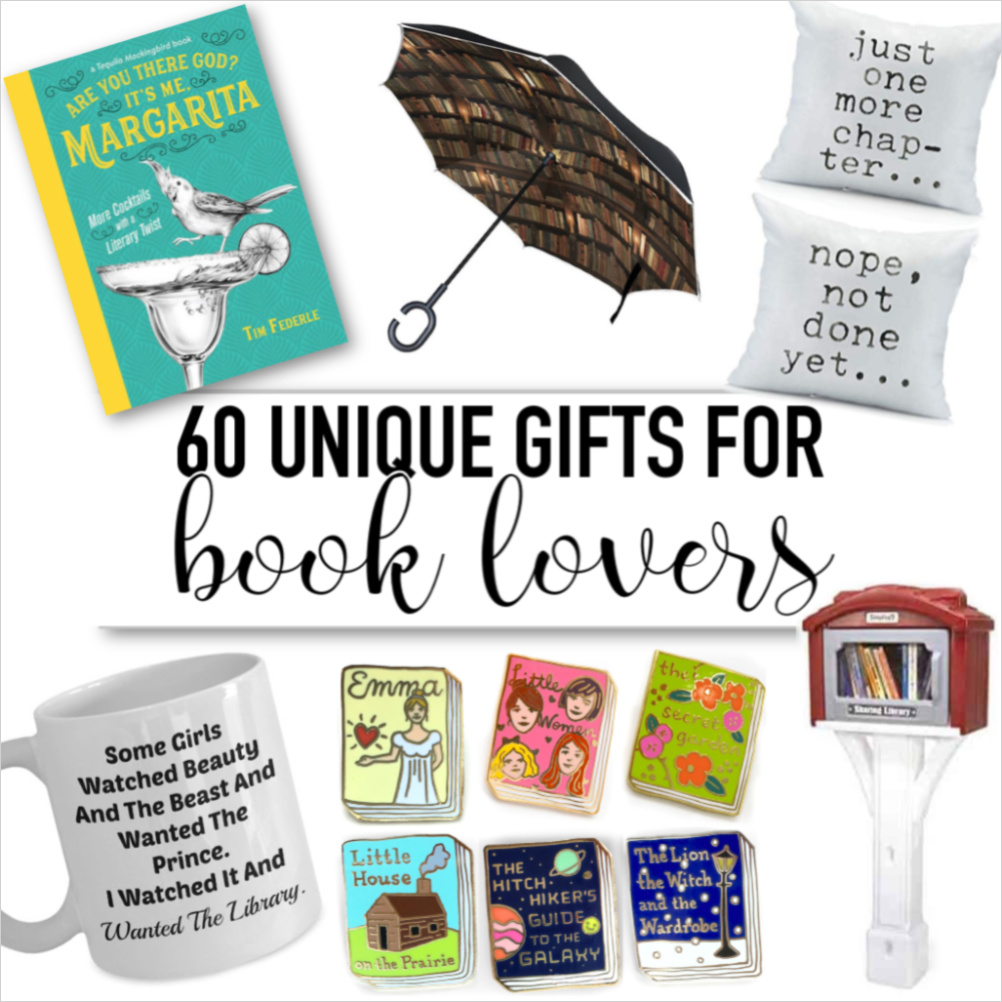 Book lover, avid reader, bookworm, nerd, bibliophile. I can't deny it. I love to read so much, and I've been called all of those labels. The thing is, it's never bothered me, and it's never bothered any of my friends who love books as much as I do.
Related: Don't miss my gift ideas for young readers!
People who love to read wear that love and carry their library card like a badge of honor. I never leave the house without my Kindle, and I'm never afraid to open it to my current book when I have a few minutes to spare.
I'm always, always ready to talk about favorite books, the book I'm reading, the book someone else is reading or the books anyone else recommends. I could talk about reading all day, and I'm super excited to share all sorts of great gifts for book lovers!
In short, I understand what it means to love books, and I'm the perfect person to tell you the best gift ideas for book lovers!
This list of gifts for book lovers has a few different sections. Scroll down and see all the gifts for these categories:
Organizing gifts for book lovers
Reading aids and gadget gifts for book lovers
Clothing gifts for book lovers
Pampering gifts for book lovers
Home decor gifts for book lovers
Kitchen gifts for book lovers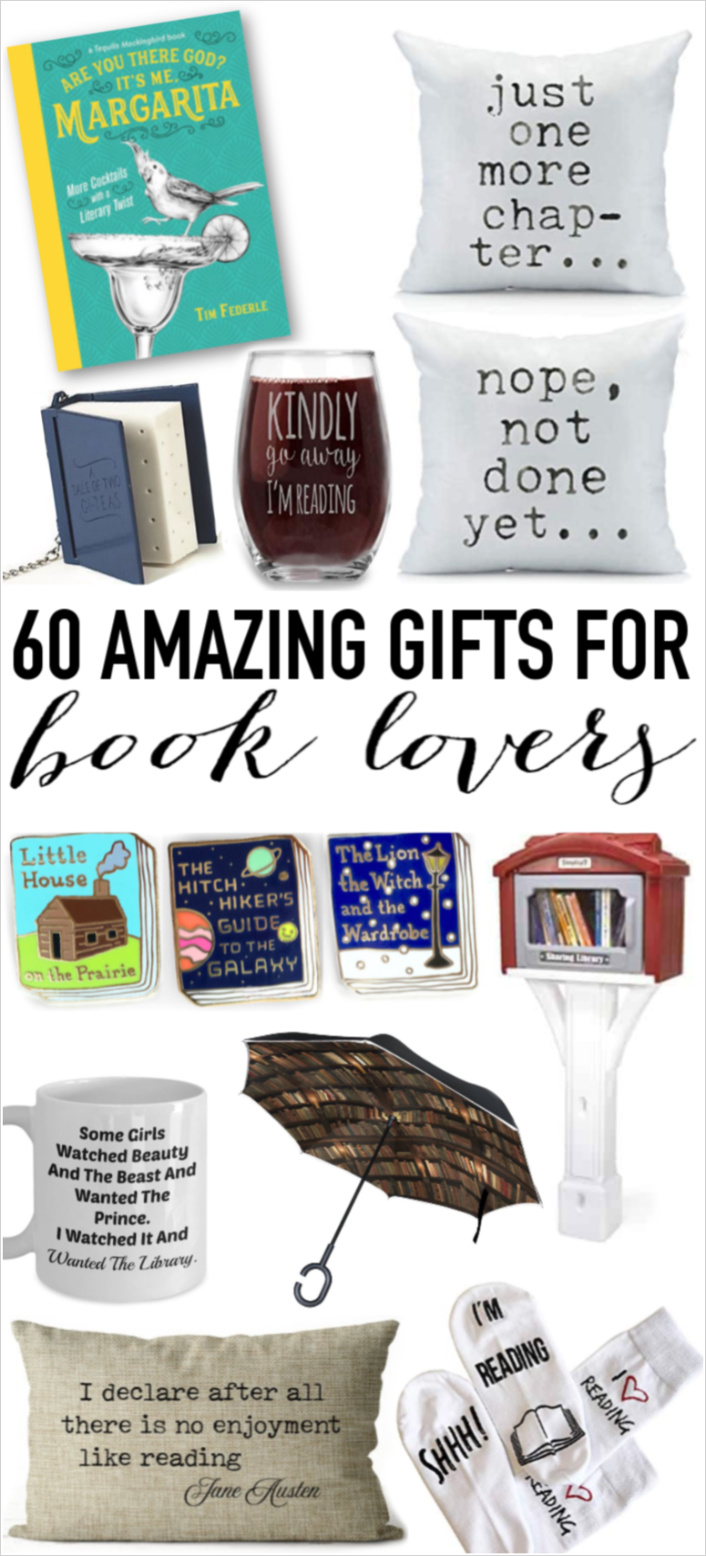 Gift Ideas for Book Lovers
Organizing gifts for Book Lovers
Most people who love books also share the same problems: Too many books. Keeping track of books. Organizing books. Making books look neat and tidy. The struggle is real, but there are solutions to all of them!

These gifts for book lovers are focused on keeping a bookworm's passion organized.

Know a book lover with a minimalist decorating style? It can be tough to balance the two! Help her out with these concealed floating bookshelves.

Sort your books and instantly giving them a new home is easy when you have a Little Free Library!

Encourage reading and sharing in a book lover's community when you gift this sharing library.

Promising review: I'm thrilled with this since after considering a Little Free Library for a few years I realized I wasn't really ever going to get around to building one.

This was the perfect solution, and the cost was far less than buying a Little Free Library Kit that I still would have had to assemble and paint myself. "

While these bookshelves are marketed for nursery displays, we think they're a charming way to show off books in any room!

A small yet spacious way for a bookworm to dress up her walls with her collection of books!

Photo Credit: Crate & Barrel

This surprisingly affordable set of fascinating limestone and lava stone bookends were sanded and hand-polished by skilled artisans.

Lending, borrowing and trading books is a true pleasure for book lovers. Use the library's time-tested system of circulating books for both nostalgia and for making sure you get your books back when you loan them out.
Reading and Gadget Gifts for Book Lovers
There are all sorts of tools and gadgets that are made specifically for readers. They all aim to solve some sort of problem for people who love to read.

Whether it be making reading more comfortable, more accessible, or just easier, these gadget gifts for book lovers are fun gifts to give!

My Kindle is 100% my favorite thing I own! Give someone the gift of convenience and never having to worry about bedside and book lights. The glare-free screen and extra-light weight makes it feel like you're reading a "real" book.

BONUS: The all-new version of the cheapest Kindle now includes a lighted screen without having to upgrade to a more expensive model.

Promising review: "I liked this journal so much that when I filled it up, I bought another one! It's a good size, with a cute cover design and plenty of room for taking notes about books you've read.

The guided format capture details such as favorite quotes and other books to read by this author."

My hand gets sore when I try to hold a book for too long with one hand. This simple little tool helps readers hold their book open.

The Book Seat is used to hold a book open when hands are busy. Avid readers can wash dishes and fold laundry while their book stays open at exactly the right angle.

The helpful book light gets a nice upgrade with this innovative model! The warm LED lights with adjustable brightness levels reduce eyestrain, while the clip doubles as a bookmark.

Recharging via USB plugged into the wall or a computer will keep the light on for 60 hours.

Reading in the bathtub is a classic way to relax. Keep a reader's book safe (and give her a holder for her favorite beverage) with this luxurious bathtub caddy.

Photo Credit: www.amazon.com

Bedtime readers can open the wooden "book" on their nightstands to reveal a warm glowing light to read by! Stylish and convenient, this stylish little lamp recharges by USB and uses an LED bulb for efficiency.
Clothing Gifts for Book Lovers
Just about everyone who loves to read really wants to talk about reading. Help your favorite bookworm break the ice by giving him or her something to wear that declares a love of reading!

Have your favorite book lover show her membership in the every-reader book club.

Lightweight and vibrant, the perfect all-weather infinity scarf for book lovers

Even non-book lovers will be charmed with this cheerful, colorful skirt with a book print. Bonus: pockets!

This small pin is the perfect touch to add to a book lover's jacket or backpack!

Continue Reading is a real thing for book lovers!

This book-shaped pendant necklace can be customized. Give a short and sweet message to your favorite reader inside this book locket!

It's no mystery that bookworms everywhere will love these fingerless gloves decorated with text and images from Nancy Drew, The Secret of the Old Clock!

This sharp button-up top continues the prep-meets-unexpected motif through its colorful book print, tab sleeves, subtle buttons, and smart tailoring.
Pampering Gifts for Book Lovers
Everyone needs a little self care. Why not combine some pampering with a reader's favorite subject - books!
Home Decor Gifts for Book Lovers
Gifts for book lovers aren't limited to book lights, bookmarks and tote bags. There are a surprising number of lovely, stylish home decor items that are perfect for readers!

I'm positive every book lover has at least one favorite book in this picture!

Show your support for authors and education! This beautiful artistic print showcases some of the most banned and challenged books in the United States.

Jane Austen lovers who love to read will be thrilled with this pillow displaying a Jane Austen quote they can all agree with: I declare after all, there is no enjoyment like reading.

These books are so gorgeous it would be wrong to not put them in the Home Decor category! The classic book lover will swoon over this exquisite collection of Puffin Books with stunning cover art by stationery brand Rifle Paper Co.

Put a frame around this gorgeous poster and it's the perfect gift for any book lover to hang in her kitchen! With quotes from the grate authors like Shakespeare, Jane Austin, Mark Twain and more, book and wine lovers alike will love this gift.

Remember some of the great literary heroes for girls! This art print features lovely editions of the classic stories with amazing young women protagonists!

This art featuring a quote from Louisa May Alcott is the perfect gift for avid readers and book lovers. Printed in fade proof inks, the quote reads, She is too fond of books and it has turned her brain.

From the adored characters in Charlotte's Web to symbolism in Moby Dick and Jonathan Livingston Seagull, Readers will love this frame-worthy poster celebrating the animal heroes, villains and sidekicks from beloved books.

If your book lover values creativity as much as she does reading, she'll love this creative way to decorate using a book.

Inspire anyone with this poster showcasing an extensive list of heroic females in literature.

Your most beloved children's books have quotes we should keep in mind all the time! This collection of nine posters displays those quotes in vibrant and gorgeous watercolors.

People who read the book before seeing the movie always lament over the missing details and nuances that never show up on screen.

Give your favorite book lover the means to display their feelings about books vs movies with this incredibly descriptive poster!

A small sign that conveys a big message! Perfect for a library, office or reading nook.

This reversible pillow is a funny decoration for a book nook or bed.

This mug is perfect for readers! It's printed with classic first sentences so her first coffee is like the introduction to a story every day.

A set of six shot glasses, each featuring a quote about alcohol from classic authors.

It is a truth universally acknowledged that a person in possession of this good book must be in want of a drink. 

In six novels, Jane Austen captured the fancies and foibles of Regency England, and every delightful page of this book celebrates the picnics, luncheons, dinner parties, and glamorous balls of Austen's world. 

This is such a fun stocking stuffer for someone who loves literature!

Reading and wine go together so well!

This Victorian-styled stocking stuffer features 25 individually tagged tea bags with literary quotes on each tag!

A great gift for readers and coffee lovers!

Promising review: "The tea infuser worked really well and the little booklet is very interesting and informative, as well as being cute."

For the Disney-loving Book lover.

Inspired by the novels and letters of Jane Austen, this collection of cakes, bakes, and pastries is based on authentic recipes from the Recency era, which have been fully updated for modern-day cooks.

Promising review: "Love it! Beautiful book! And the recipes explained some food I had read about but didn't have a clue about."

Sprinkled throughout with marvelous anecdotes about writers and writing, The Book Lover's Cookbook is a culinary and literary delight, a browser's cornucopia of reading pleasure, and a true inspiration in the kitchen.

Promising review: "The literary excerpts with each recipe makes it the most readable and enjoyable cookbook I have ever read. A must for any serious cook's library and a great gift for a book lover who also loves to cook. I bought it for my daughter's birthday."

Gift a coaster library that's sure to bring a smile to the face of anyone who sits down with a favorite beverage.

Fifty Shades of Grey Goose, Dangerous Libations, Tender is the Nightcap and other recipes have made their way into this book! Literature, alcohol and puns collide in this clever cocktail recipes book.

We know there are a lot of people on your holiday list to shop for, so we thought it would be helpful to give you even more great gift ideas!
Check out these great gift ideas for all sorts of people in your life. There's something for everyone!