Gifts for Young Readers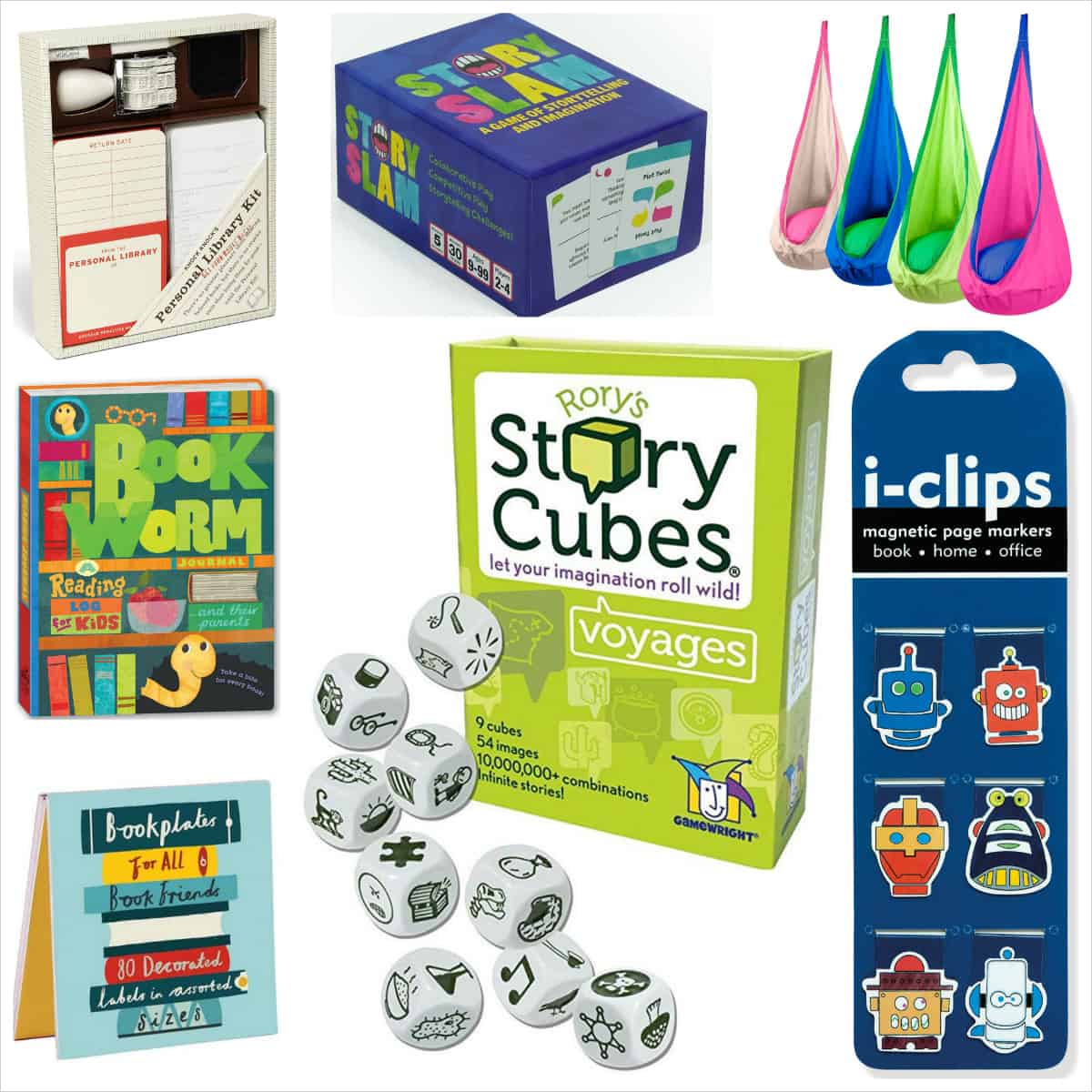 I've been a reader for as long as I can remember. I started reading independently when I was three years old, and my mom would tell you that I've had a book within arm's reach ever since!
I've also put together a list of gifts for book lovers, which includes a variety of presents and ideas for readers of all ages.
Early reader or not, I think reading is for everyone, and some kid readers need more encouragement in that area than others.
Honestly, reading is hands down my favorite thing to do. A few years ago I graduated from paperbacks and hardcovers to a Kindle, and it's changed my life! I read more than ever (at least 100 books each year), and young Marybeth would have loved any of these gifts for readers!
If you're looking for the perfect gift for the young book lover, I'm sure there's something in this list that's perfect for the kid on your gift list. I'm also almost positive there's at least two unique reading gift ideas that they've never seen before.
So forget those Barnes and Noble gift cards. Instead, aim for a unique reading gift that will help them enjoy reading even more than they do now!
Gifts for Young Readers
Before we get to the list, please save this image on Pinterest to share it with others: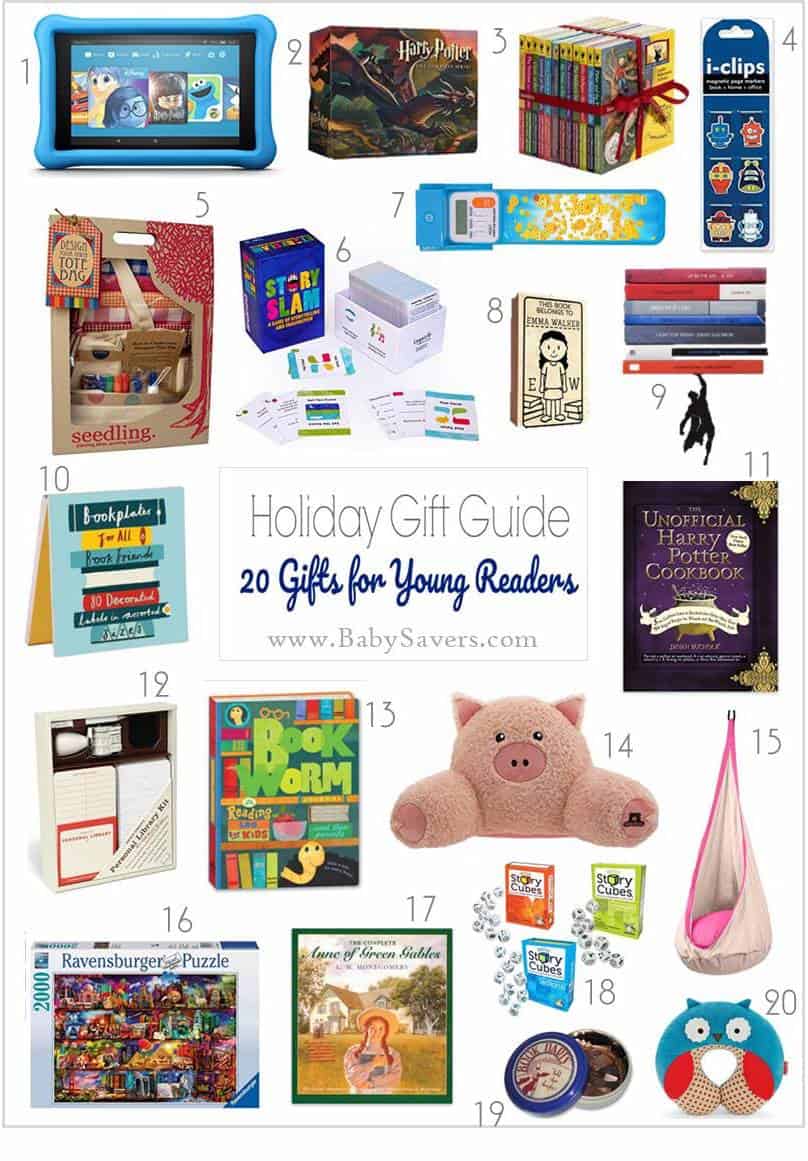 1. Kindle Fire HD 8 Kid's Tablet
The Kindle Fire HD is not a toy — it's a full-featured tablet (including an e-reader!) with a vibrant HD display and up to 12 hours of mixed-use battery time.
There's even a 2-year worry-free guarantee. If it breaks for any reason, return it to Amazon and they'll replace it FREE, no questions asked!
2. Mark My Time Emoji Bookmark and Booklight
This bright 3 LED book light sits on adjustable arm for reading anytime and anywhere. It has an integrated clip to attach the bookmark to any of your favorite books, and the timing function takes the work out of reading homework logs!
3. Skip Hop Zoo Owl Neck Pillow
Make on-the-go reading more comfortable and friendly for your young readers!
This indoor/outdoor hammock chair is the perfect cozy pod for the young reader who needs a reading nook of her own!
5. Bookplates for All Book Friends
These decorative peel-off labels make borrowed books easier to return.
6. The Unofficial Harry Potter Cookbook
Over 11,000 reviews averaging 4.5 stars! This book of magical recipes is another excellent gift for readers.
7. Bookworm Journal: A Reading Log for Kids
Give a gift that promotes lifelong reading habits and encourages a reading routine – just what every aspiring reader needs!
8. iClips Magnetic Page Markers
These colorful robots are a unique and personal way to mark a page, with an arrow to mark the exact line for the reader to start up again.
9. Harry Potter Paperback Box Set
Harry Potter is a classic, and this set would be a welcome gift for any reader!
10. Relaximals Animal Reading Pillow
This functional plush pillow is the perfect companion for reading, playing and having fun!
11. Seedling Design Your Own Tote Bag
10 5-star reviews! Gift young readers with a kit to design-your-own tote bag, and they'll have their own personalized way to bring their books along!
12. Knock Knock Personal Library Kit
We all want to share our favorite books, and little kids will love making their own old fashioned library to keep track of their library circulation. It's a great gift for a generous young reader!
Every CD in this 12-CD set comes with a 24-page activity book! This set gives children an early understanding and appreciation of classical music, and it combines a love of literature with beautiful music!
Pens and pencils in books? No! Paper clips can dent and tear pages. Bookmarks usually can't mark lines. These line markers are paper thin-metal that attach to the edge of a page to easily indicate the exact spot the reader wants to remember.
15. Bookplate Personalized Stamp
An adorable way to help young readers identify their own books.
This puzzle gives me a serious case of booklust!
Does your young reader need inspiration to become a young writer? This is a pocket-sized creative idea generator!
18. Anne of Green Gables Complete Set
Over 4,600 reviews with an average of 4.5 stars! This is the only complete Anne of Green Gables box set available to purchase.
An innovative game for at home or in the classroom, this game sparks creativity and imagination in young readers.
20. Artori Superhero Floating Bookshelf
Gifts for young readers? How about a gift for me? I love this "Supershelf" — I only wish it came in an Iron Man design!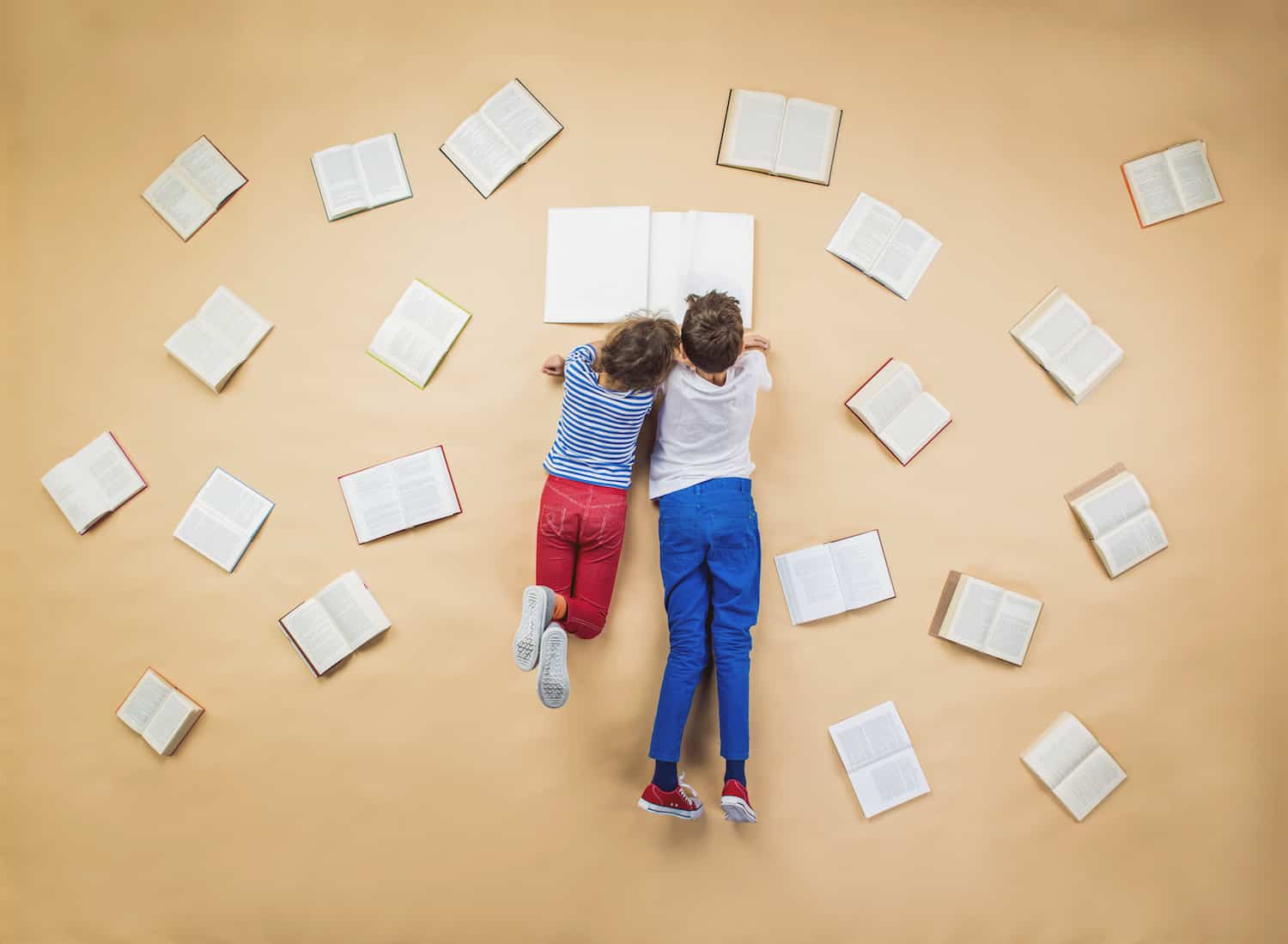 Gifts for Readers – Any Other Ideas?
That completes the list of gifts for readers. As you can see, it's not limited to just young readers! There are plenty of presents and gift ideas on this list that would appeal to any age.
What's missing from this list? Which gift do you want to give to others?