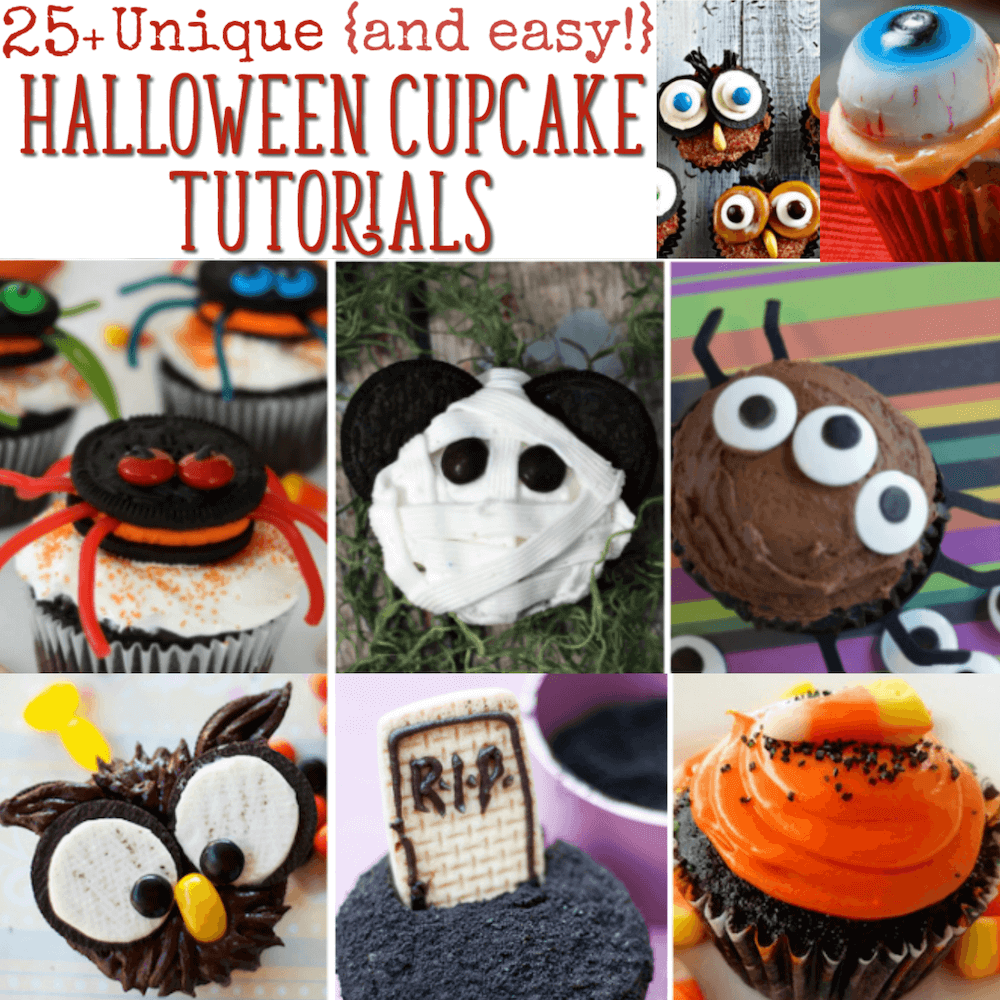 I know, the text in the image is wrong 🙂 There are definitely more than 30 Halloween cupcake ideas below. #25 has four different tutorials!
I love fun food, and holiday food is especially exciting to me! Halloween gives us the opportunity to decorate and design both sweet and savory foods, including cupcakes!
I've found more than 25 unique Halloween cupcake ideas and they all have tutorials. Even better, they're all surprisingly easy!
If you don't have any cake decorating supplies I highly recommend getting this Wilton icing dispenser that includes 5 different decorating tips: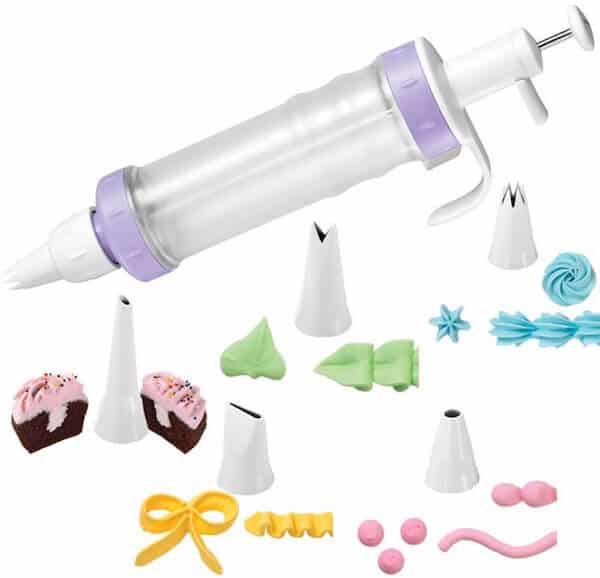 You should be able to find either the exact tip or one that's close enough with what's included. That little decorating device will make any of these Halloween cupcake ideas so much easier to actually make!

Halloween cupcake ideas with tutorials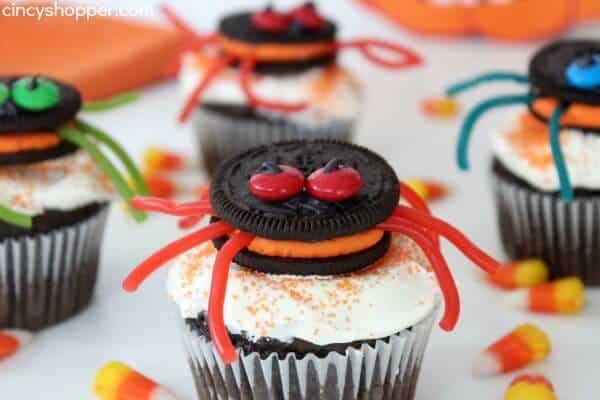 2. Bloody Knife Halloween Cupcake Recipe
3. Halloween Treat: Monster Four Legged Cupcakes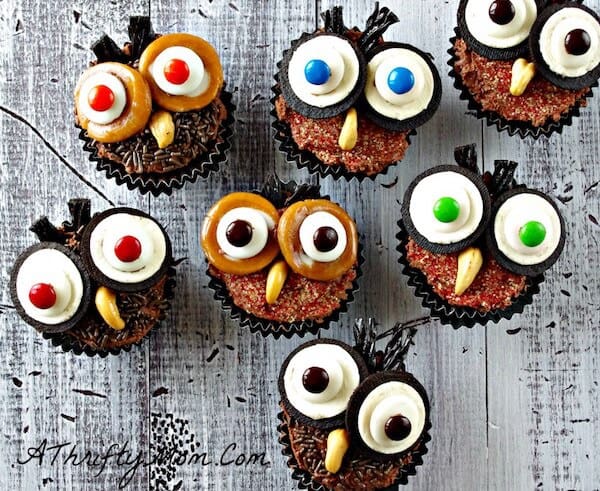 4. How cute are these DIY Hootie Owl Cupcakes?
5. I've never seen anything like these Bloody Cupcakes!
6. These Eye of Newt Cupcakes are decorated with Spooky Eyes gumballs. They're definitely creepy!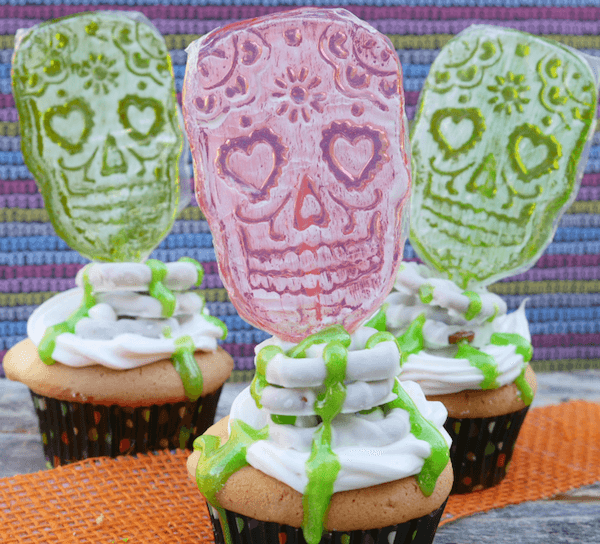 7. You'll need 24 suckers for the Skull Candy Cupcakes. I love these Day of the Dead/Dia de los Muertes lollipops!
8. Maleficent Cupcakes with Horns Inspired by Disney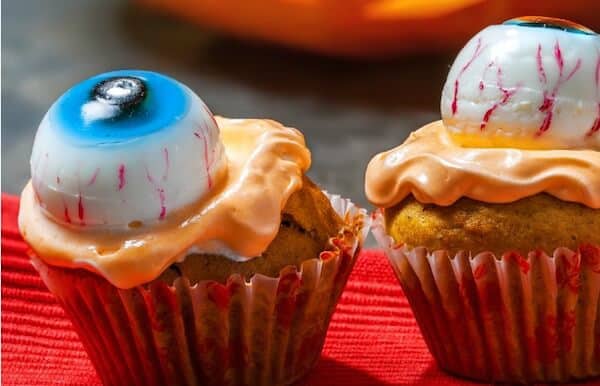 10. You'll need gummy eyeballs for this Easy Creepy Eyeball Cupcakes recipe! You could also mix it up with these funny gummy body parts (eyeballs are part of the mix).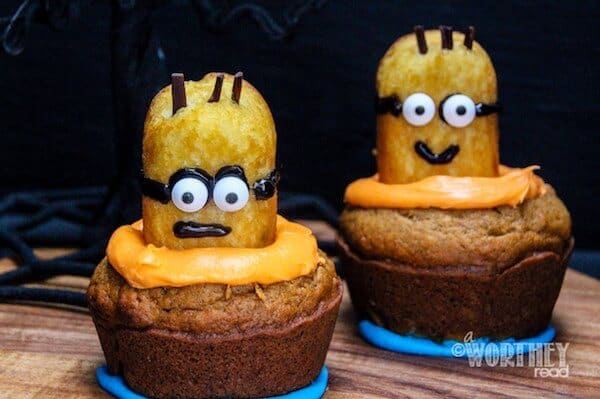 14. I love how easy these Halloween Spider Cupcakes recipe. It's so smart to make spider eyes with white Wilton Candy Melts!
15. I love the Halloween Cupcakes In A Jar. The recipe doesn't mention it but it looks like you'll need 12 8 oz/half-pint regular mouth Ball jars. the 8 oz. wide-mouth jars are pretty short, if you'd like to make smaller treats.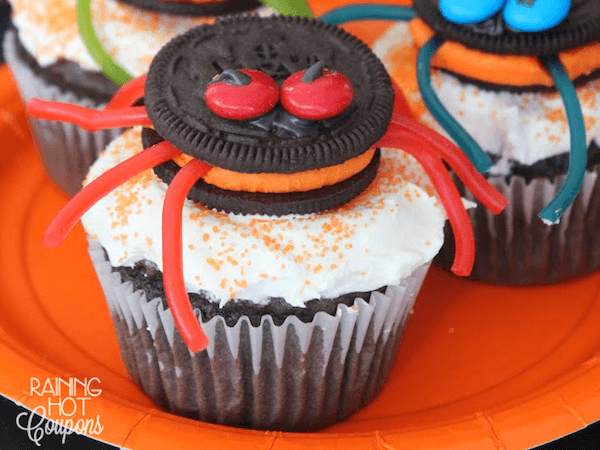 16. The most important part of these Oreo Stuffed Spider Cupcakes is the orange Halloween Oreos. There's more baked into the cupcakes!
17. Kids will get a kick out of Creepy Brain Cupcakes.
18. Wilton Candy Eyeballs are used to decorate the Easy Monster Eye Cupcakes.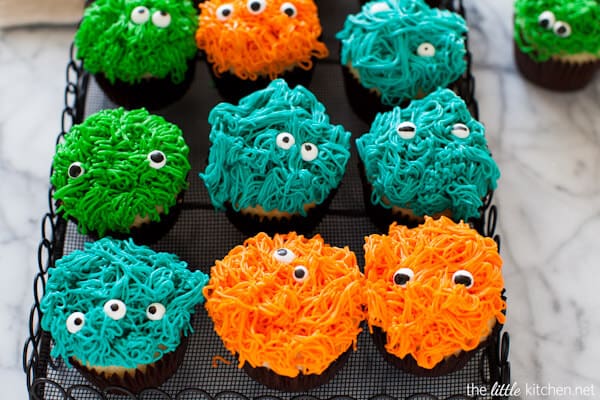 19. The Little Kitchen is one of my favorite food blogs! Aren't her Monster Cupcakes adorable?
20. You'll need an edible marker and white chocolate pretzels for these Skeleton Cupcakes. I'm so impressed by the creativity of the design!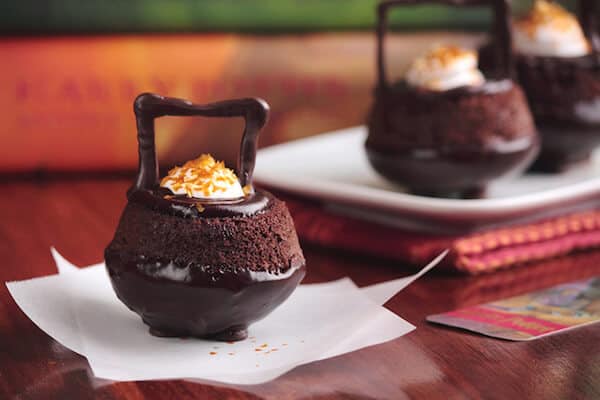 21. I love these Cauldron Cakes. They're so crafty and cute, and they look absolutely delicious!
22. The Halloween Spiderweb Cupcakes (Pumpkin cupcakes with browned butter cream cheese frosting) are easier to make than they look. Just pipe black or dark brown circles on top of the white icing, then drag a toothpick from the center to the edge.
23. Chocolate Butterscotch Halloween Cupcakes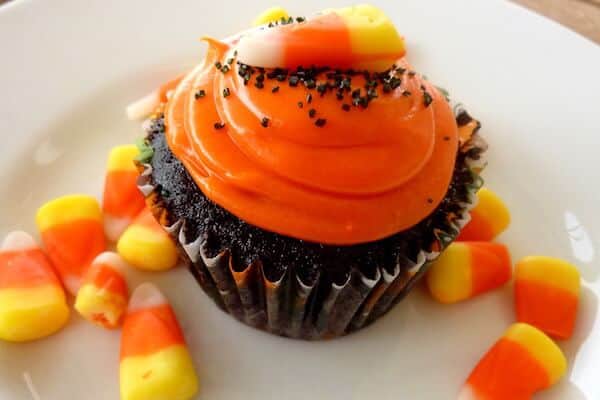 24. Black Velvet Halloween Cupcakes
25. Halloween Candy Corn Inspired Cupcake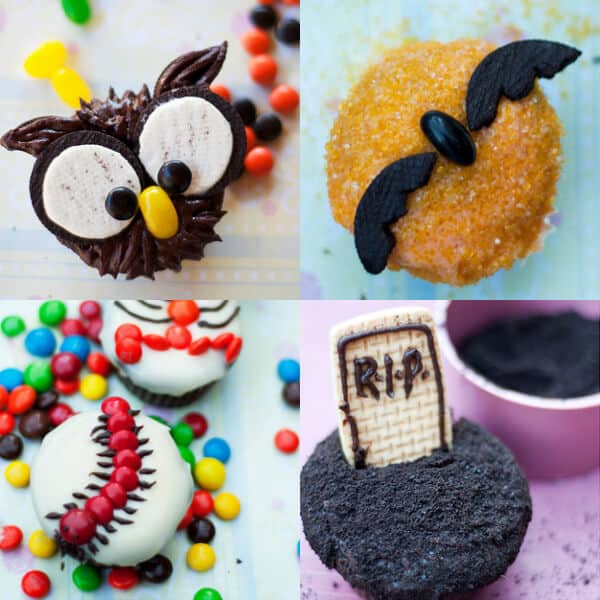 26. These 4 Halloween Cupcakes include Hooting Owl Cupcakes, Pumpkin Patch Cupcakes, Creepy Crawly Cupcakes, and Bat Cupcakes.
27. Make these The Walking Dead Inspired Cupcakes to impress other fans of the show!
28. The Trick or Treat Cupcake Parfaits are so fancy!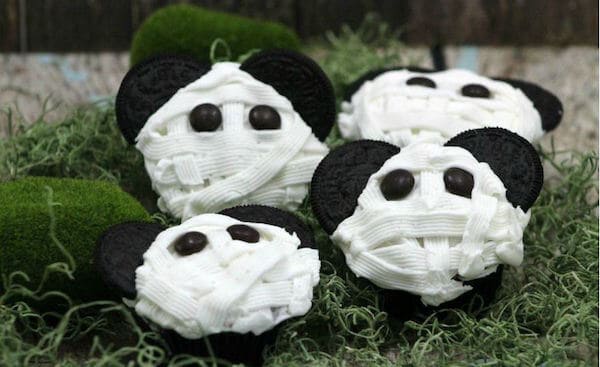 29. Mickey Mouse Mummy Cupcakes. These might be the most difficult Halloween cupcakes in the list, but they're also one of the cutest! This Wilton icing dispenser that comes with the star tip would make piping those ridged ribbons of icing much easier!
I think the Mickey Mouse Mummy cupcakes are my favorite, but I love all of them!
If you love these ideas, share this article by pinning the image below on Pinterest!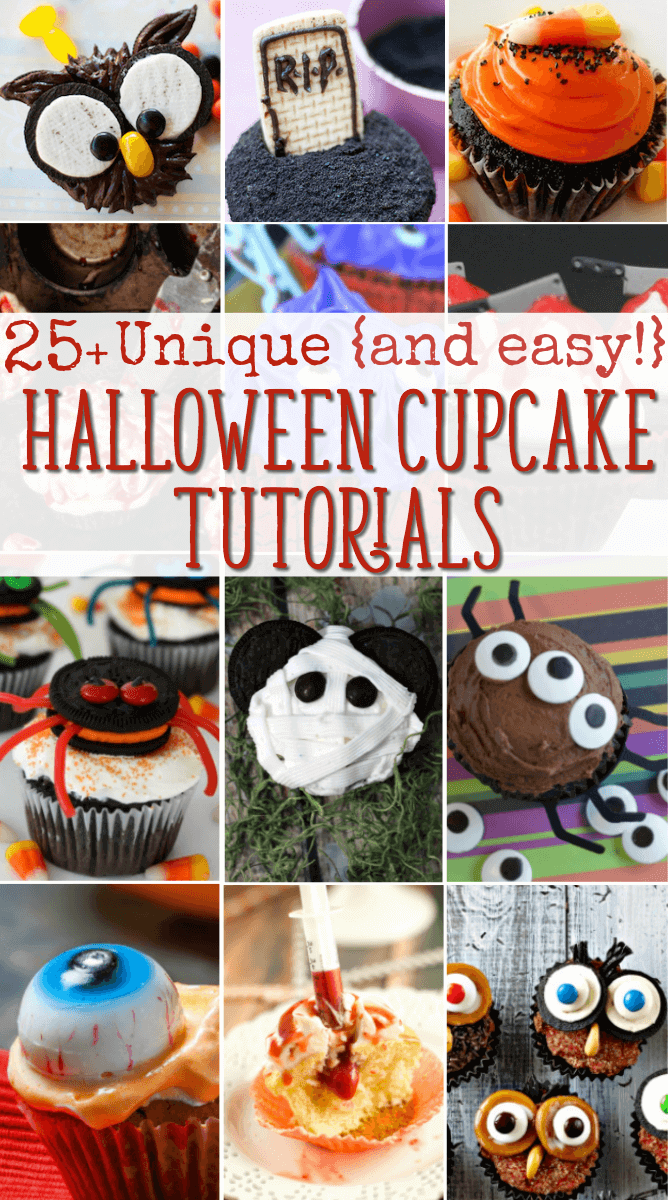 Which of the Halloween cupcake ideas is your favorite?