Check out all of these free cute cat pumpkin carving stencils to find the perfect feline jack o lantern! With categories like black kitties, kittens, scary cats, pop culture cats (and so many more), you're sure to find the free printable Halloween pumpkin stencil you've been looking for.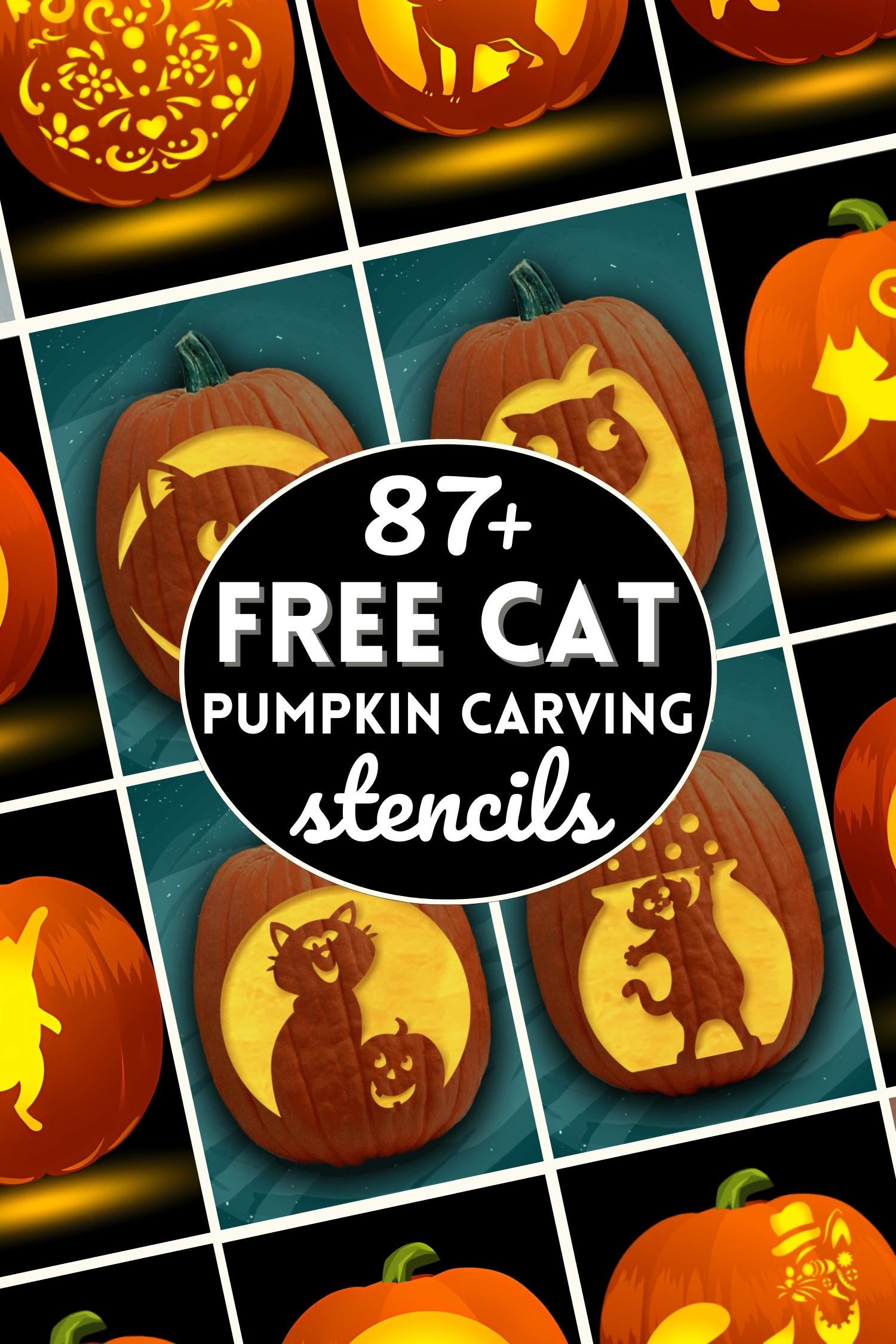 I'm a cat lover. And a dog lover. I'm really just a general pet lover, and I won't choose sides. I love dogs and cats equally. I'm not playing favorites by writing about cat pumpkin carving before I write anything about dogs.
Ok, now I can move on.
This is a long article with lots of valuable information! If you know what you're here to see, you can use the table of contents below to quickly jump to the section you're looking for.
Why I love these cute cat pumpkin carving stencils
I've always loved just about every kind of pumpkin decorating and design that can be found around Halloween season.
Choosing pumpkins and carving them as a family has been a full-day activity in our house since before we even had Haiden and Piper. And seeing house after house in our neighborhood with a pumpkin glowing in the dark feels magical.
Then there's cats, especially black cats.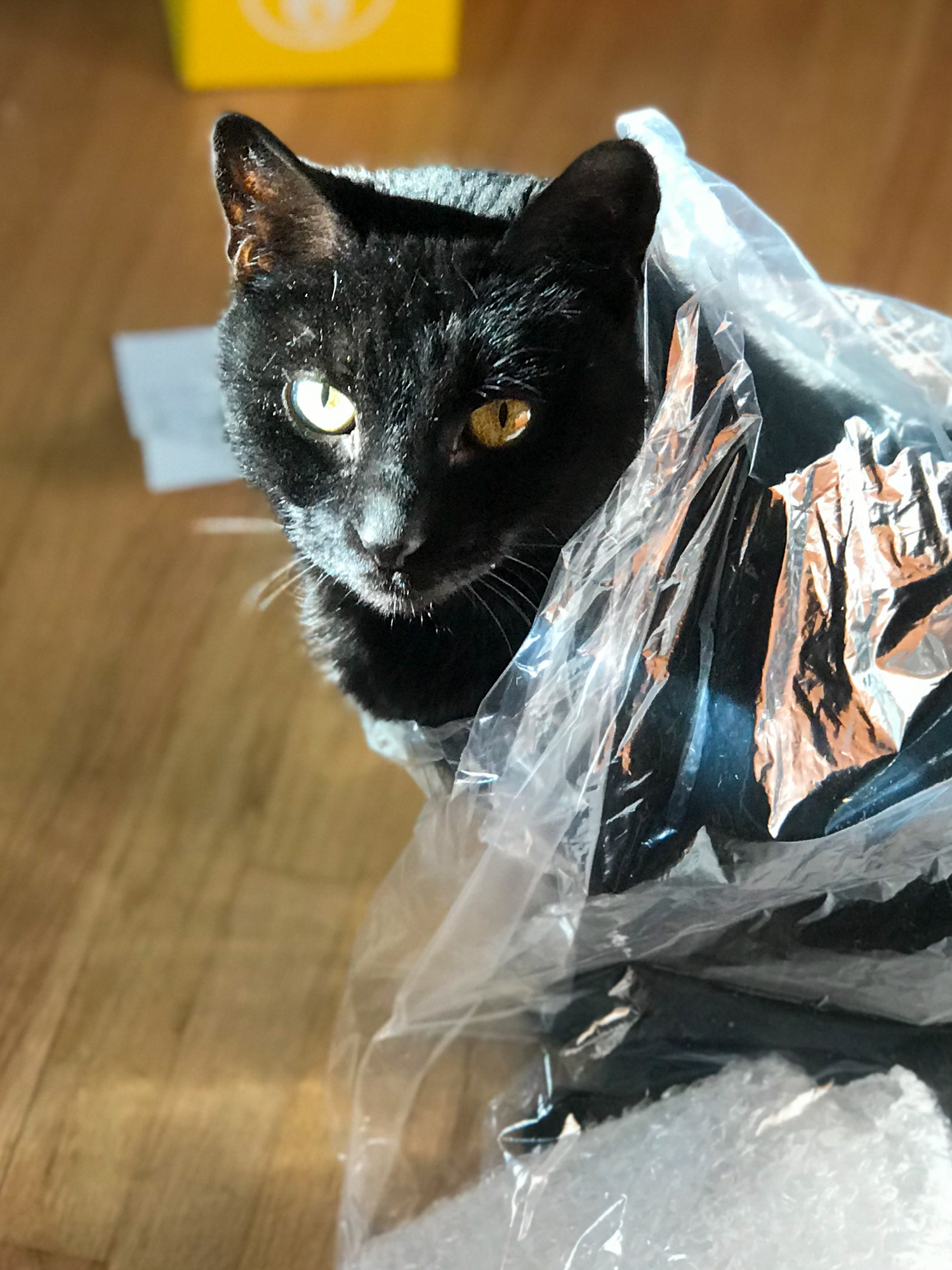 Until recently, I was the proud cat mom to two black cats, Belle and Nova. I raised them both until they were 17 years old and we had to say goodbye. While they weren't nice cats, they were mine, they were cute and I loved them.
Writing this post means bringing two things I love together: pumpkins and cats. Writing a cute cat pumpkin carving post has been on my list for a long time, and I'm super excited to share all sorts of free cat pumpkin stencils so you can carve your own feline jack o lantern.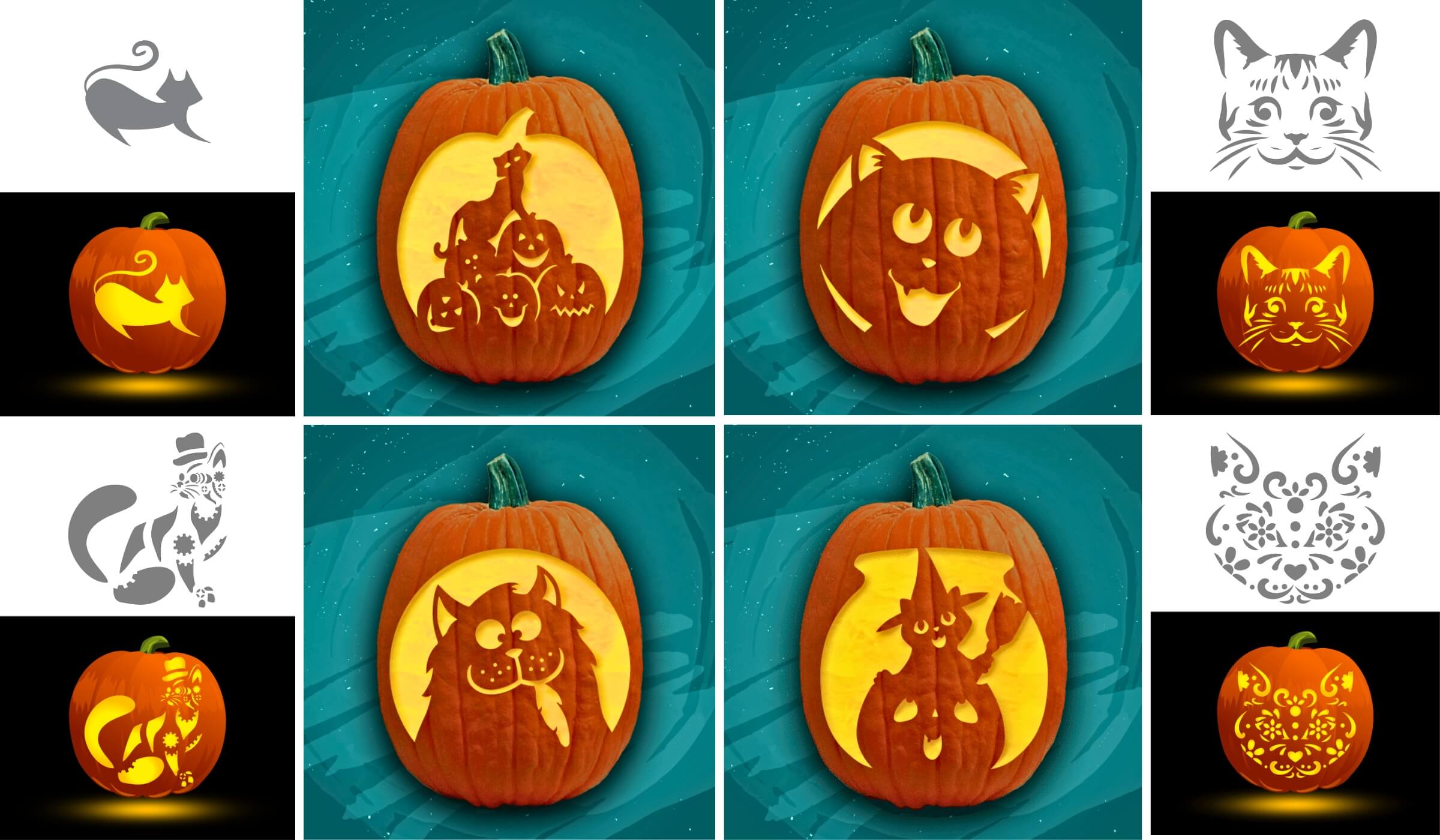 Tips for Carving Your Cat Pumpkin
I've said this on every on of my pumpkin stencil posts: several years ago, I was lucky enough to get a pumpkin carving lesson from a master pumpkin carver.
He taught me all the best techniques for how to carve a pumpkin so the design is crisp and the pumpkin stays fresh. Even better, he used a stencil in his lesson, so the instructions tell you very specifically how to use a pumpkin stencil. You can read my whole pumpkin carving lesson here, but I'm also sharing the best tips, plus the step-by-step instructions, right now.
How to use a cat pumpkin carving template
There are two steps to using a printed pumpkin template:
Preparing your pumpkin
Using your printable cat pumpkin stencil to carve your pumpkin
How to prepare for pumpkin carving
The first thing you need to do before carving your pumpkin is gather up your supplies.
You can make it simple and order a pumpkin carving kit like the one below, but it's probably not going to last beyond the season.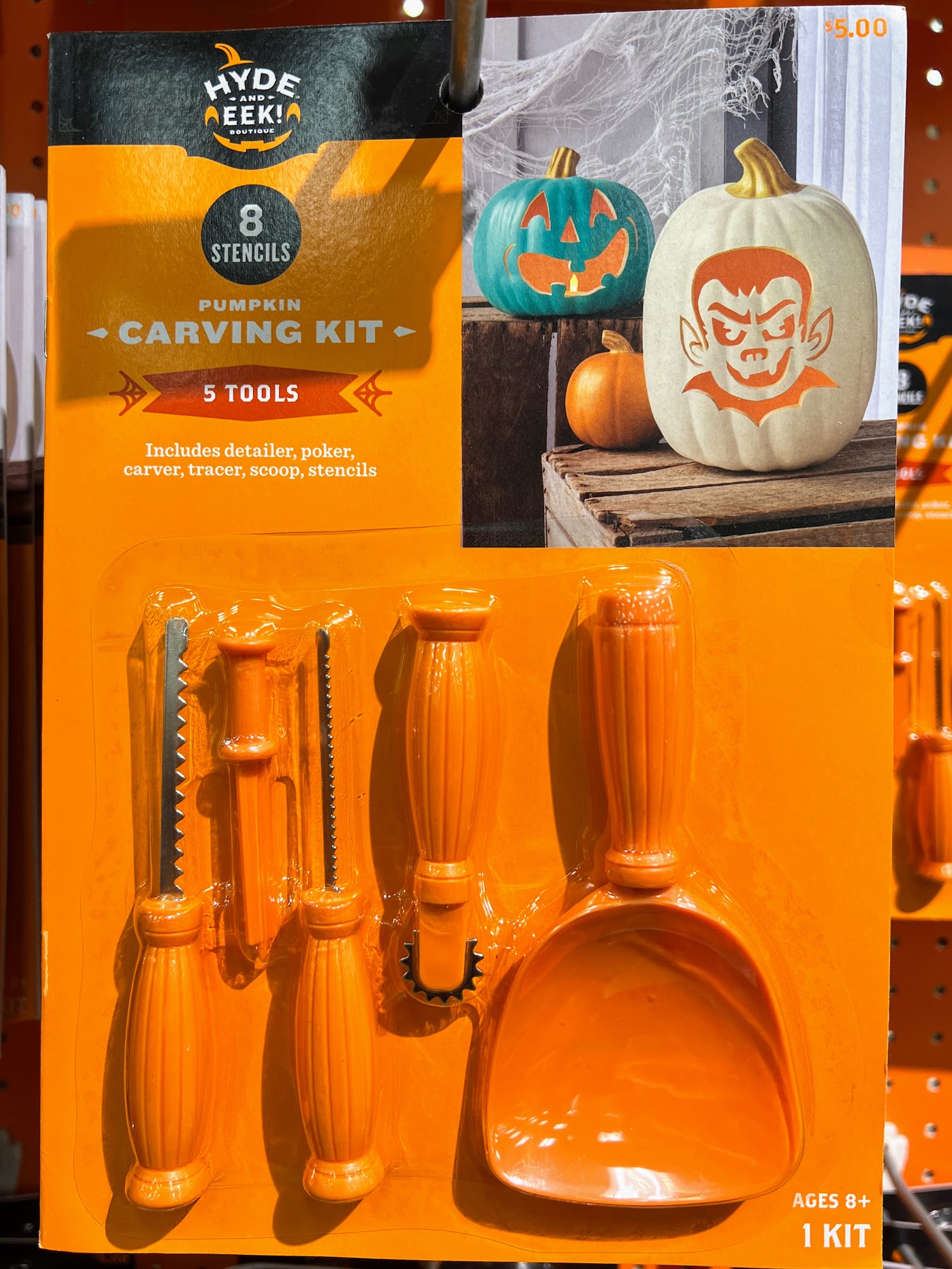 Instead, it's recommended that you put together your own kit with these high quality tools that will last you for many years into the future.
Here's what I have ready before we start each year:
Pumpkin carving supplies
Both the Kemper ribbon tool and the linoleum cutter were considered essential tools in my pumpkin carving lesson. The Ribbon tool is for scraping away the outer skin and some of the flesh of the pumpkin, and the linoleum tool is for detailed scraping.
Since you're going to use your cat pumpkin pattern, you'll also need the supplies from the list below.
Pumpkin stencil supplies (if you're using a template)
Your printed cat stencil for pumpkin carving
The next step is preparing your pumpkin.
Wipe the entire pumpkin down with antibacterial wipes until they come away clean. Then wipe down your knife, ribbon tool and linoleum cutter.
You're doing this because bacteria promotes rotting and decay. So cleaning everything, including your pumpkin, is a good step in keeping bacteria away.
Step by Step instructions for how to use your pumpkin stencil
If you have the supplies I listed above, using a pumpkin stencil is really easy. It's also going to result in the best cat pumpkin carvings you've ever seen!
Prepare your pumpkin by cleaning the outside using the instructions above.


Don't cut the top out of the pumpkin. Instead, cut about a 6-inch square "door" in what you want to be the back of your pumpkin (see the image below this list of directions). Save the piece you cut out so you can close the door after you light it.


Scrape out the seeds and pumpkin guts and pulp using a rounded tool with a hard edge. (The master carver's advice was to use an old CD or DVD, but I really want to try these Shark Tank pumpkin gloves!)


Place your printed pumpkin carving cat stencil on top of a sheet of graphite transfer paper. Use 4 push pins in the corners to attach the papers to your pumpkin.


Firmly write over the lines of the pumpkin stencil using your ballpoint pen. Make sure you press hard enough that the graphite from the paper transfers onto your pumpkin. Remove the thumbtacks and papers and see your pumpkin design, then trace over the graphite lines with a sharpie.


Use the ribbon tool and linoleum cutter to scrape away the parts of the pumpkin that shouldn't be cut all the way through. Then use your sharp knife to cut out the remaining sections.


Place your light in your amazing pumpkin through the square you carved out of the back, and replace the removed square of pumpkin. Use a toothpick to secure it, if needed.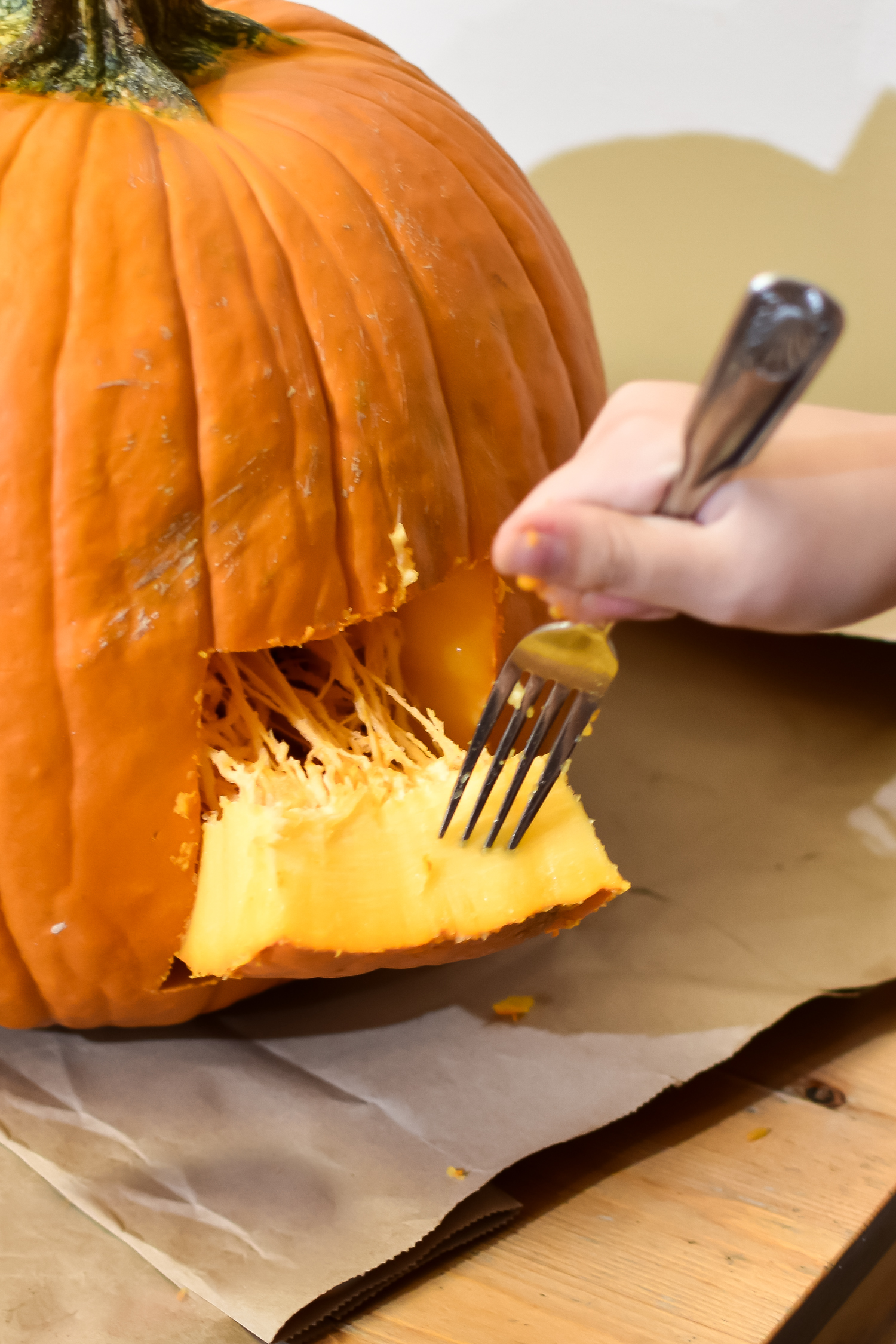 87 cat pumpkin carving stencils!
Are you ready for the biggest list of cat pumpkin carving templates?
Since there are so many to choose from, I'm dividing this list into several sections. You'll find easy cat pumpkin stencils, and cat jack-o-lantern ideas that include kitty cats, moons, black cats and unicorns. I also have jack o'lantern stencils featuring favorite characters, like the Cheshire Cat, Pete the cat and The Cat in the Hat!
Easy cat pumpkin carving ideas
Let's start the list with simple cat pumpkin stencils for your jack o lantern. You'll find easy outlines and basic shapes here. They're all perfect for those with beginner pumpkin carving skills!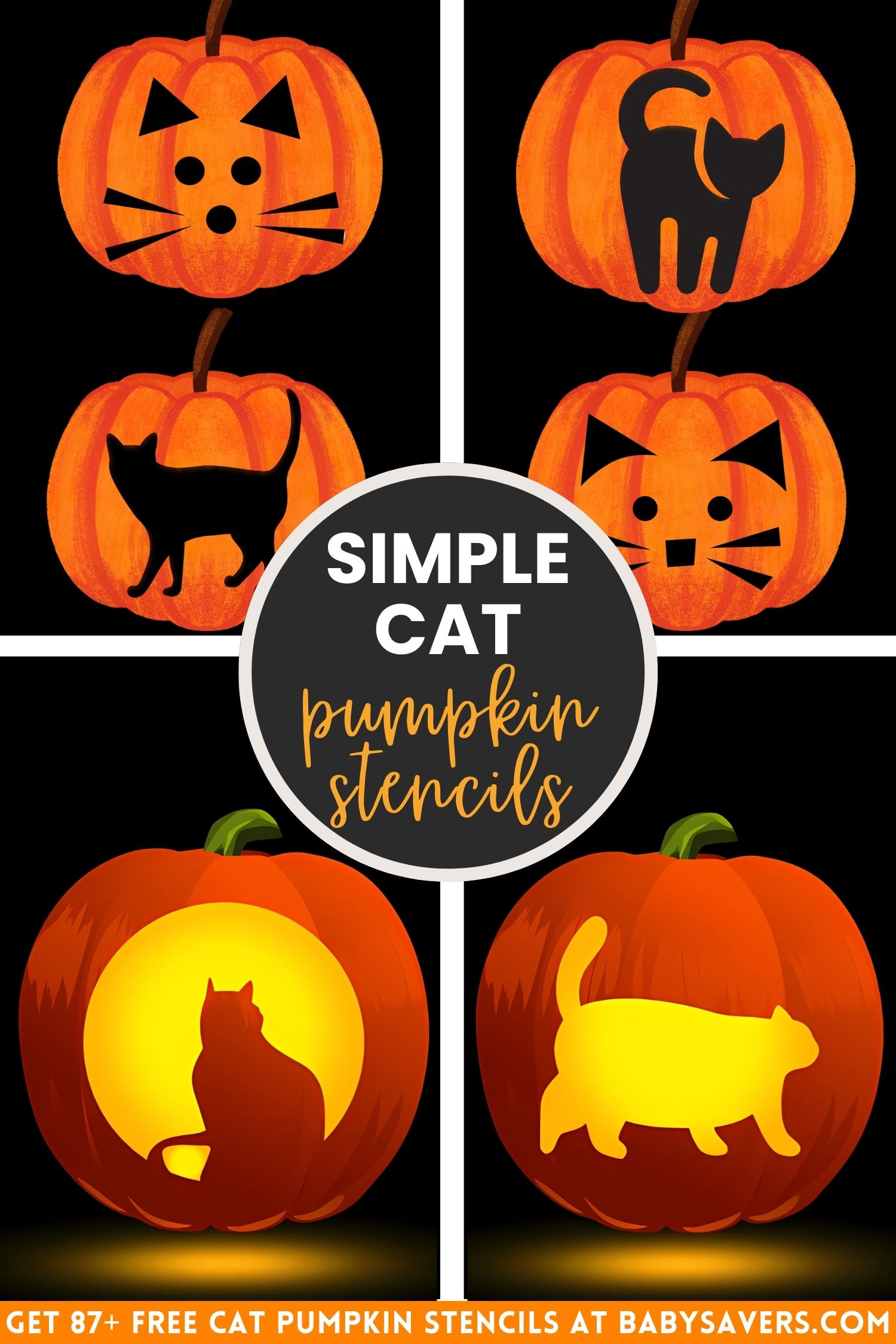 Cute cat pumpkin carving patterns
If you're here looking for silly, fun or cute pumpkin carving ideas, you're in the right place!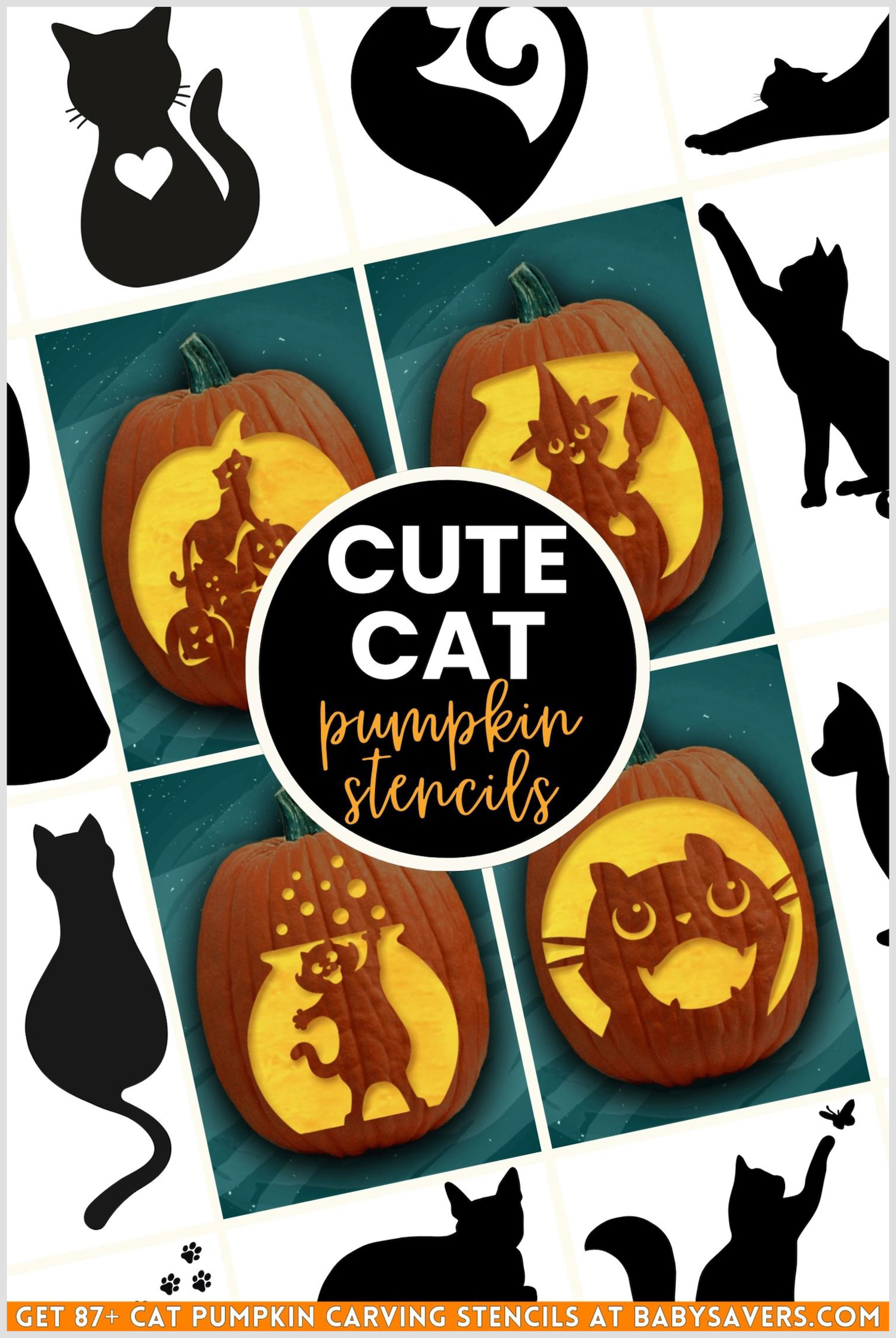 Heart and love pumpkin carving cat patterns
Looking for cat pumpkin stencils with hearts? You're in the right place!
Famous and Cartoon cat pumpkin stencils
Looking for well-known pumpkin templates of cat characters? Check these out!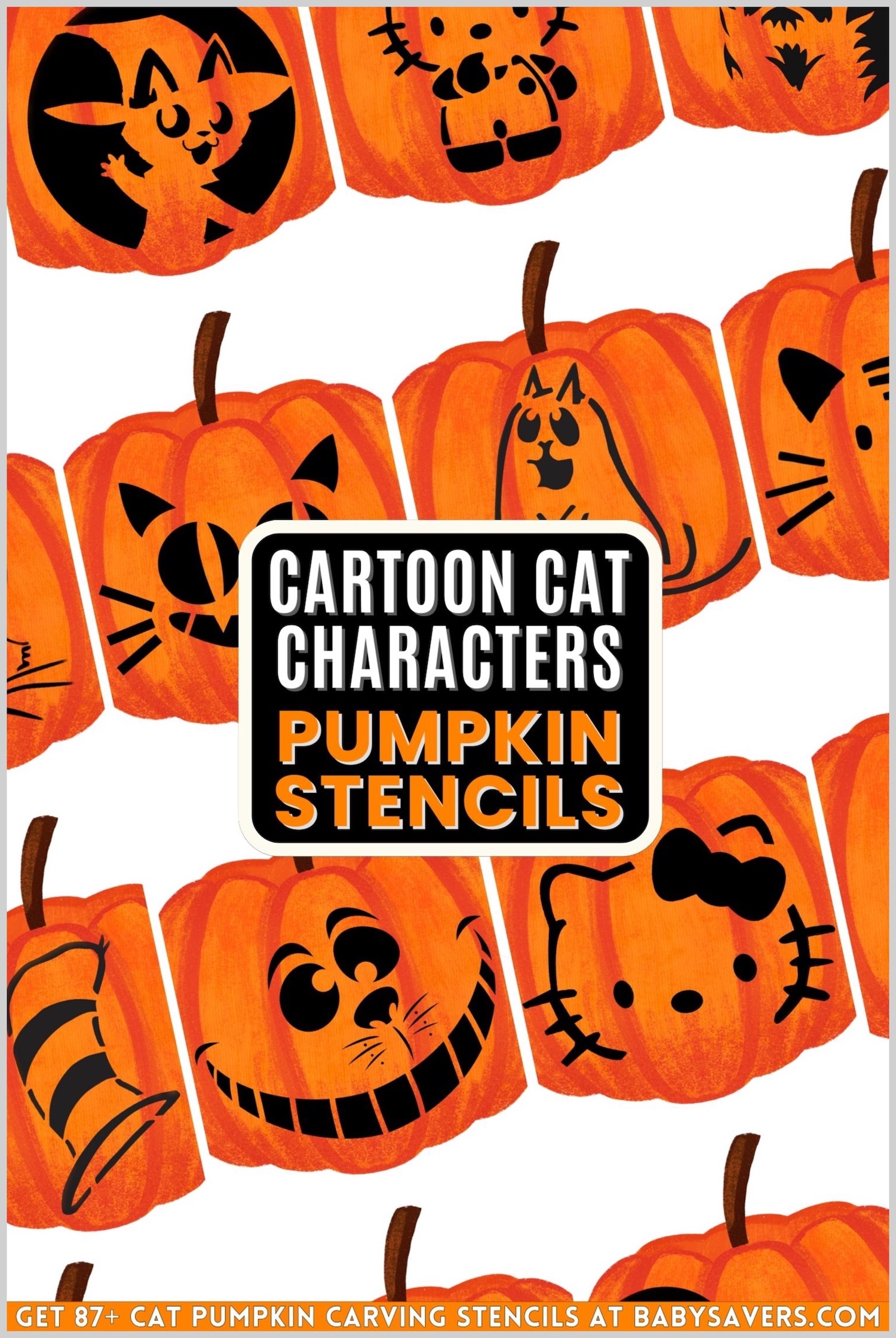 Cat face pumpkin templates
These feline jack-o-lantern printables feature just the face of your favorite kitties. Some are simple, and others have way more details!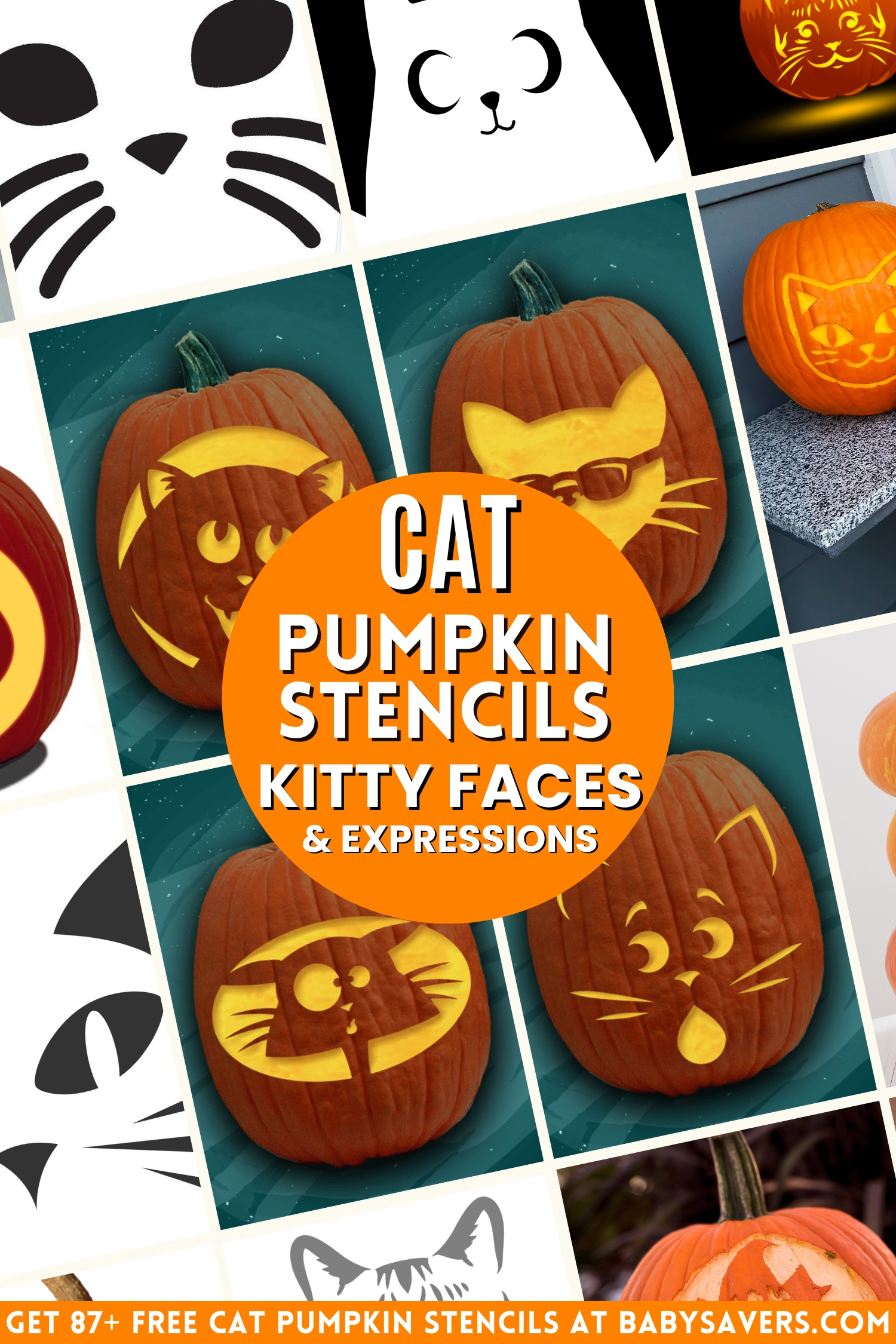 Cat and moon pumpkin carving ideas
Is there a more iconic Halloween symbol than a black cat against a yellow moon? You can create this look with your own pumpkin!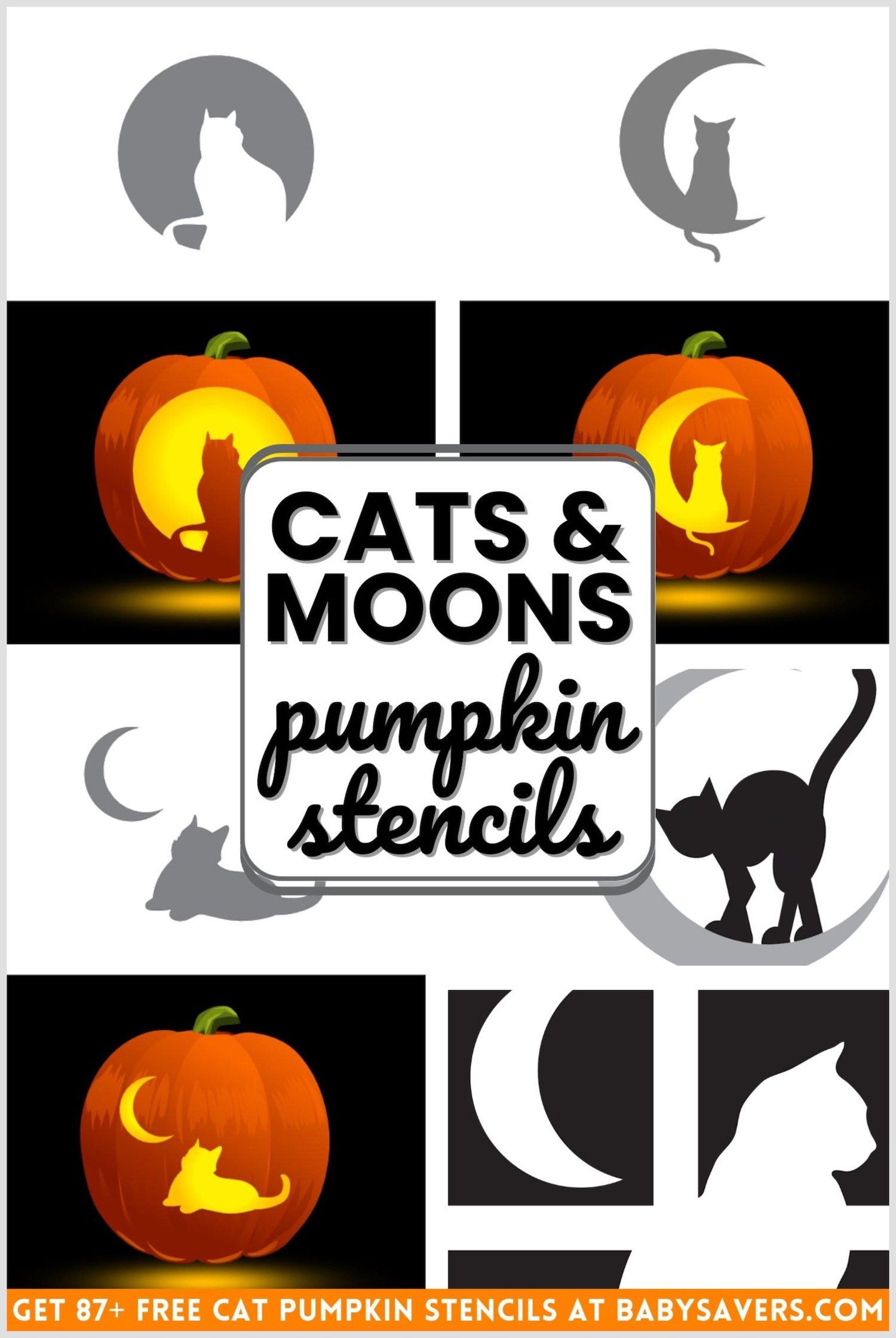 Kitten pumpkin carving stencils
If you want the cutest cat pumpkin stencil, use one of these kitten templates!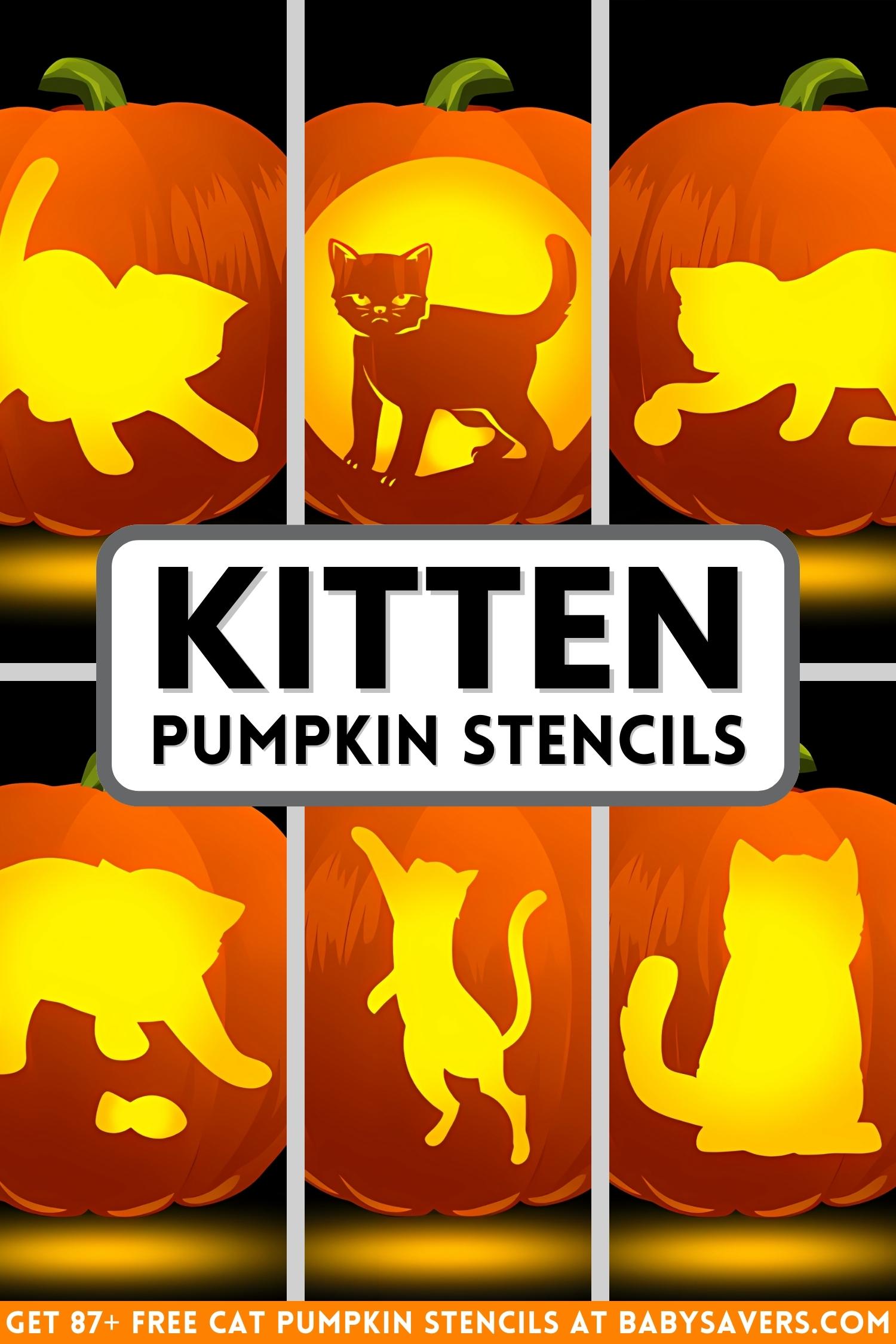 Printable Pumpkin stencils with cats
This section is for cat pumpkin stencils featuring more than one cat. Cat families, cats in love, cat friends. They're all here!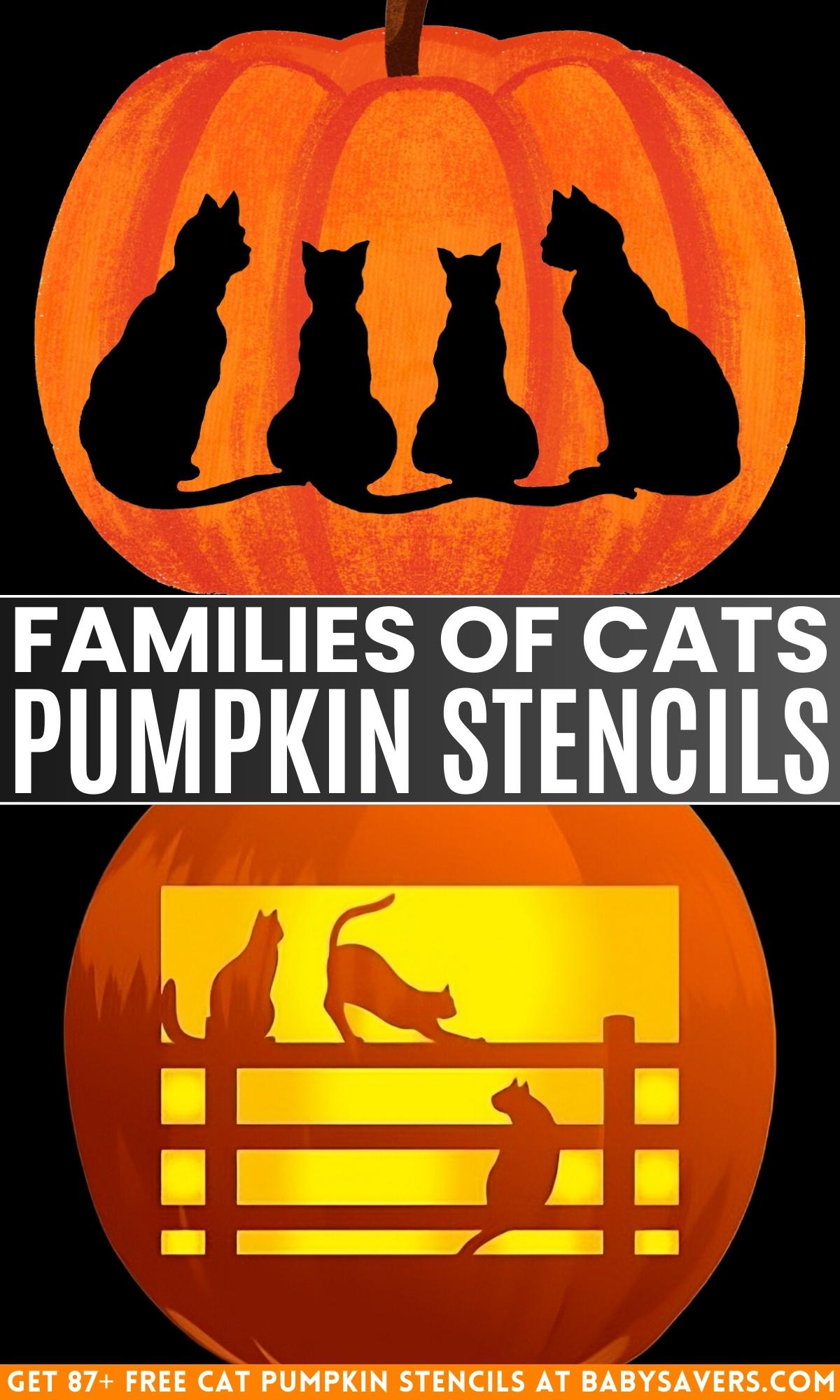 Choose a wide pumpkin if you want to carve this family of 4 cats pumpkin pattern. Download it here.


This "3 cats on a fence" stencil is tricky! Remember to leave the white sections and cut out the black (or dark grey) area on this printable to get the pumpkin pattern right. Print it here.
Witch and cat pumpkin stencils
Be careful while cutting out the black areas of this witch and cat stencil and you'll have an amazing jack-o-lantern. Download it here.


Halloween isn't always scary! This cute cat and witch features an adorable magic wand! Get it now.


Here's another cute witch and cat pumpkin idea. Download it.
Dog and cat pumpkin stencils
What's better than just cats? Dogs and cats! Carve them both into your Halloween pumpkin with these free stencils.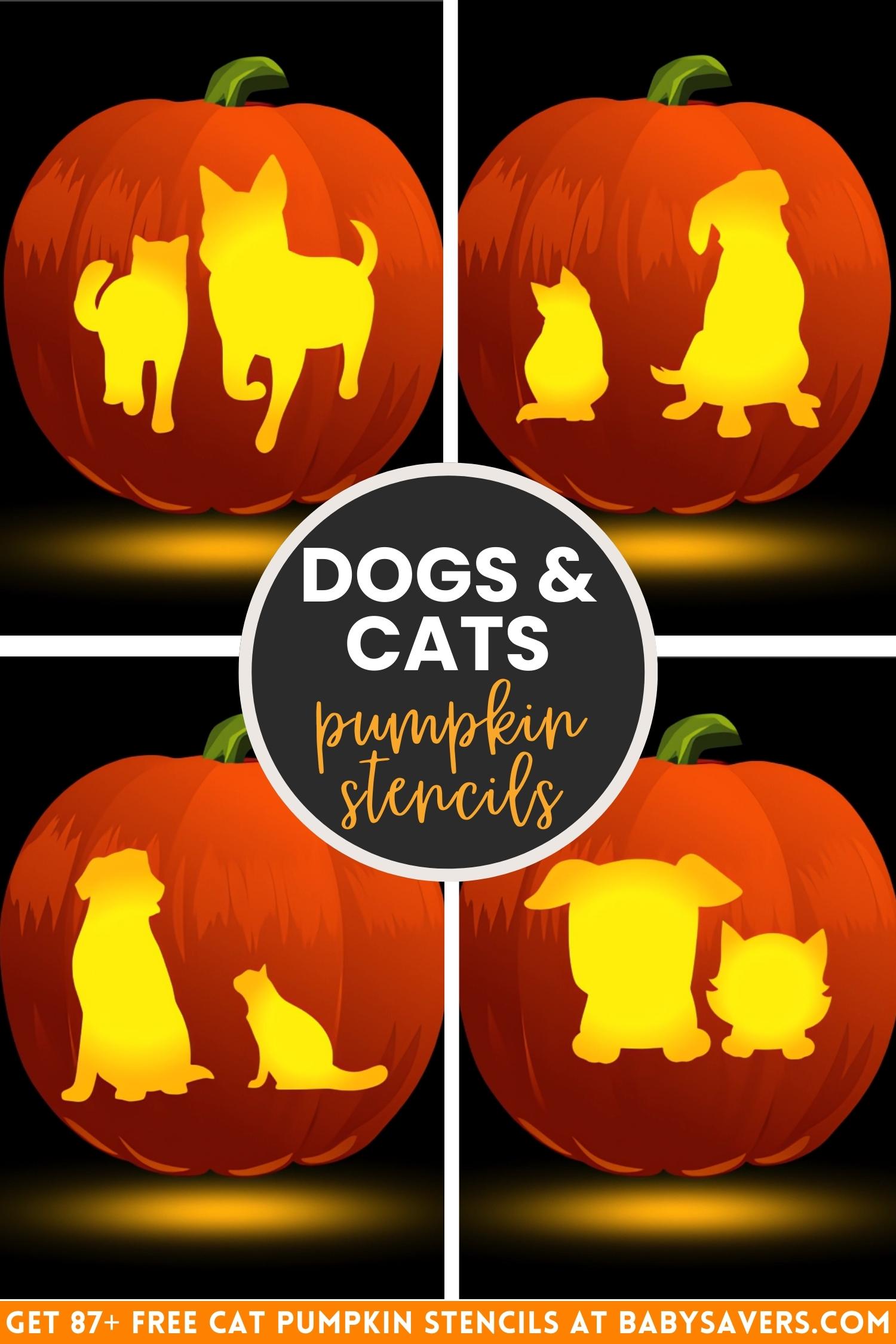 Cats on fences pumpkin templates
Until I started looking for them, I had no idea how many printable pumpkin templates there were for cats on fences!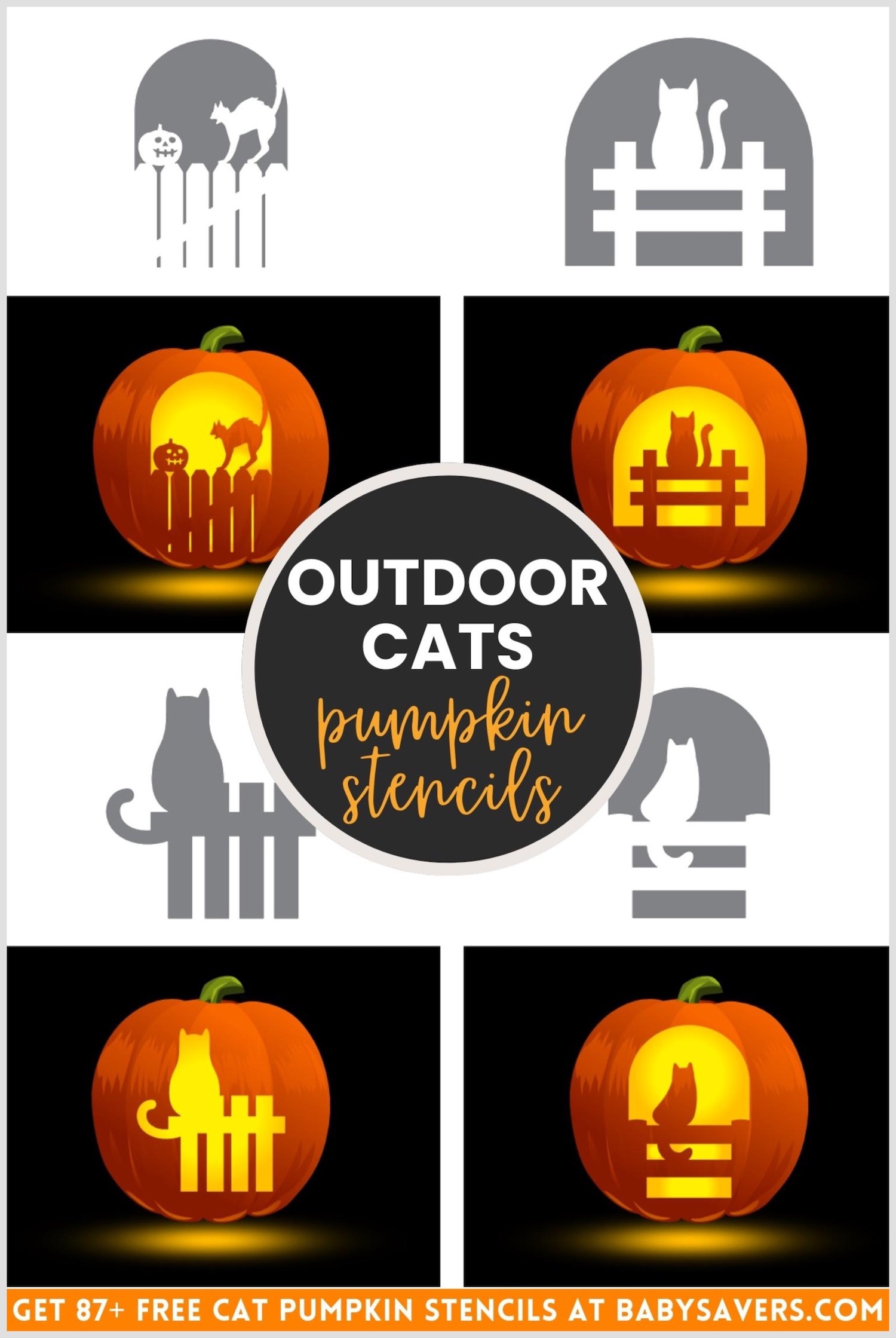 This is one of the more simple fence and cat pumpkin ideas. Print it here.


This one looks easy but it's going to take some effort to cut out all of those rectangles. Get it now.


The mean kitty pumpkin stencil image is softened with the cute Halloween jack-o-lantern that's scaring this cat. Download it now.
[Scaredy] Scary cat pumpkin carving templates
As a mom with two kids who don't like scary things, I've found ways to reframe plenty of fear-inducing things so they don't appear quite as frightening.
Because of that, I'm calling any scary or angry pumpkin stencils scaredy cats, which made it funny, at least in my family!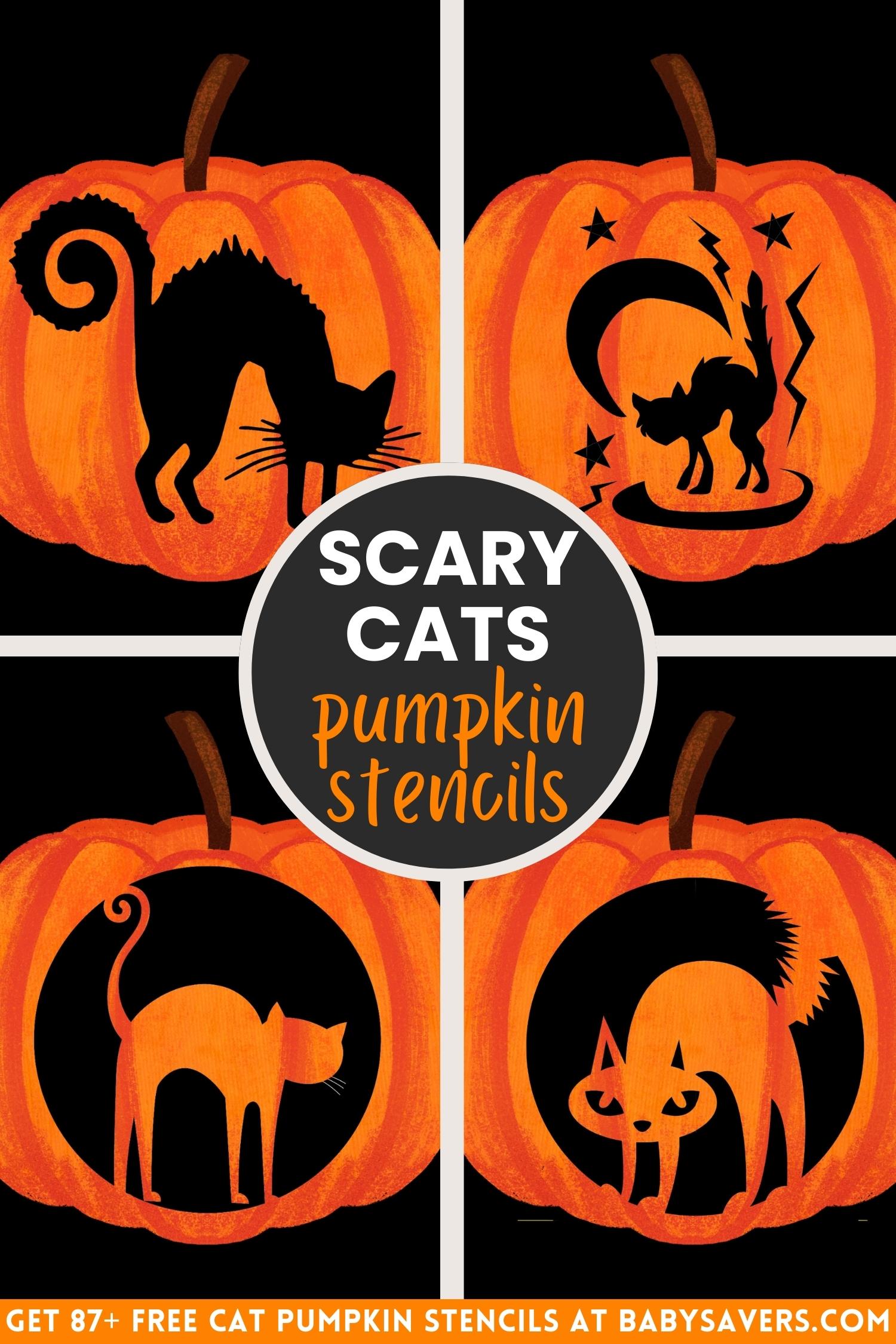 Bats and cats pumpkin carving ideas
If you associate any two animals with Halloween, it's probably bats and cats. I found several free printable bat and cat pumpkin designs that are both fun AND cute!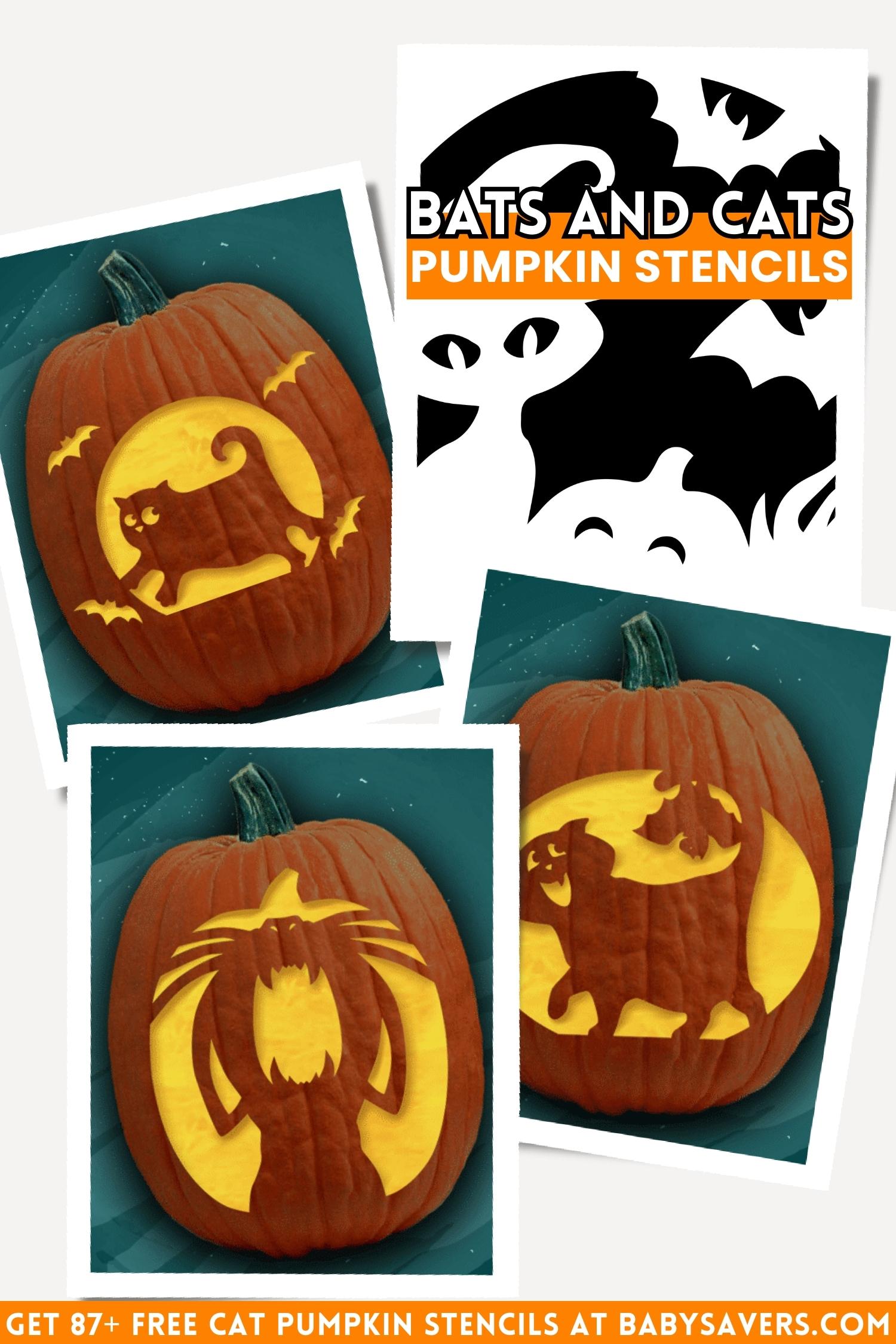 Ghost and Cat pumpkin carving printables
Ghosts are one of the major symbols of Halloween, and I've found plenty of cat pumpkin stencils that also incorporate ghosts!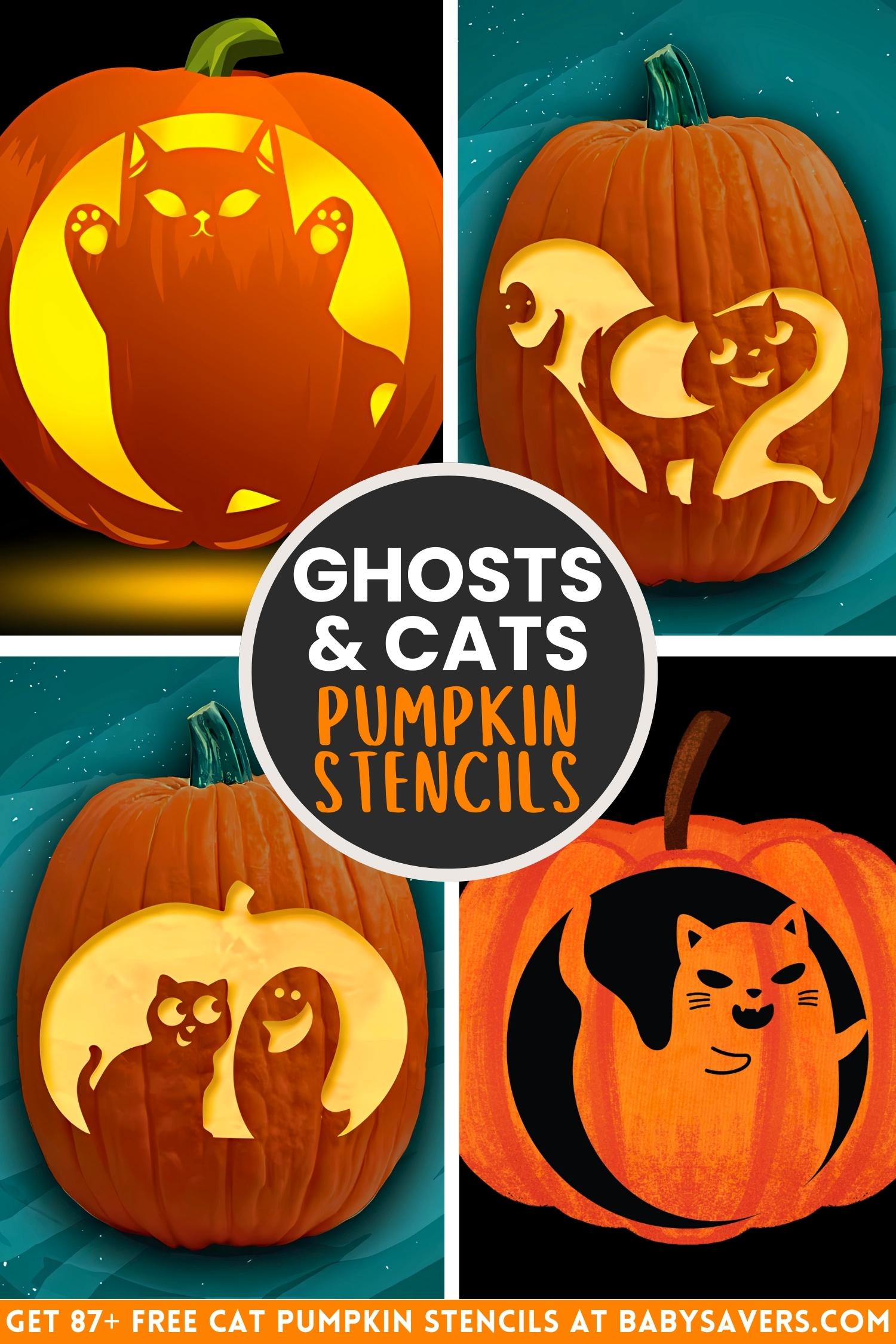 Creative free printable cat pumpkin stencils
I'll be honest, this is the offbeat section. You'll find all the artsy and crafty cat pumpkin carving stencils below!