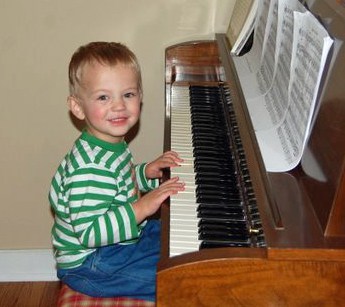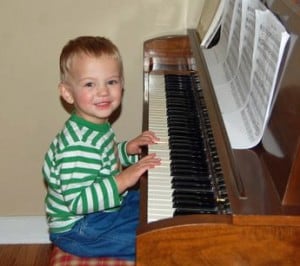 You might have guessed from the title…Haiden was diagnosed with croup last night. Here's what happened:
Haiden, my two and a half year-old boy, developed a weird cough yesterday morning. If you know about croup, it was not the typical cough symptomatic of the condition. It was one deep, hoarse cough that made it seem like he was trying to hold in vomit. He did this about four or five times throughout the day yesterday, so I just thought he was coming down with a cold.
James, my husband, did baths and bedtime as usual last night with Haiden and Piper while I ran a few errands. I came back home and we sat down to eat some Chinese food and watch some Glee on DVD. Just after nine, I heard one of the kids crying. I went to check it out and found Haiden half-sleeping in his crib, wheezing, gasping for air and hoarsely crying. I brought him out into normal light and saw that he was deeply flushed with a panicked look in his eyes. He was so short of breath he could hardly talk, which made him even more upset.
James and I immediately decided that he needed to get to the ER, so James got him into his snowsuit while I started the car, grabbed my phone and charger and got into my own down parka. We're in Minnesota, but the -3 degrees below zero is still seriously cold for us!
By the time I got Haiden strapped into his car seat, he actually sounded a bit better. Knowing what I do now, it's turns out that cold air helps croup, and the frigid air he was inhaling was actually helping the swelling in his throat, making it easier for him to breath. At the time, though, I just wanted to get the car warmed up, since I was worried that all the cold air would just make matters worse.
I cruised to the nearest hospital and hustled Haiden inside. Thankfully, it was a quiet night in the ER, and it seemed like the staff was practically lined up waiting to get Haiden treated! Haiden was immediately diagnosed with croup and two different meds were ordered. The hoarse wheezing sound is called stridor, which is 100% symptomatic of croup. He also had a few bouts of coughing a seal-like, scary cough that's another croup symptom.
Croup is actually a simple inflammation of the larynx (voice box). The problem is that the larynx swelling can constrict the airways causing breathing issues, especially stridor, which is characterized by abnormal, high-pitched breathing. Croup is a viral infection, which means that antibiotics won't help, and we just needed to treat and relieve the symptoms to normalize Haiden's breathing and make him as comfortable as possible.
Haiden received an oral steroid and nebulized epinephrine to quickly reduce the swelling in his larynx. I was told several times how cute and how good he was, making me a proud mama and providing a little distraction from the fear that was built up inside me. Really, though, he took all of his medication like a champ. I told the nurse that I was going to invite him over the next time I had to give Haiden some meds!
Haiden's response to the epinephrine was almost immediate. I could hear his breathing slow and even out while he was still in the middle of the treatment. The steroid must have done it's part, too, because I had one wired little boy about a half hour after the meds were administered! It's was hard not telling this two-year-old to settle down since it was after 11 PM when he started bouncing around, but I was so happy to hear him talking and acting like a little boy again!
I also found out that little ones with croup can start out with a regular body temperature then spike a fever with little notice. Indeed, this happened to Haiden about an hour after we got there, so he also got a dose of both acetaminophen (Tylenol) and ibuprofen (Motrin) to treat the fever and help him sleep better that night.
The two doctors on duty told me that we'd need to stay there for at least two hours after Haiden took the medication to make sure the symptoms didn't reappear after the drugs wore off. If they did reappear, we would then be admitted into the pediatric ward for overnight observation. I totally understood the precaution of admitting him; I certainly didn't want to haul him all the way back home only to be in the same spot a few hours later! Nonetheless, I crossed my fingers and hoped that he continued to breath ok until the doctor gave us the go-ahead to go home.
After two hours of trying to download toddler-appropriate games onto my phone (since there's nothing else for a two-year-old to do in a hospital at midnight!), we sang songs and played games until the doctor came in and said that Haiden was doing great and we were ok to go.
The doctor did warn me that croup symptoms get worse at night, and we should be prepared to head back to the ER the following night, if necessary. I was also given the following list:
How to treat Croup in Toddlers:
Sit with the toddler in a steam-filled room: Of course, we need to be with him or her at all times, and the doctor recommended closing the bathroom door and starting up a hot shower.
Bring the toddler into cold air: For once, I'm thankful we're in the frozen tundra of Minnesota, so we can expose the airway to cold air to relieve the swelling. It's important to dress the child in warm clothes and just make sure his or her mouth is exposed to inhale the cold.
Use a cool mist vaporizer or steamer in the bedroom
Keep the child hydrated
Watch for signs of dehydration: dry lips, dry mouth and little or infrequent urination are all syptoms.
Seek immediate medical care if your child has trouble breathing or swallowing.
Seek immediate medical care if the child's lips or fingernails are turning blue.
Seek immediate medical attention if his/her temp is above 102 degrees. If a baby is three months old or younger, their temperature shouldn't be over 100.4 before going to the hospital.
CALL YOUR DOCTOR WITH ANY CONCERNS
While last night was scary for me as a parent, I am so happy we made the quick decision to bring Haiden to the hospital right away. Believe me, it's not easy to drag a two-year-old out of bed into a Minnesota winter night to go to the hospital, but he needed the immediate treatment and was much better off for it.
If your child ever displays any sort of warning signs of croup or some other breathing scare, I urge you to get to a medical facility ASAP. Medical treatment is likely necessary, but peace-of-mind is priceless.