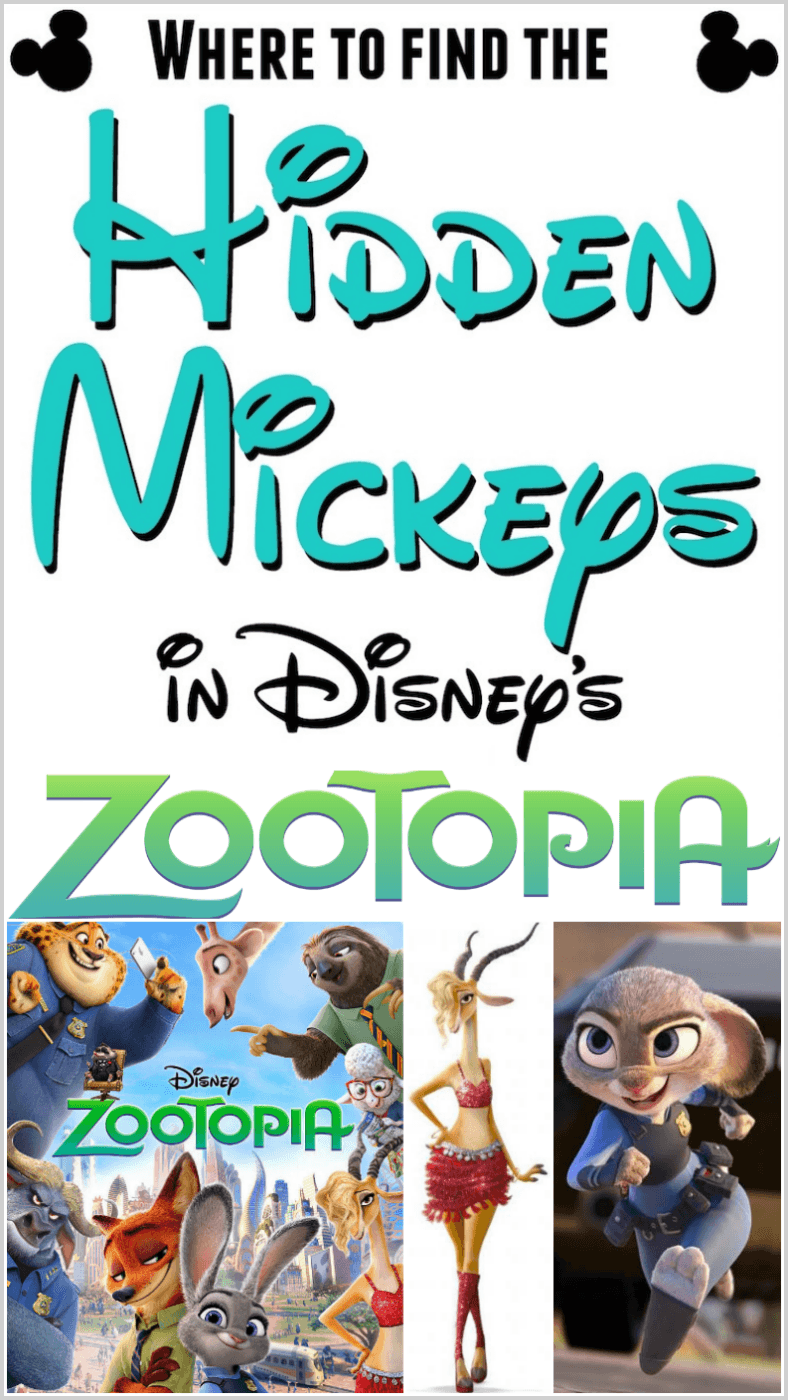 I've been talking about Zootopia for quite a long time here, and it's no secret that I love the movie!
One of the fun things that comes with Disney films is all the Easter eggs that can be found. Hidden Mickeys are a special Easter egg that only Disney does, and I want to share the Hidden Mickeys in Zootopia with all of you!
I also want to share that Zootopia is now available on Blu-ray, DVD and digital HD!
Hidden Mickeys in Zootopia
The idea for this post started when I was interviewing two of Zootopia's lead animators and they revealed the first Zootopia Hidden Mickey:
1. Officer Clawhauser has a Hidden Mickey in his markings on his right cheek: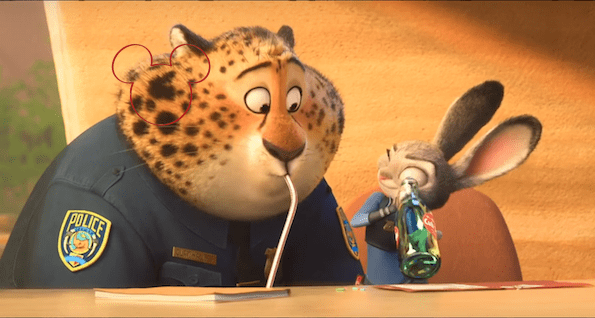 2. Another Hidden Mickey with Officer Clawhauser. The cereal on his spoon is Mickey-shaped:
 3. Check out the top of the pen the hippopotamus police officer is holding as Judy Hopps takes her seat at her first ZPD meeting: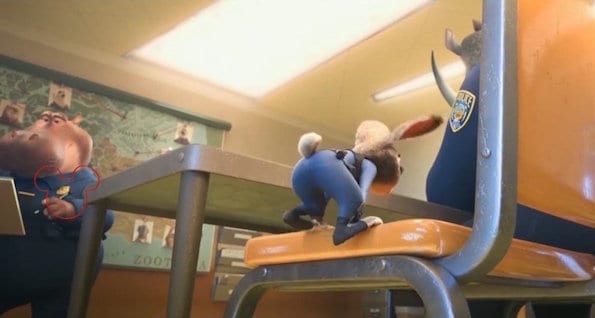 4. As Nick wheels Finnick down the street in a stroller, they pass another stroller-pushing parent with a Mickey Mouse underneath the seat: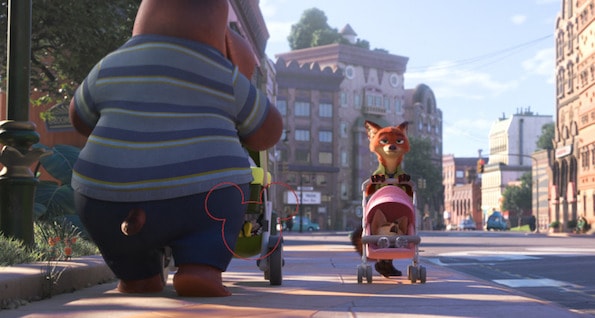 5. I had to brighten up this still of Nick and Judy on the bridge in the Rainforest district, but you can see a small Hidden Mickey on the right side of the screen: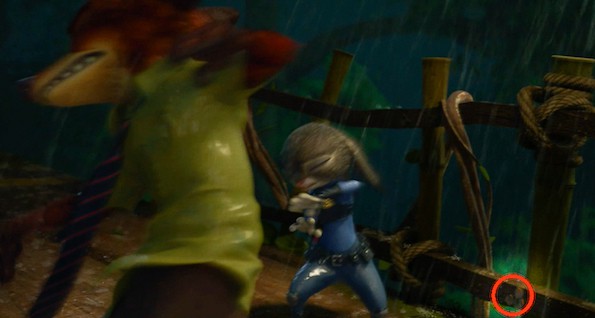 6. There's even a Hidden Mickey on the dashboard of Mr. Big's chauffeur's car: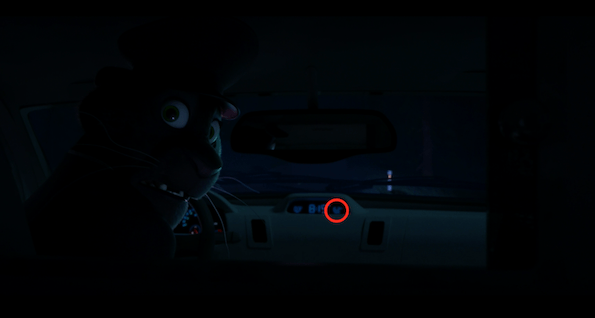 7. It's easy to miss, but Assistant Mayor Bellwether's necklace makes a Hidden Mickey formation when she's helping Nick and Judy with the traffic cameras: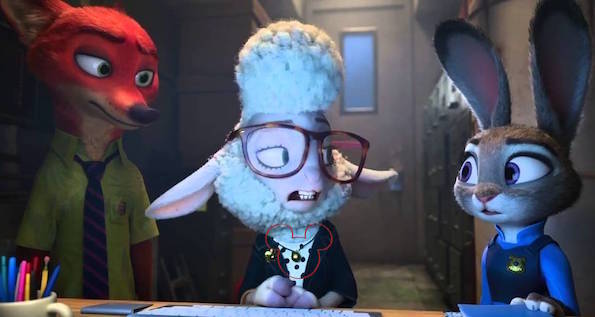 8. Finally, there's even a Hidden Mickey in the Zootopia poster that was released months ago: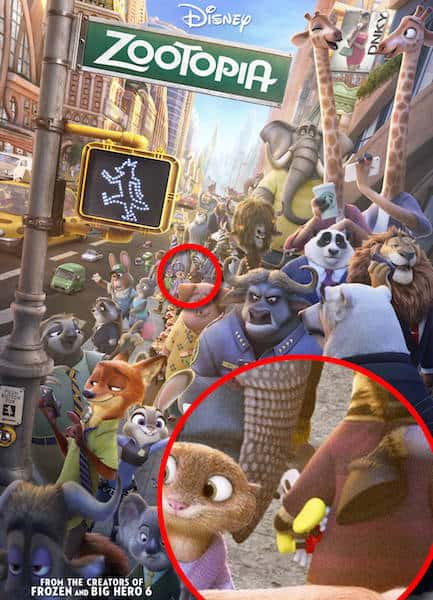 Thanks, Reddit!
Zootopia is now available on Blu-ray, DVD and digital HD. Order it at a big discount today!
There are some fantastic bonus features that you can enjoy when you watch the movie.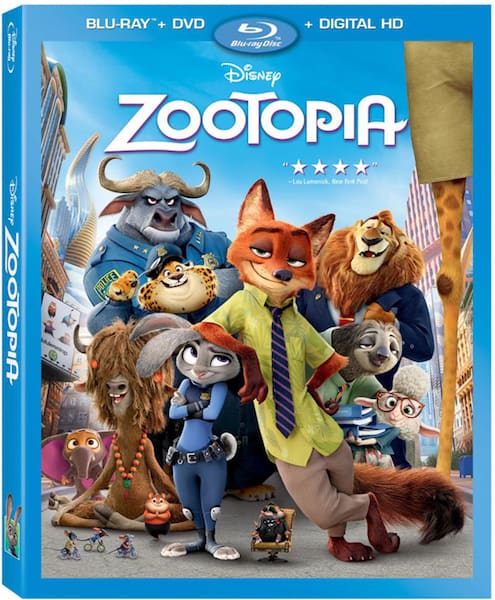 Blu-ray and Digital HD bonus features:
Zoology: The Roundtables – Ginnifer Goodwin hosts an in-depth look at the movie's characters, animation, environments and more!
The Origin of an Animal Tale – Follow the story's development from its origins to a big story shift that turned the film upside down.
Research: A True-Life Adventure – Learn about how the filmmakers traveled the globe to find inspiration for the diverse characters and amazing city of Zootopia.
ZPD Forensic Files – Find Zootopia's hidden Easter eggs!
Scoretopia – Watch Academy Award-wiinning composer Michael Giacchino spotlight five of cinema's greatest percussionists and how they brought an organic, animalist sound to Zootopia.
Deleted Characters – Directors Bryon Howard and Rich Moore introduce citizens of Zootopia who didn't make the final cut.
Deleted Scenes – Check out seven scenes that didn't make it to the theatrical release of Zootopia.
"Try Everything" Music Video by Shakira.
Check out my exclusive interview with Flash from Zootopia!
Be sure to get my free printable Zootopia coloring sheets and activity pages!
Finally, read my parent's review of Zootopia!
Thanks to OhMyDisney for some of the images.