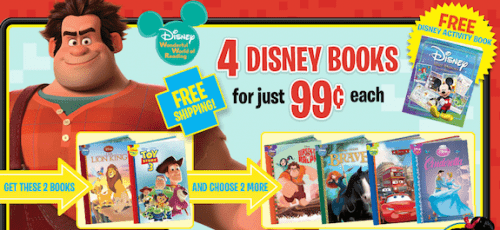 If you're looking for cheap hardcover children's books I have a great new offer for you!
Right now you can get FOUR high-quality hardcover Disney books for just $0.99 each. Even better, you'll also get a FREE Disney activity book AND it will all ship for FREE!
You'll get these two hardcover books:
Disney's The Lion King

Toy Story 3
Then you can choose two of these books:
Disney's Wreck-It Ralph

Disney's Brave
Disney's Cars
Disney's Cinderella
Once all four are chosen you'll also get a FREE Disney Magic Moments activity book!
When you get in on this offer there's NO commitment to continue buying Disney books.
Once your books and FREE activity book arrive you can easily cancel your account by logging in here: https://www.earlymoments.com/Login/ or calling (800).353.3140. Your account will be cancelled and you'll only pay $3.96 total for 4 new hardcover books and a nice activity book!
Get your 4 Disney Hardcover books AND a FREE activity book for just $3.96 while this offer is available!
If you haven't done it already, you can also do this Dr. Seuss book offer and get FIVE hardcover Dr. Seuss books AND a free backpack with free shipping for just $5.95!