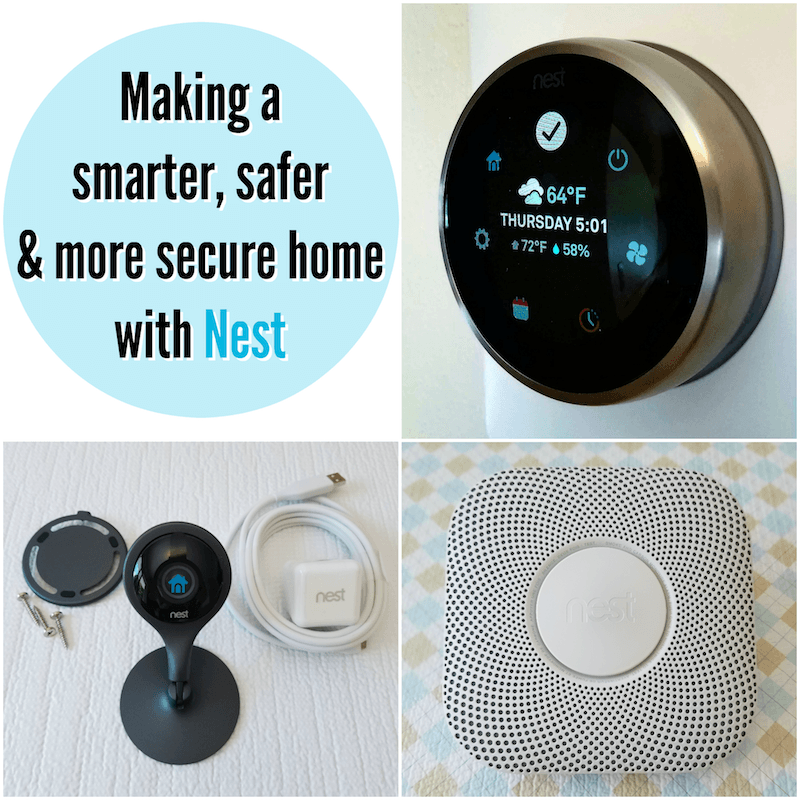 I love technology. If you follow me on Instagram you've probably noticed that I especially geek out about products designed to make life easier. In short, efficiency is my love language 🙂
Verizon recently reminded me how dedicated they are to the smart home when they provided me with a suite of Nest products start transforming my own home into a smart home.
With that I became the proud owner of the following smart devices:
All of them work exceptionally well as independent devices, but the best part about getting them together is that the three devices actually communicate with each other!
First let me give you an overview of these smart products then I'll tell you how they work together to make my home smarter, safer and more secure.
About the Nest Learning Thermostat
Nest recently introduced a 3rd generation of their iconic Nest Thermostat. There are some nice changes from the 2nd generation Nest and the price has remained the same!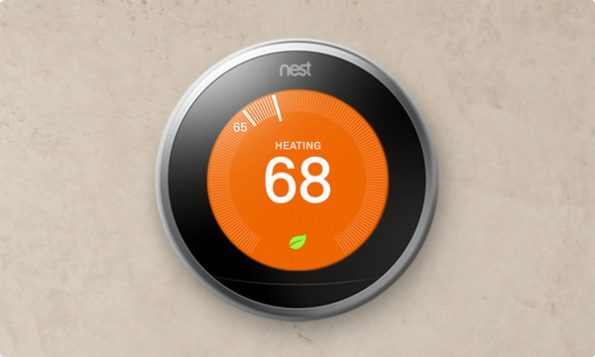 If you need help conserving energy and reducing your energy bill, then the Nest Learning Thermostat may be the solution for you.

Still the only thermostat that learns from your energy usage behaviors and other factors, Nest is thinner and sleeker than its predecessor, allowing it to more seamlessly fit into your home or office dècor.

The bigger, sharper display features a high-definition screen with refreshed graphics and icons for an improved overall visual experience.

Nest takes note of key factors, such as your schedule, how drafty your home is and your heating and cooling preferences. It then programs itself to adjust the temperature accordingly to help save you money.
About the Nest Protect
Did you even know that smart smoke and carbon monoxide detectors even exist? I really didn't until I was introduced to the Nest Protect.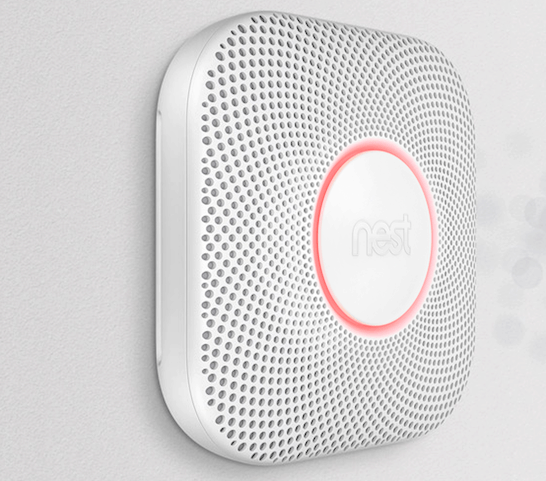 The Nest Protect smoke and carbon monoxide alarm is a smart smoke and carbon monoxide alarm. That means it thinks and speaks, alerts your mobile device when something needs to be reported and keeps you in the know so you spend less time worrying when you're away from home.

the Nest Protect has an industrial grade sensor, can differentiate between slow and fast-burning fires, and its alarm can be silenced from your mobile device. It also runs its own tests and the carbon monoxide (CO) detector lasts for up to 10 years.

Use it with the Nest app for access to extra features like silencing your alarm when you're not at home, or use it on its own: the new Protect is a functioning, code-compliant smoke and CO alarm even when it is not paired to an account.
About the Nest Cam
I feel like smart security cameras have an infinite number of uses, and the Nest Cam is an amazing option that can do exactly what you need a wifi camera to do!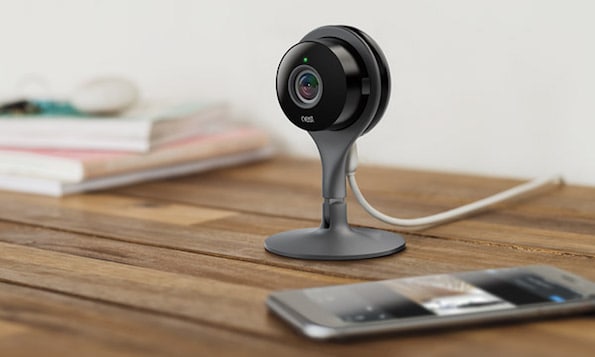 The Nest Cam Security Camera lets you keep an eye on what matters most to you, even when you're far from home.

Take advantage of 24/7 live video streaming to your mobile device or tablet. Get alerts if something happens and watch the footage of your home live in super clear 1080p HD. Whether it's identifying uninvited house guests or trying to figure out where the dog hid your shoe, Nest Cam helps you capture it all.

The Nest Cam Security Camera is always on the lookout for motion and sound. If something happens, it will send an alert to your mobile device. The mic and speaker allow you to hear what's going on in the room and even talk back using the Nest app.

Night Vision LED sensors let you see the room at night compared with other cameras that only give you a spotlight view. The built-in sensor detects light volume and triggers the transition to night mode.
How the Nest Thermostat, Nest Protect and Nest Cam work together
I just learned that Nest products are built from the start to work together, and they're designed to help keep us safe, comfortable and informed. I love this philosophy, and I can attest that it's working as planned for my family!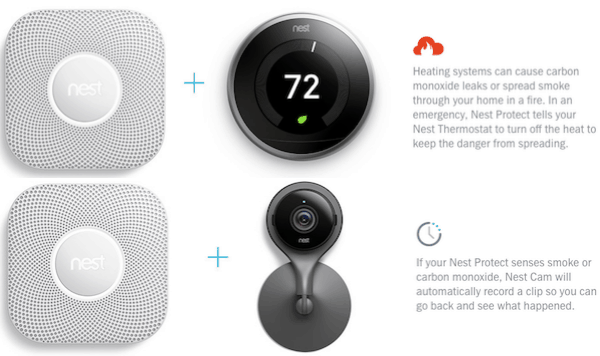 The Nest devices work together in truly innovative ways that also simply make sense. Here are a few examples of how they communicate to make life easier and safer:
Carbon monoxide emergencies detected by the Nest Protect will sync with the Nest Thermostat to automatically shut off your furnace to prevent the situation from worsening.
If the Nest Protect detects high levels of smoke, the Nest Thermostat will shut off fan-based heating and air conditioning to prevent smoke from circulating.
The Nest Thermostat displays a carbon monoxide alert in the event of an emergency.
The Nest Cam automatically starts recording footage if the Nest Protect sounds an alarm for smoke or carbon monoxide.
That's a lot of amazing features from three amazing products! I'm happy that my Nest Protect works quietly in the background and I'll only hear from it if I need to be alerted, but I have to say I'm excited that it works so efficiently with the other devices!
Having a smart home is fun, and it just makes sense for so many different purposes! Verizon offers lots of smart products to seamlessly connect one piece of your life to another. Check out everything they have to offer today!