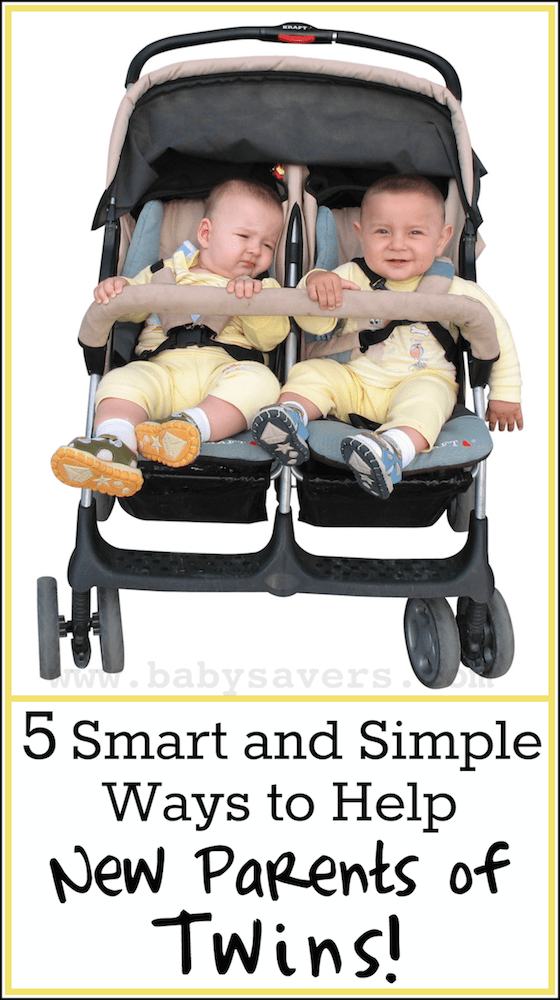 If you know someone with multiples you might be wondering how to help new parents of twins. There is something about having twins that brings out the best in friends and family.
Perhaps it is because they know you'll be carrying a double expense. Or other people expect everything to be twice as hard. Whatever the case, people want to help out when you have twins.
We were given so much help when our girls were born that we literally could not go through it all before the twins actually outgrew their need for it. The generosity was wonderful and we certainly spread the wealth around to others who needed it. In the end, we're so thankful we had more than we could ever use thanks to a wonderful church, great friends and a solid family.
That said, certain gifts and gestures specifically gifted to help parents of twins stood out big time, and I'm not talking about the most expensive items.
The standouts were the ones that truly helped at a time when we were scared to death and exhausted. Here are five of the best gifts we ever got and I'd recommend them to anyone wondering how to help new parents of twins.
How to help new parents of twins:
1. A solid night's sleep
I want to be clear: I still appreciate all the gifts we received. The greatest gifts we ever got, however, was the occasional full night of sleep when someone volunteered to come help us out for the night. An overnight offer is like gold to parents of twins.
2. Diapers
I'm pretty sure it was against all the laws of humanity to see and breathe what my two tiny girls could do to a diaper. Like any new parent, a gift of diapers would never go unappreciated.
3. Gift cards
Some folks find asking for gift cards tacky and I honestly get that. Personally, I think that giving someone the ability to get exactly what they need is a good thing when it comes to babies. Twins are certainly unpredictable and so are their expenses. We generally had no idea what we would need from day to day so those gift cards came in very handy, especially for those unexpected major expenses.
4. The Soothing sound machine
The soothing white noise machine was the ultimate gift and it helped us straight through their childhood. The one we received make all kinds of environments come to life. It had rainforest, ocean waves, rain, streams, wind and just a plain static sound. That little machine helped us through many nights of screaming twins.
5. Dinner
Not having to cook was always a huge blessing and dinner was always welcome. We had several people offer a meal through the first bit of parenting and we loved it. Some people dropped off frozen casseroles to thaw when we needed a meal. Other friends stopped by with a pizza when they wanted to meet the babies.
Bonus: How to Help new Parents of Twins? With Love and Support!
When you're wondering how to help new parents of twins, just keep in mind that your love and support is the primary thing the whole family needs. It is a scary proposition to raise one child, and that feeling is multiplied like crazy when thinking about more than one. Always keep that in mind and you will be appreciated a great deal.
Be sure to read How to Save Money on Twins to learn more about preparing for twins!