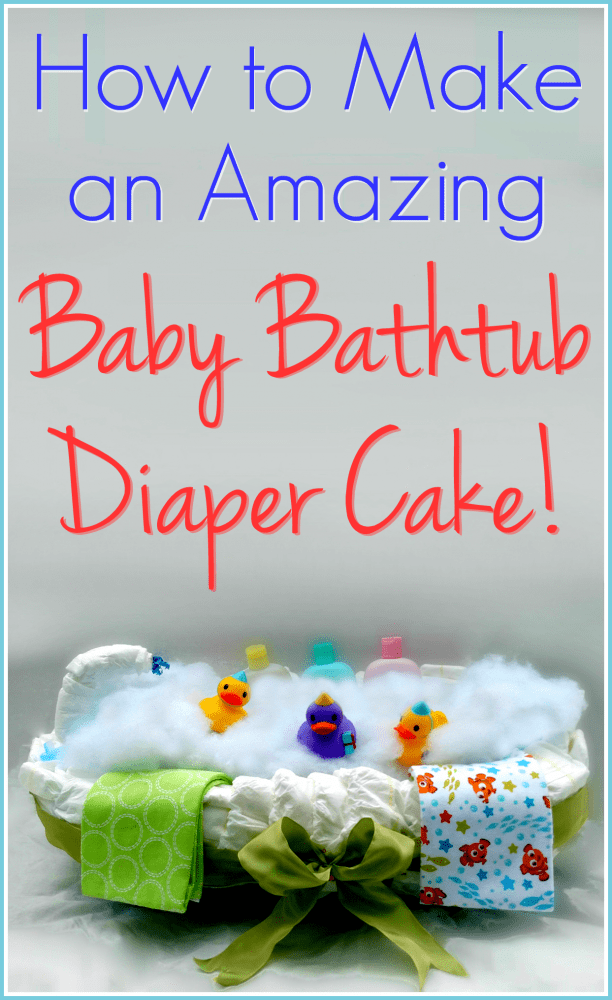 My sister and her husband have talked about becoming foster parents for a long time. So long that, when she told me there was a dire need for foster homes in their community, I wasn't surprised to hear that they were ready to open up their own home to a baby who needed care.
It took a bit of time for their application to be finalized, then there were administrative tasks and required classes to complete. When my sister told me they were finally in the home stretch to making it official, I knew we had to celebrate!
Related: Have family fun with matching plaid family pajamas!
At the same time, I was asked to create a gift for someone special around an adorable baby bathtub from Disney Baby: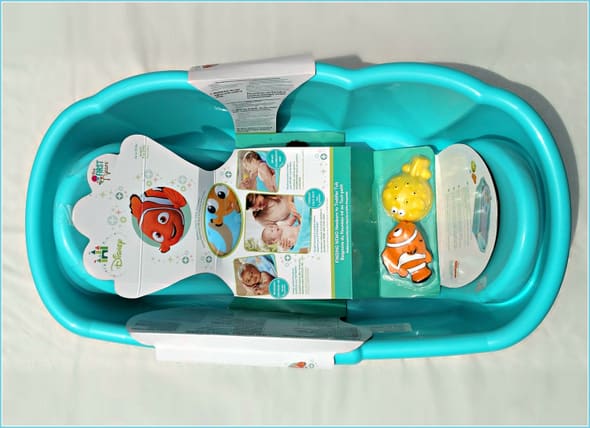 My sister and her husband are signed up to take in a foster baby between the ages of 0 to 18 months.
I've been enamored with the baby bath diaper cake from Building it on Pennies since I featured it in my How to Make a Diaper Cake post. Figuring out how to make a baby bathtub diaper cake in my own style was my chance to give my sister and her family a lot of items they'd need to help care for a baby!
How to Make a Baby Bathtub Diaper Cake
I love that you can add as much or as little as you want to this baby bathtub diaper cake. There are a few essential items you'll need to make it suitable for a gift, but there are endless additions you can throw in to personalize or embellish it.
Essential materials for the baby bathtub diaper cake
The First Years Disney Finding Nemo Infant To Toddler TubBUY NOW
Pampers Swaddlers Diapers, Size 2BUY NOW
Fairfield Poly-Fil Premium Polyester Fiber, White, 12-Ounce BagBUY NOW
Polka Dot Wired Edge Ribbon (2.5″ wide)BUY NOW
I also purchased a few more items for my diaper cake:
Disney Finding Nemo Flannel Blanket, 4-PackBUY NOW
Philips Avent Soothie Pacifier, Blue, 0-3 MonthsBUY NOW
225M Curling Ribbon, BlueBUY NOW
Real Touch Flowers, Wire StemBUY NOW
Johnson's Baby Soothing Vapor Bath, 15 ozBUY NOW
Johnson's Baby Lotion, 15 ozBUY NOW
Johnson's Baby Head-to-Toe Wash, 15 ozBUY NOW
Rubber Duckies, Hawaiian Hula StyleBUY NOW
Instructions for how to make the baby bathtub diaper cake:
1. Layer the diapers: Open your pack of diapers and layer them around the outside edge of the baby bathtub. This took almost a full pack of 42 diapers for my bathtub. Set 3 diapers aside for your faucet and the rest can be put in the bottom of the tub.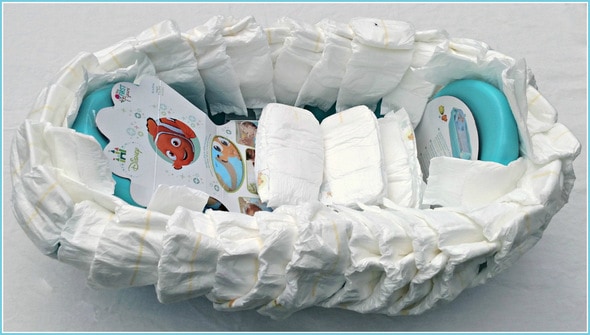 I tried to space the diapers evenly but it was hard! Thank goodness precision in this craft isn't that important. The diapers take a backseat to the contents of the tub once the bubbles are added.
2. Make the bow: Wrap the wired ribbon over the diapers around the outside of the tub and tie it in a pretty bow.
3. Make the faucet: Snip the blossom off the artificial flower and fold the stem in half. Wrap a diaper tightly around the stem and secure it with a rubber band. I have about four million clear hair bands in my house, so I used a few of those on each diaper.
Repeat with the other two so the stem is covered by the diapers: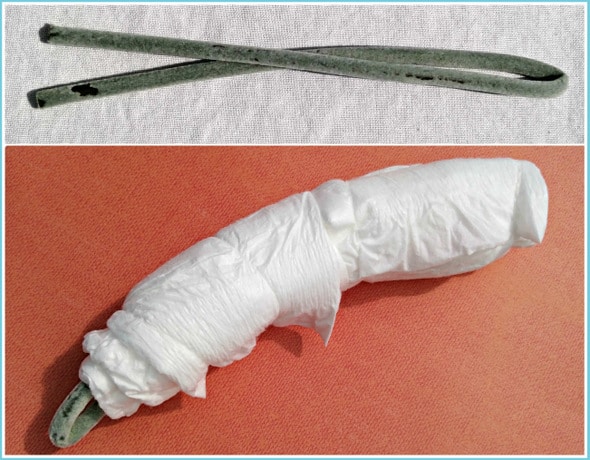 Bend the stem so it curves to resemble a faucet. Shove the narrower end of the stem in between the diapers along the side of the bathtub and the tub's headrest.
I put a few blue curly ribbons in the wider end of the faucet to help it look like water was coming out. I'm not sure if I like it or not, but I didn't want to mess with it all once it was in place!
4. Add faucet handles: If you're using them, put the pacifiers next to your faucet to resemble handles. It was easy to insert one end of a pacifier between diapers to hold it in place.
5. Add bubbles: Fill the tub with poly fill and arrange it resemble bubbles. This is where you can stop if you don't want to add anything else.
6. Embellish the baby bathtub diaper cake: Add any extras that you want to gift to the recipient or make the tub even cuter! I draped two of the Disney Baby Finding Nemo blankets on each side of the bow. I also "floated" rubber ducks on top of the bubbles and buried some baby bath products in the fill.
Here's the finished baby bathtub diaper cake: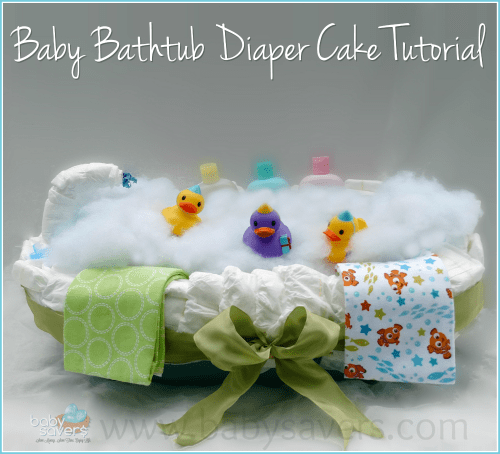 Making the baby bathtub diaper cake was an easy project, and I'd make one again if another occasion for a special baby gift arises!
The Disney Baby Finding Nemo bathtub is available on Amazon with free shipping!
If you don't like the Disney Finding Nemo baby bathtub almost any traditional baby bath would work. Here's a great selection of tubs to choose from:
The First Years Deluxe Newborn To Toddler Tub, BlueBUY NOW
The First Years Deluxe Newborn To Toddler Tub, PinkBUY NOW
PRIMO EuroBath, Pearl WhiteBUY NOW
Fisher-Price Precious Planet Whale of a TubBUY NOW
Summer Infant Newborn to Toddler Bath Center & ShowerBUY NOW
Fisher-Price 4-in-1 Sling 'n Seat TubBUY NOW
I've shown you my creative way for how to make a baby bathtub diaper cake. What are your fun ideas for of gifting baby items?