The Top STEM Interactive Toys for Toddlers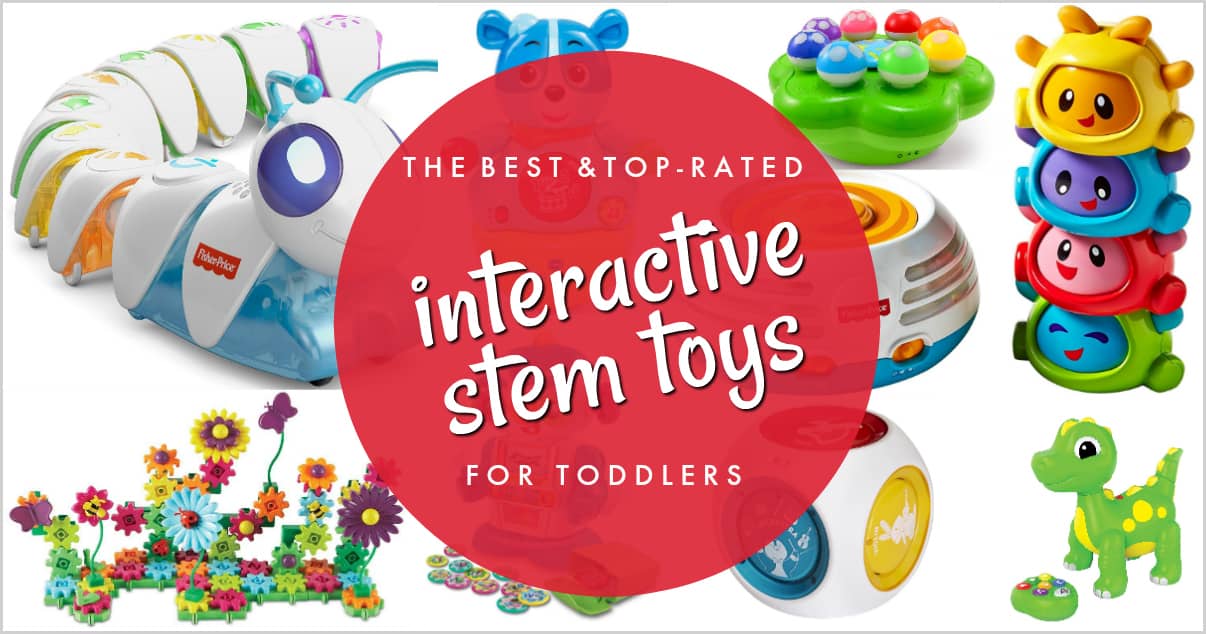 I was bitten by a tech bug at a time when my family didn't know what to do with it. I'm a child of the late 80s and early 90s, and I grew up in a time where computers were just starting show up in everyone's home.
There was a long time when I had to get my fix with computer labs in school, and I spent a lot of time at home with my Alphie Robot and my precious Talking Whiz Kid.
It's funny how things change. Now, there are so many screens available that I make an effort to keep my own kids away from them when I can. I don't love seeing cell phones in the hands of little ones at restaurants and in the grocery store, but that doesn't mean that I'm averse to teaching kids technology at a young age. I just believe that there are great ways to introduce even the littlest kids to coding without a phone or tablet.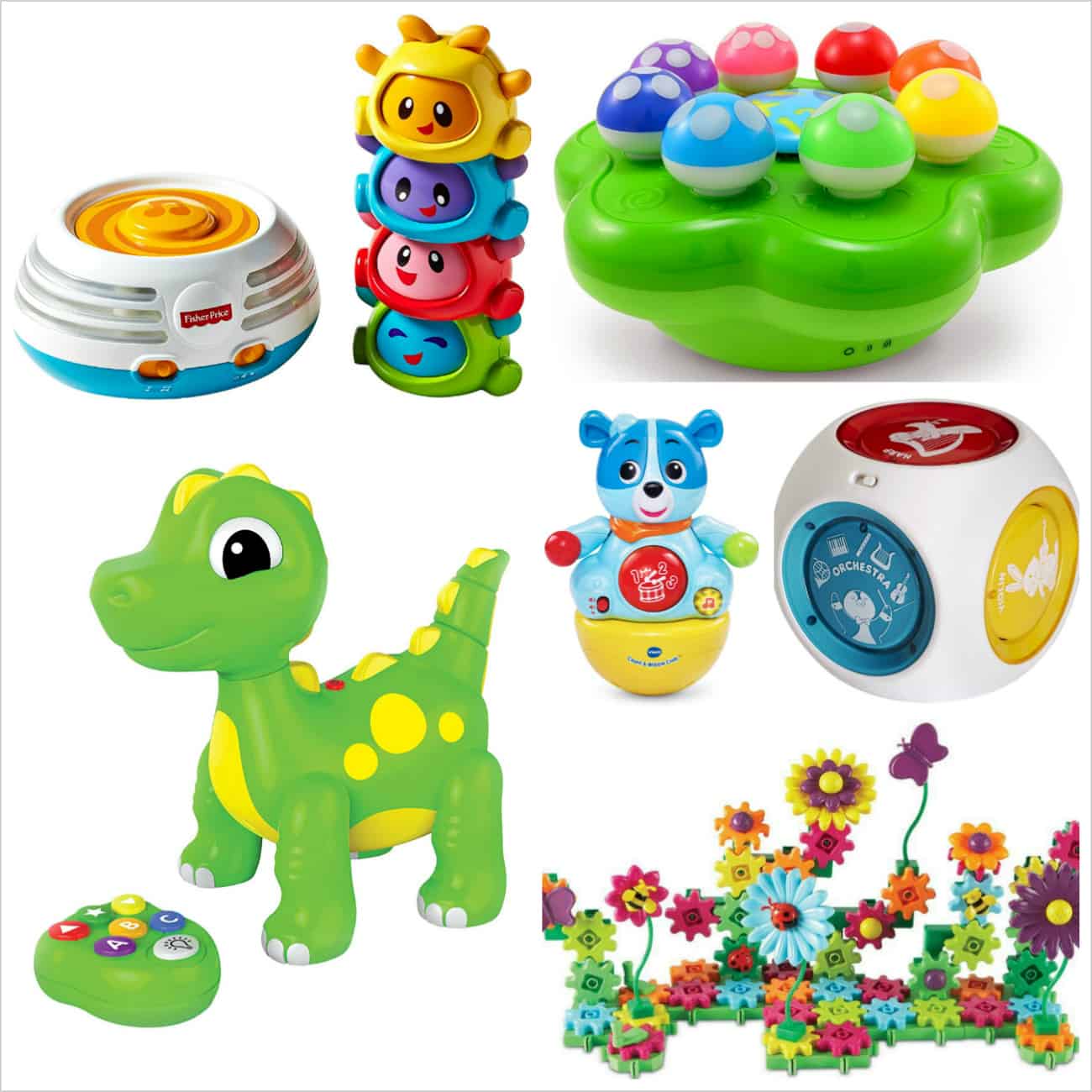 I think there are lots of high-quality toys that can teach tech to kids before they can read. The basic fundamental of coding is pairing an event with an action.
While it's not exactly the same, early learners can start with sequences or causes and effects to follow a similar line of thinking.
If you start looking at products for their sequences or cause and effect relationships, you can find plenty of toys that introduce children as young as toddlers to the basics of coding!
STEM interactive toys for toddlers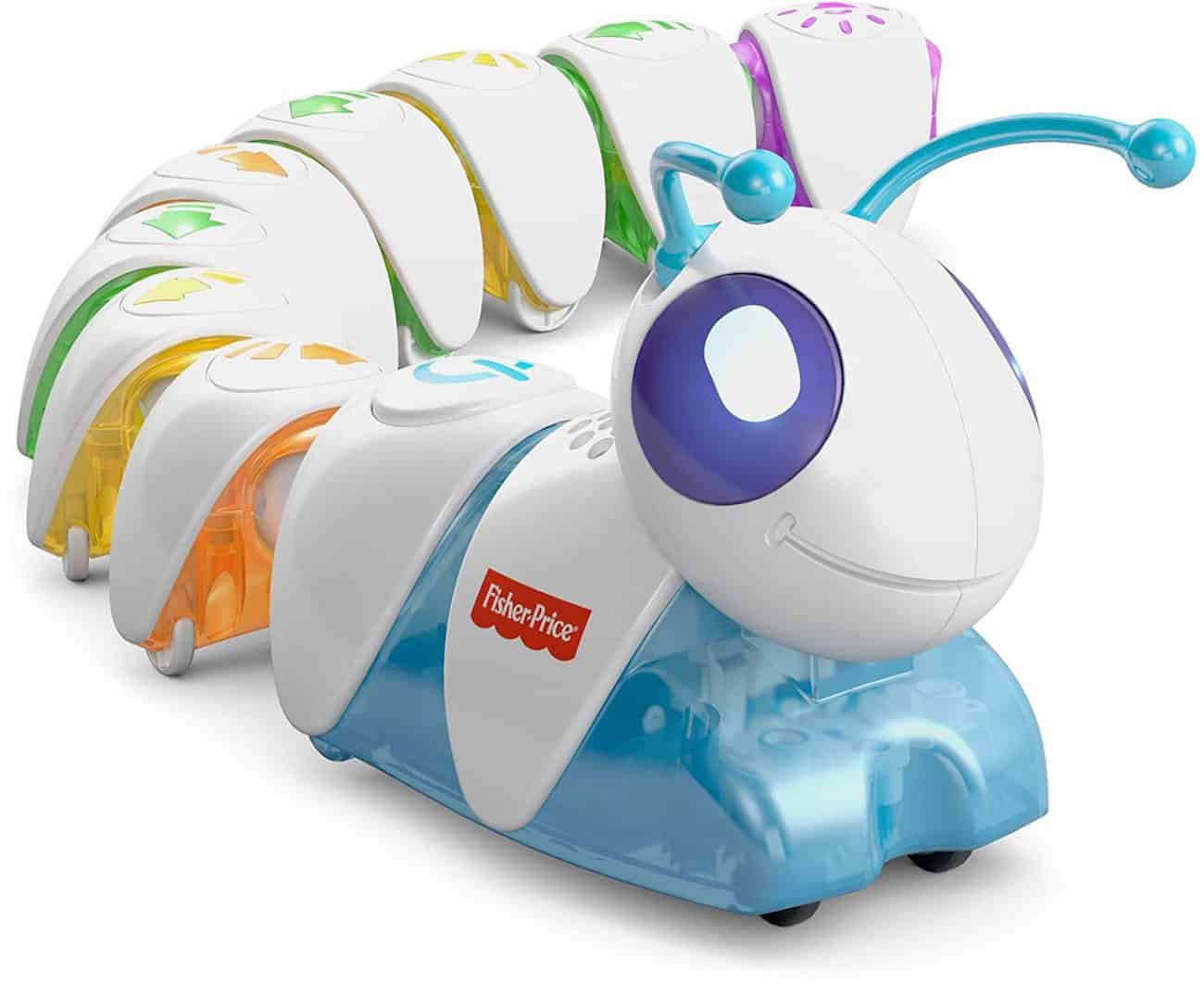 Fisher-Price Think & Learn Code-a-Pillar : This is by far the most popular and straightforward coding toy for toddlers!
The Code-a-Pillar is a learning toy that encourages experimentation while developing problem-solving, planning and sequencing and critical thinking skills.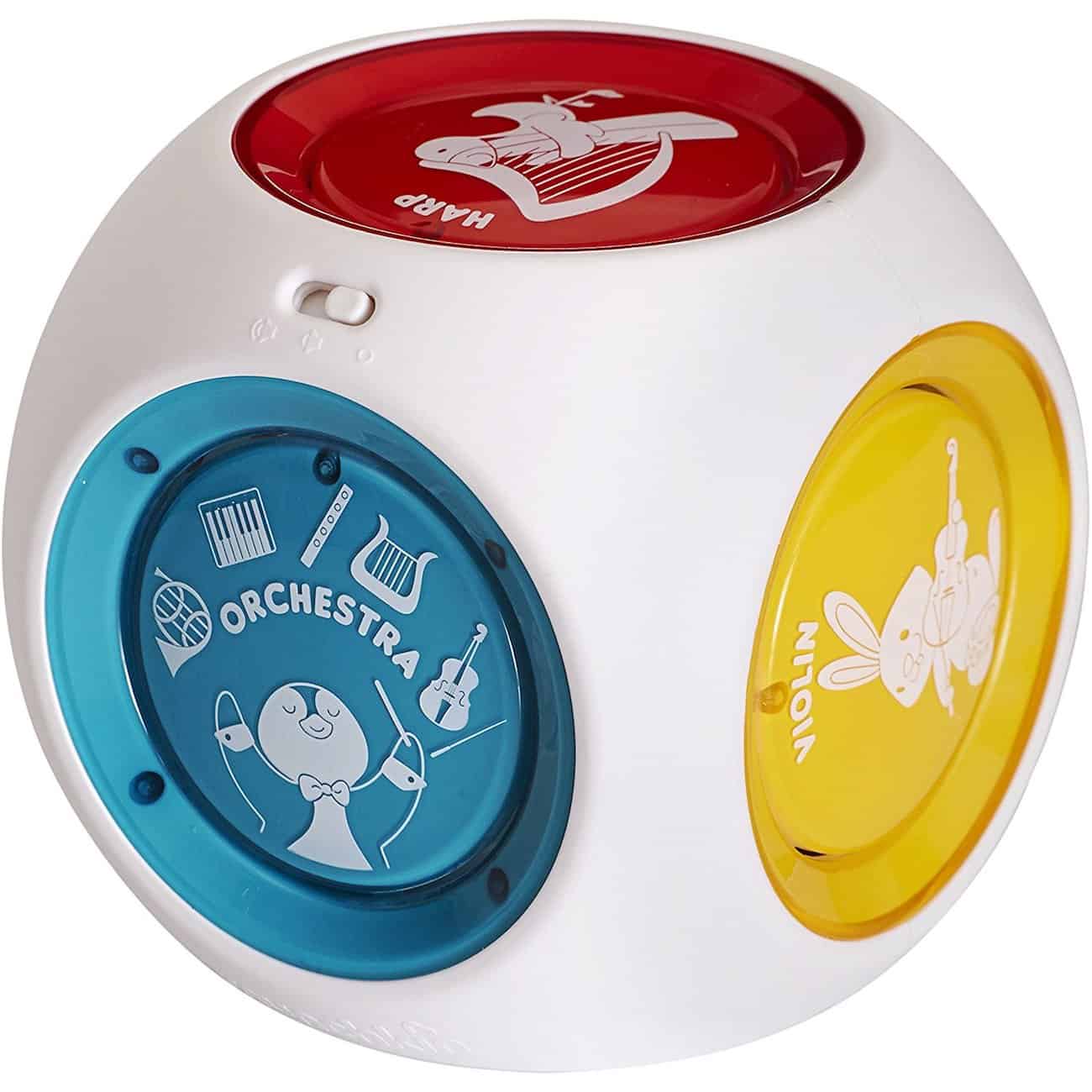 Munchkin Mozart Magic Cube: Easy-to-push buttons with responsive lights and sounds make this a perfect educational toy for little ones between the ages 6 months to 3 years old!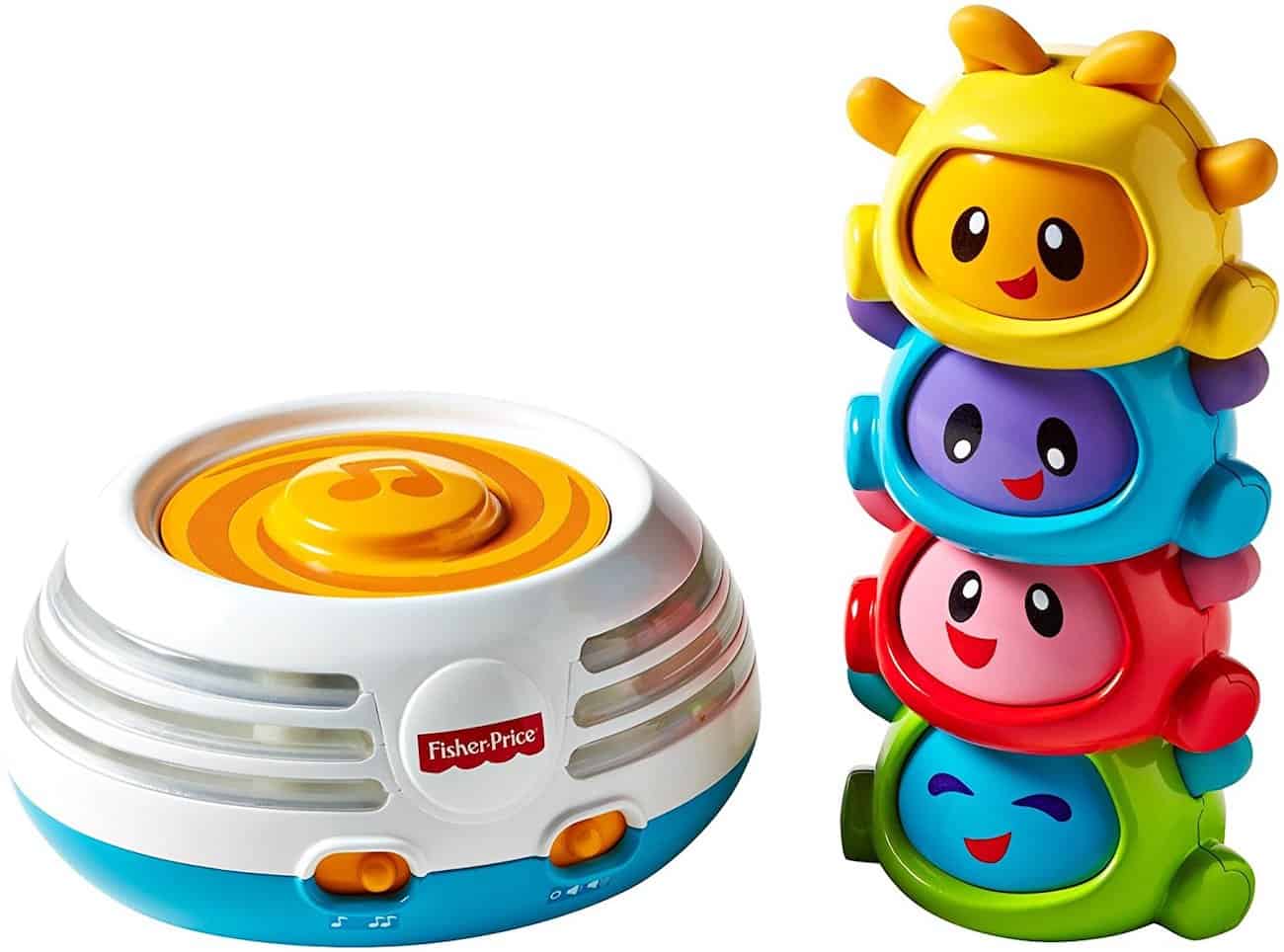 Bright Beats Build-a-Beat Stacker: Encouraging fine-motor skills and hand-eye coordination, the Bright Beats Build-a-Beat Stacker also teaches sequencing and cause-and-effect as your toddlers stacks up the adorable Boogie characters!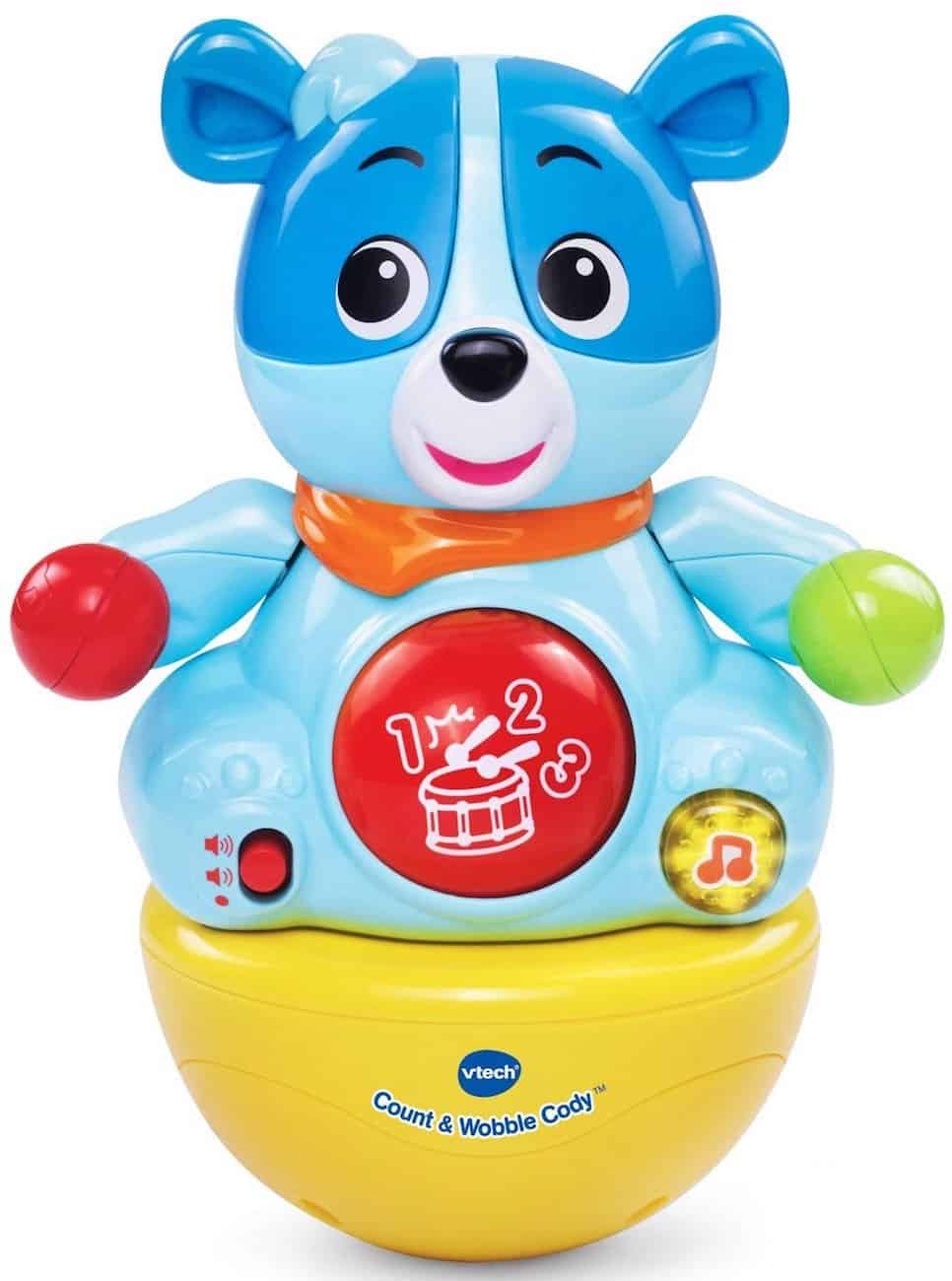 Vtech Count and Wobble Cody: Intended for ages 6 months to 3 years, the Vtech Count and Wobble Cody starts with the basics of cause and effect.
This talking baby toy wobbles and shakes after a little push, it plays music with maracas and counts to 10 with over 30 songs, melodies, sounds and phrases.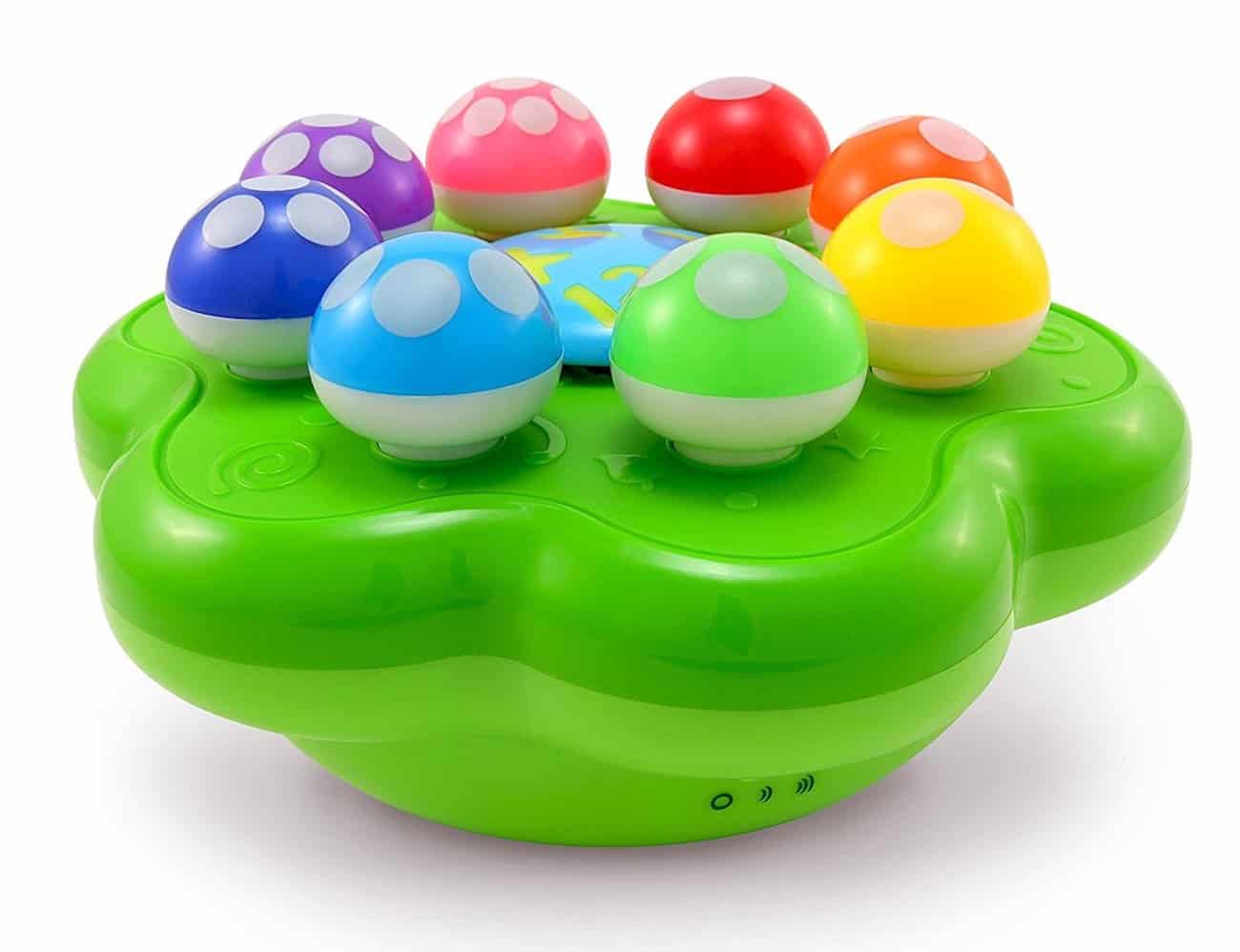 Best Learning Mushroom Garden: This award-winning interactive toy is designed for toddlers and early learners ages 12 months and up. Innovative and educational, the light-up mushrooms can be rocked, rolled and spun during memory games and learning activities.
The Best Learning Mushroom Garden encourages skills in logical thinking, concentration, problem solving, dexterity and memory.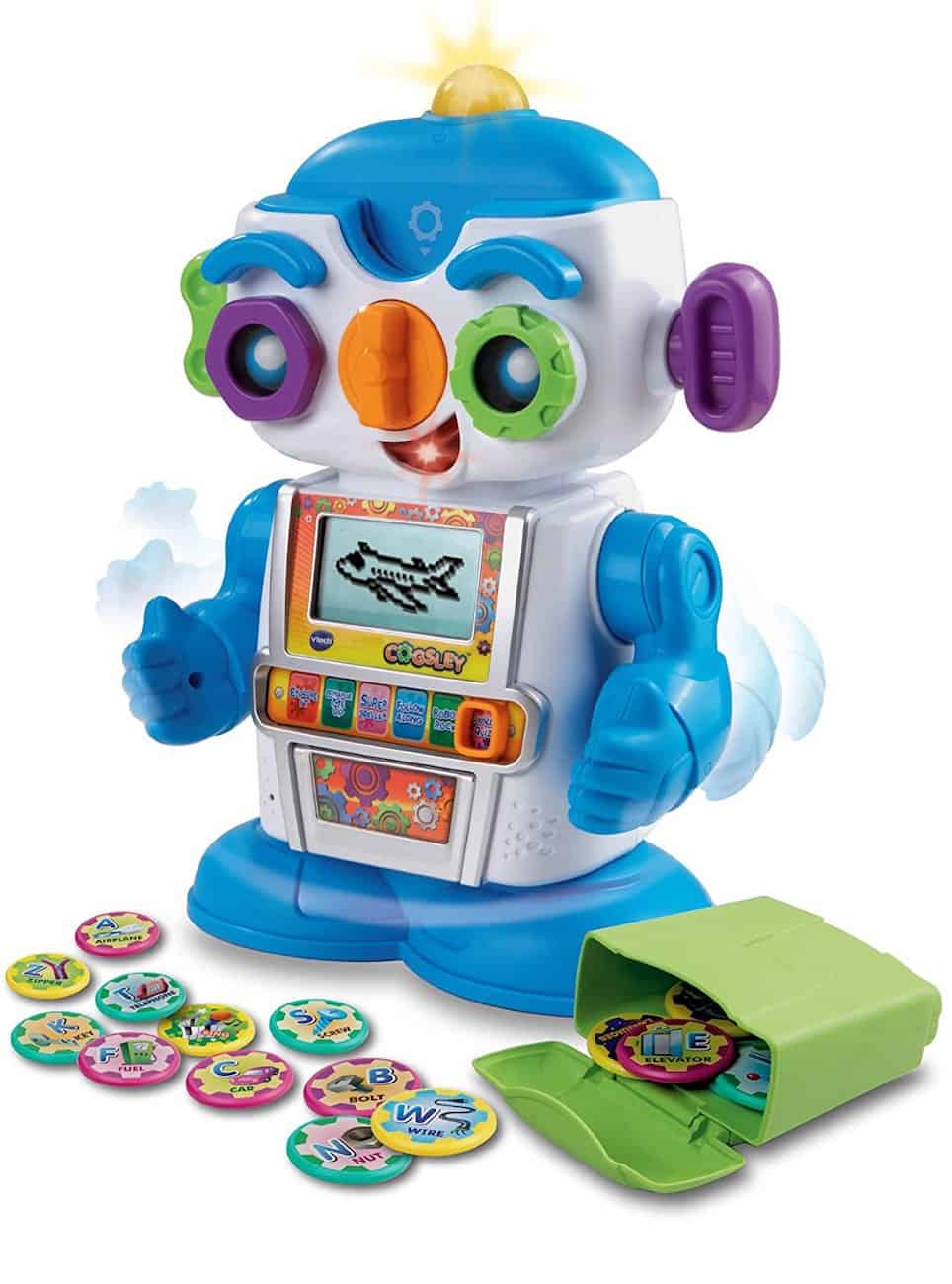 VTech Cogsley Learning Robot:  An animated LCD screen, sound detector, learning tokens and various play modes make this learning robot a great interactive toy!
Cause and effect are front and center as the robot reacts to singing and clapping, while spinning, twisting movements and a quirky personality contribute to an imaginative play experience.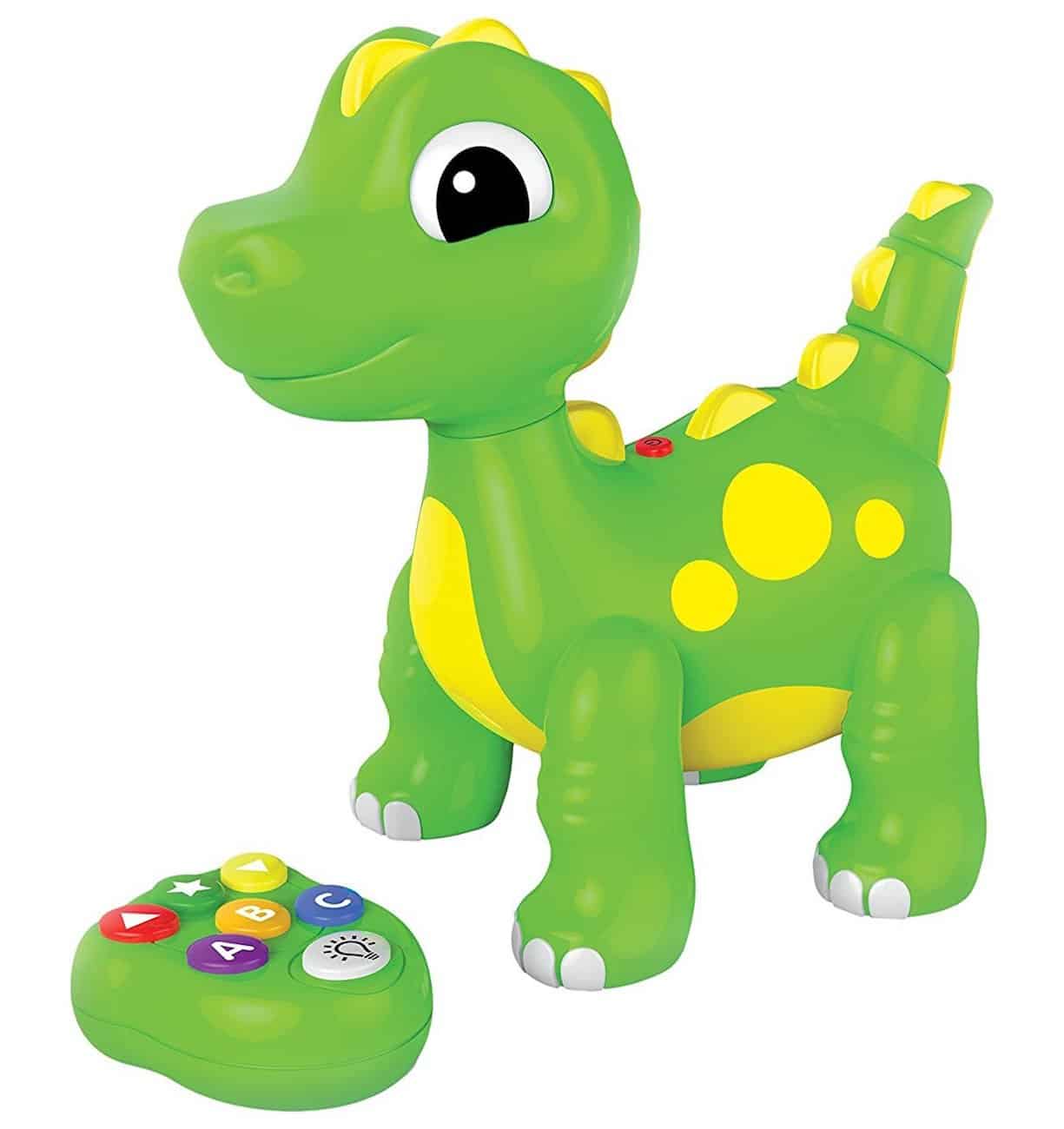 Remote Control ABC Dancing Dino – Remote controls are excellent ways to teach cause and effect (Bonus: this is one of the cutest interactive toys for toddlers!). This dinosaur responds to the touch of various buttons on the handheld remote: walking, talking, dancing, singing and playing music.
A wiggling tail, fun dance moves and silly phrases make the Dancing Dino a delight for all ages!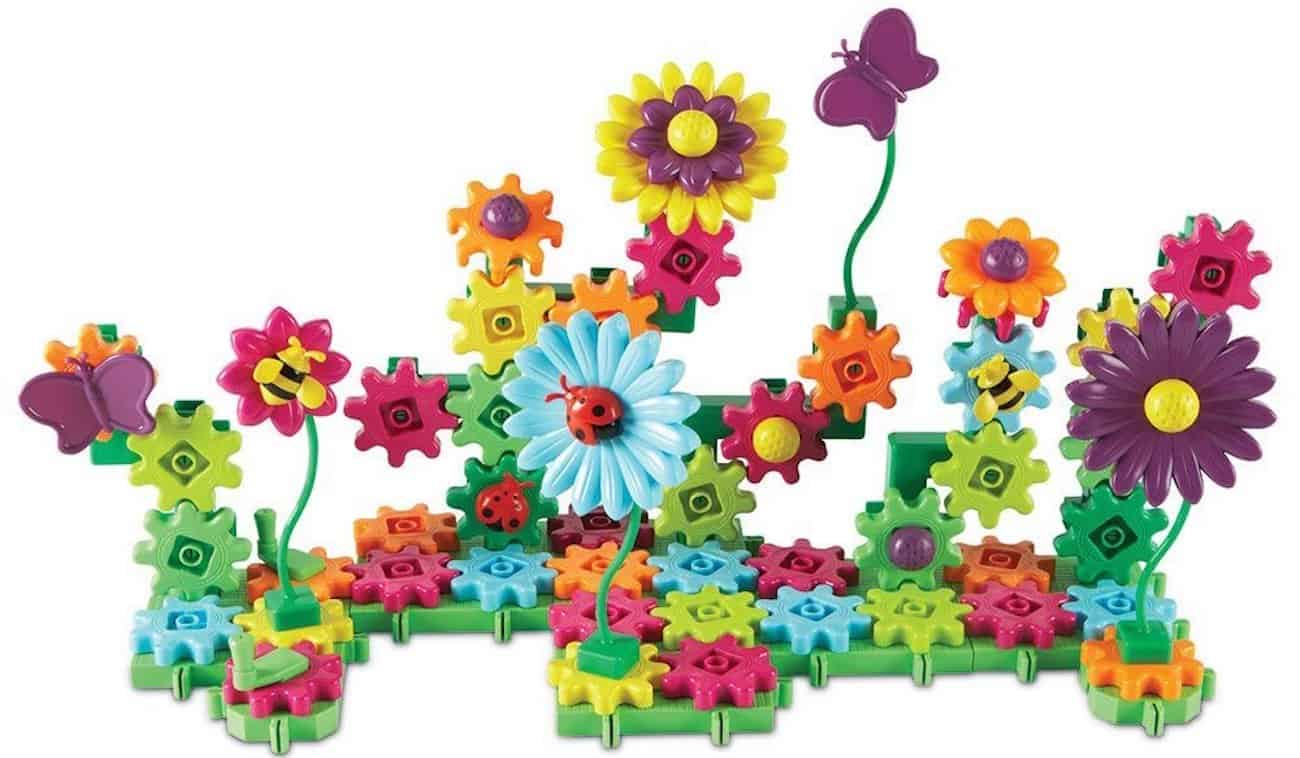 Learning Resources Gears! Gears! Gears! Build and Bloom Set – Help your child develop problem-solving and spacial reasoning skills with a set of gears that forms a fun garden!"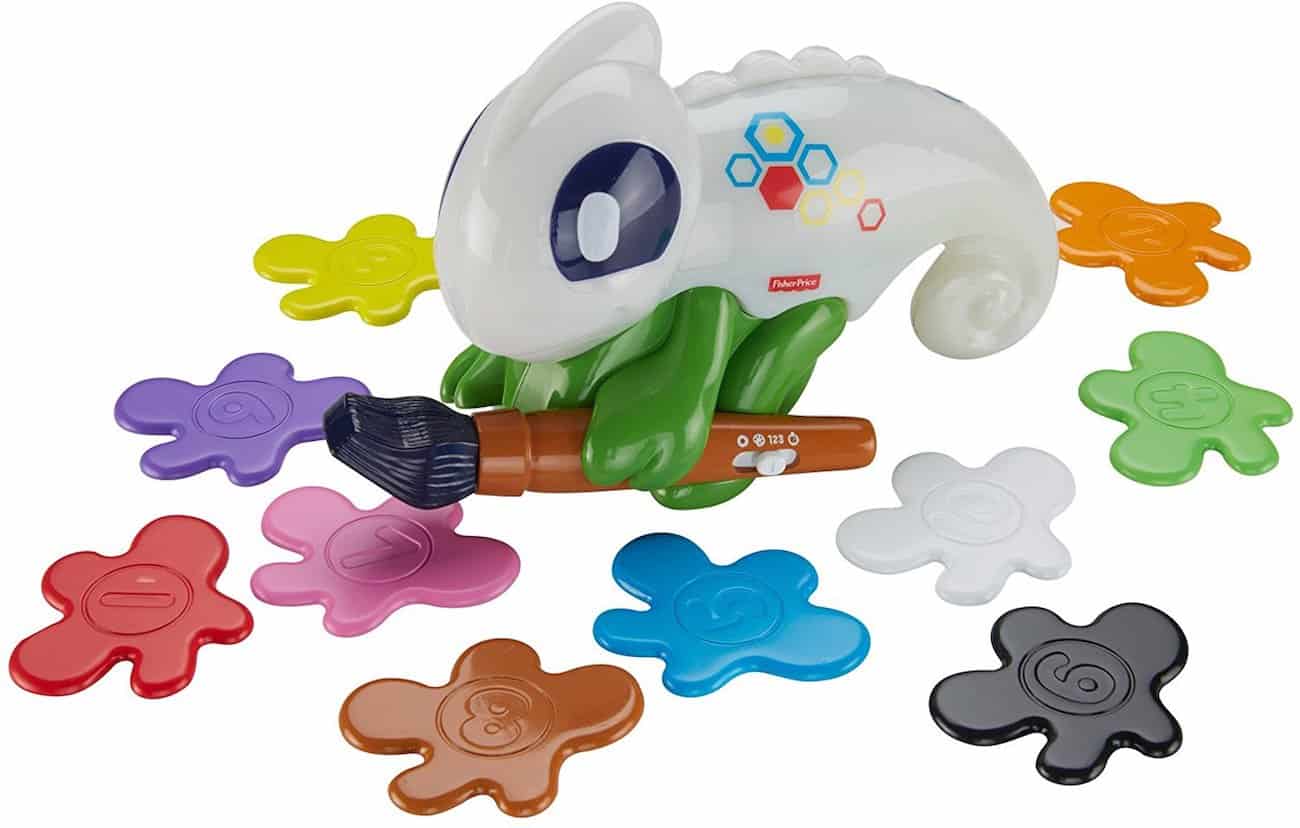 Fisher-Price Think & Learn Smart Scan Color Chameleon: Help your little one learn colors and numbers while sorting, following directions and classifying the various pieces included in this interactive toddler toy.
I love that you can start to teach toddlers coding skills without an iPad, tablet or a computer. All of these toys introduce the most fundamental aspects of coding, but none of them require additional devices to do it!
I would have loved these toys as a kid, and I'm still that same person today. I'm an adult, and I definitely love all the gadgets and tech that are available to me! Stay tuned because I'll be sharing more about how I use Verizon to stay connected and make this mom's life easier!