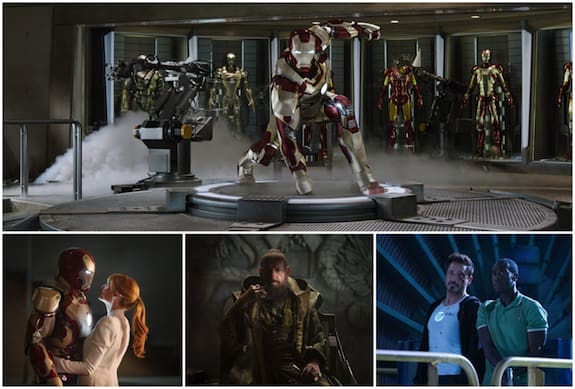 Last week I had the great fortune of attending the red carpet premiere of Iron Man 3. That night, I watched the film for the first time and I was blown away by both the story and the spectacle!
I detest spoilers for anything I'm really looking forward to, so below you'll find an Iron Man 3 no-spoilers review! If you want to know all the Iron Man 3 spoilers, a quick Google search will tell you everything you ever wanted to know about the movie.
I also recently received news that Iron Man 3 opened to record-breaking ticket sales in 42 international territories last weekend! It surpassed The Avengers' international opening weekend by 10 million, and it was the biggest opening weekend ever in 8 countries!
Even more impressive, Iron Man 3 was the #1 film in every market and was the biggest opening weekend of all time in the Asia Pacific and Latin America regions!
Iron Man 3 opens today  (May 3, 2013) in the United States, and it's so good I'm certain it will set box office records here, too!
I'm going to tell you flat-out that I loved Iron Man 3. It's full of action and adventure, and it also delves into emotions, psyche and relationships. I can't wait for my husband and my friends to see it. I've hardly said a word about the movie to anyone because I don't want to accidentally slip and spoil a surprise moment!
But, there are several spoiler-free moments in the film that are fun and exciting to know about, and they'll hopefully get you just as excited for the movie!
Note: The Iron Man 3 clips and videos I mention below are widely available and were released by Disney & Marvel over the past few months to promote the movie. I'm not embedding them in this post in case you want to be totally surprised by the scenes in Iron Man 3. 
5 Spoiler-Free Fantastic Moments from Iron Man 3: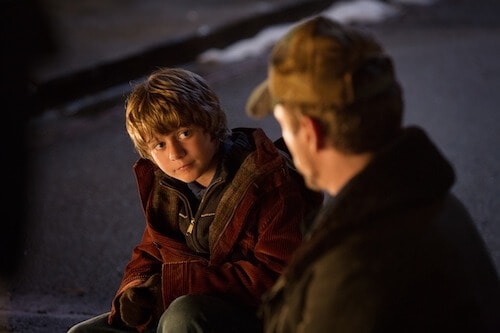 1. Tony Stark Meeting Harley (Ty Simpkins) for the first time: Tony Stark just happens to take shelter in the workshop on Harley's mom's property. When Harley runs into Stark the first time, Harley's soft demeanor, wit and quick-thinking show that he's a pint-size match for Iron Man. Robert Downey Jr. and Ty Simpkins have a sweet chemistry that adds a lot of depth to the film.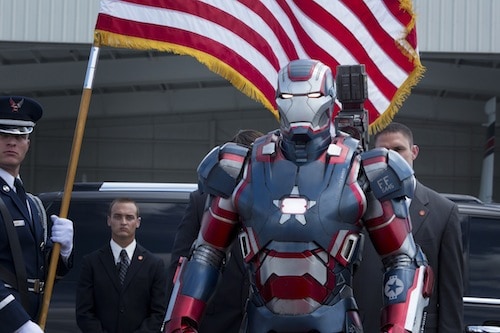 2. The Reveal of The Iron Patriot: Don Cheadle plays Rhodey, a colonel in the US military who got has his own Iron Man suit in Iron Man 2. In Iron Man 3, the US government reveals the Iron Patriot, which is Rhodey in a fancy new patriotic-suit designed to help the country feel safer.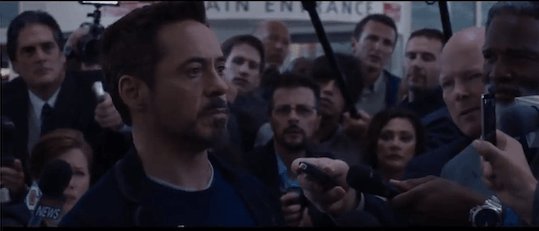 3. Tony Stark calling out The Mandarin: It's no secret that The Mandarin is the villain in this film. Prior attacks on the country drive Tony Stark to the edge, and he publicly, very publicly, announces that he's ready for The Mandarin.
It's a dramatic scene that makes you hope that Tony Stark is a hero, that Iron Man really is the most powerful being on the planet, and that Stark didn't just do something really foolish.
Of course, the government's plans eventually backfire, but, in the meantime, the Iron Patriot suit is a pretty impressive version of the Iron Man suit!  Watch the Tony Calls Out the Mandarin clip.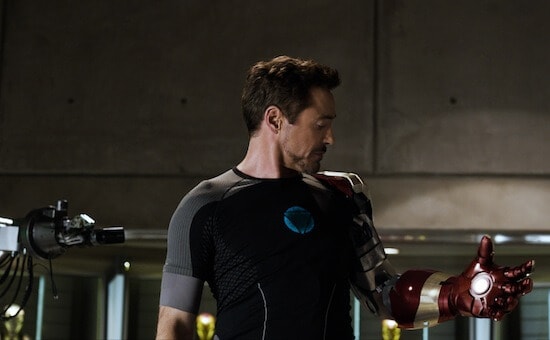 4. The Introduction of Mark 42 (the 42nd Iron Man suit): As Tony Stark reveals in Nothing Has Been the Same Since New York, he's had insomnia over events that took place in The Avengers. He spends his time, all his time, working and attempting to perfect his Iron Man suit invention to protect Pepper (and the rest of the world).
While Tony Stark puts a lot of emotion on display in that clip, the reveal of Mark 42, the 42nd Iron Man suit, is a hilarious and entertaining glimpse into Stark's persona of arrogance and intelligence.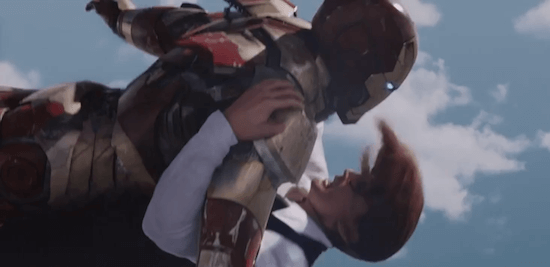 5. The Air Force One Rescue scene: I think it's the best scene in the movie. It's edge-of-your-seat suspense at it's best!
One thing I really like about Marvel's recent superhero movies is how they blend the fantastic with real life. In all the movies, I could almost imagine some of the scenes happening in real life. Each time, at the moment where I started to actually get anxious and picture something similar in my own life, an invisible switch was flipped to show that the drama or violence was just too over-the-top to be anything but a fantasy.
The Air Force One Rescue scene is a perfect example of this. The clip I posted earlier only shows the beginning of the scene, so it doesn't give anything away. I have a feeling it will make you want to see the movie right now!
One final note on the film's rating: Iron Man 3 is rated PG-13. I think it's a perfect rating for the film, and kids 13 and up will definitely love the film.
Iron Man 3 is in theaters today and it's a winner! Go see it in 3D and let me know what you think.
Iron Man 3 opens on May 3rd, 2013 and distributed by Walt Disney Studios Motion Pictures. Follow the hashtag #IronMan3Event on Twitter to see updates from the bloggers who attended the Iron Man 3 Hollywood premiere.
Like IRON MAN 3 on Facebook: www.facebook.com/ironman, follow IRON MAN 3 on Twitter: @Iron_Man, visit the website: https://marvel.com/ironman3.
Marvel's Iron Man 3 pits brash-but-brilliant industrialist Tony Stark/Iron Man against an enemy whose reach knows no bounds. When Stark finds his personal world destroyed at his enemy's hands, he embarks on a harrowing quest to find those responsible.

This journey, at every turn, will test his mettle. With his back against the wall, Stark is left to survive by his own devices, relying on his ingenuity and instincts to protect those closest to him. As he fights his way back, Stark discovers the answer to the question that has secretly haunted him: does the man make the suit or does the suit make the man?

Starring Robert Downey Jr., Gwyneth Paltrow, Don Cheadle, Guy Pearce, Rebecca Hall, Stephanie Szostak, James Badge Dale with Jon Favreau and Ben Kingsley, Marvel's Iron Man 3 is directed by Shane Black from a screenplay by Drew Pearce & Shane Black and is based on Marvel's iconic Super Hero Iron Man, who first appeared on the pages of Tales of Suspense (#39) in 1963 and had his solo comic book debut with The Invincible Iron Man (#1) in May of 1968.

"Iron by "Iron Man 3" is presented by Marvel Studios in association with Paramount Pictures and DMG Entertainment. Marvel Studios' President Kevin Feige is producing and Jon Favreau, Louis D'Esposito, Charles Newirth, Victoria Alonso, Stephen Broussard, Alan Fine, Stan Lee and Dan Mintz are executive producers. The film releases May 3, 2013, and is distributed by Walt Disney Studios Motion Pictures.
All photos courtesy of Disney.
Disclosure: Thanks to Disney for covering my travel expenses for my participation in this press trip.