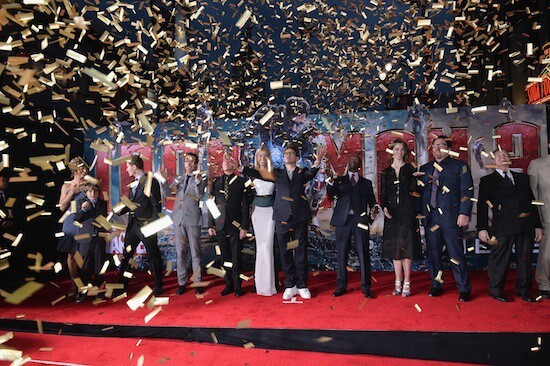 I think everyone looks back on a particular time and wonders, Did that really just happen? I've been asking myself exactly that since just before I went to sleep at 1am last Thursday.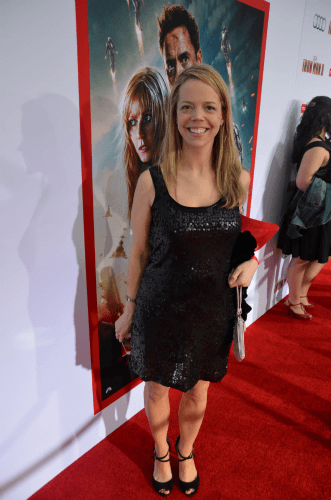 Wednesday, April 25th was one surreal experience after another. I, a little mom blogger, had arrived in Los Angeles the previous day to meet up with 24 other influential mom bloggers and cover the Iron Man 3 Hollywood premiere.
After an amazing day filled with surprises and celebrities, I thought I was prepared to attend the red carpet premiere of Iron Man 3.
Looking back, nothing could have prepared me for the actual experience of the red carpet premiere for iron Man 3. It was quite possibly one of the most memorable experiences of my life.
After getting dressed up and taking advantage of photo ops with friends, we waited on side street around the corner from the theater until our Disney leader got the go-ahead that we were ready to walk.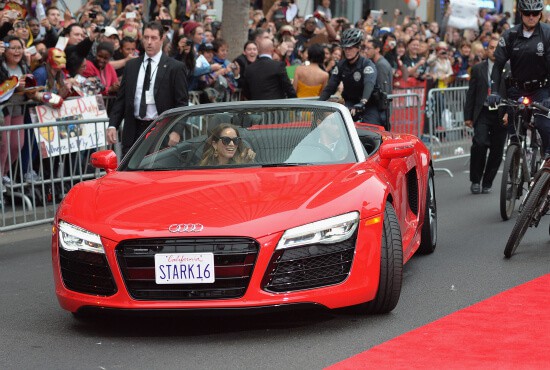 That go-ahead came immediately after the above image flashed alongside us–engine revving, sporting a license plate reading Stark16 and surrounded by LAPD officers on bicycles.
It didn't take long to realize that the star of Iron Man 3, Robert Downey Jr. was driving the car to make his own grand entrance onto the red carpet. He was gone in a flash, but the screaming fans right around the corner indicated that he wasn't too far ahead of us.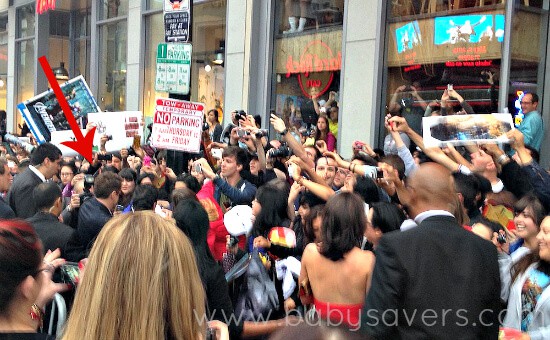 As it turns out, I ended up being behind him for a moment before he stepped onto the red carpet for a moment. Granted, there was a crowd, security guards and barricades between us, but I'm pretty sure That's the closest I'll ever get to Robert Downey Jr.!
The star of the movie was quickly whisked away from the crowds and I started my own walk down the red carpet.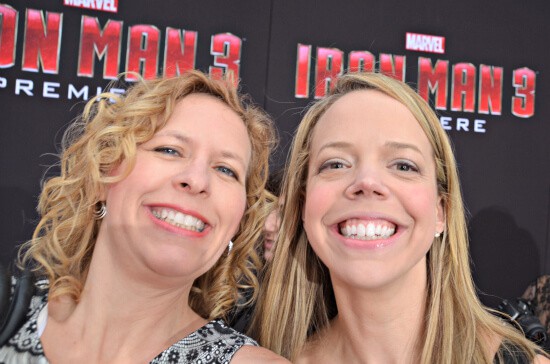 The red carpet for Iron Man 3 was thrilling in its intensity. All the screaming fans, police offers, security guards, camera, film crews, celebrity reporters and genuine ceremony definitely made for an unforgettable moment.
My good friend Chrysa from ThriftyJinxy and I paired up so we could take a few pictures of each other as we made our way to the movie entrance, (she took that photo of us together) but I swear I was so shaky and star-struck I'm lucky I even remembered to take photos on my own!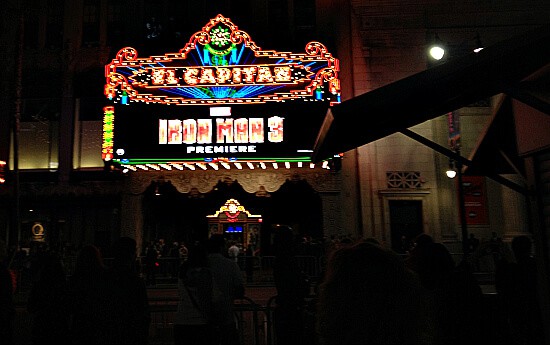 After all the celebrity-spotting (and feeling a bit famous myself!) we were ushered into the El Capitan Theater to watch Iron Man 3. I'll have a review of the movie posted a little later this week, but if you're wondering if it's really that good, the answer is YES, it's that good!
Like IRON MAN 3 on Facebook: www.facebook.com/ironman, follow IRON MAN 3 on Twitter: @Iron_Man, visit the website: https://marvel.com/ironman3.
Marvel's Iron Man 3 pits brash-but-brilliant industrialist Tony Stark/Iron Man against an enemy whose reach knows no bounds. When Stark finds his personal world destroyed at his enemy's hands, he embarks on a harrowing quest to find those responsible.

This journey, at every turn, will test his mettle. With his back against the wall, Stark is left to survive by his own devices, relying on his ingenuity and instincts to protect those closest to him. As he fights his way back, Stark discovers the answer to the question that has secretly haunted him: does the man make the suit or does the suit make the man?

Starring Robert Downey Jr., Gwyneth Paltrow, Don Cheadle, Guy Pearce, Rebecca Hall, Stephanie Szostak, James Badge Dale with Jon Favreau and Ben Kingsley, Marvel's Iron Man 3 is directed by Shane Black from a screenplay by Drew Pearce & Shane Black and is based on Marvel's iconic Super Hero Iron Man, who first appeared on the pages of Tales of Suspense (#39) in 1963 and had his solo comic book debut with The Invincible Iron Man (#1) in May of 1968.

"Iron by "Iron Man 3" is presented by Marvel Studios in association with Paramount Pictures and DMG Entertainment. Marvel Studios' President Kevin Feige is producing and Jon Favreau, Louis D'Esposito, Charles Newirth, Victoria Alonso, Stephen Broussard, Alan Fine, Stan Lee and Dan Mintz are executive producers. The film releases May 3, 2013, and is distributed by Walt Disney Studios Motion Pictures.
Disclosure: Thanks to Disney for covering my travel expenses for my participation in this press trip.