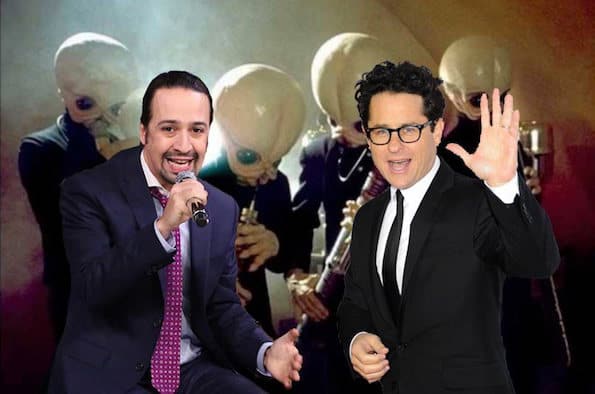 I'm a passionate person. There are very few things that I have a mediocre, meh feeling about. If I don't care for something, I hate it. But if I love something, I love it. With my whole heart. I'll want to know everything about it and I'll want everyone to love it as much as I do.
Basically, I become the definition of a fangirl.
I'm pretty public about my passionate, wholehearted love of Disney. And, while I don't write about it too much here, I'm also crazy about big Broadway musicals.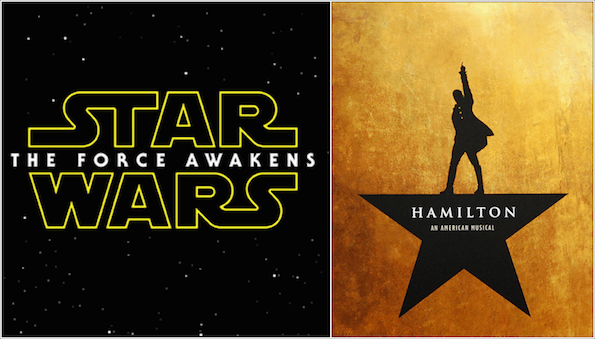 While the rest of the world has been obsessing about Star Wars: The Force Awakens, I've also been totally engrossed in the hit Broadway musical Hamilton.
The driving force behind the show is its creator and star, Lin-Manuel Miranda. If you're not familiar with him, this is the best introduction I can provide for you:
Watch Lin-Manuel Miranda freestyle rap on Jimmy Fallon. Brace yourself. I promise you'll be blown away 🙂
A few weeks ago my mind was blown again when I read that Lin-Manuel Miranda's tweet confirming he co-wrote the Cantina music for Star Wars: The Force Awakens with J.J. Abrams.
We did.
Worked on it between 6pm & 7:30 on 2 show days for the past 2 months.
JJ is the best.
Can't wait to see.
https://t.co/pPYu8nRsxI

— Lin-Manuel Miranda (@Lin_Manuel) December 1, 2015
I've been obsessing over the combination of Lin-Manuel Miranda, J.J. Abrams and Star Wars: The Force Awakens since I saw that tweet.
Then, I was messaging one of my best friends, Enza from Enzasbargains.com and she told me her big secret: she was at the airport, getting ready to to head to the #StarWarsEvent press junket.
When I read her big reveal and learned that she was going to interview J.J. Abrams I thought, Lin-Manuel Miranda! Star Wars! She can find out more!
I sent her this: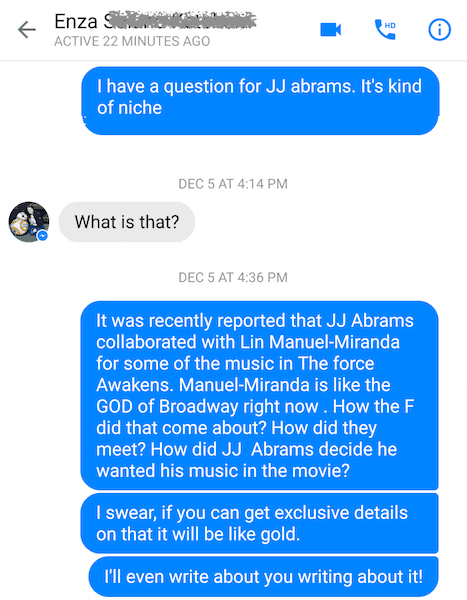 Enza is such a good friend for putting up with me!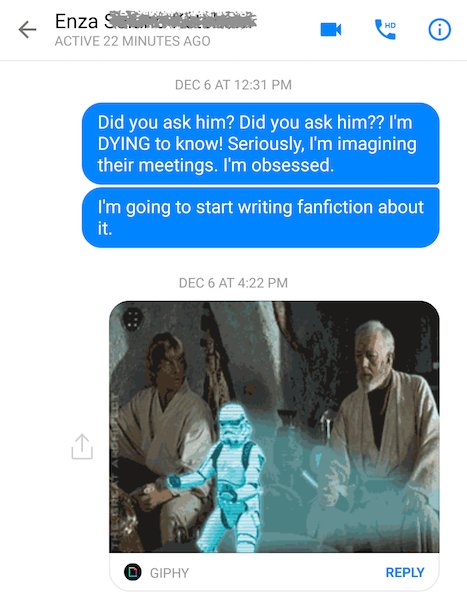 She even kept me updated as much as she could on her super-secret schedule: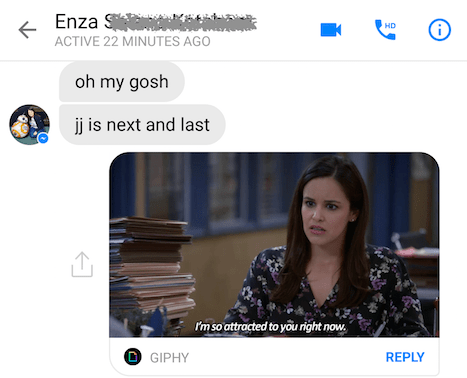 When Enza tweeted this:
I asked JJ your question @Babysavers! The story about how he teamed up with Miranda is awesome! #StarWarsEvent

— Enza Ketcham (@EnzasBargains) December 7, 2015
She received this gif from me: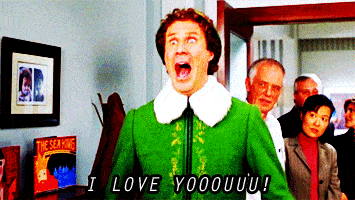 Today, Enza finally published all the exclusive details on J. J. Abrams,  Lin-Manuel and Star Wars.
Go read it and learn how J.J. Abrams and Lin-Manuel Miranda met, how they started working together and how they collaborated on composing the Cantina music for Star Wars: The Force Awakens!
Here's just a quick, tiny J. J. Abrams quote for how he starts his explanation:
My 17 year old son and I went to see Hamilton. If you haven't seen it it is one of the great experiences of all time which cannot be oversold.
The rest of the answer is so great! I don't want to give anything away, but this is what I sent to Enza after I read that part of the interview:

Read the rest and learn all about how J. J. Abrams really felt about working with Lin-Manuel Miranda on Star Wars: The Force Awakens!
Star Wars: The Force Awakens is in theaters everywhere today! Get your tickets now!
See the Star Wars: The Force Awakens trailer here:
Be sure to follow Star Wars on all these social media accounts to stay on top of all the news:
Follow Star Wars on YouTube
About Star Wars: The Force Awakens:

Lucasfilm and visionary director J.J. Abrams join forces to take you back again to a galaxy far, far away as "Star Wars" returns to the big screen with "Star Wars: The Force Awakens." 

The film stars Harrison Ford, Mark Hamill, Carrie Fisher, Adam Driver, Daisy Ridley, John Boyega, Oscar Isaac, Lupita Nyong'o, Andy Serkis, Domhnall Gleeson, Anthony Daniels, Peter Mayhew and Max Von Sydow.

Kathleen Kennedy, J.J. Abrams and Bryan Burk are producing with Tommy Harper and Jason McGatlin serving as executive producers. The screenplay is by J.J. Abrams & Lawrence Kasdan.