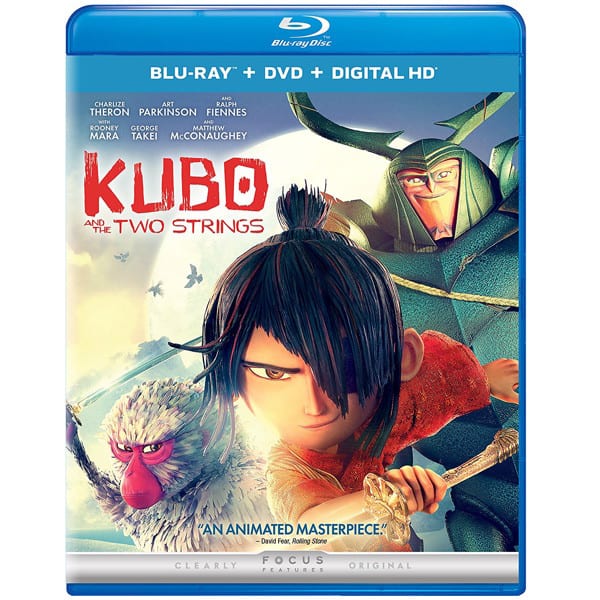 The amazing film Kubo and the Two Strings is now available on Blu-ray, DVD and digital HD!
The team behind the film sent me a beautiful string of origami lights to go with the origami in the Kubo and the Two Strings. Check out this clip from the movie to see what I mean:
https://www.youtube.com/watch?v=7BU3ecHy6PA&ab_channel=FocusFeatures
About Kubo and the Two Strings:

From the acclaimed animation studio LAIKA (Coraline) comes an epic original action adventure featuring the voice talents of Academy Award winners Charlize Theron and Matthew McConaughey.

Kubo mesmerizes the people in his village with his magical gift for spinning wild tales with origami.

When he accidentally summons an evil spirit seeking vengeance, Kubo is forced to go on a quest to solve the mystery of his fallen samurai father and his mystical weaponry, as well as discover his own magical powers.

"Kubo and the Two Strings" is a wildly imaginative, magical adventure.
Bonus features included with Kubo and the Two Strings (may vary depending on format and version):
Kubo's Journey: Introduction by Director/Producer Travis Knight
Kubo's Journey: Japanese Inspiration
Kubo's Journey: Mythological Monsters
Kubo's Journey: Braving the Elements
Kubo's Journey: The Redemptive and Healing Power of Music
Kubo's Journey: Epilogue by Director/Producer Travis Knight
Corners of the Earth
The Myth of Kubo
Feature Commentary with Director/Producer Travis Knight
Japanese Inspiration
Buy Kubo and the Two Strings now!