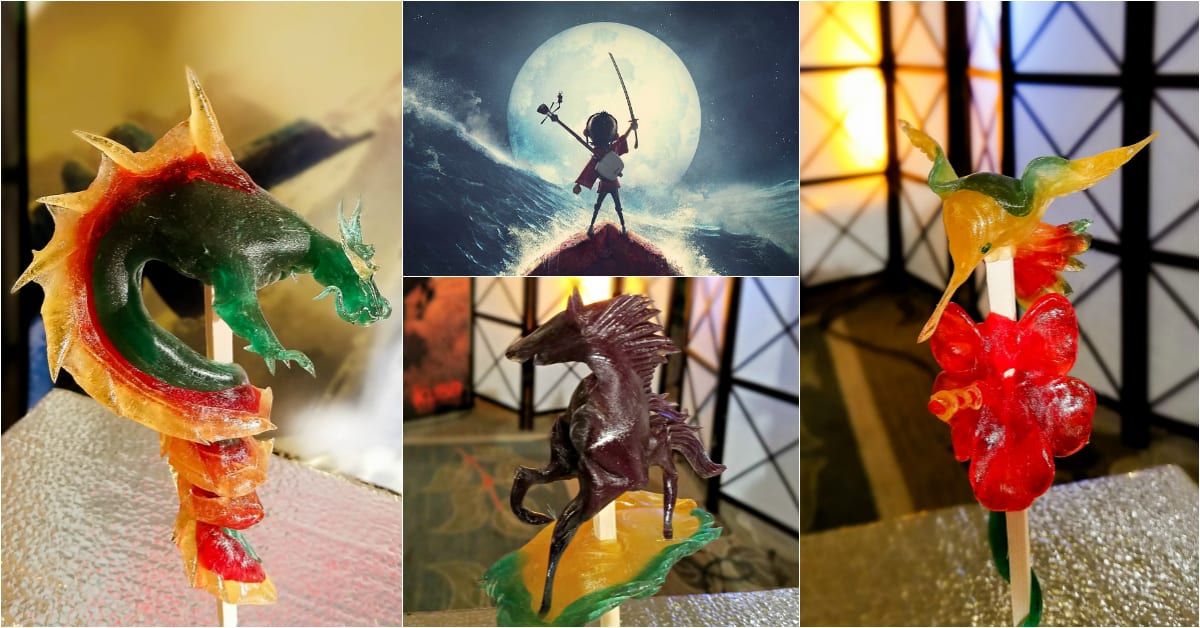 It's hard to believe I was sitting in a conference room in Los Angeles during the Kubo and the Two Strings junket just a few weeks ago, waiting for these two people to fill their seats: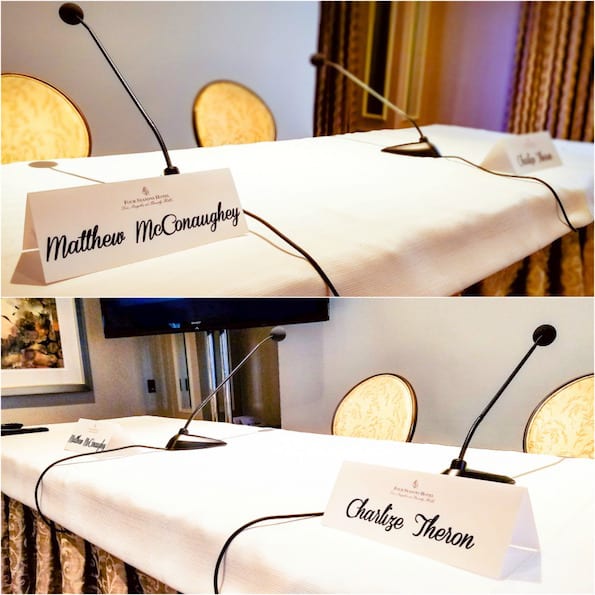 It was pretty exciting to think that I was going to interview Matthew McConaughey and Charlize Theron later that day!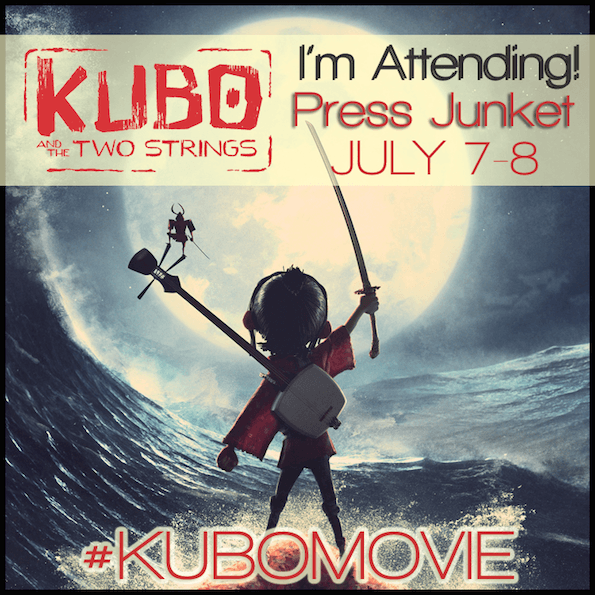 My group of bloggers at the Kubo and the Two Strings press conference had some time in between our interview with the director and the interview with the talent from the film. Luckily, Focus Features had some great entertainment set up for us to take in while we waited.
Origami plays a key part in Kubo and the Two Strings, and a brilliant origami artist was there showing us his talents: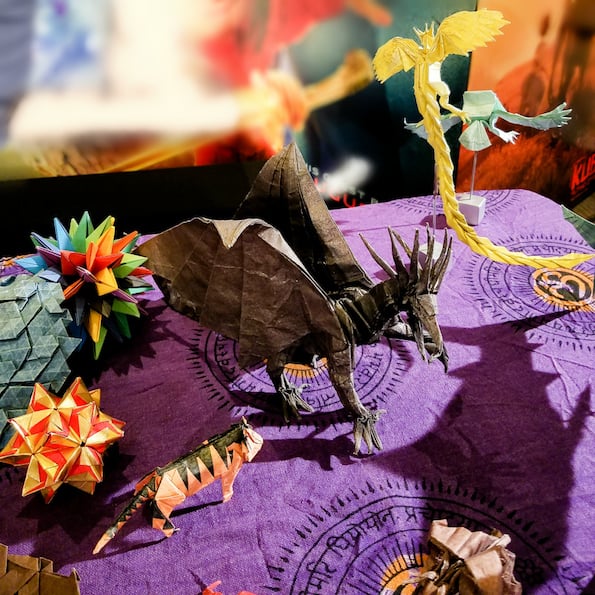 But it was another exhibit that I couldn't tear myself away from: Shinobu "Shin" Ichiyanagi was demonstrating the art of amezaiku, or Japanese candy craft. It was incredible!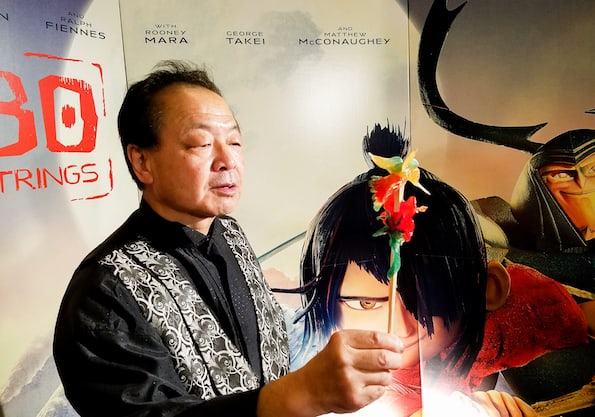 I took home this amazing dragon lollipop that Ichiyanagi had made earlier: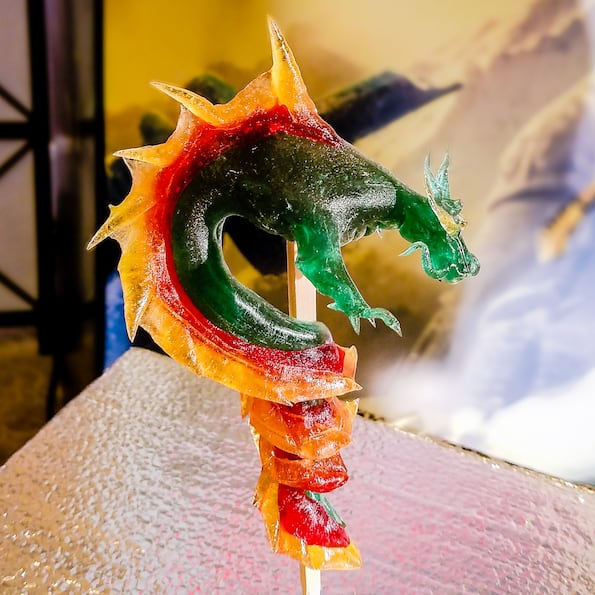 I was also lucky enough to get this video of Ichiyanagi demonstrating the amezaiku craft while making a delicate candy hummingbird. Believe me, it's a must watch. He is so talented!
After spending a morning taking in all things related to Kubo and the Two Strings I'm even more excited for the movie to be released in theaters!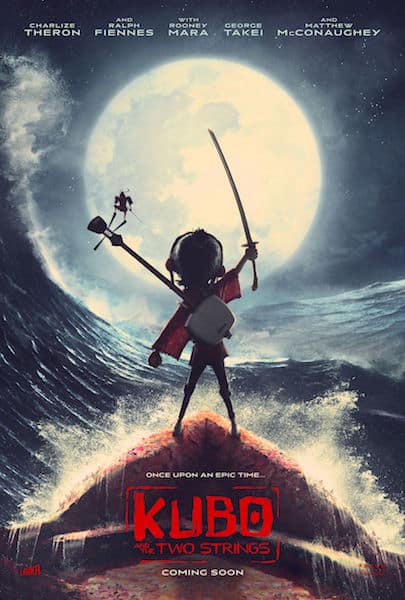 See the rest of our Kubo and the Two Strings coverage:
Kubo and the Two Strings arrives in theaters on August 19, 2016.
About Kubo and the Two Strings:

An epic action-adventure set in a fantastical Japan from acclaimed animation studio LAIKA.

Clever, kindhearted Kubo (voiced by Art Parkinson of Game of Thrones) ekes out a humble living, telling stories to the people of his seaside town including Hosato (George Takei), Akihiro (Cary-Hiroyuki Tagawa), and Kameyo (Academy Award nominee Brenda Vaccaro).

But his relatively quiet existence is shattered when he accidentally summons a spirit from his past which storms down from the heavens to enforce an age-old vendetta.

Now on the run, Kubo joins forces with Monkey (Academy Award winner Charlize Theron) and Beetle (Academy Award winner Matthew McConaughey), and sets out on a thrilling quest to save his family and solve the mystery of his fallen father, the greatest samurai warrior the world has ever known.

With the help of his shamisen, a magical musical instrument, Kubo must battle gods and monsters, including the vengeful Moon King (Academy Award nominee Ralph Fiennes) and the evil twin Sisters (Academy Award nominee Rooney Mara), to unlock the secret of his legacy, reunite his family, and fulfill his heroic destiny.
Find out where Kubo and the Two Strings will be showing at a theater near you!

Disclosure: Travel and most expenses were covered to facilitate the trip and learn more about Kubo And The Two Strings.  All opinions are my own.